A summary of my participation at 4deserts and Racing the Planet's 250 kilometer race in Ecuador. The competition started at the Cotopaxi volcano in the Andes mountains just a few days before it broke out and we were collected six days later in the Amazon jungle.
There were 141 competitors, 115 completed and I was number 16 at the most. My best day's stage was the longest ultra-dance where I became number 7, and at the last stage I became number 3.
preparations:
I have completed several races at 4deserts and had everything ready for the Sahara Race - 2015. Unfortunately, this race was canceled because of the threat from IS. The decision was taken on the basis of concrete feedback, the security staff for 4deserts had been associated with the race at the Syrian border.
I and the other Sahara Race - 2015 participants were given the opportunity to move the attendance fee to one of the future races organized by 4deserts. By 2015, the choice was between Gobi March in China, Atacama Crossing in Chile and "Roving Race" in Ecuador. I have already completed Gobi March and Atacama Crossing and for me, the experience of something new is an important element, so the choice became the Roving Race in Ecuador with races in the Andes and the Amazon jungle.
Roving Race is an additional race to the regular 4desert races and is hosted by the 4desert Racing Racing Planet. Roving Race is organized in different places in the world every year. Roving Race is open to all but specially designed for those who have completed the four regular 4deserts races and want to experience something new. Previously, Roving Race has been hosted in Madagascar, Iceland, Himalayas, Australia ...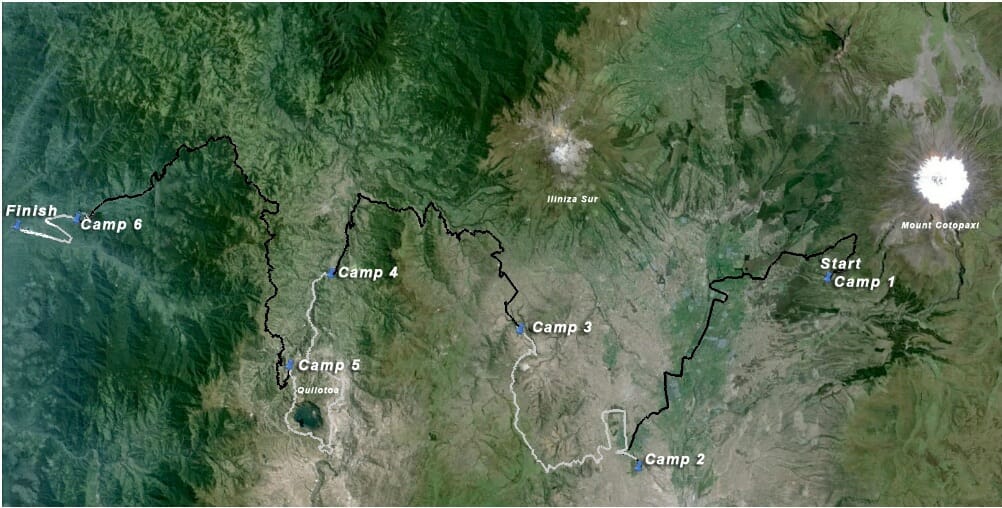 As I had everything ready for the 4desert Sahara Race - 2015, I would think I had all the equipment geared to the race in Ecuador. Much could I reuse, but climate and environment are different and there are some important discrepancies that must be taken into account.
Unlike Sahara, half the race in Ecuador in the Andes is between 3,500 and 3,800 meters high and the other half is in the Amazon jungle. With the height there is a need for warmer clothes and since it is "winter time" there is a high probability of precipitation. In addition, the body will consume and need more calories in height. In the jungle, the challenge will be warm, combined with extremely high humidity.



We run with full picking that includes everything from sleeping bags, clothes and equipment, as well as food and energy supplements. The organizer provides tents, safety and after-supply of water for the race.
The weight of the bags of the participants varies at the start of a race normally from nine to fifteen kilos, but becomes easier as the days pass and the food is eaten. From previous 4desert race with heavy bags I have had a lot of strength and muscle mass in my upper body. So in advance of the Sahara Race 2015 I had started training with the help and advice of Erik Iversen at Olympiatoppen. With regular days at Andersen Gym with strength training in addition to running, I gradually saw that both body posture and running capacity improved. But as a race, weight training can cause the body to become heavy and the running technique is getting worse, so it was important for me to exercise properly and not build too big muscles.
Requirements for participation
In all serious contests that arrange, there are different minimum requirements for participants, equipment and food.
4desert's race is no exception and the participants must provide medical certificates that they are healthy or possibly details about illness and medicine. In addition, the participant must confirm that they are able to complete at least one marathon or equivalent distance.
From equipment, participants must have everything from sleeping bag, toilet paper, sunscreen, headlamp, mirror and flute for emergency use, first aid kit, clothing etc. to survive for six days in the wilderness.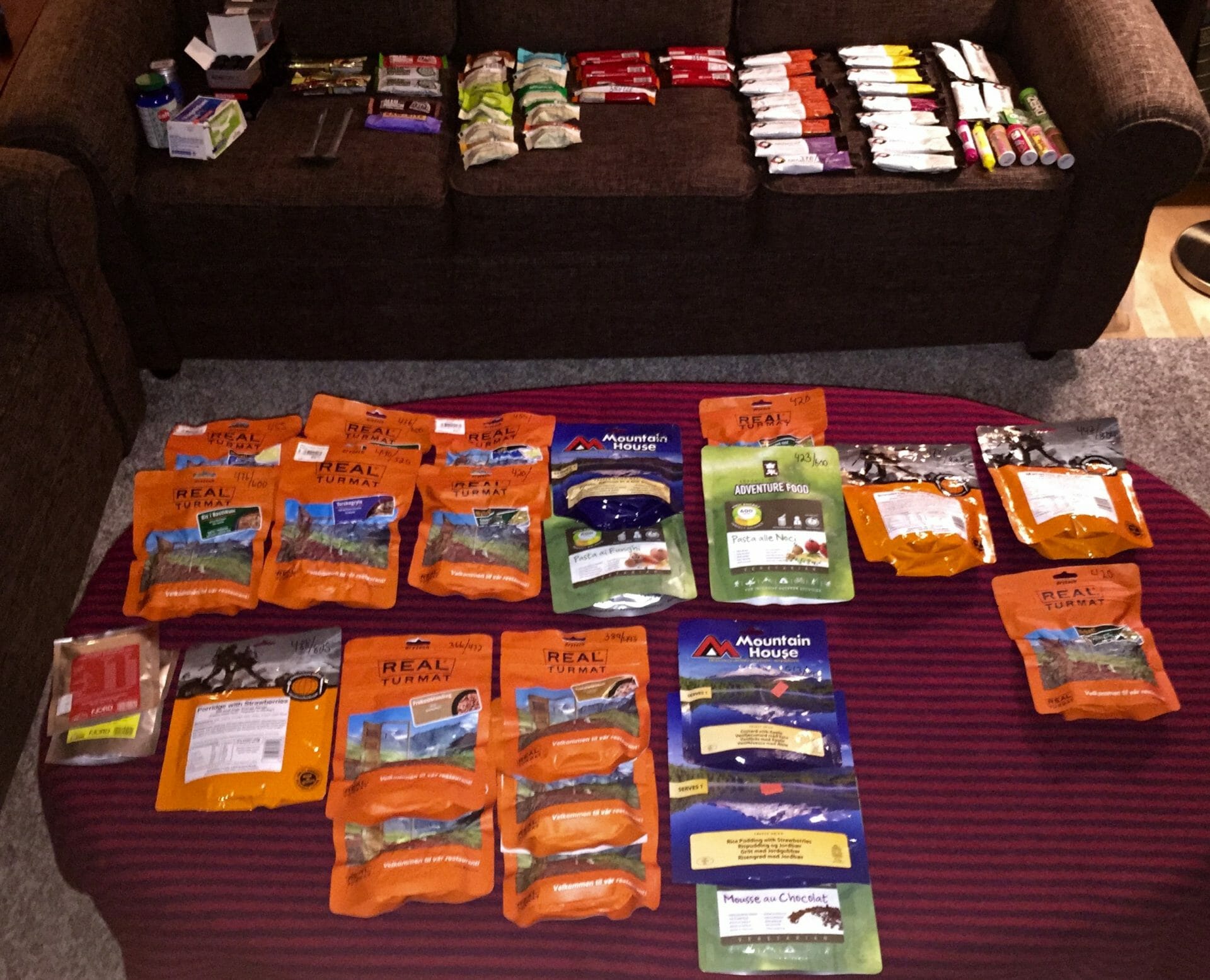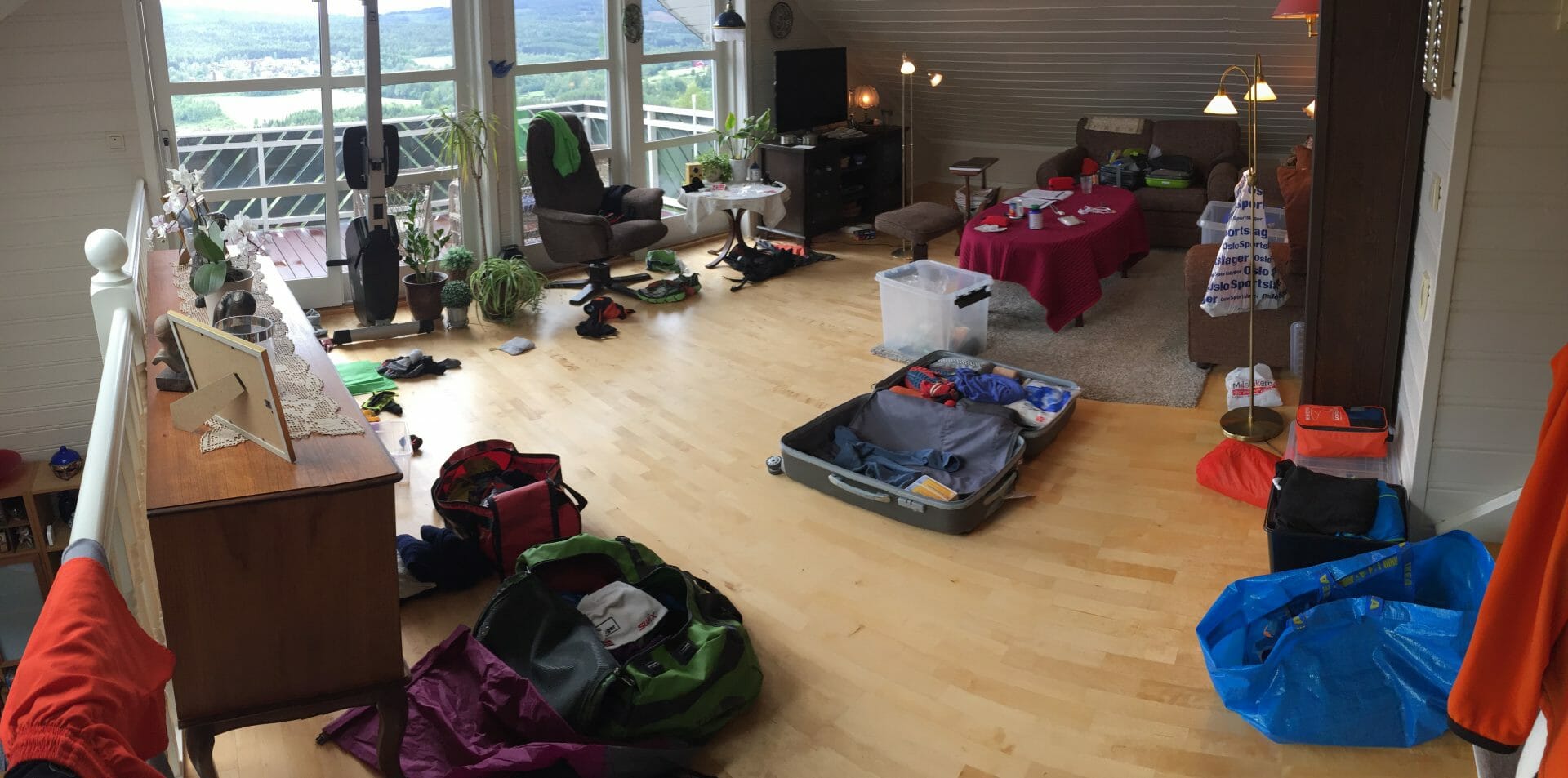 Food is probably the most important thing to control. Each participant must document at least 14,000 calories in food and in addition plenty of electrolytes and salt supplements used in races. Typically, participants with different gel, energy bars and "brustabletter" will mix in the drinking water. Whatever is included in your taste addiction, you get tired of this after a few days. For that reason, I mix some coffee or tea in my drinking water when I run to get some flavor variation.
As participants, we had been told to pack a drip bag with extra hot clothes for this specific race. The dropper bag is transported by the organizers between campsites. The background for this was experiences before the course of precipitation, minus degrees and heavy winds. The pack of drip bag was new to me, but easy as I come from Sunnmøre where it is evenly cool. I run all year long in all weather and am well aware of my needs in this type of environment.
When I travel far to a race, I pack for the sake of security, mostly double up, with a piece of suitcase, the second and most compressed part of the hand luggage.
The important thing about a race like this is to get enough sleep, rest and calories enough for the body as the race lasts for six days and five running stages.
Backpack
In order to be able to run quickly, it is important to have a combination of easy and good bag that fits well on the body. A running bag hangs on the shoulders as opposed to a torso bag that has a lot of weight resting on the hip belt. A running bag should also have pockets on the "belly / hip belt" for storage and easy access of energy bars, electrolytes and gel. In addition, there should be the possibility of mounting a bottle holder on the shoulder straps if no camelback is used. The most widely used sack size is between 25 and 35 liters. A small bag often weighs a little less but is not designed to be "stuffy" full. I have seen several shattered shoulder straps and "blasted" bags that have made a sudden end to participants. On these runs you have no "backup" with you. Yes by the way! I always have an extra spoon, but it's in titanium and weighs very little.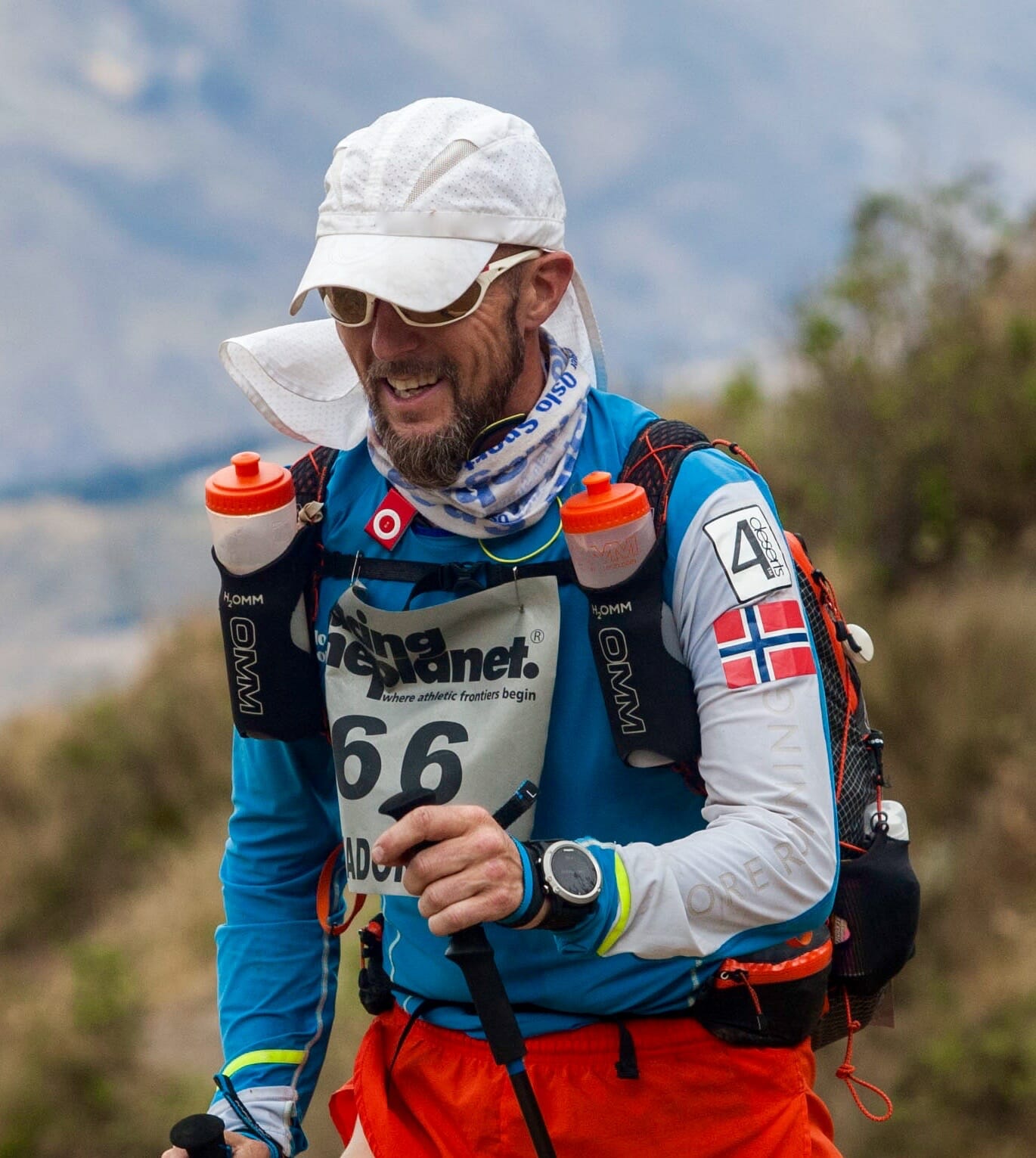 For this race I had chosen one sack from OMM who has followed me in several races, but it is hardly made for six days with full catch. As a backup, I took the hand luggage with a simple one 20 liter sack.
Bottles
I prefer bottles in size 0.75 liters rather than "camelback" bag in sack, as bottles are much faster to replenish along the way in races on checkpoints. In addition, bottles provide the ability to vary content, and that it is easier to control quantity along the way. Some use "straws" to avoid removing the bottles of the pockets every time they drink, but I have proven to have to take out the bottles of the bottle holders when I am going to drink. The reason is that I can easily get into a room where I only run and run ... when I have to take out the bottles, this makes me use a little variation in the movements when I run. On most races there is a minimum requirement for two liter bags, so a few extra bottles must be included in the bag.
To the night
Sleeping bag in the dun was not so tempting in terms of precipitation, high humidity combined with the experience of previous runs with bad tents that are like a coffee filter. With limited sun and rest time, the sleeping bag can not be wiped and eventually it will get wet and heavy. But an important counter argument is that a sleeping bag in a thin that is kept dry, is definitely warming in terms of weight and good sleep is very important to me. I decided to use a light synthetic sleeping bag, but also took one ultra lightweight bag in the hand luggage in case the circumstances changed.
As a basis, I chose one light inflatable bedside to have under the sleeping bag to protect the sleeping bag from moisture from the ground. For desert rides, I have a small inflatable bed pad to hold the sleeping bag, or alternatively, I only use "backplate" that belongs to the backpack.
A change that was included in the list of compulsory equipment for this race compared to the previous 4th edition was the requirement for "heat bag" replacing previous requirements for "heat blanket" in aluminum foil. I then chose a heat bag that was so big that I could pull it out of the sleeping bag if there would be a lot of rain or if it became extremely cold.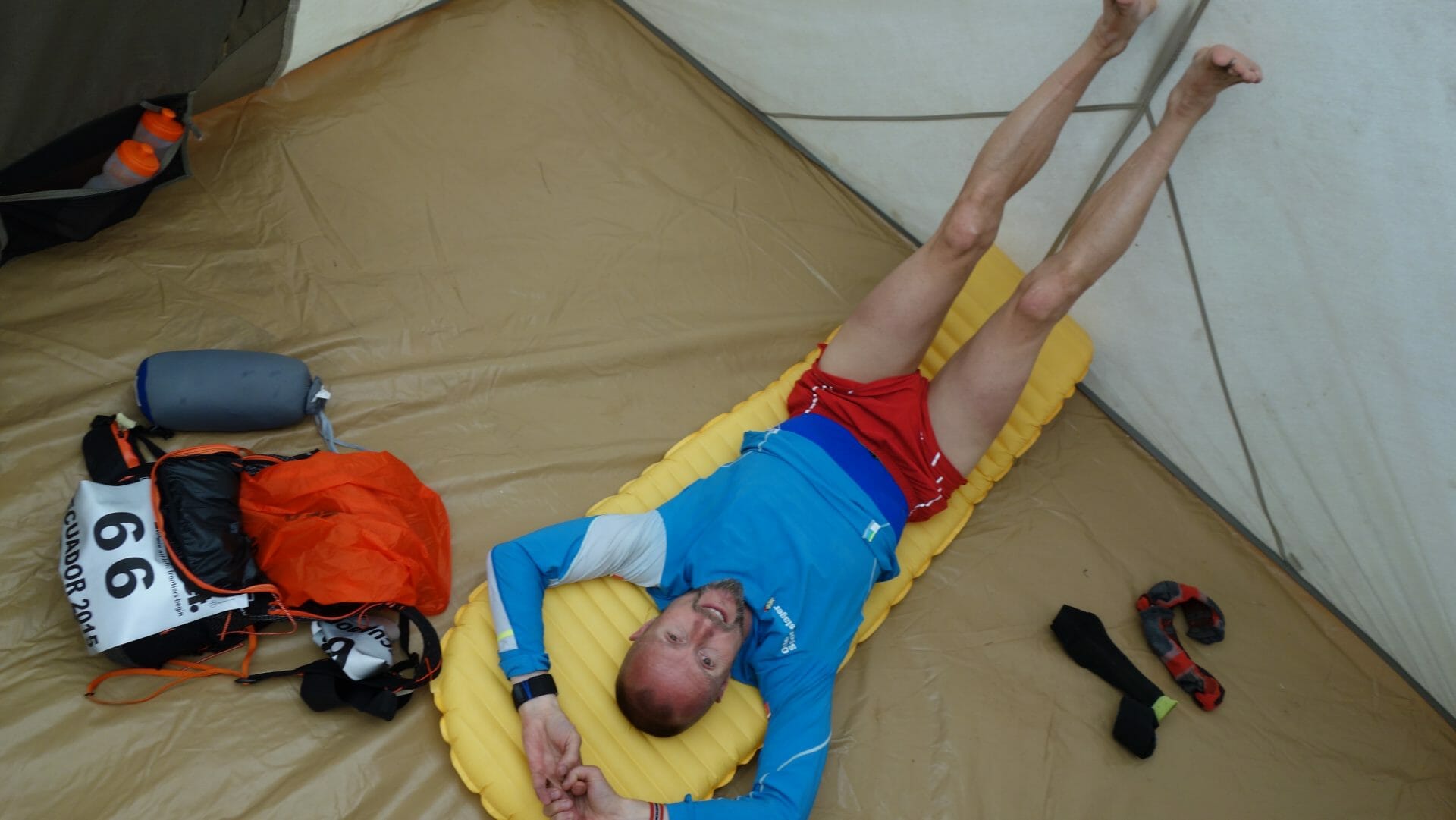 Clothing
In view of the sack and environment it's running in, it's important to choose durable clothing as all the equipment gets a very rough treatment and I do not have a lot of shifts.
We do not get the shower and there is no facilities for washing clothes, so hygiene and sweat are becoming too many a challenge. Everyone smells bad, even the prettiest ladies stop being attractive after a day, but smell is not the problem. A problem with clothes is that after a couple of days of sweating, the stitches tend to be stiff of the salt's salt content. When the stitches stiffen, they rub the extra to the skin, especially where the backpack is and in the groin. Gnaws the nail holes in the skin gets hurt quickly infected and there will be a few consecutive days of extra discomfort combined with lack of hygiene. Therefore, the type of thread in clothing is important, as well as a few sewing seams.
over Body
Due to the climate we should run in, I had decided to run in one long-sleeved, windproof and fast-drying running rack in the height that I combined with one warming but airy short-sleeved which should be used in the jungle as well. On the upper body, the laundry is especially worn as the backpack moves for each step taken.
In addition, I have a lightweight raincoat and warm upper part for use after the day sessions.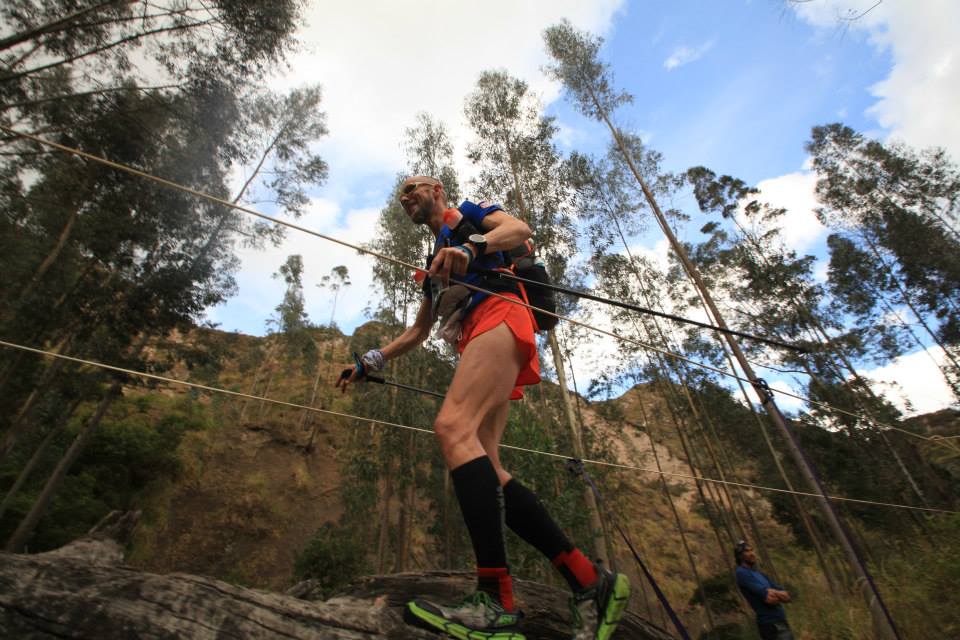 Bottoms
Very many like to run in a combination of short compression sticks and shorts, which are referred to as "2 in 1". However, I like to run in simple cards "marathon shorts"With mesh trousers and a small pocket at the back of the back. In addition, I have a tight-fitting training pants that I use after the day races and gladly together with the rain trousers to get extra warmth.
On the legs, I use compression systems mainly to protect against cactus and scrub, but also for well-being and increased blood circulation in tired leg muscles.
Of stockings, many toe socks (injini socks) use to release the cheekbone between the toes. I've never had this problem so I've got three pairs regular stockings with merino wool and a couple thick ragg socks which is used after the day races on cold evenings.
Shoe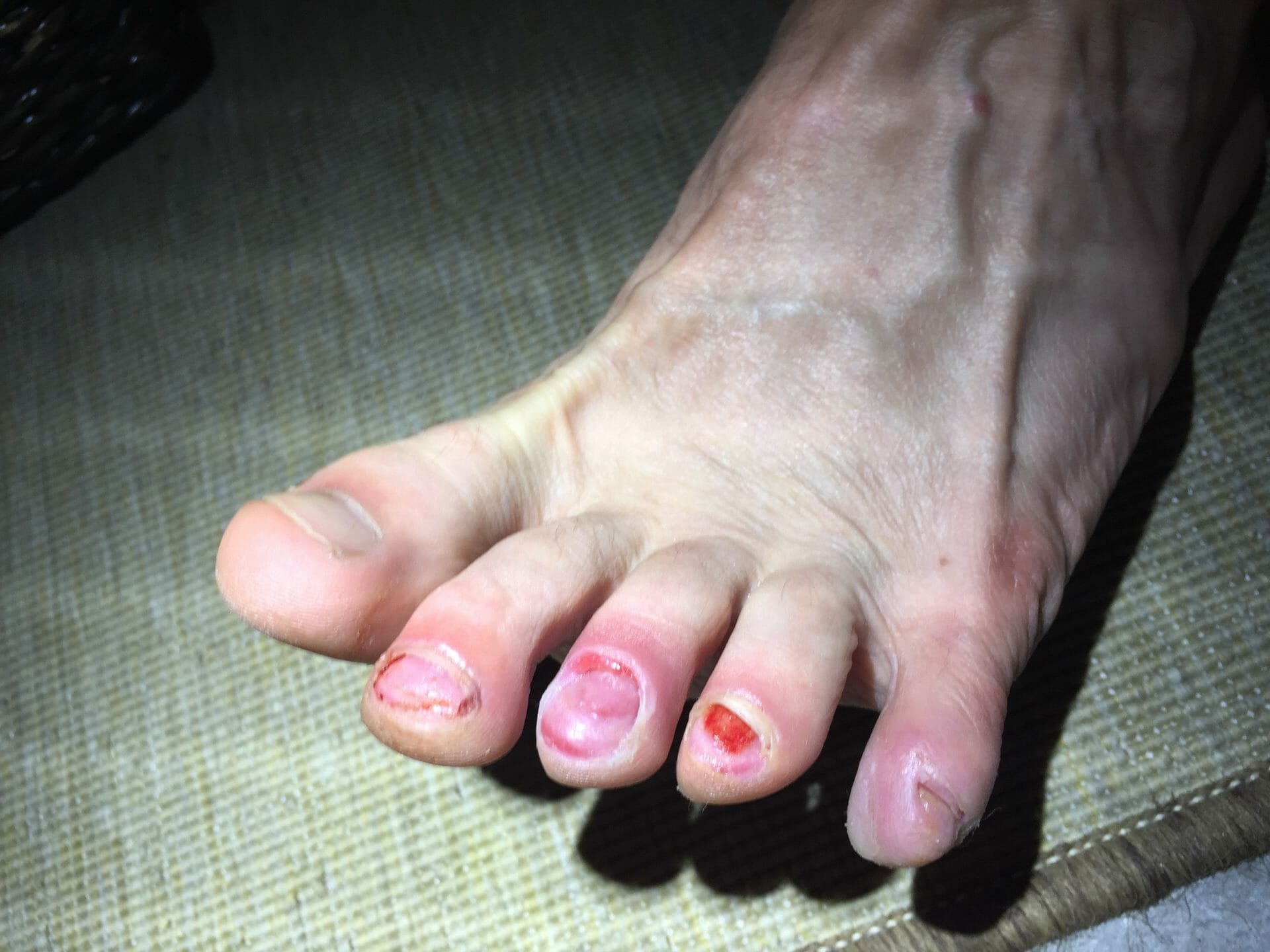 Shoes to run with are always a challenge as new models are still coming and for me, most races are in different countries, which in turn have different terrain and climate. In many participants in races that go over long distances and for several days, their feet swell slightly, so by choosing a little bigger shoe than normal, you keep most nails on your legs. Optimally, I would even have half a size bigger shoes than what I ended up with, but the desired size was sold out throughout the country and too big shoes is not fun either. For this course, I thought a lot about the challenge of precipitation, swamp in the jungle and high humidity. The most important thing for me was to find a pair of terrain shoes which dried quickly, had a hood that protects shoes and toes against stone, as well as a sole that is good on both hard and muddy surfaces.
I always wear a pair of lightweight sandals that I wear after daydogs to put the boot to dry. Sandals are additionally airy for feet and much easier to put on and off when walking in and out of the tent.
Food and Energy
Of food I use dry for lunch and dinner. At lunch I drink protein and some snacks. I'm a vegetarian so the selection on the forage is limited and I get some food from the various suppliers (Real Turmat, Adventure Food, Mountain House ...).
In the long run with a single leg, I mostly use only Tailwind powder, but in order to get a little variation over several days, I also have some gel and protein bars. It is important for me to have some snacks and preferably salt on this type of race. For me, potato chips and biscuits are a nice meal after the daytime runs. For the potato coins to take the least amount of space, I put a small hole, mash the bags and roll them together before I lose them.