Out again adventure I should have already decided. But who would think I would end up on the warmest place on earth, in a desert stretching from Iran to Afghanistan. At the same time, I would like to write a small but important chapter in Iran's history.
media coverage
Sahara Race in Namibia?
I had already been awarded space on one of the big adventure runs to 4deserts (Sahara Race 2016). 4desert Sahara Race is a famous race that I already signed up in 2015. In 2015, the race would go to Jordan but was canceled due to the uncertainty in the area.
Instead of recalling once again and losing a lot of money, Racing the Planet chose to move the Sahara Race away from the Sahara Desert in 2016 and down to one to a national park on the west coast of Namibia. The National Park Skeleton Coast National Park at Torra Bay is without the major challenges in the terrain with total 599 height meters spread over 250 kilometers (eg last run in equador - 7,790 hm) and the geographical location could offer one cut temperature of 23 degrees. Although the sights and experiences of the race are fantastic, it would be a little strange to end up with a great great medal as proof of completing the Sahara Race without putting a foot in the Sahara itself. Well. I've been to Sahara earlier ...
Iranian Silk Road Ultramarathon
In the new year, I received a request to attend the ISRU - Iranian Silk Road Ultramarathon stage race. This would be the first ultrasound held in Iran. The participants were only forty people where by many professionals. Furthermore, there was a 250km self-propelled race, a familiar and good distance, the location was exciting, and the environment was extreme.
Race director Paolo Barghini has also been one of the world's best multiplayer runners and should be able to make a good run. With the approval of the authorities, this race would also be the first sporting event in Iran where women can participate with men.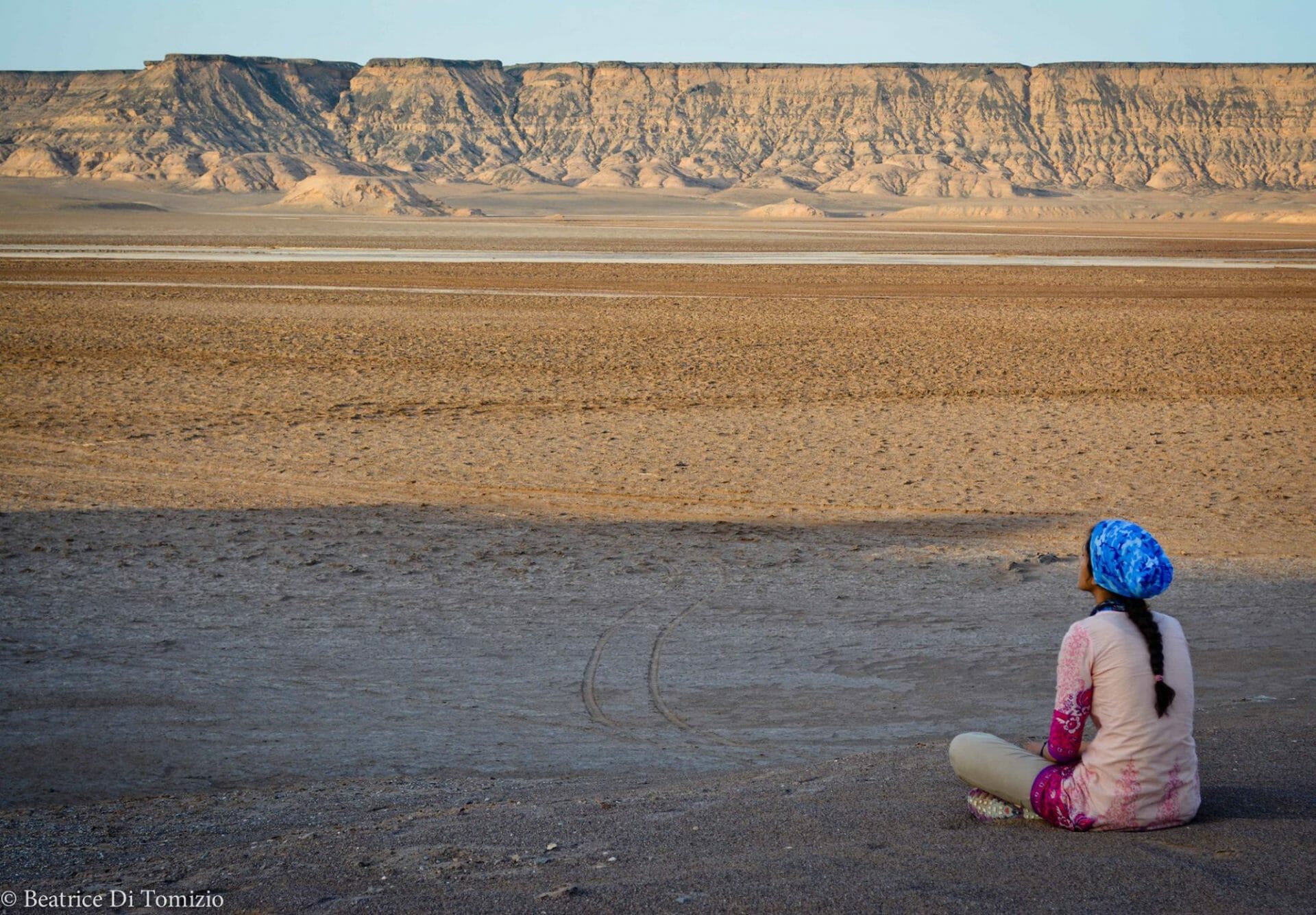 Gandom Beryan
The race itself should take place in the area Gandom Beryan which is in the desert Dasht-e Lut. Gandom Beryan is rated by NASA to be the warmest place on earth. The heat itself is challenging enough for my curiosity. The temperatures in the days we ran ranged from 45 to 63 at air temperature, but what was excellent from other deserts was that the night temperature was rarely lower than normal body temperature.
Lut Desert (Iran) Temperature: 70.7 ° C. Gandom Beryan is proven to be "The Hottest Place on Earth" with Scientific Methods by NASA's Satellite "Aqua" with a Help of Moderate Resolution Imaging Spectropadiometer (MODIS)
entrants
I was the only one from Northern Europe and the one who was least adapted to the heat that would meet us.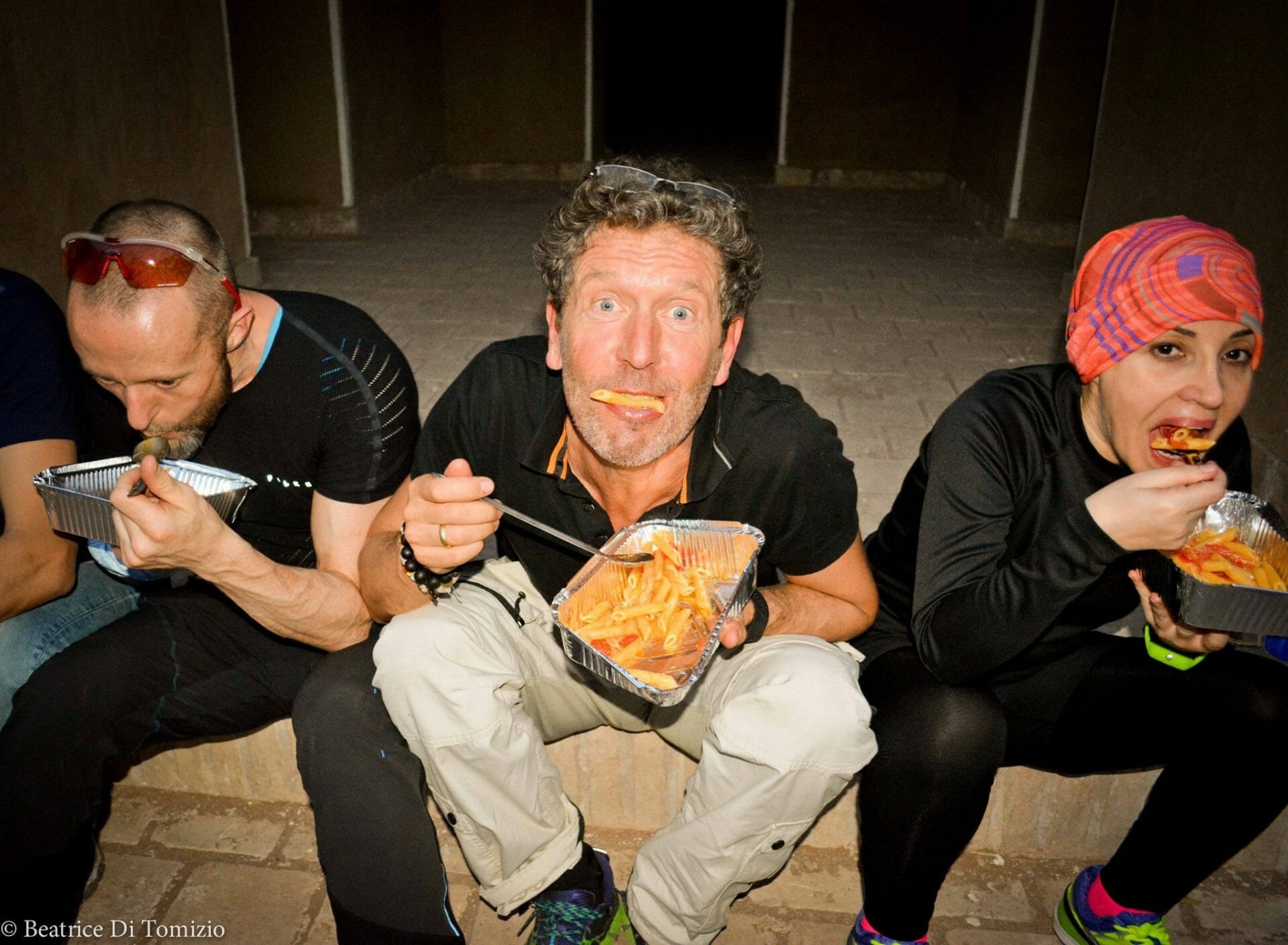 Of the participants there were warm-blooded professional runners who are used to living in the desert with self-built air slots and diced camel meat on the menu.
Among the top ten players there were twenty medal sites in the Marathon des Sables, more 4desert winners, Racing the Planet and other adventure races. Lebanese ex-military, veterans, famous race profiles and pro-cyclists from Iran etc ... Yes, challenging competitors would be.

The women became crucial
For me, the women became the deciding factor for the choice of participation. Well, a little more specifically; This would be the first sporting event in the Islamic Republic of Iran's history where public authorities have agreed that women and men should be able to participate. That Paolo Barghini Got this piece of art above the authorities in Iran are amazing. This race would have its own side in Iran's history and be a major step in the equality direction for Iran.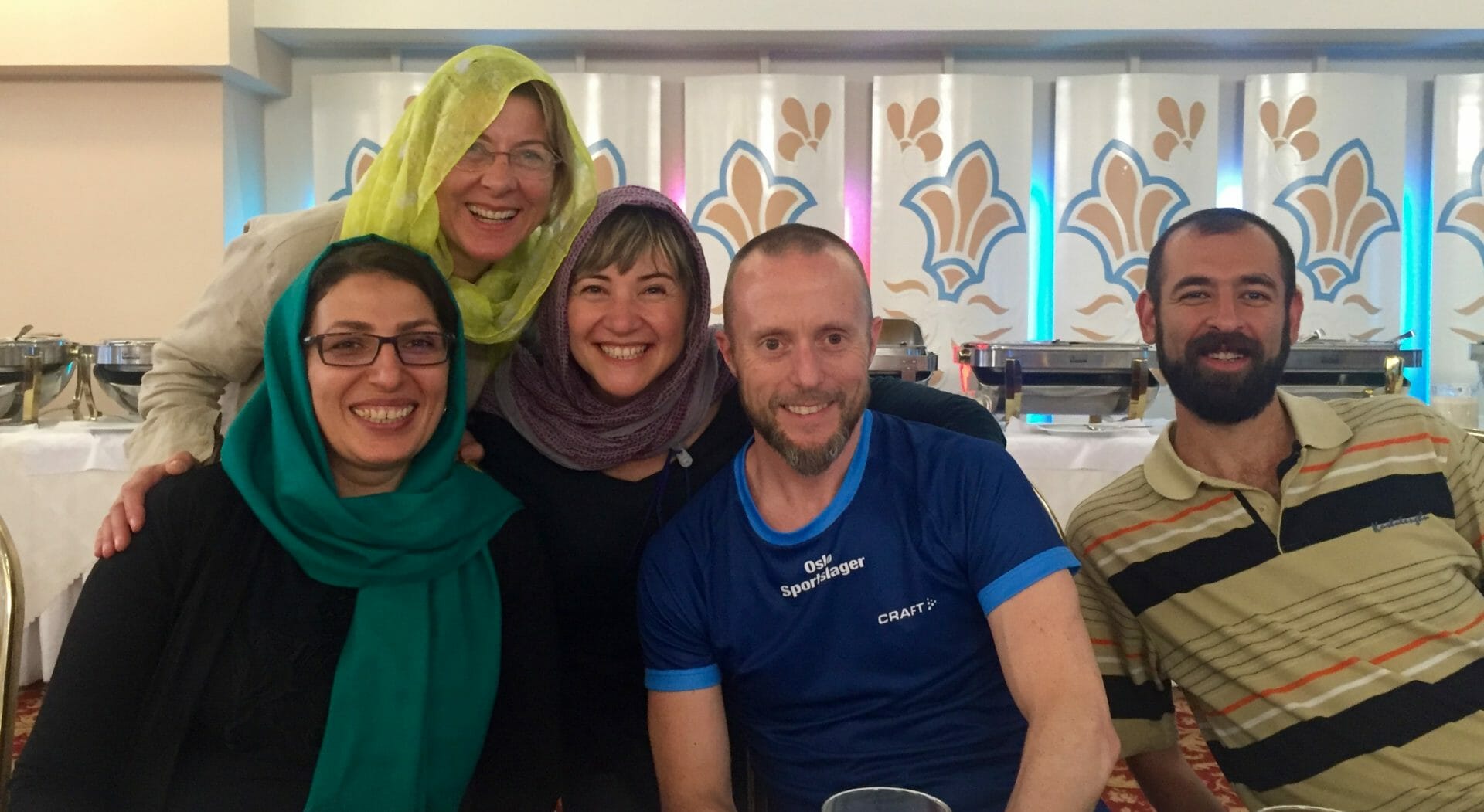 An admirable lady and known profile from Free to Run, Mahsa Torabi from Iran should also participate. As a woman, she refused to attend a marathon earlier in 2016, but resolved to meet up two hours before starting and run the entire marathon rally alone, but with many shocked spectators.
I wanted to support this case with my participation, so on 19.02.2016 I told my place in the 4th Sahara Race and thanked the ISRU. Now there was no way back, and I then confessed all warnings about the dangerous and Islamic republic of Iran.
Foreign Affairs discourages travel or stay in the eastern parts of Kerman.
preparations
There was a lot of thought in mind after this decision and the first thing I started with was getting a visa by taking a trip to the Iranian embassy. With bad experience from the Chinese embassy, ​​I met with lua in my hand and very humbly. Surprisingly, the process went quickly and with friendly smile from the embassy staff. All I was challenged was to describe and convince the ambassadors where they lived the five days I should be while I was running. My passport came as notified to me in the mail a week later and finished stamped.
Then there were flights: It took about nine hours of travel to Tehran which included two hours stop at the stopover in Istanbul. The return trip was 2,952 NOK. Domestic aircraft from Tehran to Kerman paid the organizer.
Choice of equipment and food
Equipment, clothing, food and sack: I have walked in the desert and over mountains around the world so I have gained good experience while listening and learning from like-minded people. With Oslo Sports Store As a sponsor, I have access to the best range of equipment.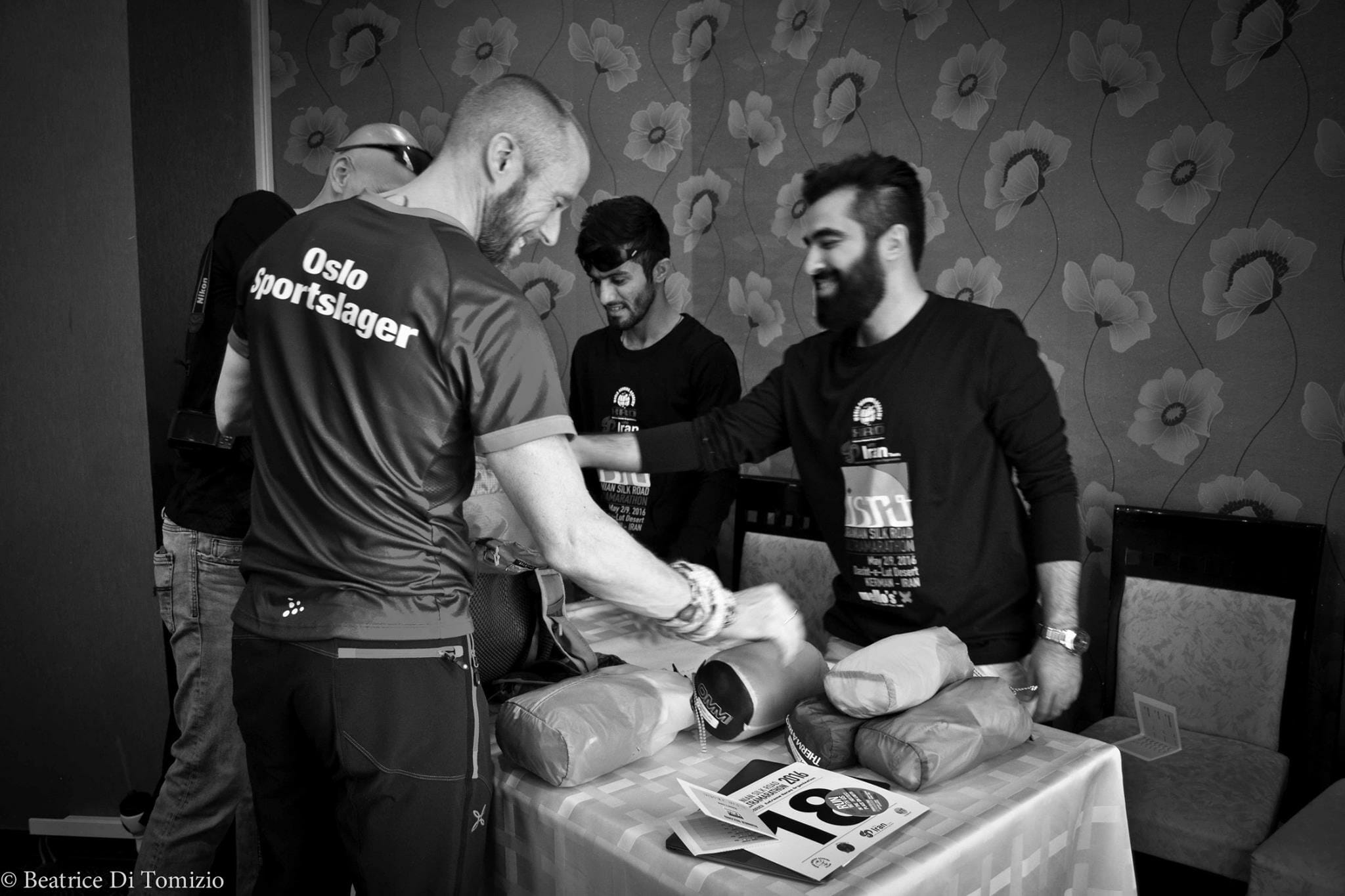 I have previously tackled high temperatures in Gobi and Atacama, but I was told that this would be something completely different. Now I should Gandom-e Beryan in Dasht-e Lut desert outside Kerman as of Nasa has been measured to the warmest place on earth and we go there in the hottest period of the year so there was no doubt: The heat would definitely be my biggest challenge and would affect everything from equipment, clothing, pace, bag and food intake for rest and sleep.
Travel
In addition to the actual races, I have an unwillingness to get a little high heart rate in the wake of my trips on the basis of kidnapping, earthquake, volcano mm This time it came a little early, actually already at the airport in Tehran:
"On my travels, I almost double up all the equipment needed on my travels. This includes payment and credit cards. Well, I use habit of taking out local currency when I land at the international airport in a new country. Both to have local currency, but also to give me a picture of exchange rate of currency in the new country. At the international airport, none of my cards seemed to work, but I was still quiet as I could go to the next airport where I would fly to Kerman. Well at the other airport with taxi waiting to wait for money, I find out that no ATM will take my cards there either. I will then explain that no, absolutely NO international card can be used in Iran. Then it was time to start sweating a little back. Here I am in the middle of a country that I have been warned against, alone, without any means of payment, absolutely no money! Amateur…
The Norwegian Embassy
Anyone going to Iran MUST bring cash of Euro or Dollar as they can exchange into local currency on arrival. My solution was to call the Norwegian embassy in Tehran, which will help Norwegians in Iran, something they hesitantly wanted. Then I persuaded the taxi driver to drive me against the fact that embassy staff paid on arrival. The "ambassador" explained that this is not common, but they had a regular Norwegian DNB account that I could pay in a desired amount and get it in cash with them. The app was not going to use the phone on the phone and they would see that the money was on the account before the payment would be made. They did not accept transfer confirmation from Ørskog Sparebank.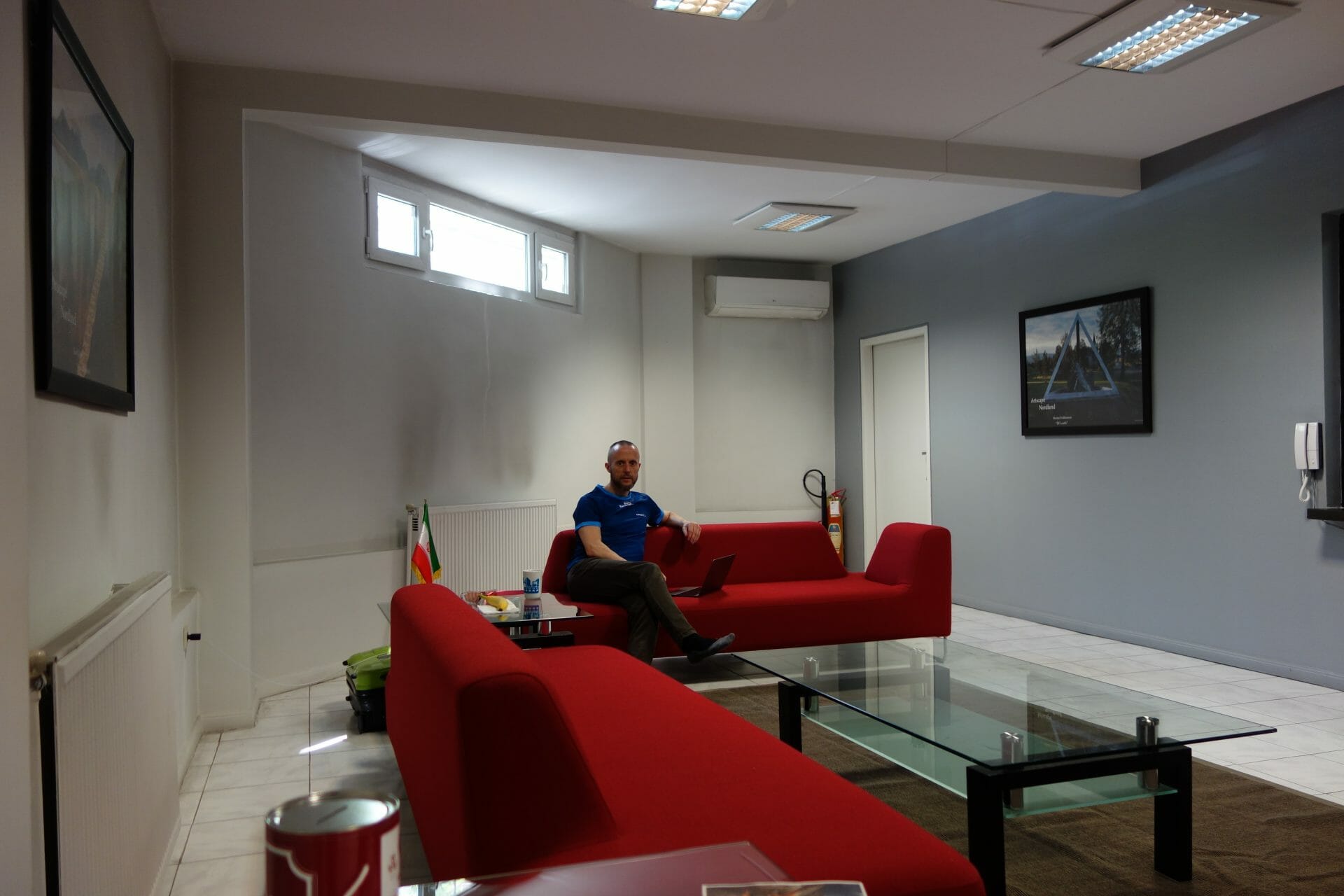 Well, in order to get this piece of art to come to the same day, I had to get my wife to run my mother who has an account in DNB, but not Nettbank down to DNB in ​​Lillestrøm. In Lillestrom my mother was not allowed to transfer, but had to take out the money. Then she had to go to the nearest Kiwi with banking services, put the money on the Embassy's account, get a written receipt, then return to DNB in ​​Lillestrøm and deliver the receipt. DNB in ​​Lillestrøm then scans the receipt and sends it by e-mail to the Embassy's address. The Embassy's personnel then check that the money has actually entered an account, so to take 10% of the amount before the payment. For me it was 700 kroner to the embassy and 6,300 to me! Occasionally, I thought of "poor family on holiday who end up in a similar situation". With local currency in my pockets, it was only for me to get on before something was said wrong.
Kerman
The plane was almost scary empty, so it was good to be warmly welcomed by the organizers at Kerman airport. Until now, I had only met with welcoming and nice people. This courteous and attentive friendliness proved to be consistent among absolutely everyone I met in Iran. These are amazingly good people who again are incredibly pleased that tourists come to visit their country. They are fully aware of the view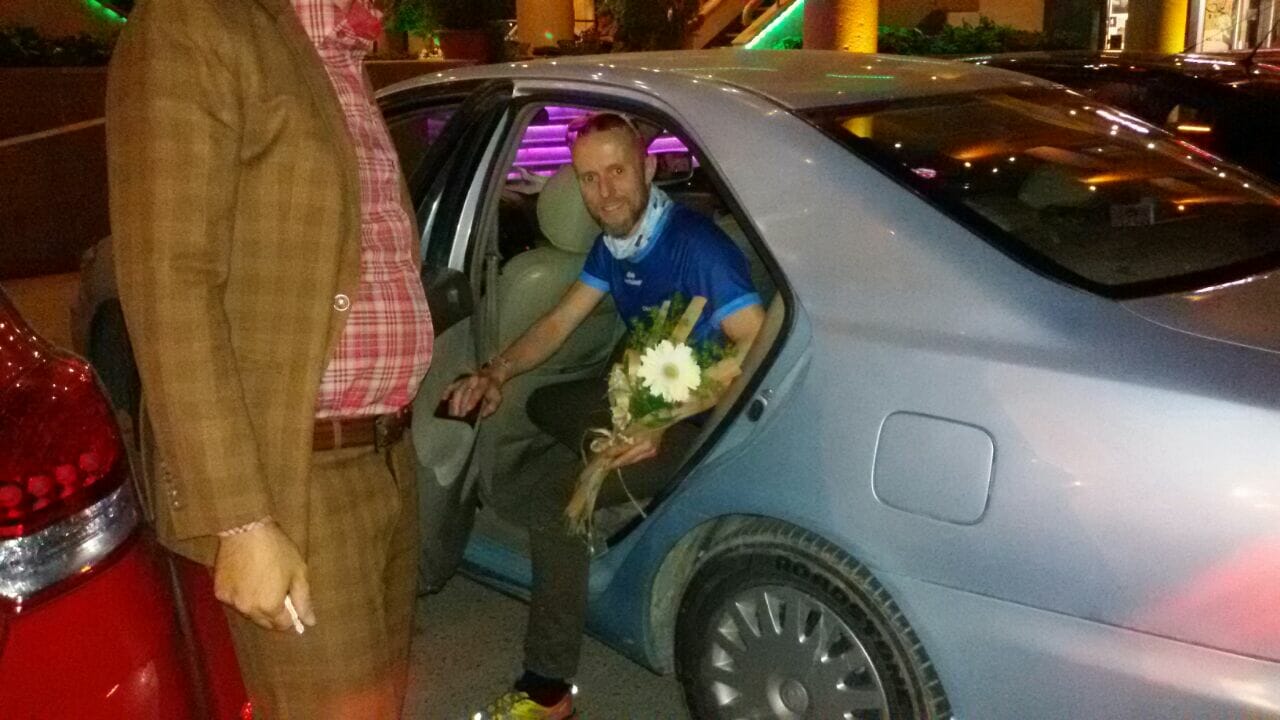 Outsiders have their country and explain that it is desperate and does not apply to the people who live here, but politically, some religion and propaganda from the United States. Social media like Youtube and Facebook were barred with some news pages. I found that Instagram worked and again there I could publish photos on Facebook. VG was blocked, but not Dagbladet?
Media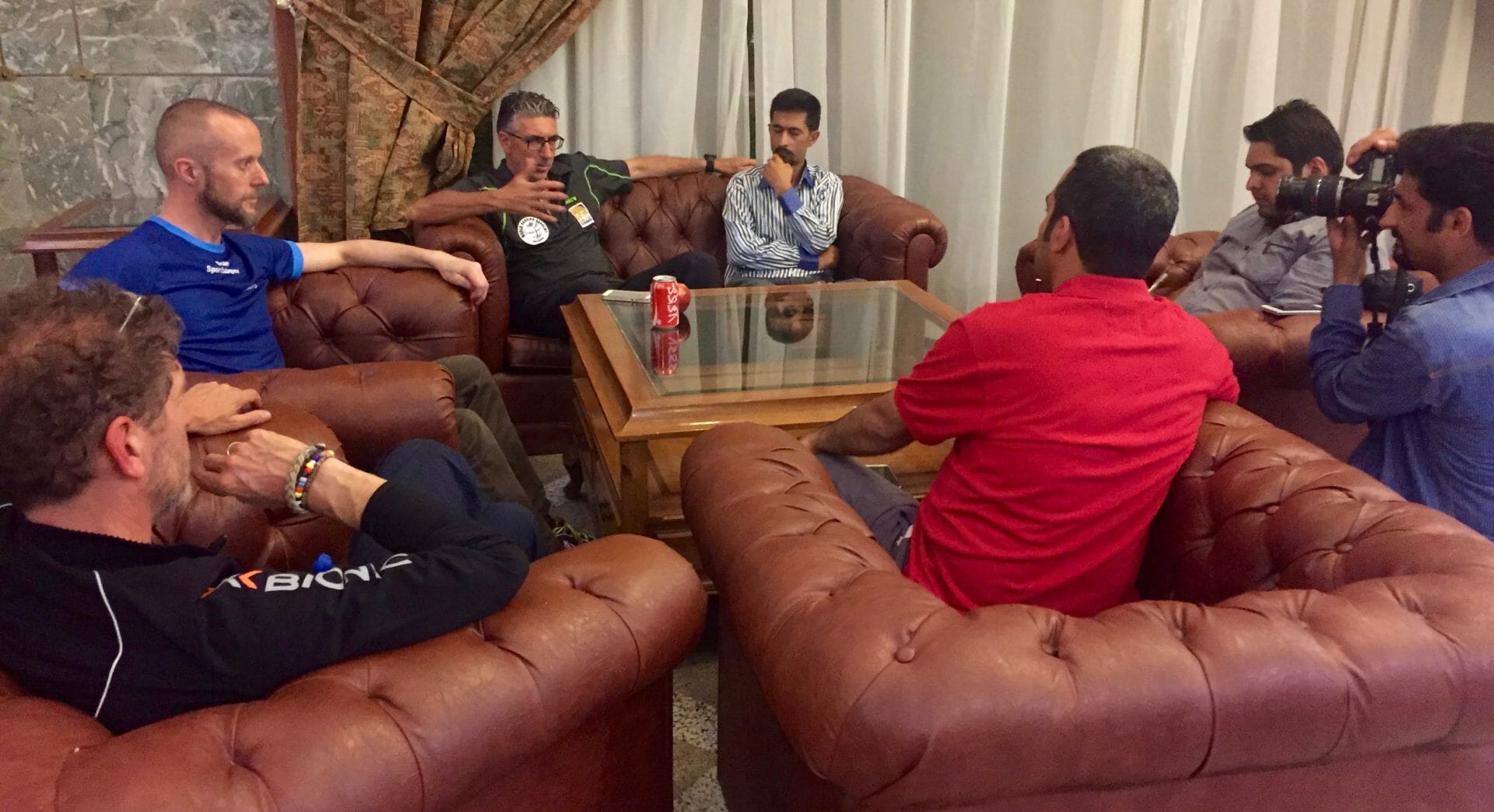 There was some interview with the press and an international press conference before we left the desert.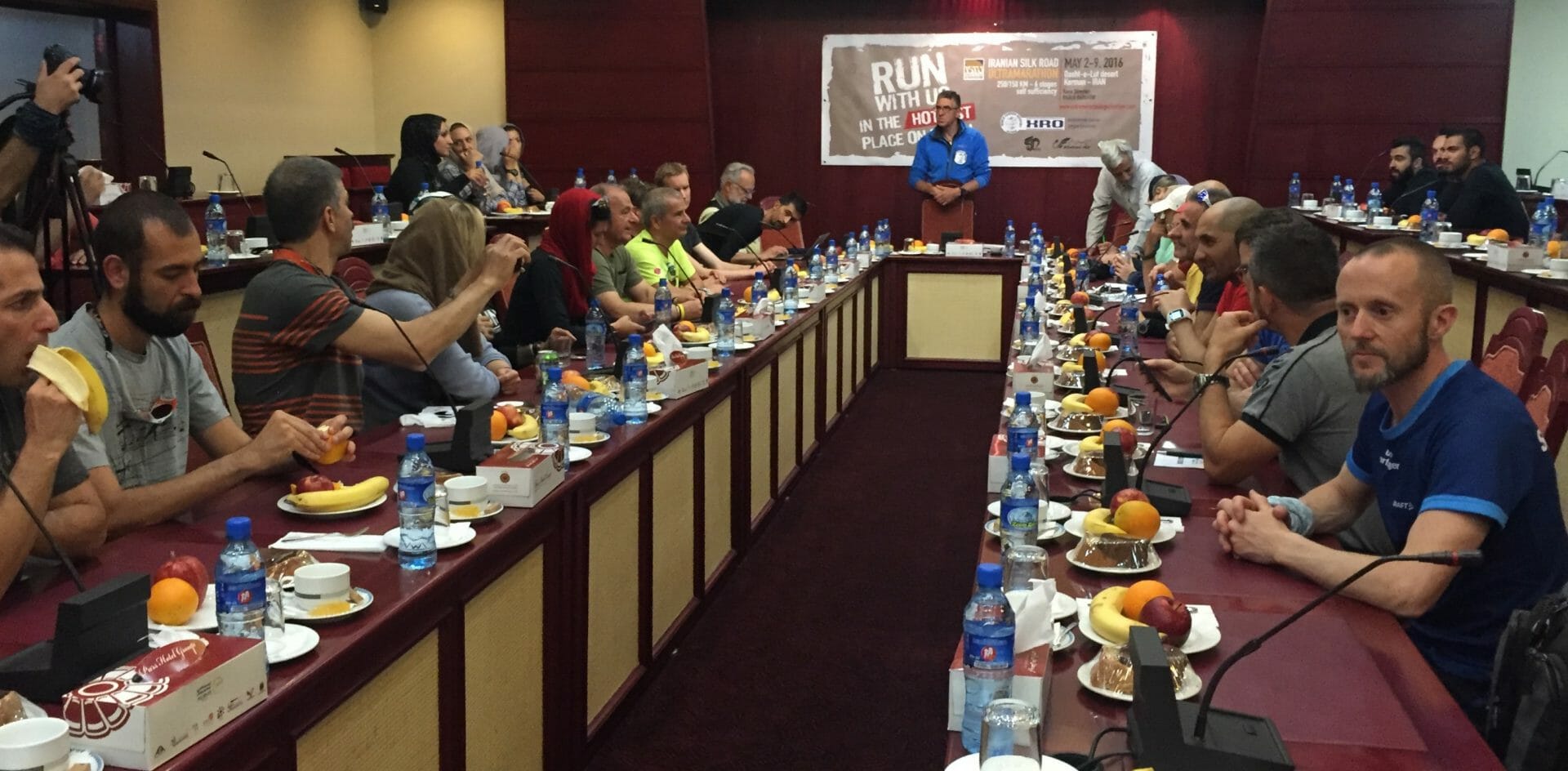 After the race was announced in the press, a whole village was waiting for us to be welcomed and they would welcome you and be happy in the course.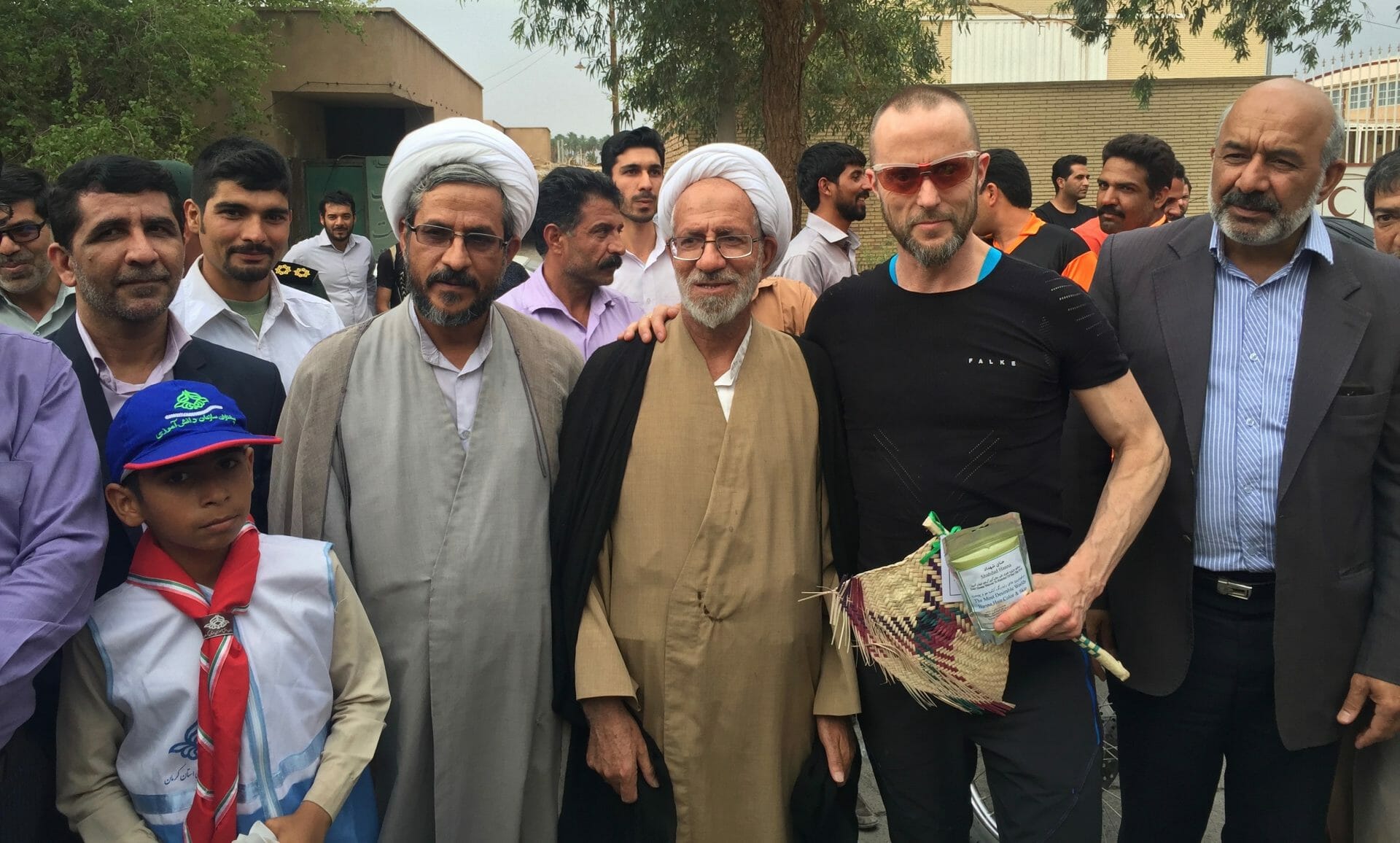 Hovedløpet
The main course is self-sufficient, 250 kilometers and divided into 5 day-papers. In the backpack, participants must have all food for 6 days, which must contain at least 18,000 calories. In addition, the bag must contain required equipment, first aid, clothing, sleeping bag and otherwise what is required for the six-day course in progress.
LITE 150
In parallel, there will be a race called LITE 150. This is a 150-kilometer race and the participants only carry day breaks with them. For outside of the first and longest dayout, LITE 150 starts at CP 1 (control point) which is approx. 10 kilometers in front of the main course. Basically, this race is easier, but the higher the pace, to stand in the top.
Control Point (CP)
It is the checkpoint at approx. tenth mile where the participants receive water and medical supervision if necessary. The medical oversight is carried out by the Iranian Red Cross special group for desert.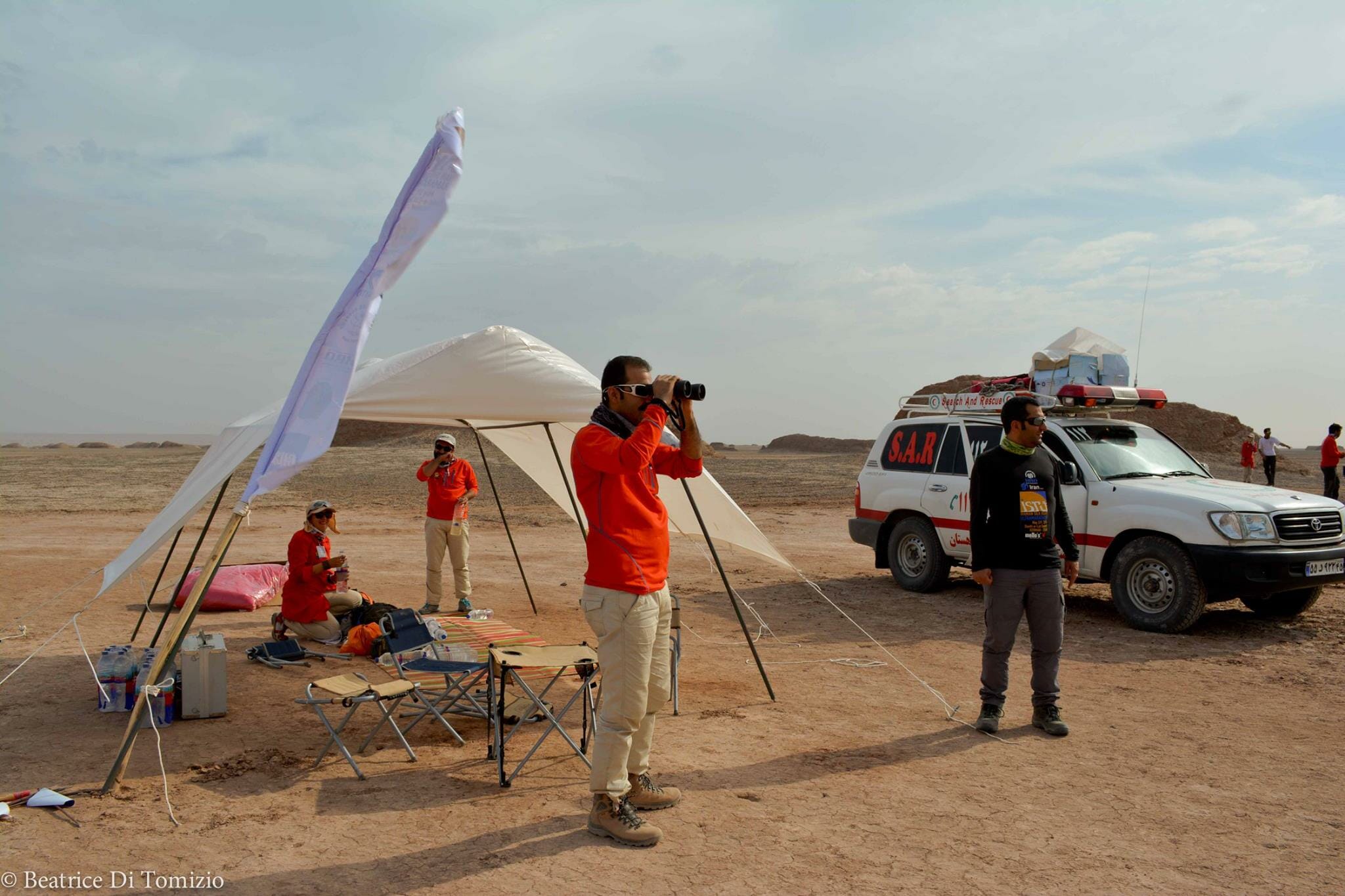 Participants may stay for ten minutes at each checkpoint before continuing the race, except for the 10 minute rule the day is taken with the long distance (84 km). At the checkpoints there is bedouin tent that provides shade for sunbathing as well as a car to possibly bring out participants who break.
Water and more water
By the organizer, the participants receive water at the start, checkpoints and at targets on each day-trip.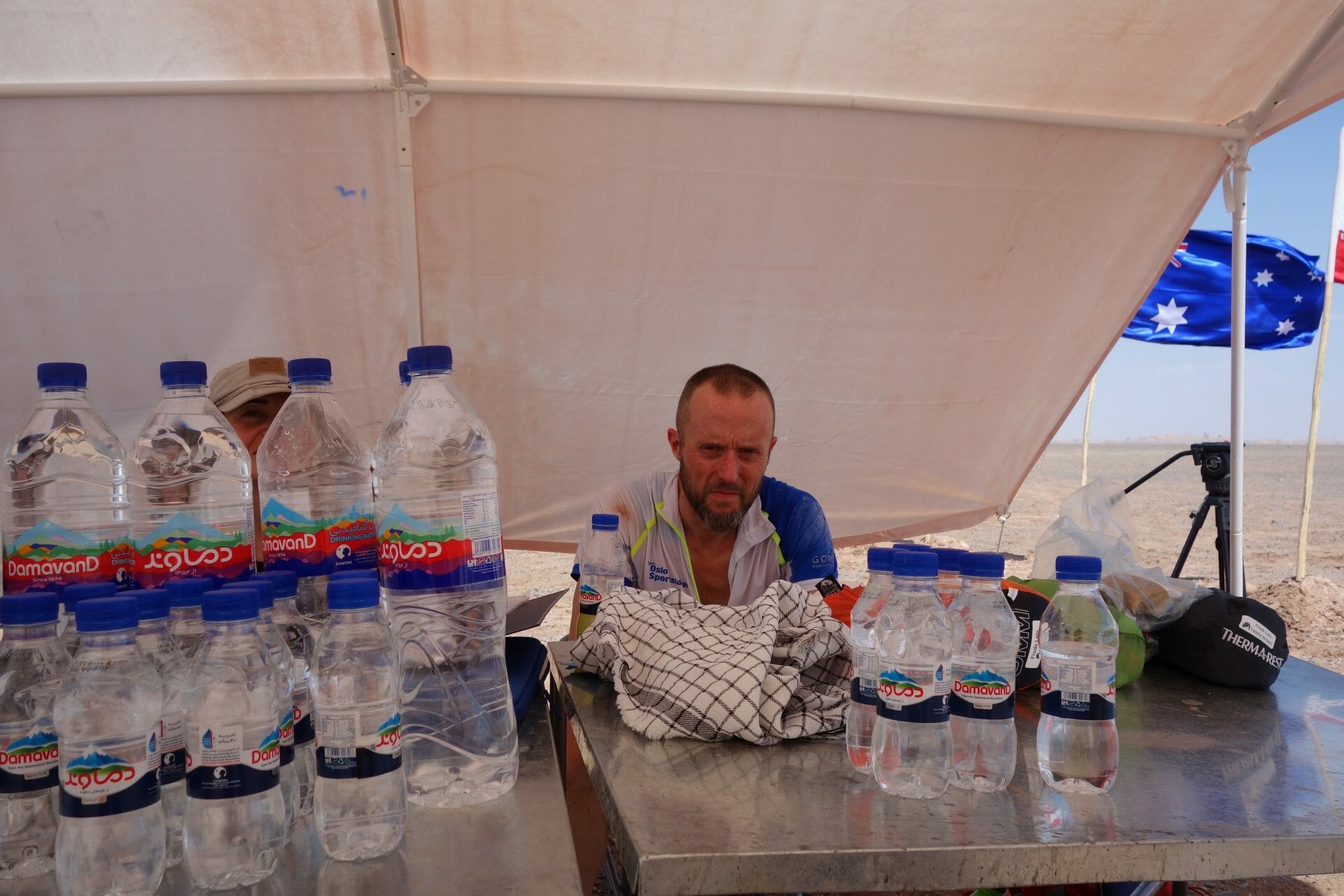 In addition, boiling hot water will be distributed in the morning and after meals that can be used for mixing dry food. Some of the water we received was cooled and amazing when the temperature was usually above 50 degrees.
THE RACE
We were driven to a caravanserai in the desert Dasht-e Lut. Caravanserai is a square castle that, in the past, housed the business traveler. There were four rooms in two of the corners that we would use to sleep.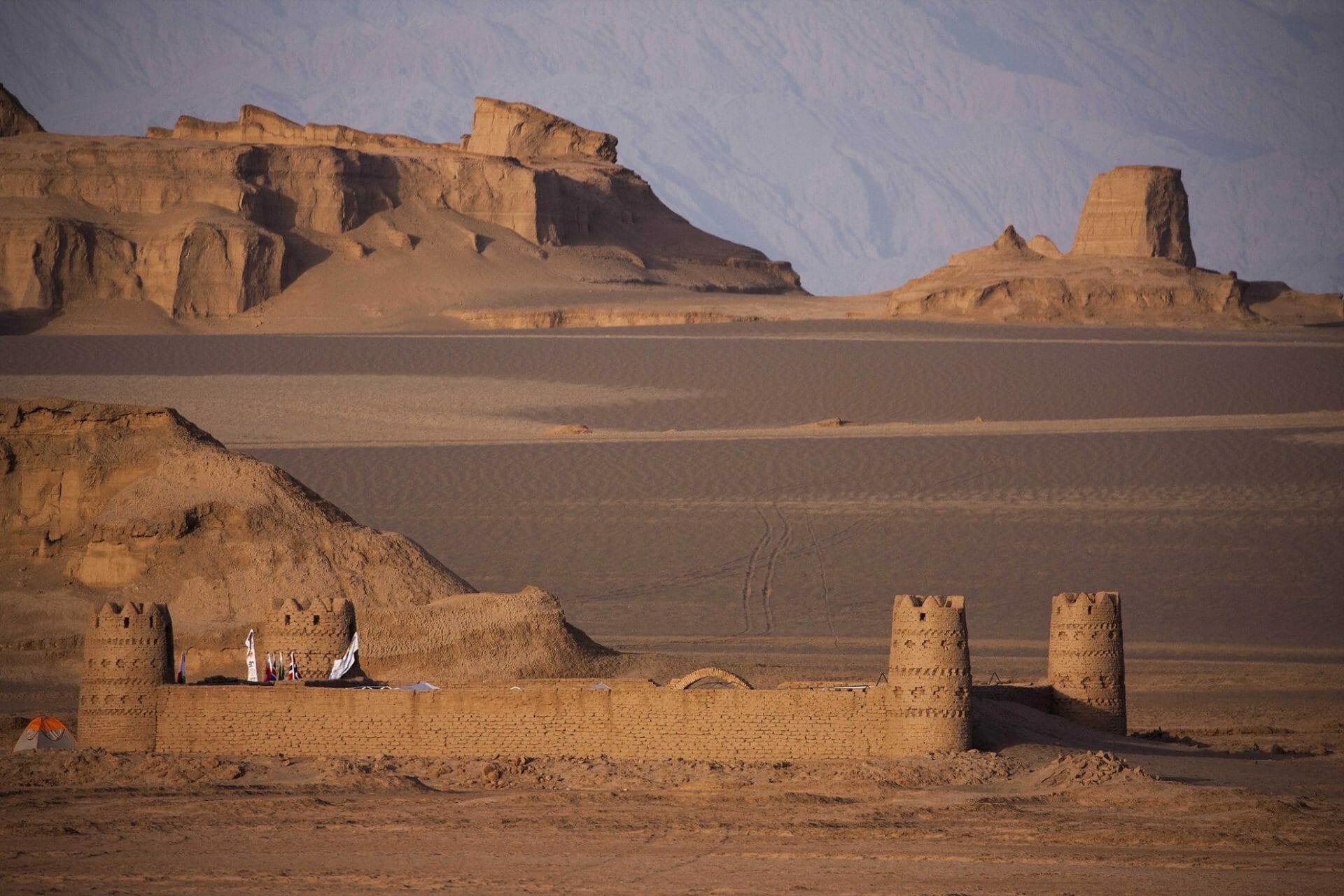 The huts were hard and there were 38 degrees of heat at night, so sleep was luxury that night. Those who were not completely used took the time to pack the bags and place equipment so it should be finished the following day. That evening we had served good hot pasta from one of the Italian runners who were also a chef.
Running Day 1:
We were woken up in the sixth to be ready for start, which was going to be 7:30. I was packed, so it was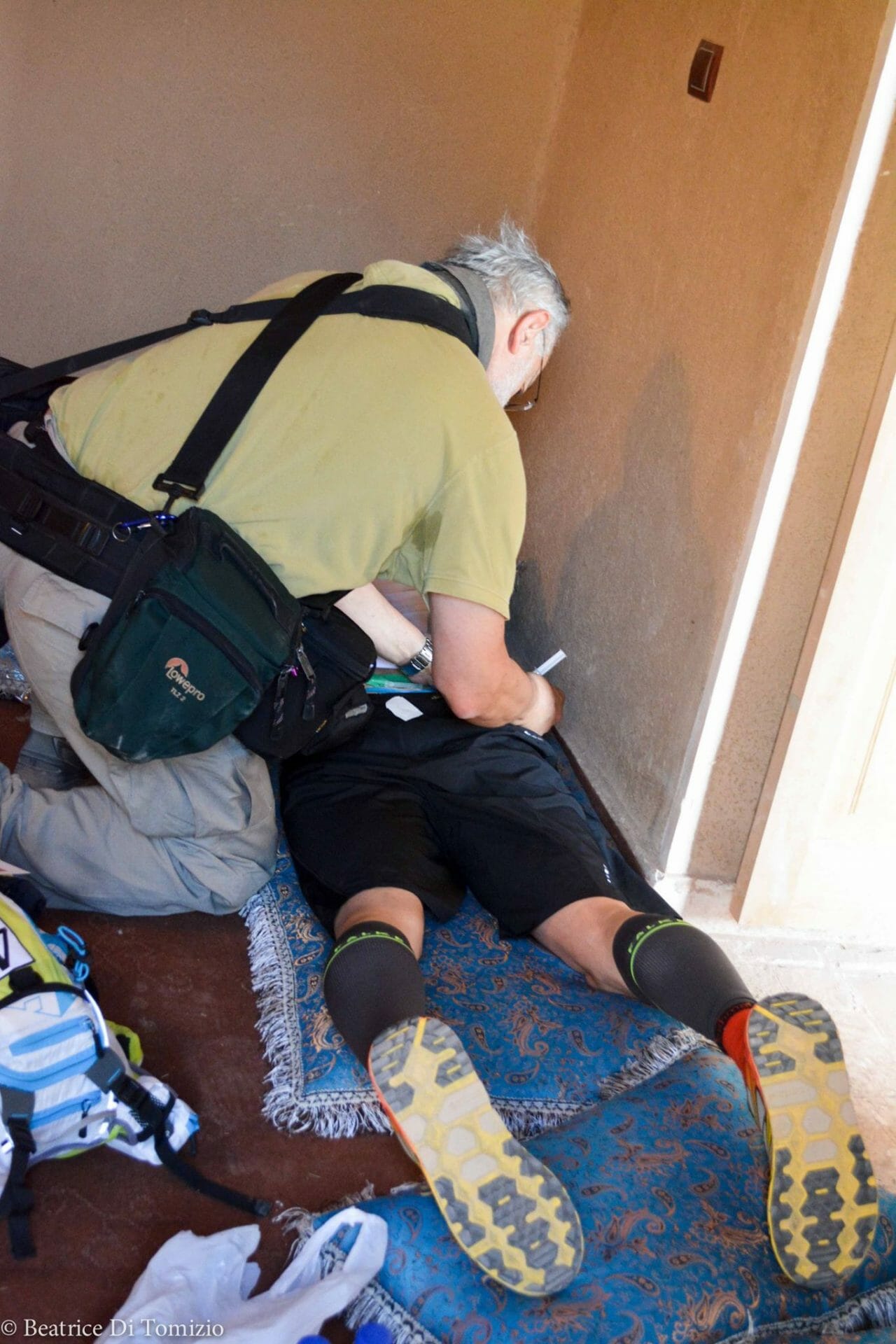 breakfast that was important focus for me. When I bent to fill boiling water in my oatmeal, I twisted a little and felt it was locking in the lower back. I then failed to get up and the fear of not being able to ask for a start. I took a couple of painkillers hoping to get a little softer in my muscles but realized that I had to go to a doctor for help. There I received the following message when I told that I had taken painkillers: "You are not a doctor, I am!".
I asked the doctor to please get me on my legs until the start time, so it became a syringe with cortisone, some fun and a tablet. Twenty minutes later, the bag was on my back and I stood at the start line with 47 others who had to run both 250 and 150 kilometers. In addition, there were locals, auxiliaries, several television cameras and journalists were present.
Caravanserai - Dolphin Valley
The first mile I took it gently in anticipation of the back muscles becoming softer. Then I started smearing until the sun really told us where we were. It was now up to me and the other participants that we had signed up for a race on the warmest place on earth.
Poff! and in a moment the temperature had passed forty five degrees. I passed more than the other way around and realized that many more did not heat the heat than I did.
Empty for water
At the checkpoints, I filled up a liter of water each time. One liter per mile should hold, but a little logistics and startup problems with the organizer led me to run out of water at the last checkpoint that had not provided enough water for the participants. I realized that without water for over two hours on the last part of the fifth degree of the day trial I would challenge myself in a whole new way. At the same time, I also realized that there were no alternatives, it would not be cooler to wait for a new water supply. It was just moving on to the goal.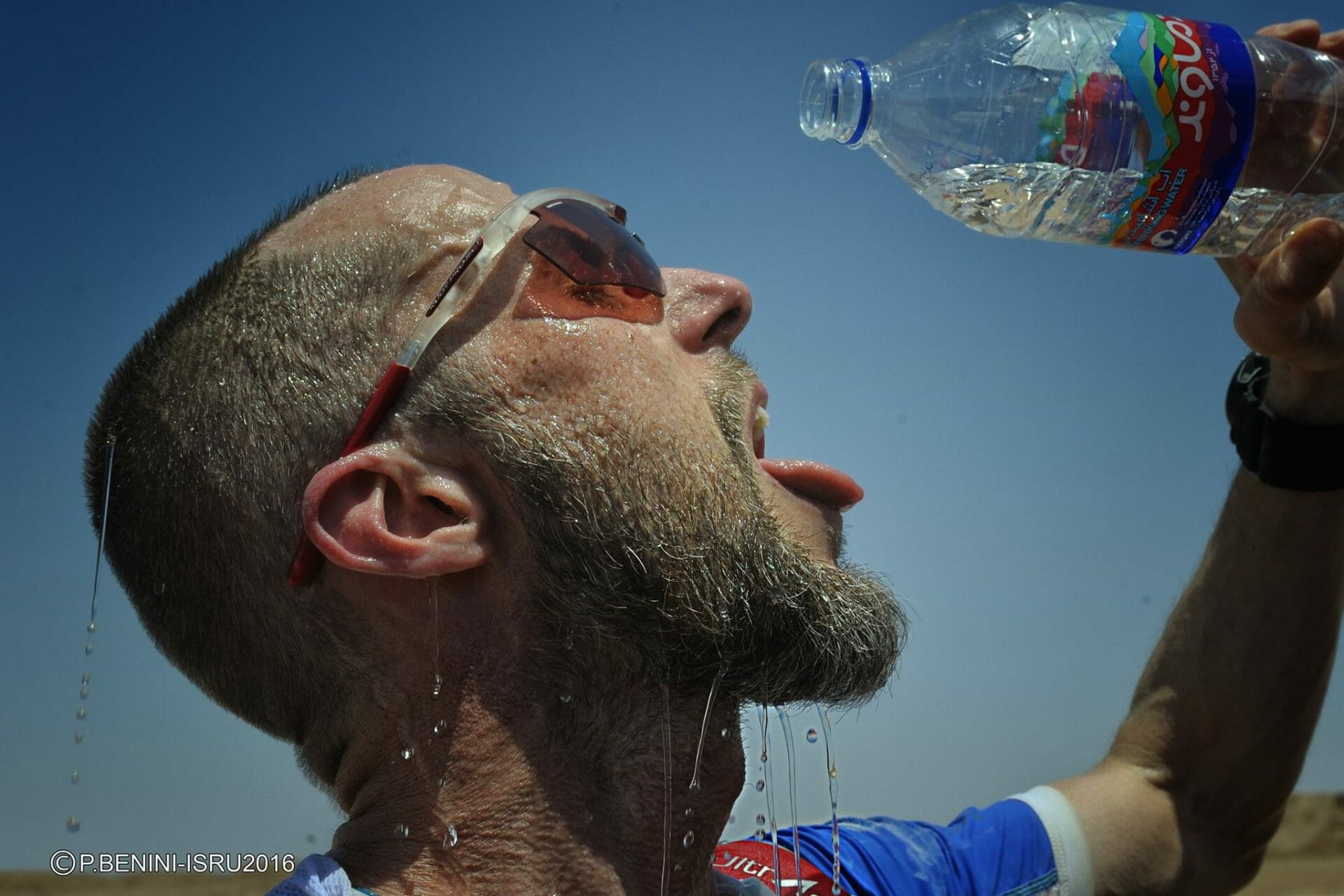 Not long afterwards I picked an Iranian I had previously known. Iranian, Vahid had serious problems focusing and could barely move. His bag was distributed along the way and I had to share my rest of water holding him in hand and pulling him with me. I still talked to Vahid to check how awake he was. This situation gave me a small boost and I even woke up. But when we saw the finish line a few kilometers in front of us, I felt both a relief and that ALT was emptied in my body.
18 people managed to complete the 250 kilometer distance, I became number 11. Some were moved to LITE 150, which totaled 6 people, but some failed to retrieve.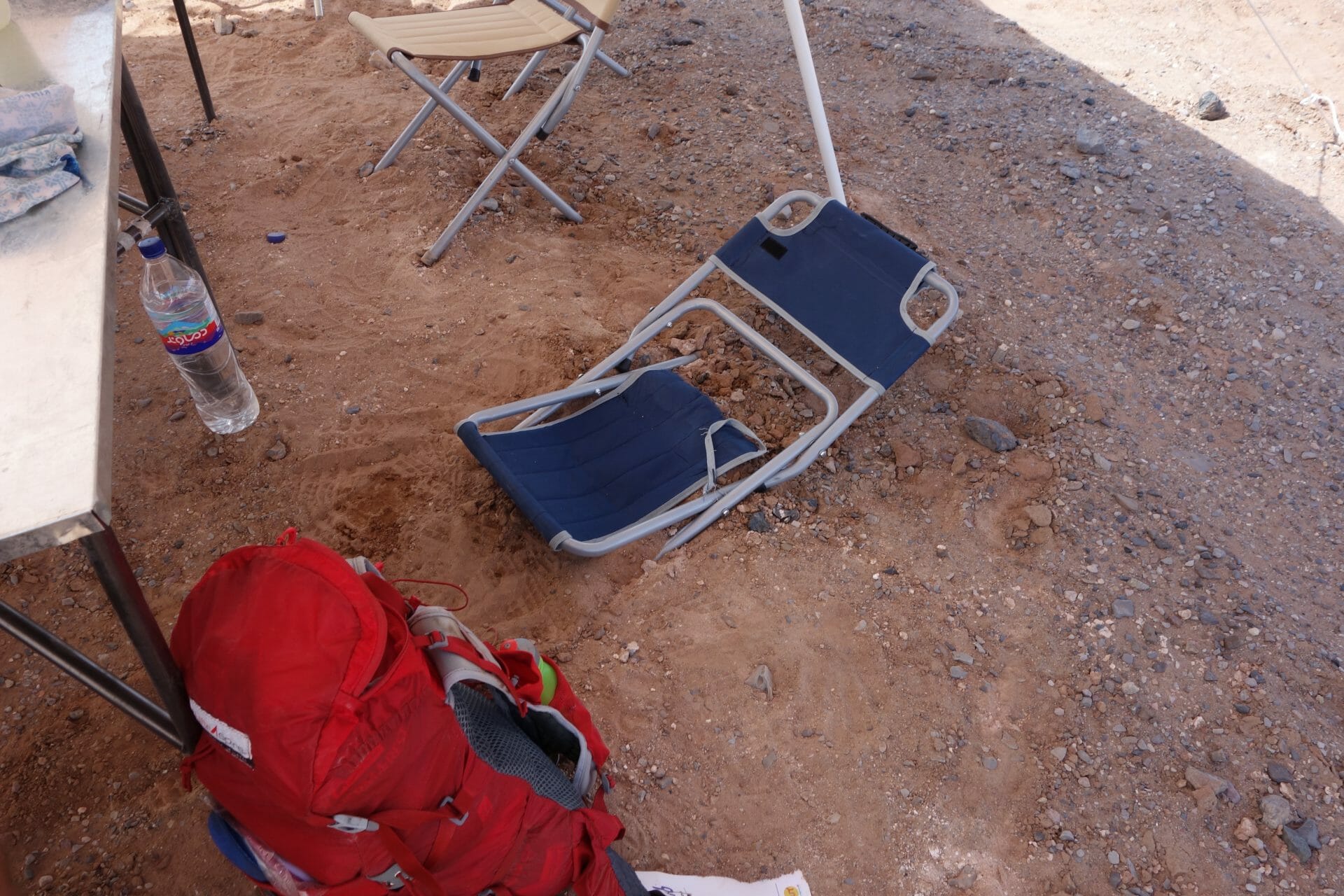 At passport, I took off the bag and put myself in a medical tent on a folding chair to massage the lower back. I sat there for a few minutes before the whole chair collapsed and I climbed in the ground. With a bad back, just help getting over to a crib, crushing a couple of tablets, and staying the next day.
Dangerous mistake

In retrospect, we explained the reasons for some logistics challenges today. Due to the heat, a few participants had left the race track and found shadow a while without leaving behind sacks or belongings at the point on the track where they had gone. This had led to the establishment of exploration and subsequent searches with several vehicles.
Vahid
The Iranian - Vahid, whom I had achieved, was not used to this type of race and had thus packed "wrong" and heavy. I helped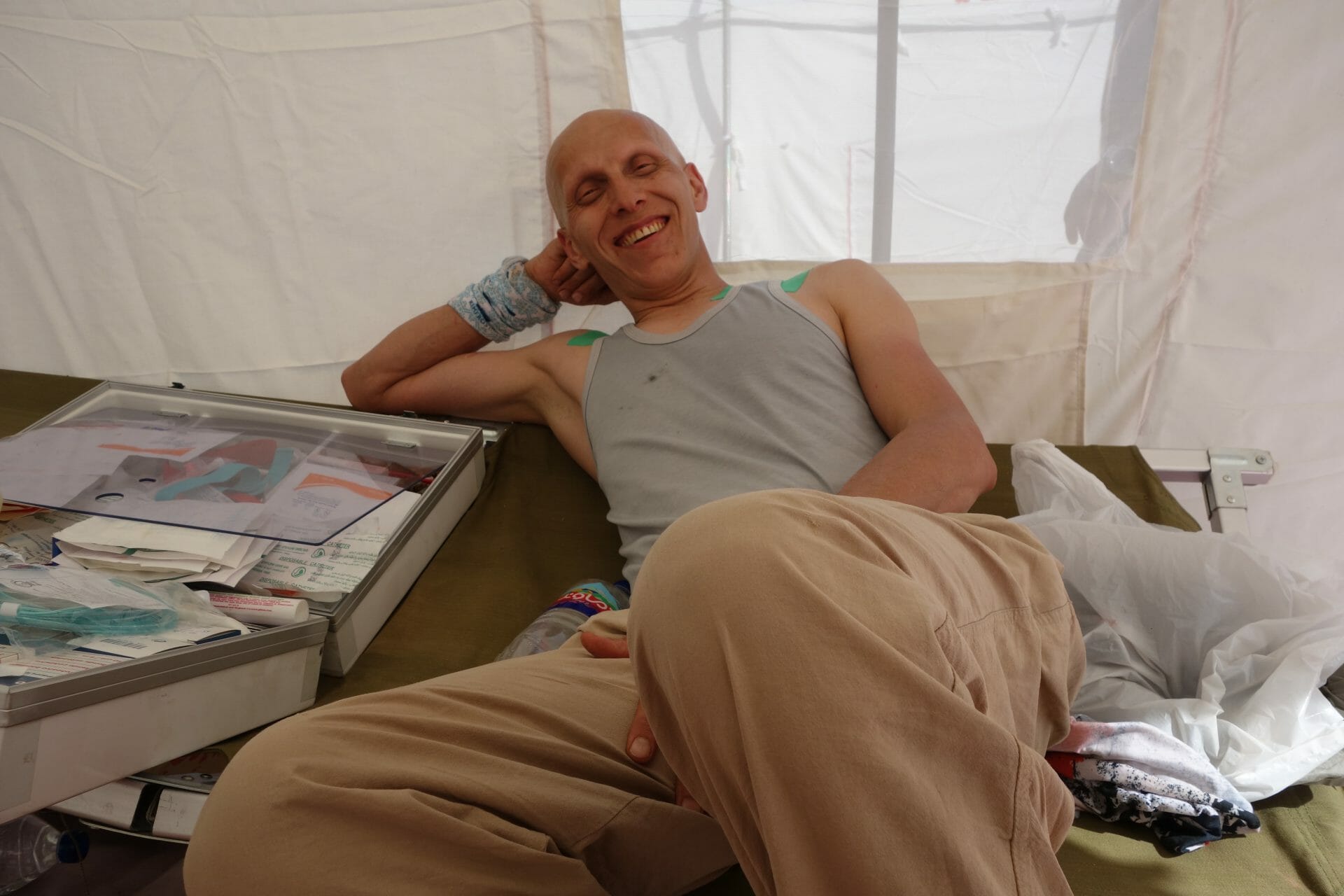 He wrapped up, reducing the bag of 3 kilos and giving him the little I had of reserves in my bag. After a few days, I became aware that Vahid was a famous profile and professional cyclist on the national team of Iran. After the race, Vahid included me in a major TV interview.
Race day 2: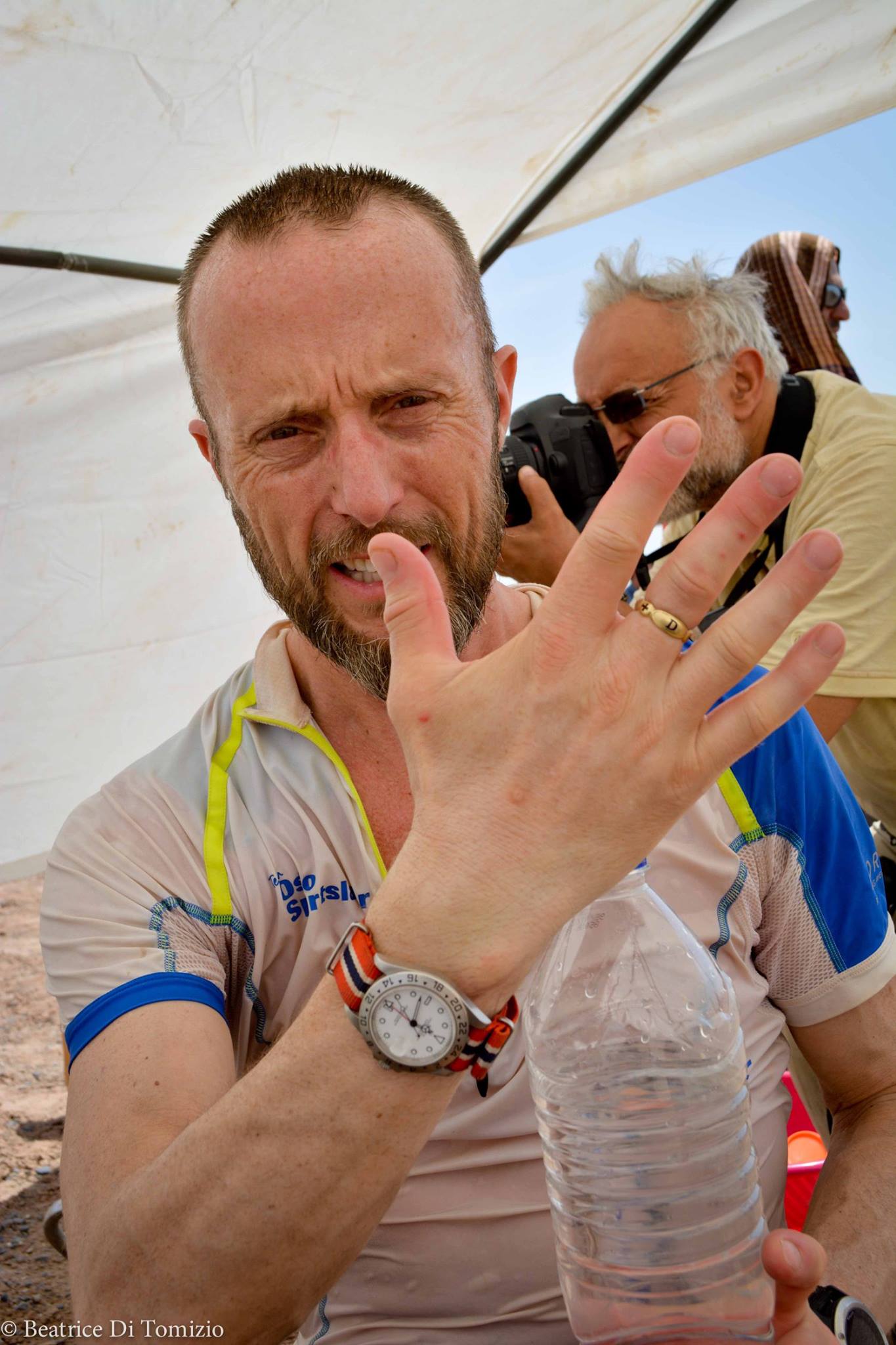 As I was on the first night of sickness, there was little sleep when there was a lot of activity.
To handle my back and at all I could get up with the doctor, I received similar medical treatment with cortisone and tablets.
Under normal circumstances, I have control but this day I swung up my fingers, something that happens through imbalances of electrolytes, salt etc in the body. The doctor confirmed that in the future I should change my planned intake of electrolytes and salt. I had already got a bag of salt and had good nuts already before the start of the first day. So instead of gel and powder with all of the content, it became pure simple serving for the rest of the race. It was also possible to drink from the saltwater jellyfish we passed along the way.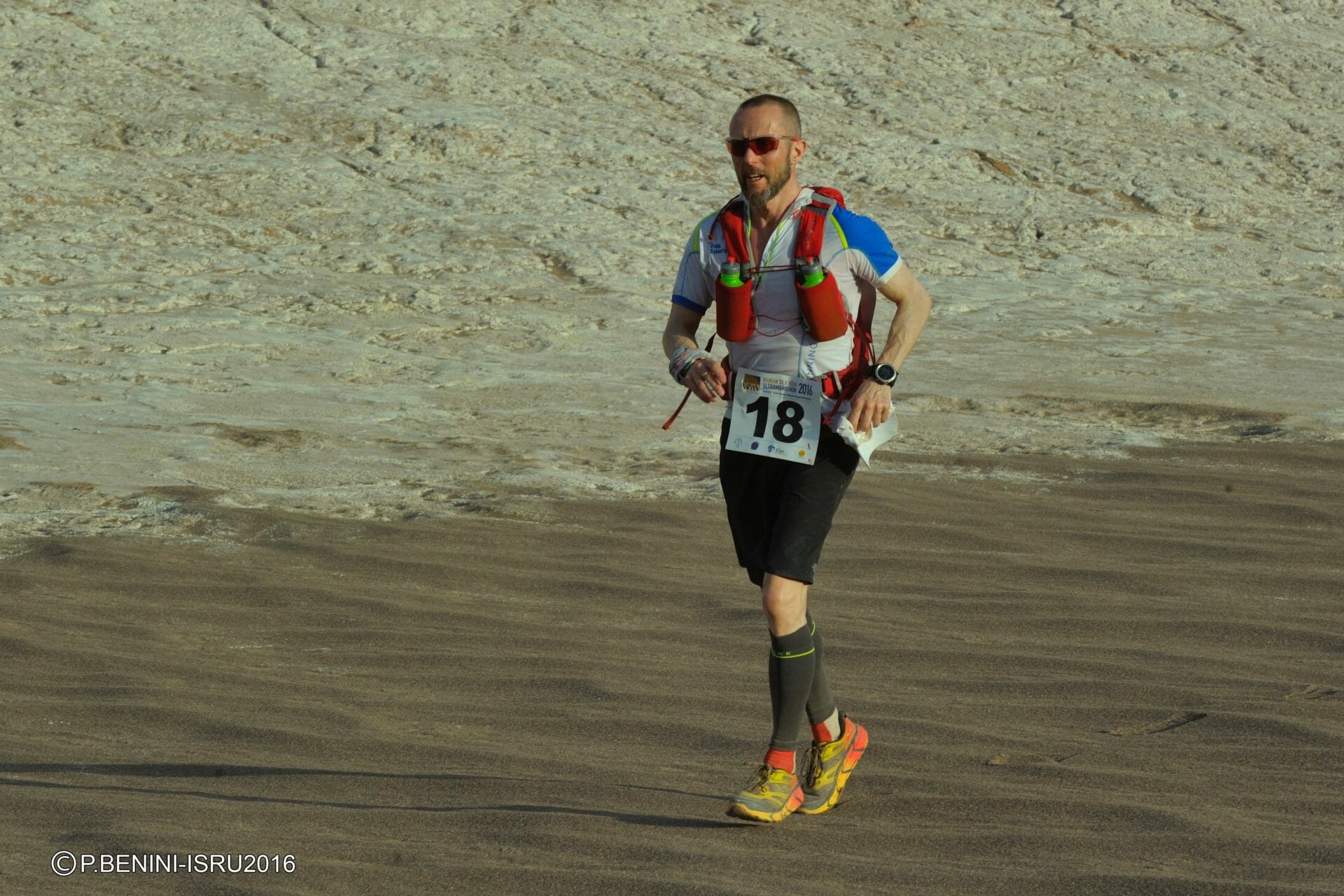 My Tailwind powder and miscellaneous gel for the rest of the race were redundant and unnecessary to wear. I chose too little powder to use before / after the races to give the rest to Vahid which was lacking most. He almost began to cry with joy and both sacks became a bit easier.
Dolphin Valley - Salt River
Due to the high temperature the day before and the dropout of participants, the organizer decided that in the coming days we should start an hour earlier.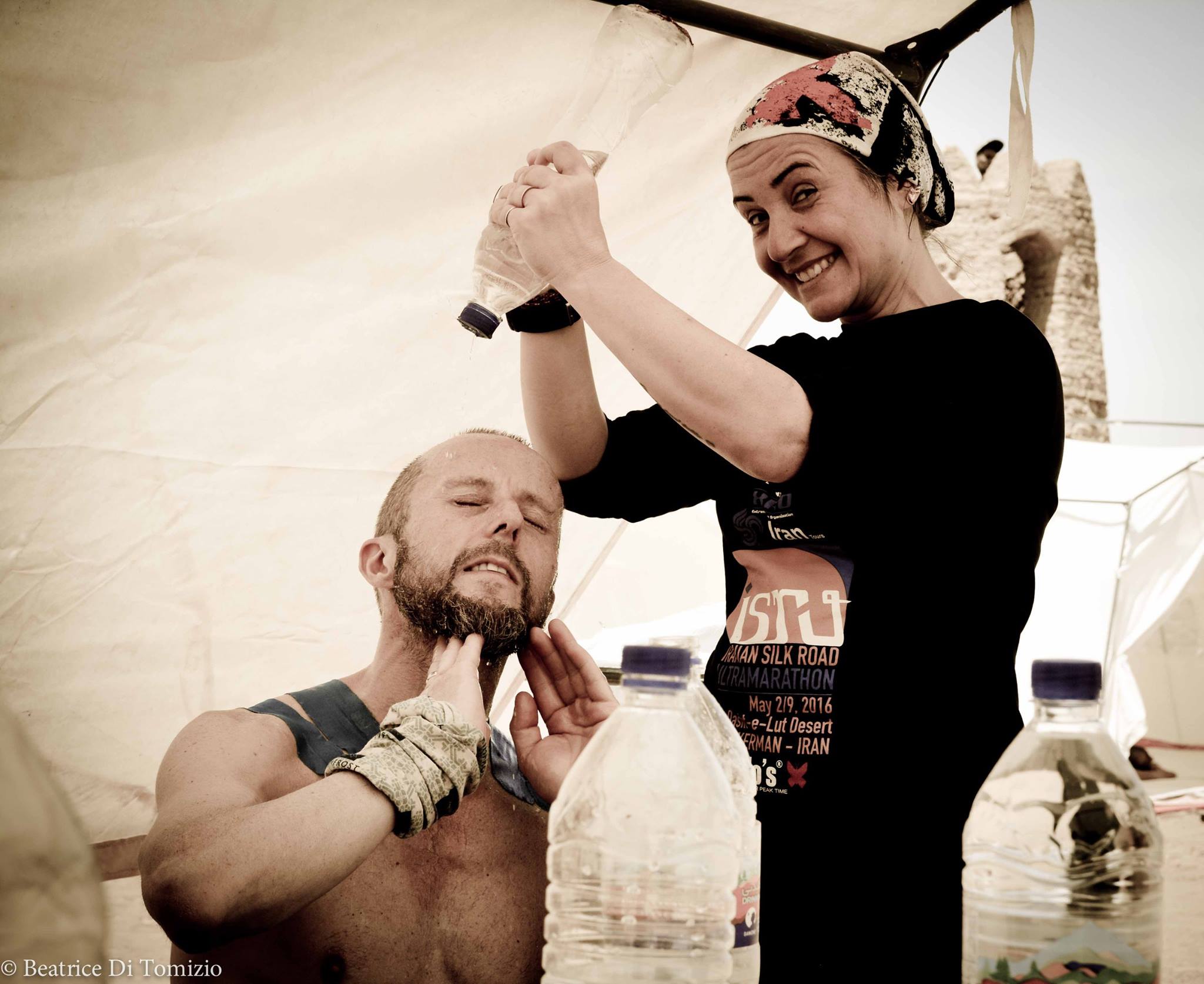 At the start the back was bad but after a while it softened, but the wall of heat met us again once and it became tough. There would have been more conversations with support and health personnel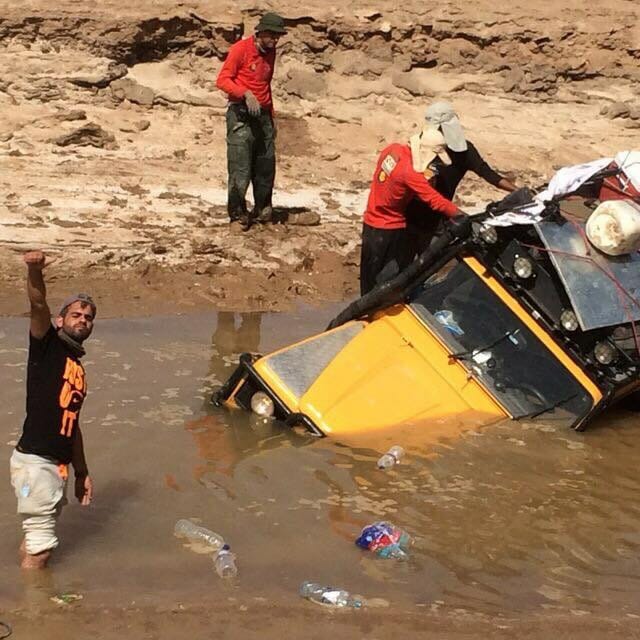 the night before, for now everything was perfect. This day we walked along a beautiful river like the waterfall and the silt next to us. I was tempted to both drink stupidly and jump into the water, but was fully aware that this river contained a lot of salt. I taste it eventually to add the bag and salt to the body. As a healthy lubrication, I was very pleased as I spared both my salt and the water on the bottles. At the finish line, I was number nine and there was another who had to give up on this day.
Race day 3:
I woke up on my own mattress and felt much better in my back this morning. The doctor gave me an analgesic tablet for breakfast, but luckily I escaped from the burning syringe.
Salt River - Gandom Beryan - Salt River
This day we crossed a salty river with mud and shell of salt. After that we were up on the plateau where the warmth order of 70.7 had been set.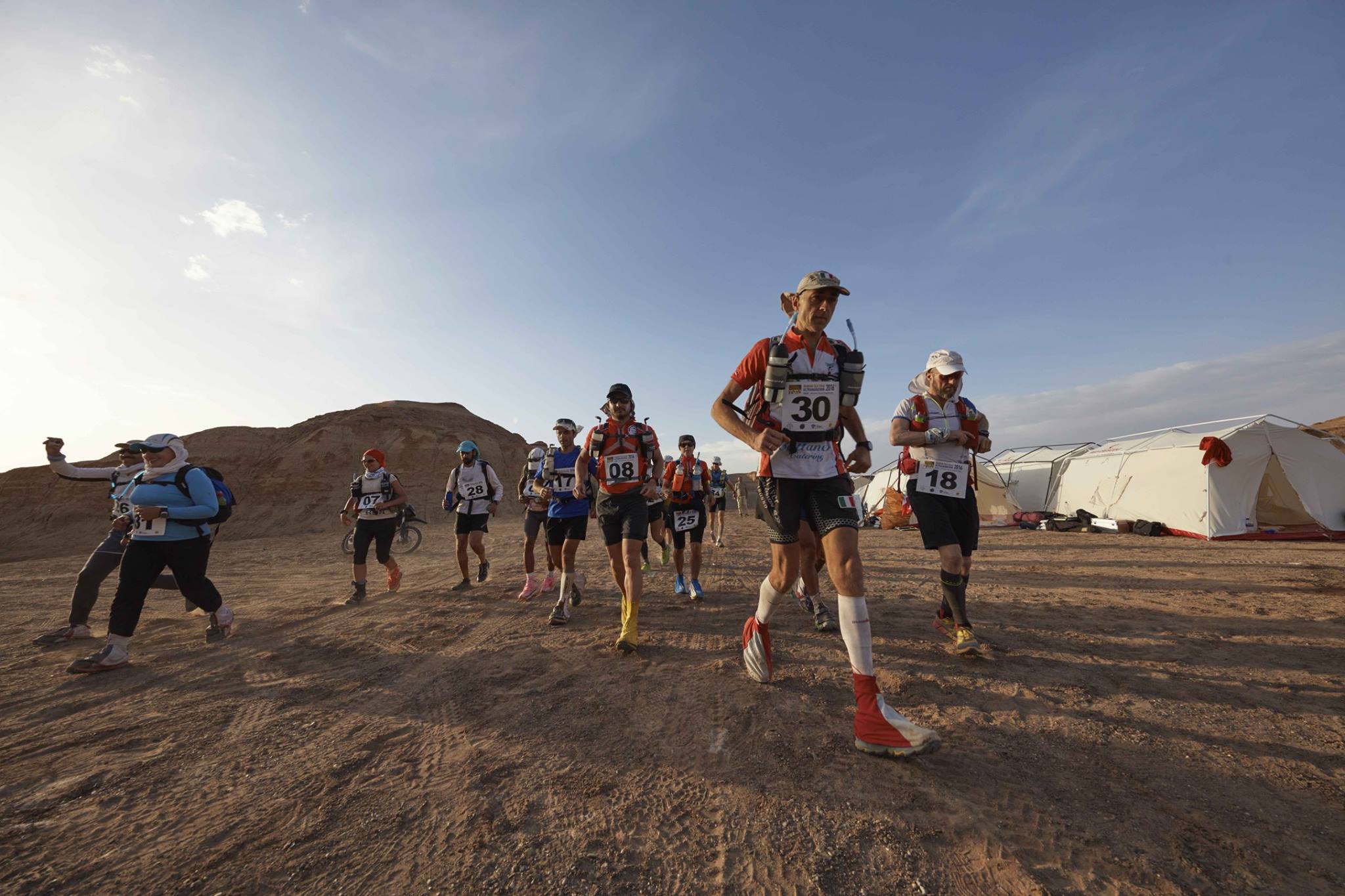 I plan in advance to be one of the first over the river to avoid running in someone else's footsteps and pulled mud, as well as getting more firm ground on the steep slopes up to the plateau.
[wpvideo 5QxK5fzy]
The plan worked and I was number two on the plateau Gandom Beryan. It was strangely quiet up there and the whole area of ​​a several kilometers was covered with lots of black volcanoes. It is asked where the rocks come from as there is no volcano nearby. The stones contain so much metal that it sounds like two iron pieces when they meet each other. It was pleasant to run in the sand down from the mountain before it was intense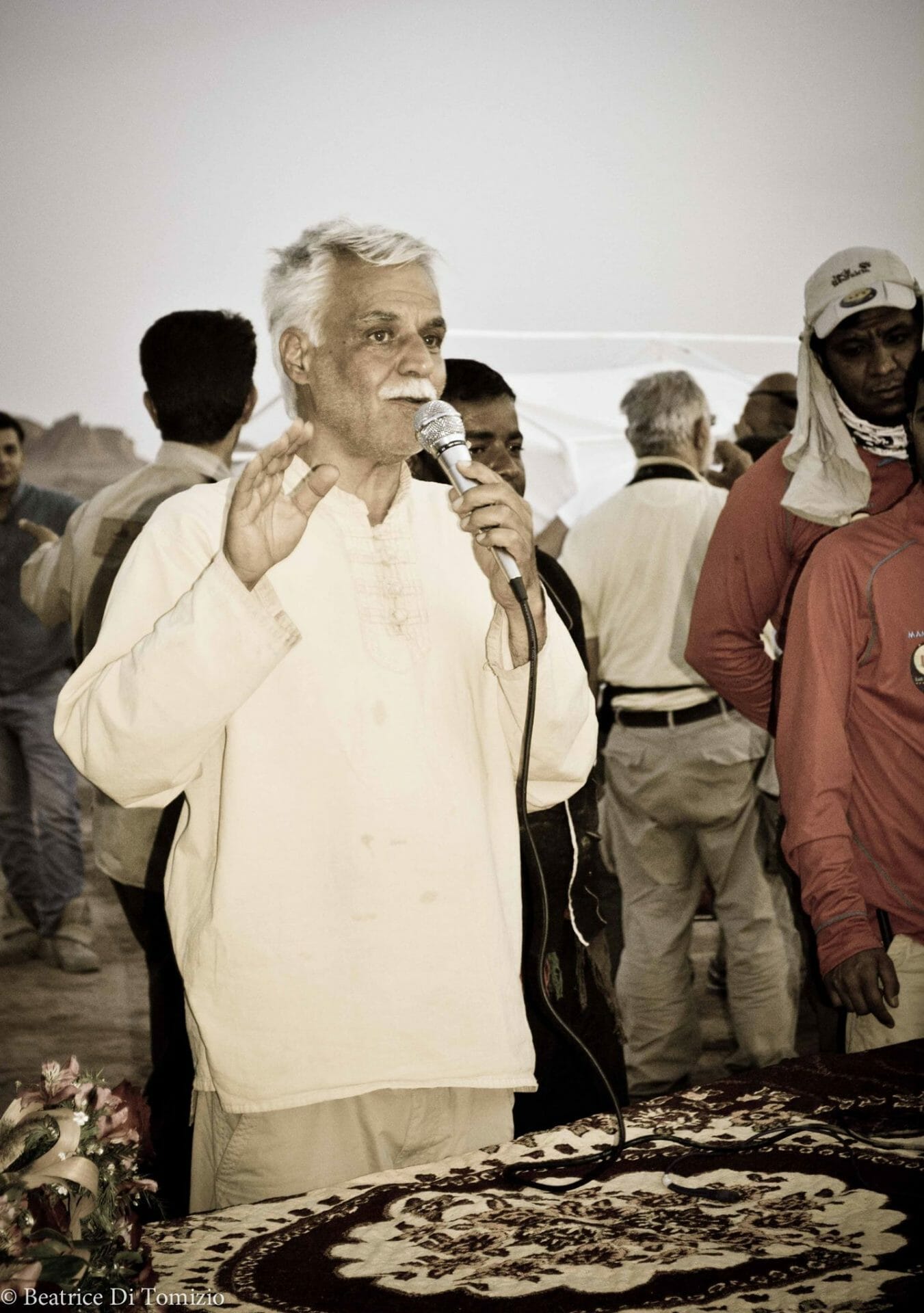 the heat came. I was still number two when I passed control point one, but then I was picked up by two Italians but ended up happy as number four at goal passing.
In the evening, several politicians and tourism chiefs in Kerman arrived to give us a moral support to complete the race.
Running Day 4:
Even though it had been warmer than the organizer had expected, this day would be extra hot. We were recommended to have 1.5 liters of water out of each checkpoint and in addition, cars would run sporadically between certain checkpoints.
Salt River - Qalut Stage
We started an hour earlier than the original plan and I was "nice" in the back and opened heavily in a "cool" temperature. Before the first checkpoint, I meet a follower who, with his thoughtless action and kindness, will point to the control point by driving in front of me. Of all the dust that was swirled up by the car, I immediately started bleeding my nosebleed - a lot of nosebleed. In this context it is important to have a buff easily available. I was cursed and upon arrival at the checkpoint, both the driver and the passenger were given an Iranian doctor overthrowing and some frame-sold glosses in Norwegian. They understood my frustration and reported on to all the cars on the trail, something I noticed when driving to other cars when I arrived.
Because without my nosebleed, I had a great time and ran in front with Mohamad - who led the race - to checkpoint four. Then the wall came warm and eventually it became so intense that I did not take the chance to run more. The windshields were so hot that it welded against the skin and the water in the bottles was so hot that it was uncomfortable to drink. I was crossed by some Italians, but when I came to checkpoint five, they were on the ground like more of the rescue personnel.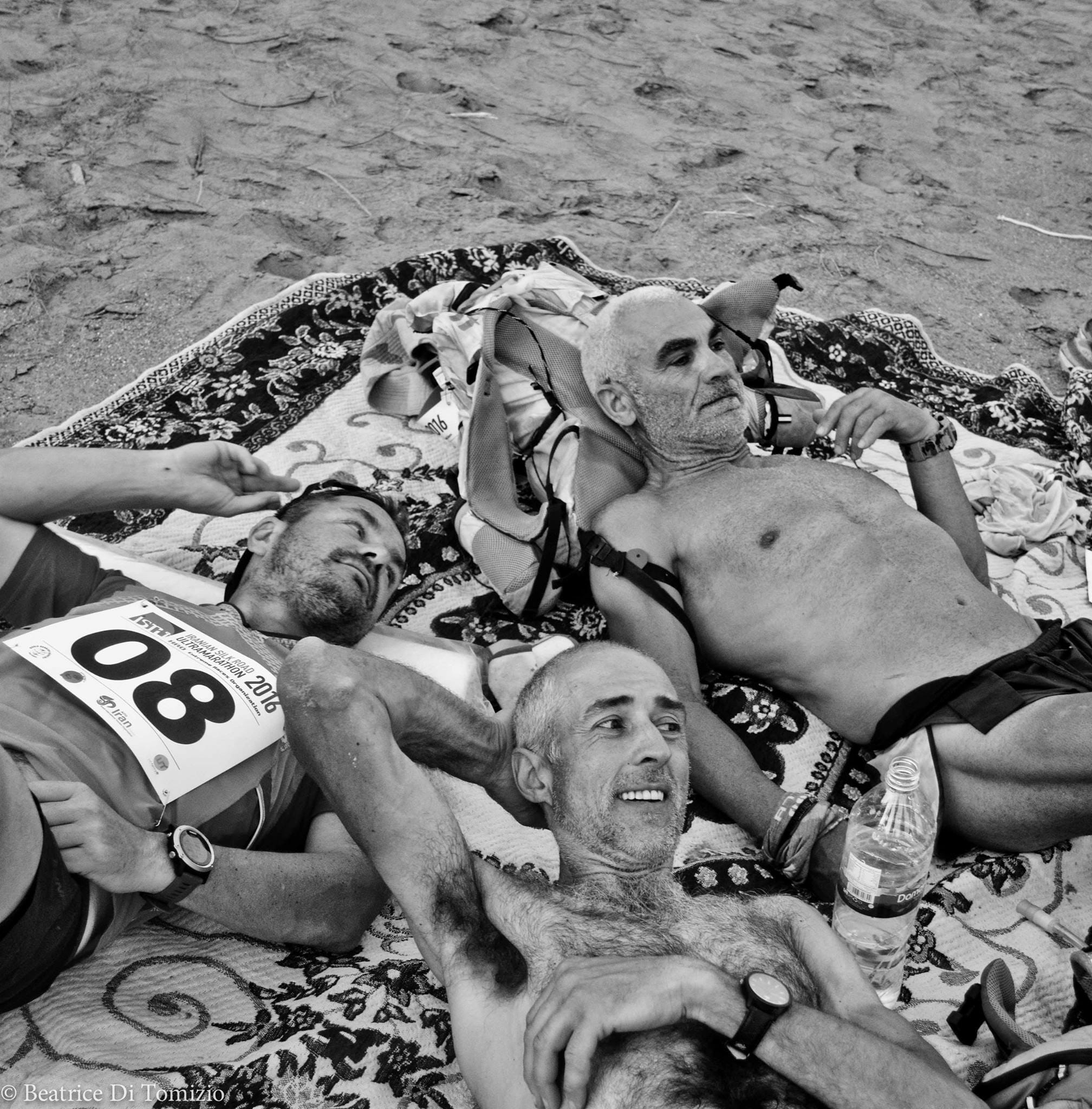 At checkpoint five there had been around sixty degrees of heat for a long time. I felt at heart's heart that now it is enough and I should rest to cool the body. The Italians continued for a while rest, but I chose to stay for a half an hour. I lay with several cooled water bottles that I held on my body and had wet towels over there again. When I chose to continue, I understood after just a few kilometers that I had misjudged my body and would struggle with the continuation.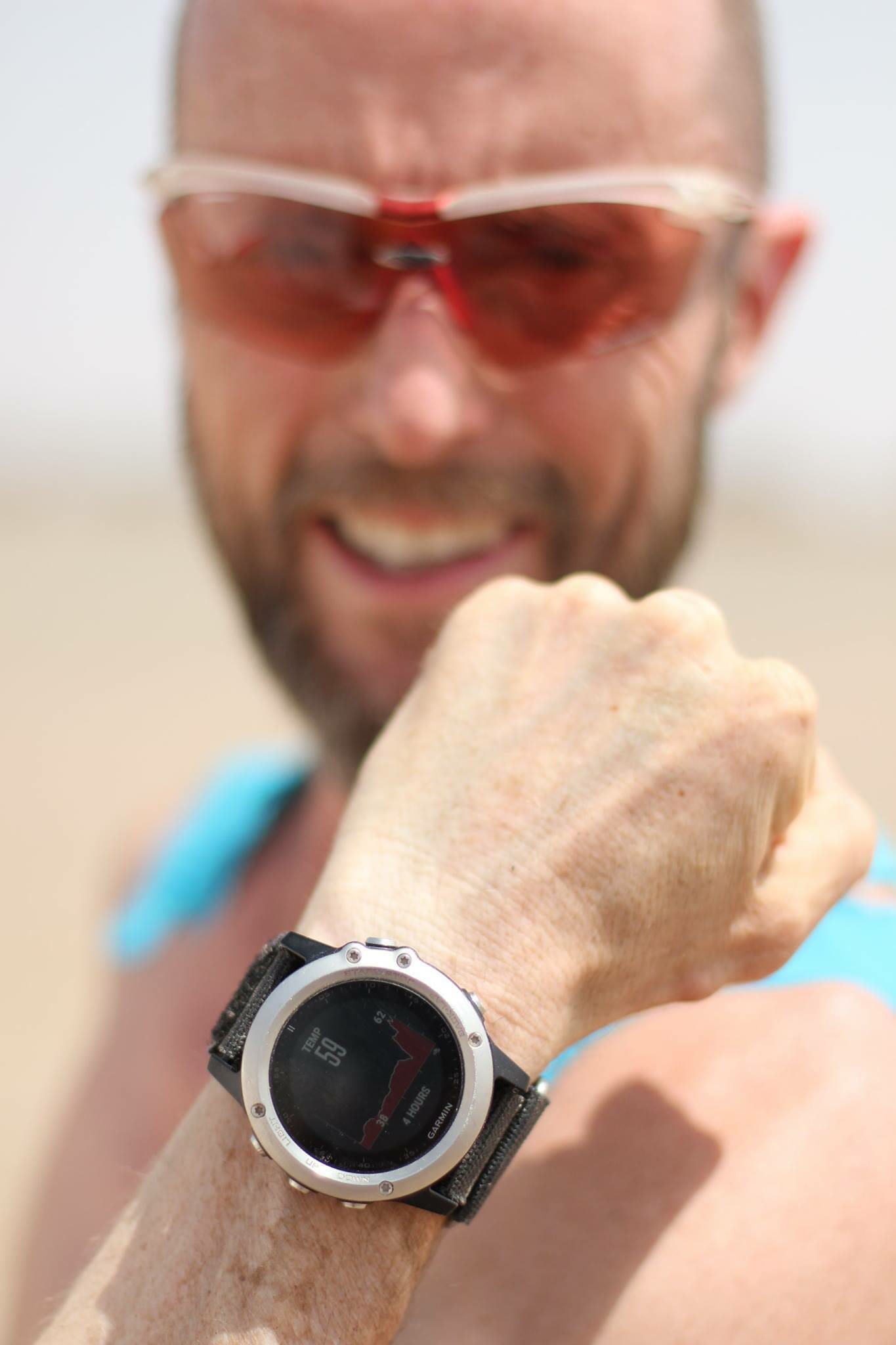 Upon arrival at checkpoint six they had measured sixteen degrees of heat and I chose to lay down with cooled water bottles over my body again pending the sun to begin to descend.
I ate a little bit and just remember that an Italian lady massage my legs while stabbing her arms and legs. It took another two hours before I chose to continue.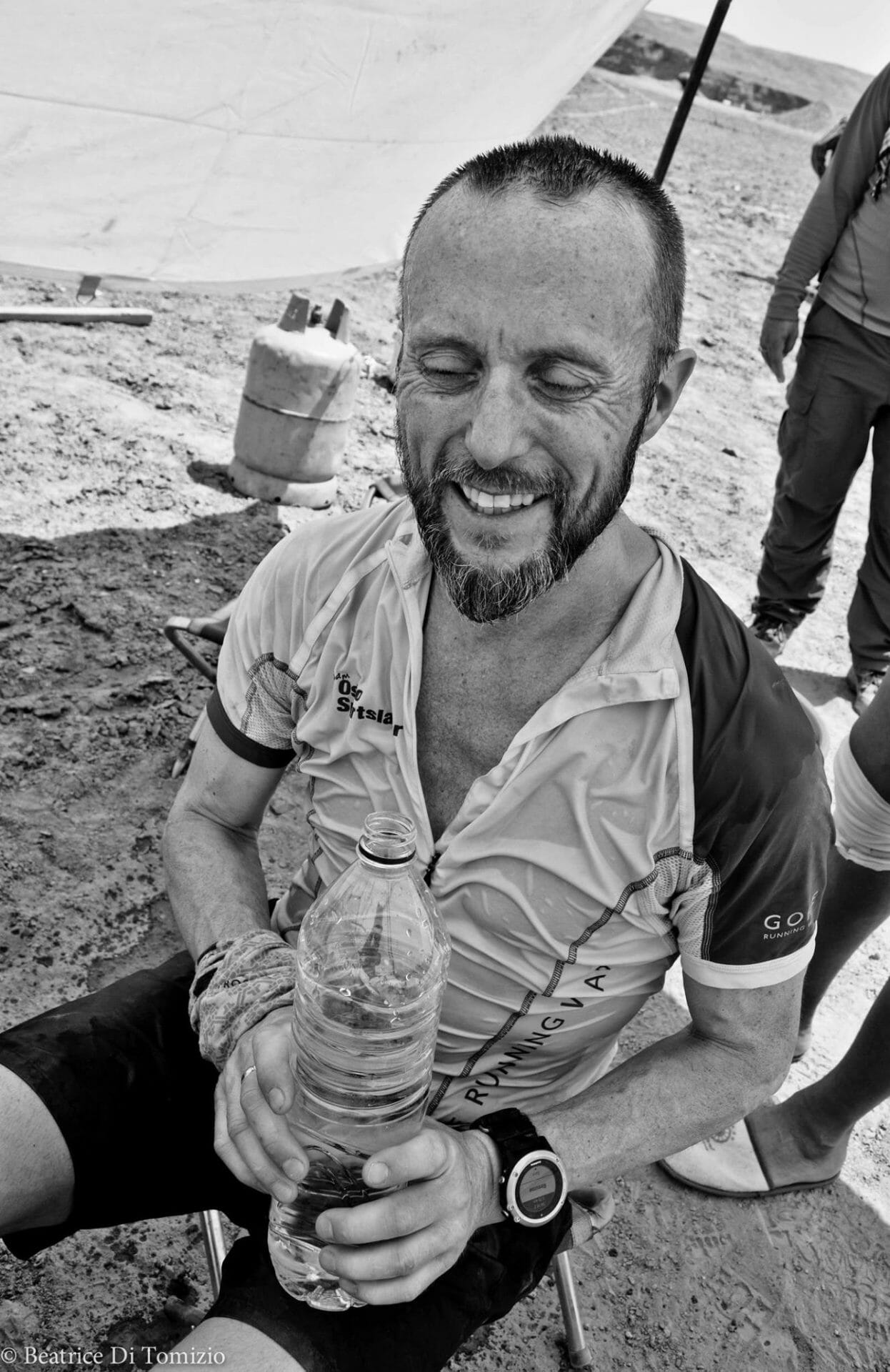 As I continued, the sun had begun to shed a shadow and a hot breeze blew against us in the valley.
To cool down the body when we run the blanket's t-shirt and stay out of the body every time it blows. It gives a little cool feeling on the skin under the t-shirt. In addition, we spray water under the hat, into the ears to get a cool feeling, and more, it is not possible to get out of hot water in a run.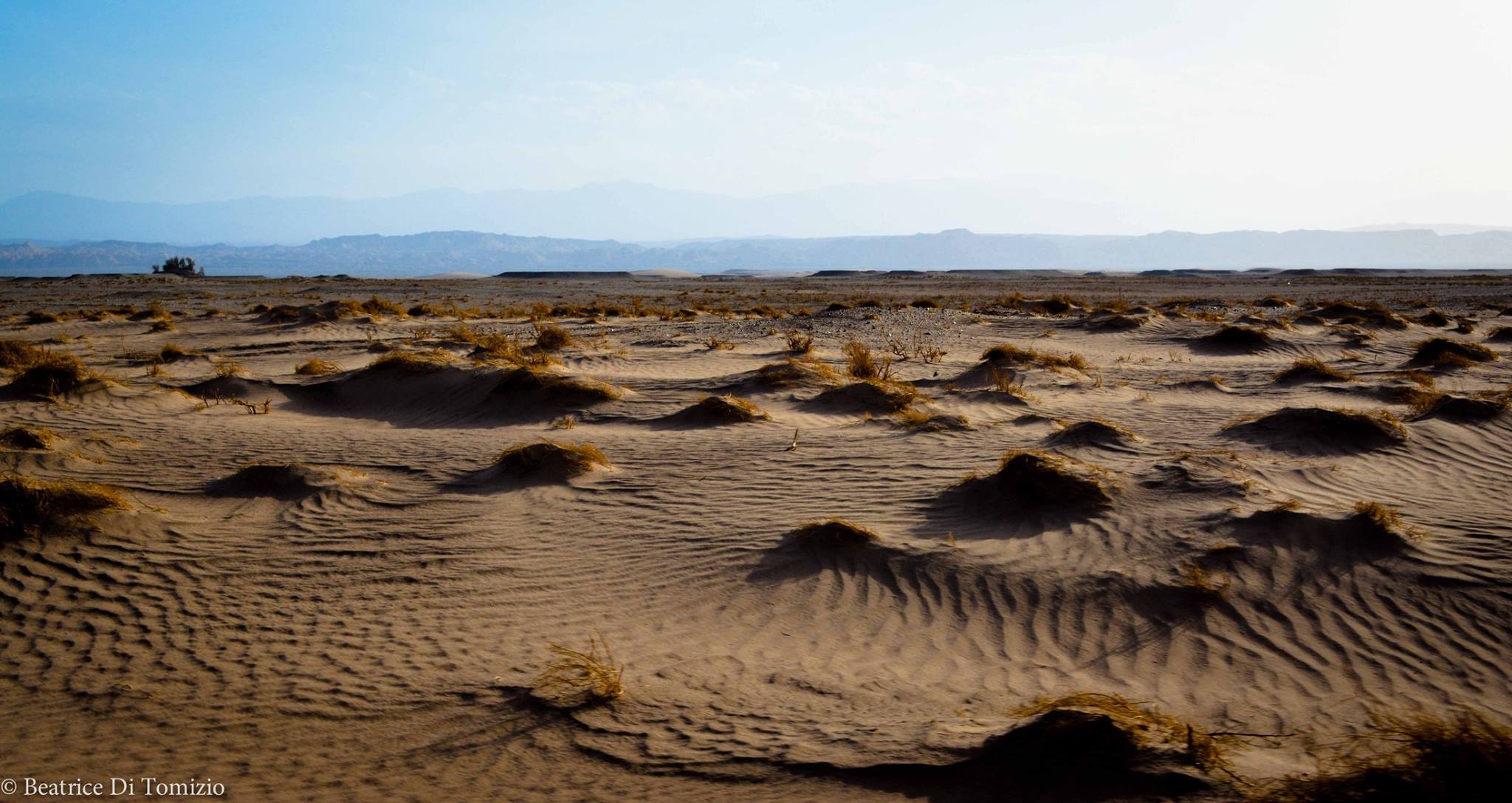 From checkpoint seven the sun was on its way down, but then the surface was terrible to run on. I stepped 20-30 cm down into dust without any resistance to get a nice dust cloud up around my legs. This surface with some crusts continued all the way to the finish line.
At a destination that was 84 kilometers, the sun had gone down and I was number six. I learned that many had been having trouble with the intense heat this day and some had chosen to wait until the night to continue. Throughout the night, there were zombi-like people arriving at the tent camp.
Rest day
Since not everyone is able to complete the long leg within a reasonable time, a rest day has been added. This day we made the least of it possible except to walk from tent to tent to chat with each other.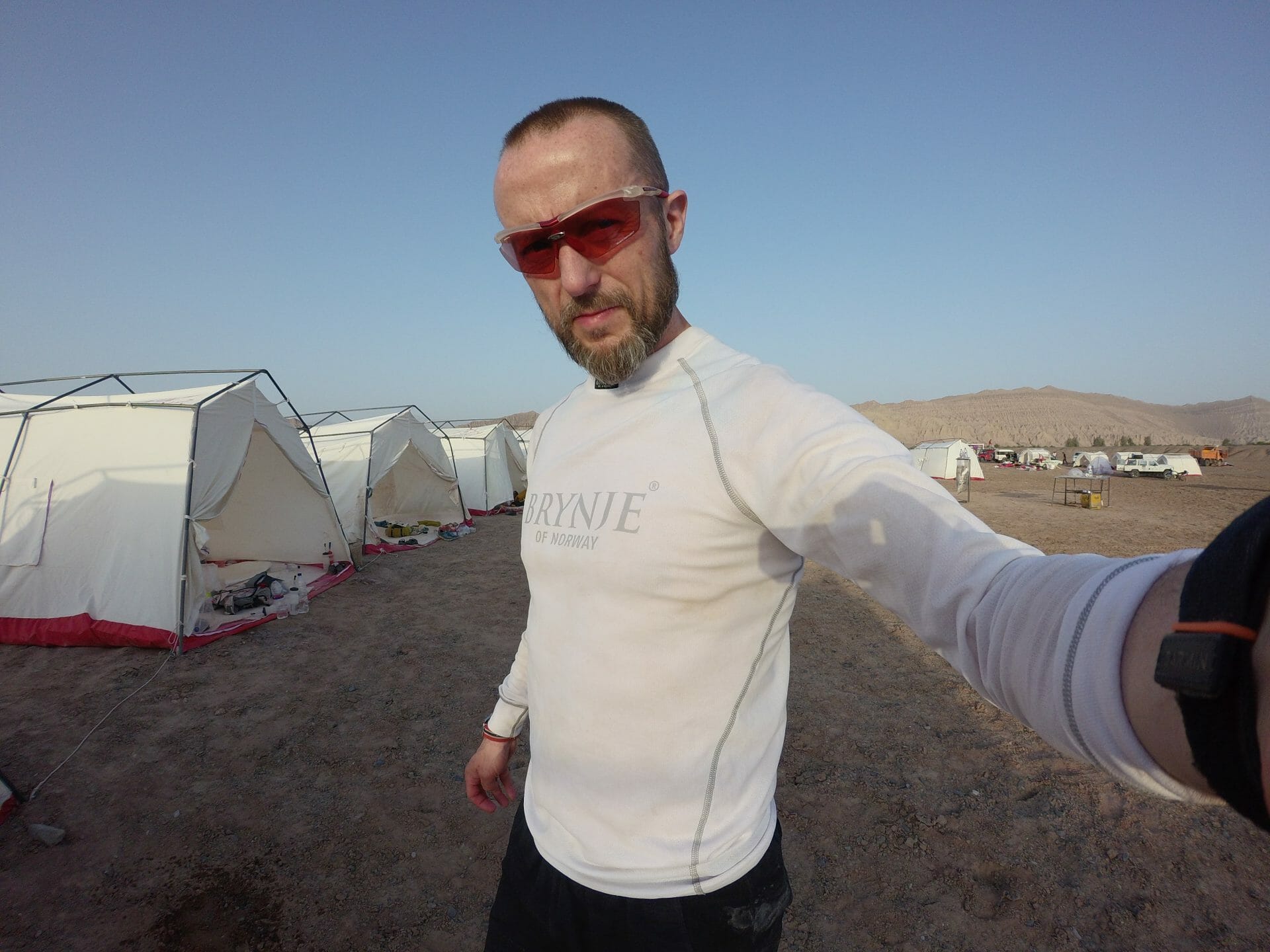 In the tent we visited a large poisonous spider - while others had a scorpion on a visit. One of the participants had been stabbed by a scorpion the day before in the long leg, but it was not a dangerous sting.
Running Day 5:
This day I was like everyone else ready to finish the race. It should be a tough leg with a lot of loose sand. Something that turned out to be correct.
Qalut village and sand dunes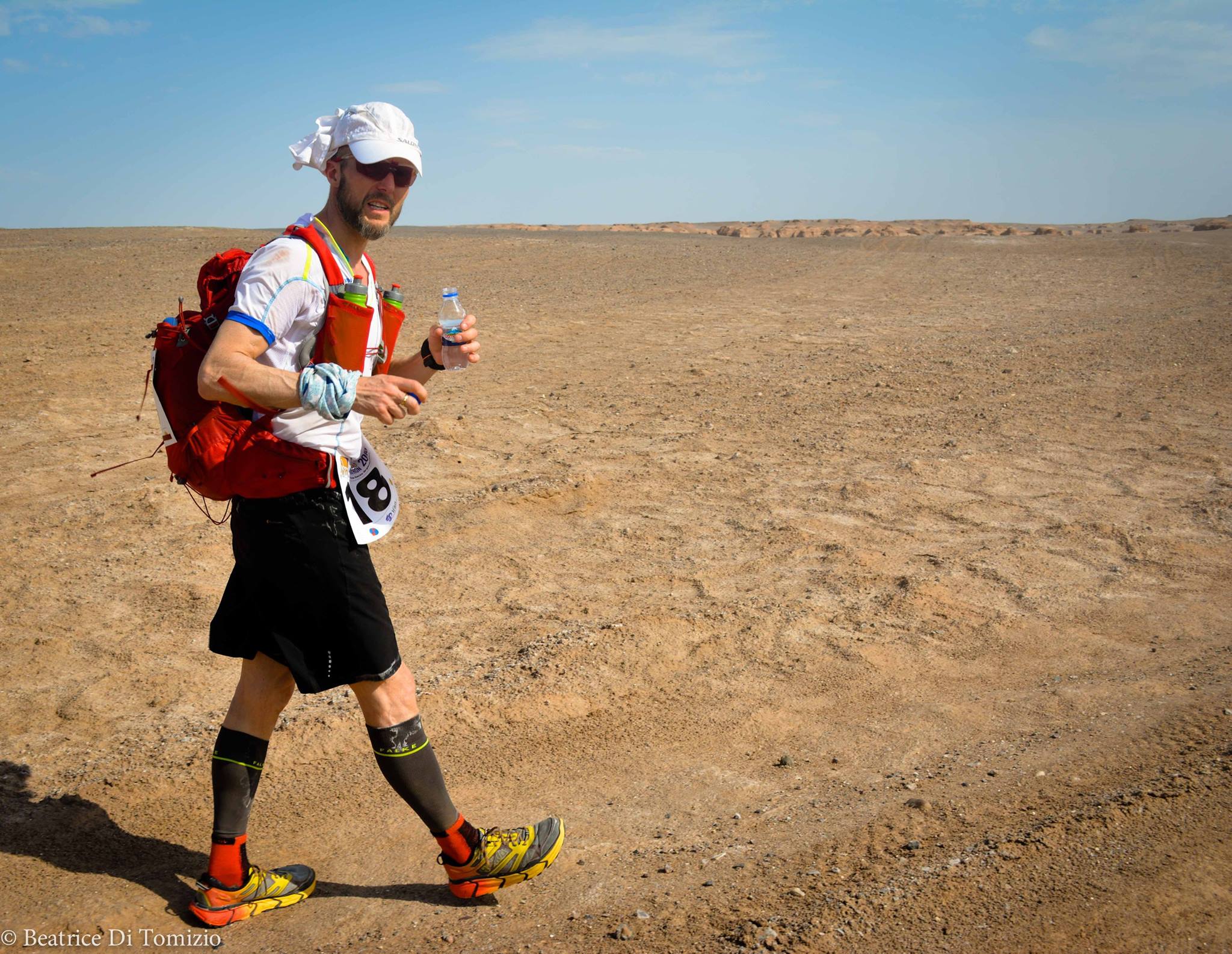 It was then the last race day with many sand dunes to run over and I especially remember a long "boring" distance which after ten to twelve kilometers ended in a mountain range where I came around a mountain cliff to be greeted by a beautiful green oasis where it was running water and cool wind. It was the place where I wanted to stay, but I was number two and should keep it all the way I had to move on. Now it was only up the dried-up river all the way to the finish. This day I became number two and was very pleased.
This evening I had to sing the national anthem with the flag in my hand. At the end I forgot some of the text, but dictated me further as the melody came to a great applause after the end. I sincerely hope not to find this on Youtube ...
[wpvideo cF7tWhBa]
Triumphant arrival at the finish line
We stayed for a night and then ran into the nearby village. There was photography and we had served awaited cola and hamburger for those who like this. At the finish we got great medals, and were greeted by television and pushing before we were driven back to the hotel.
Closing ceremony
After a good shower we were required to bring medals for the closing dinner. I thought it was a little dull to have the great medals when we were going to have dinner.


But, it was before we arrived at the palace where we were going to eat. There were already a couple of hundred waiting for us ?!
Again, we were reminded of how significant this event was for the people of Iran. We felt like celebriteter, but for those present we were athletes.
[wpvideo CRXsm8rS]
Attending was live tv and several tv channels, as well as lots of presses from home and abroad. Minister of Culture and more public figures were present and greeted by all the participants.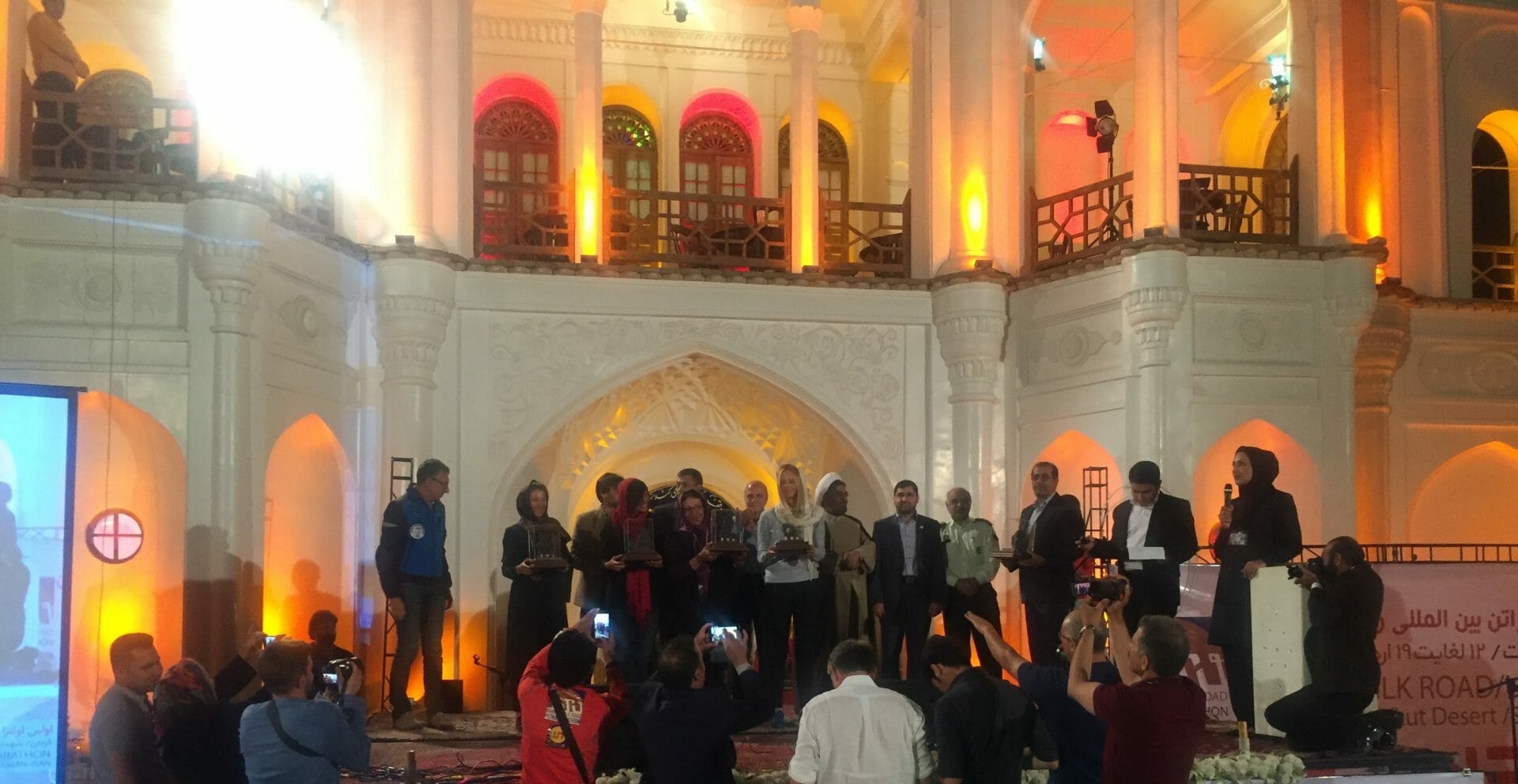 We were called up on stage for receiving statue from the government and three TV interviews were made of me before we finished with a big dinner.
Summary
Overall, I became number five, during and after the race, legs, muscles and joints were in great shape. In this race, it was the heart that worked extra hard and head with a knivfin balance between reason and competition.
There were four women who completed all the stages, which must be seen as a success. Outside the course there were scorpions, spiders, snakes and sandstorms that spiced everyday. It was warmer than what the organizer and the local Red Cross had expected. We were well secured at the checkpoints and at the camp with several Iranian doctors, good with health personnel and that there were times when military and public officials followed. Iranian television, SKY television, German television production, Italian TV, several journalists and photographers followed the entire competition.
Among the most challenging races in the world
I had enough drinks along the way, but the water was mostly warmer than the body temperature. It was then very challenging to cool down the body as the daytime fever had high fever temperature. It became especially frustrating when there was a lack of refrigerated water at several control points one after another. Even at night the temperature was higher than normal body temperature. Participants were admitted daily to the medical tent for control and monitoring. Several of the support devices collapsed on the different stages. They worked hard in the heat for the participants to do well and for the race to be completed.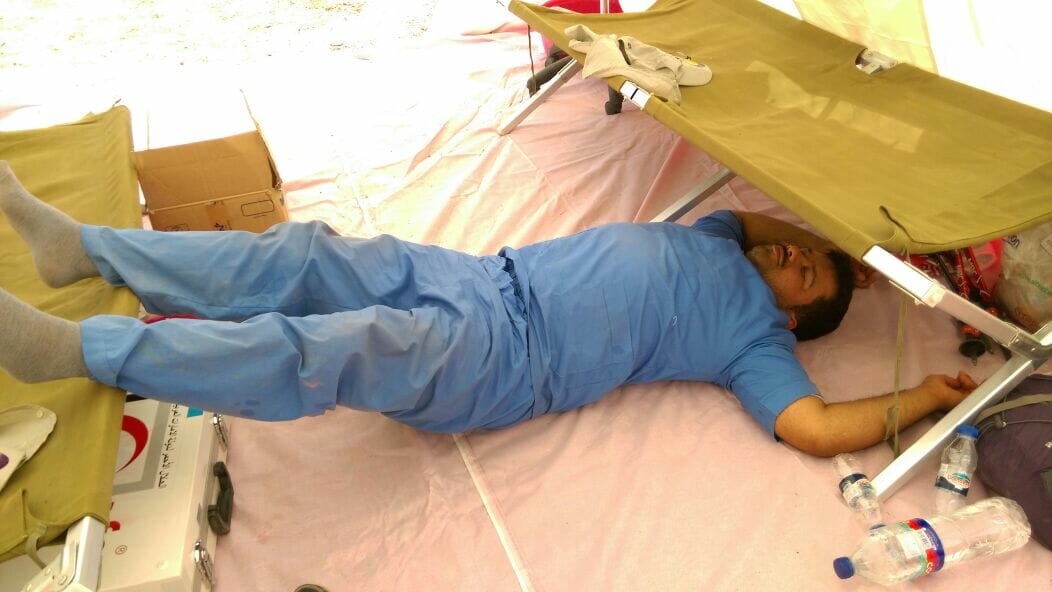 Winner Mohamad and the famous veteran Rafael denoted the race as one of the five toughest races in the world and the most extreme heat they have experienced. The difference from other races was that the prerequisites for participating in this race were professional backgrounds and good experience from desert races. The requirements were, among other things, that the participants could assess their own ability and capacity to move to the next checkpoint.
Should you choose to give up between two checkpoints and sit down you would be seated for several hours before someone picked you up. It is not applicable nor possible when the temperature is well above 50 degrees.
TV documentary
There were several television teams present as made reports every day, as well as two as documentaries. One has been sold and late all over the world:
[vimeo 195577847 w=640 h=360]
Blazing Dasht from PRESS TV Documentaries Wed. Vimeo.