Yukon Arctic Ultra, 300 miles boasts of being "The Hardest and Coldest Ultra Race in the World". Two years ago it was +3 celsius and this year (2018) the long-term forecast was reported -20 celsius for the race days.
I chose to include three types of winter running shoes placed on a temperature scale of 0 to colder than -10, but in combination with good grip, "much" sole and comfort. The competition would last up to eight days, 483 kilometers in a very hilly terrain, along river rivers and over lakes. In addition, the participants should each pull their own sledge of about twenty kilos.
One number bigger
When I want running shoes for winter use, I'd like to choose a number bigger for the following reasons:
Over long distances, the legs often swell up and then it's nice to have some spacious shoes
You are freezing easier and lose feeling by prolonged use of tight and tight shoes
With spacious shoes you can wear thicker soles and socks, or a pair of extra stockings
This was the plan and selection of shoes I had with Yukon:
VJ Sarva Xero 4 sore temperature became 0 to -5.

In this temperature scale, substrates of ice will have a very smooth membrane that requires spike shoes. This is a shoe that has the combination of juicy sole and spikes that give a little friction. In addition, they breathe well. The shoe has the star-shaped spikes that give a little extra friction on the ice because the shoe "releases" a little when landing - without it being uncomfortable. As races on ice with spikes are usually very stressful for muscle and joints, this will be positive.

Hoka Stinson ATR 4 sore temperature went down to -10

When the temperature is lower than -5, the ice will have a "rhyme" that makes spikes in shoe not so important. Then I can have more focus on comfort, after all it is 483 km to the finish. Stinson ATR 4 does not have particularly good insulation, but is among the best in comfort in sole.

Altra Lone Peak 3.0 Mid sore temperature became lower than -10

If the temperature is lower than -10, most shoes will be cold. A year ago I ran with Altra Lone Peak 3.0 Mid the coldest days in one 250 km of competition on the ice towards the south pole. They were hot and beautiful on their legs, but when I was unlucky and stepped in sea water they became very heavy and did not want to dry. An advantage of Lone Peak Mid is that they are high enough to cover the ankle without being uncomfortably high, which may irritate the Achilles tendon.
"Altra Lone Peak Mid is the shoe you love"
Socks and accessories
I have many beautiful, advanced and expensive socks in different fabric compositions, but over time I have had two favorites. These are simple and "reasonable" running trousers in merino wool that fit well on the foot from Inov8 and 'fingerpants'  Injinji.
I also had a couple Extra well insulated soles for use in cold or when the others became moist / wet. When I swapped out on my way, I put the damp underneath the jacket, so they were both dried and heated by my body heat.
I have tested out "gaiters" and gaiters in many variations and have good preferences. For a single day race, Inov-8 has a couple of good to warm gaiters that cover well over the ankles that I use, but for stage runs like this were a pair of low gaiters for ski boots best suited.
. 
competition
The day course started, the temperature was -37 days and continued down to -54. We had an average temperature of -43 during the six days we ran. Altra Lone Peak 3.0 Mid was chosen and I bought a pair of lightweight Salomon winter boots as a spare in the drop-bag. At startup I observed four to five people who had also chosen Lone Peak Mid as running shoes.
Later on the first racing day, I arrived at a checkpoint that was a type of "mountain room" and the finish line for marathon dance. The entrance hall was on five squares where there was registration of all marathon practitioners, 100 and 300 miles and where we had to take out outerwear and shoes. Inside it was serving hot food where most took a little break. Here we discussed the choice of equipment and how pleased I was with the choice of running shoes that were hot, dry and good.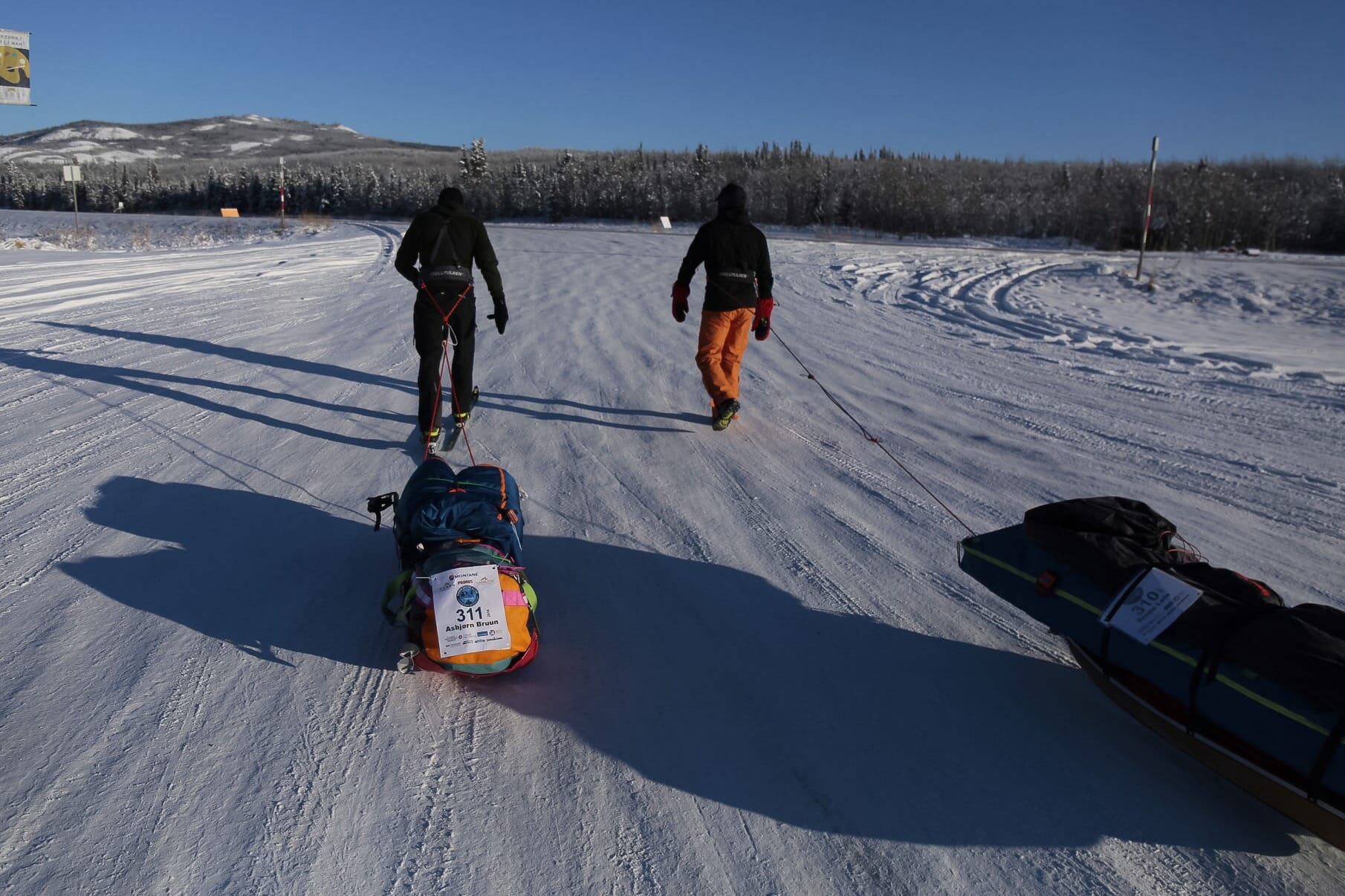 Spare shoes
As I continued, someone had exchanged my new and dry Lone Peak with an older couple who were well used and soaked, but the same size. I got a bit pissed off, but got the help of the organizer to pick up spare shoes from Salomon. The organizer got both dried and returned the "old" Lone Peak the day after. With thicker spare shoes that would withstand more cold I froze through the night. The upper part of the skate did not breathe well and the condensation becomes ice in the shoe. Because of the shoe design and a nail that I lost in the Himalayas the month before, I got a little blink on a toe.
Yukon Ultra, 300 miles :: oppsummert…Når vi (Asbjørn på ski og meg til fots) hadde brukt opp tidsrammen, var det to løpere og en skiløper foran oss. Dette var historiens kaldeste utgave hvor minus femti ikke var uvanlig om natten. Tyve personer ga seg allerede etter første døgn i telt. Med god kjennskap til kulde og villmark var både Asbjørn og jeg enig om helse og sikkerhet først, men vi hadde tider hvor vi frøs langt utenfor normal skala. I motsetning til andre fikk vi ingen frostskader og heller ingen problemer for utenom min blemme på en tå som resultat av bruk av reservesko samt at jeg i desember sparket av neglen som nå var i ferd med å vokse ut igjen… – det av var alt.Oslo Sportslager AS, Brynje of Norway, Garmin, Rimfrost Krill, Piteraq – Tinder & Banditter , Shades of Norway#oslosportslager #brynjeofnorway #rimfrostkrill #shadesofnorway #garminnorge #beatyesterday #altrarunning #åsnesski #egotripp.no

Posted by Frode Lein on Saturday, February 10, 2018
The next day I got back a few dry, but "well-used" Lone Peak - They sat on their legs for the rest of the day. The organizer had tried to find the "lucky" who had taken the wrong shoes, but no luck.
Along the way I swapped, something that was not particularly successful as Altra has a wide fog like "normal" soles fail to fill in the sides.
The padded ankle support on the Altra Lone Peak 3.0 Mid gave a very good support in the rugged terrain with untouched twists due to the fact that I had a slip on a tow.
Altra Lone Peak 3.0 Mid was absolutely fantastic for this task and in this cold.
Kaldt er ikke beskrivende og her fryser man ikke lenger – blir bare blå.Jag hadde med tre par sko til Yukon Arctic Ultra 300 miles. Dette var planen med valg av sko:1. VJ Sarva Xero 4 om temperaturen ble 0 til -52. Hoka Stinson ATR 4 om temperaturen gikk ned til -103. Altra Lone Peak 3.0 Mid om temperaturen ble lavere enn -10 Temperaturen var mellom -37 til -50 i seks dager. Altra Lone Peak 3.0 Mid ble brukt hver dag utenom en. Og det var bare den ene dagen jeg frøs på bena. Altra Lone Peak 3.0 Mid var helt fantastisk til denne oppgaven og i denne kulden.Altra Running på bena, Brynje of Norway på kroppen, levert av Oslo Sportslager AS, Omega3 fra Rimfrost Krilll i magen, og radio-opptak fra P3morgen på øra.

Posted by Frode Lein on Thursday, February 15, 2018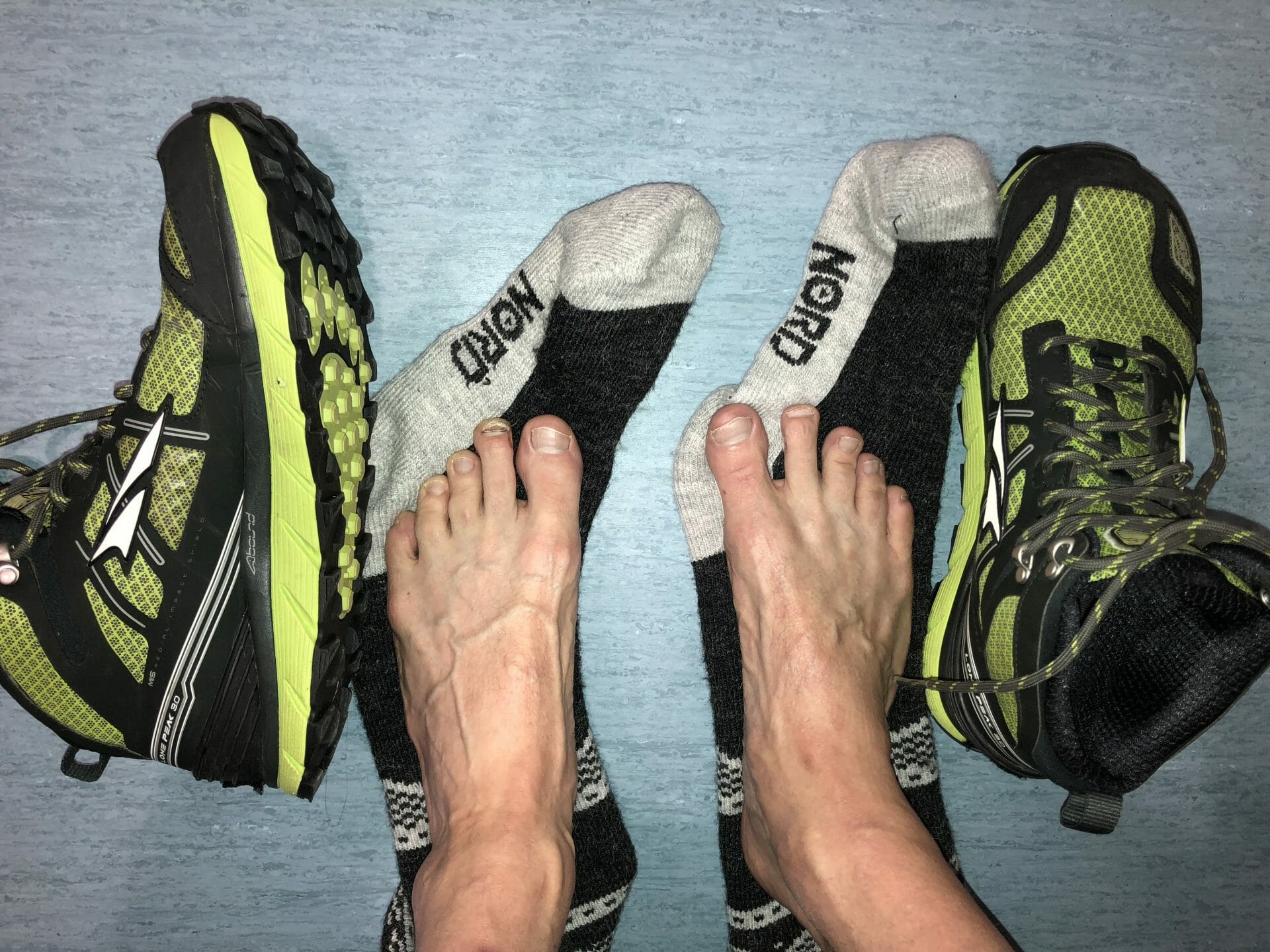 ---
Tips for footwear for long runs in cold
It is extra important to take care of the legs in the cold. Mucous ulcers, inflammation and blisters are over time. It does not make an amputation of a toe or foot.
Socks in merino wool, but not too thick (have extra pairs too).
Shoes that do not feel tight around the foot, but are comfortable on their legs.
Shoes that hold on the heat, but breathe well and release condensation.
Warm outfits or shoes that cover up the ankles.
Have a few extra and gladly warm your soles.
You get a bigger win with good and coarse soles on snow than with spikes.
---
Take care of your legs. Teeth that become amputated do not grow again.
Some ugly examples from other participants in Yukon Arctic Ultra that were "unfortunate":