I had been looking forward to continuing with the 4deserts race and this time there was the Sahara Race at 250km in March 2015, which was a trip. Equipment was prepared, race and trip were paid. Just a month before the race, I received a message from the organizer that the race had been canceled. The list of 194 participants from, among others, the United States and Europe, as well as maps of daily papers along the border with Syria were published. We had been considered an attractive goal and a colorful "gift bag" for the terrorist organization IS. When this seriousness fell into me, I thought it was quite ok that the race was canceled. But at the same time I lost an adventure I had looked forward to, but it did not take long before I realized that this opened an opportunity to choose a stand-alone run.
I have long dreamed of running in the Himalayas, so I immediately began to apply for the attractive organizers and submitted my application and my sports CV. I wanted a race in March / April, which is the same time when the Sahara Race was planned. My next 250 km run is in South America already in July 2015 and it's nice to have some rest between the races.
I received a positive response from three organizers and chose Mustang Mountain Trail Race. Richard Bull welcomed me as a participant in the 200 km adventure in the Mustang region of Nepal. The background for the selection of races was linked to the stranger's surroundings, as well as being the ultimate ultra-legend Lizzy Hawker who is the racing director and then responsible for the race's design and profile. The race is over 4,000 meters high and has few but good competitors. In addition, we should live with the residents of the mountains. The race contained a good mix of new and strange elements that seemed to me challenging. 
TANK ABOUT THE RUN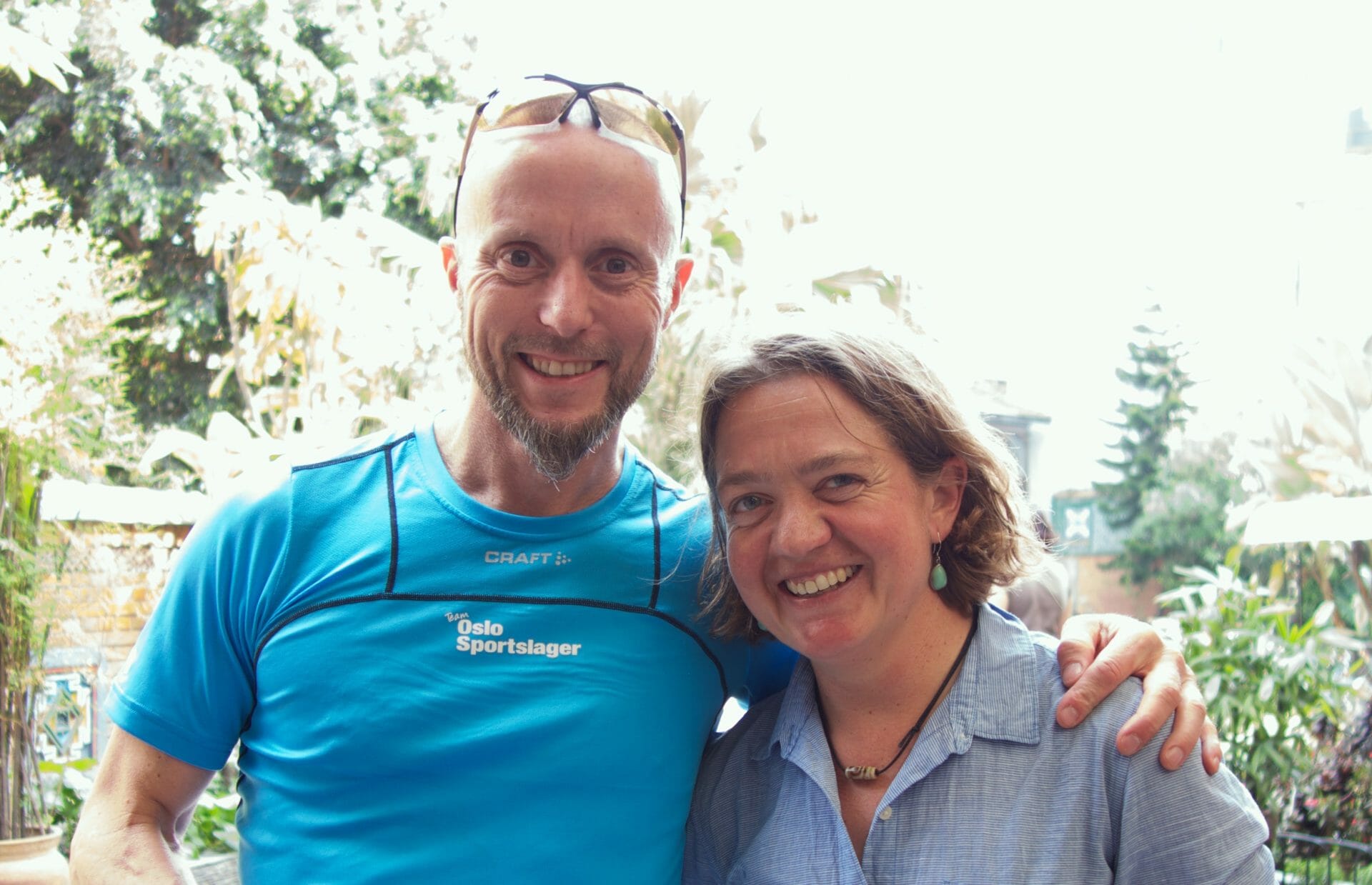 Mustang Mountain Trail Race is 200 kilometers. The race has been arranged three years earlier and is famous for its spectacular scenery with brutal rises in remote areas. The designer of the race is Lizzy Hawker.
Length and height
It's shorter stages than what I'm used to, so the pace will probably be somewhat higher than normal to me. The height will probably compensate a part for length. 
We begin the adventure of flying up to Jomsom which is 2,800 meters above sea level and continues on to over 4,500 with approx. 8,200 meters increase spread over the eight days. A day of acclimatization is added after three races and when we are up to 3,500 meters above sea level. As a warming we run up to the village which is the starting position the day before, which means that we will stay ten days in total.
Climate and environment
Very changing temperature with over 25 degrees on the day to -10 at night. From sunny to lightning in a short period of time, a quick change of clothes means on the day trips. UV radiation, sun and wind will also be an important element with regard to sunglasses, caps and sunscreen. Mountains, sand, rock, dry and little fruitful, in addition, there are lots of ice and snow that require a little extra of footwear.
Drainage and equipment
We run a daypack / vest where we have safety and first aid equipment, drinks and 24 hour matrices (probably a carrot for me). In addition, we have a drop bag of up to 10 kilograms of clothes for the whole trip. Droppbag is transported with tractor and mule between the villages for each day trip.
I'm very careful about equipment before a race and packages as easy and sensible as possible. For a few months back, I thanked me for a very nice request to be a Oslo Sports Team Runner and at the same time being part of "Team Oslo Sports Team". This gives me the opportunity to choose clothing and equipment from all the best suppliers.
Culture
Nobody had access before 1992 to this area between Nepal and China. For the locals, the world is flat, with a center in the middle. Nobody uses toilet paper and we are served food after each day of the day. Several participants have previously been flown out with an old Russian helicopter after a few days of food poisoning. This I have chosen to solve by packing disinfectant gel, toilet paper and, as I am a vegetarian, I choose to bring my own dry food.
EXERCISE
I had lost 9 kilos after the 250 km long desert course in Atacama, Chile. It was a run of food and food and after a couple of mishaps, I ended up having 10,000 calories spread over six days. In order to gain weight quickly and in the best possible form, in addition to running, I have started exercising twice a week for better stability and, in addition, a little meat on my upper body. In addition, I eat protein supplements based on fish from Hofseth BioCare.
DEPARTURE
When I travel, I always have my running gear in my hand luggage in case of loss or delays with a suitcase between flight change ol.
I usually use Expedia for booking tours and hotels. They are among the cheapest and provide a good overview of tickets, updates and addresses, etc. via my mobile phone. I ended up flying with Turkish Airlines via Istanbul to Kathmandu for 6-7,000 NOK.
The stopover in Istanbul had four hours of delay, but I've been to worse airports. It became Starbucks and wifi. When I finally arrived in Kathmandu in the morning, time was four hours in front of Norway.
I had downloaded, filled out visa form, attached passport photo and some US dollars ready. It took barely an hour in line, so I was trusted for the next 16 days in Nepal. The baggage had been taken off the conveyor belt without I showed this so I stood nervously waiting half an hour by the tape until one of the staff at the airport showed me where the suitcase stood.
Most hotels have pickup service at the airport so there was a private driver with my name plate waiting. The cars themselves are not so much to brag about, so it's just getting stuck. On my way to the hotel, I got the first impression of the traffic jam with left-wing driving, on a bad road, forever tuting and very dusty air.
The hotel was in the city's old city center and located in other building blocks away from the street. Outside the street there were countless shops on the garage size that sold copies of well-known brands and mainly North Face. These are different quality copies and do not always satisfy the needs required in the mountains.
After a couple of days, I moved to the participating hotel where I met the other participants. Here we had the presentation of the individual and what was expected of us in the course. We flew there after reaching Pokhara, which was a nice holiday town according to European standard. After a day we flew up into the mountains to Jomsom which is 2,800 meters above sea level.
Heating
The first day in the hill would be a quiet run that ended up having to hang on a Nepalese runner to not run me away. The distance we were going to relocate was not marked and we were eventually alone. He was impossible to follow on the steepest downhill slopes, but we kept a good pace on the route. Bhim turned out to be military Gurkha Officer and Pro Runner who has won many major and international races in Asia. We first arrived at the hotel we were going to stay at and found ourselves well catered with both coke and wifi. This was also the last room with hot showers and nice facilities.
First competition day
The distance was barely two miles, but I did not think that the height (3,500) would have such a big impact. Those who were acclimatized and local runners blew away and we came behind the job of getting the most oxygen.
I chose to run with just a drinking belt with a 1/2 liter bottle filled with water, cleansing tablet and Tailwind, winforce gel. Halfway there was the checkpoint and the opportunity to fill water. I ran wrong twice and lost a position, when this happens, I get extra stress and spend a lot of energy getting in the good flow again. When I thought we were approaching goals, I drank the last splash of water something I showed was wrong, but the heat was unbearable and I realized early that I had too little bag. It was very technical trash and very hot in the valley where we ran. We were a couple of miles further and up a tough hill to the village where we were supposed to live and who sucked the last one I had of power. It was good to be caught up with lemonade and pasta by locals. The area we run in is amazingly great
Other competition day
It was a long distance we went through today, so we were given lunch as we could eat along the way. On the bump yesterday that is in English I missed an essential element. When there is checkpoint at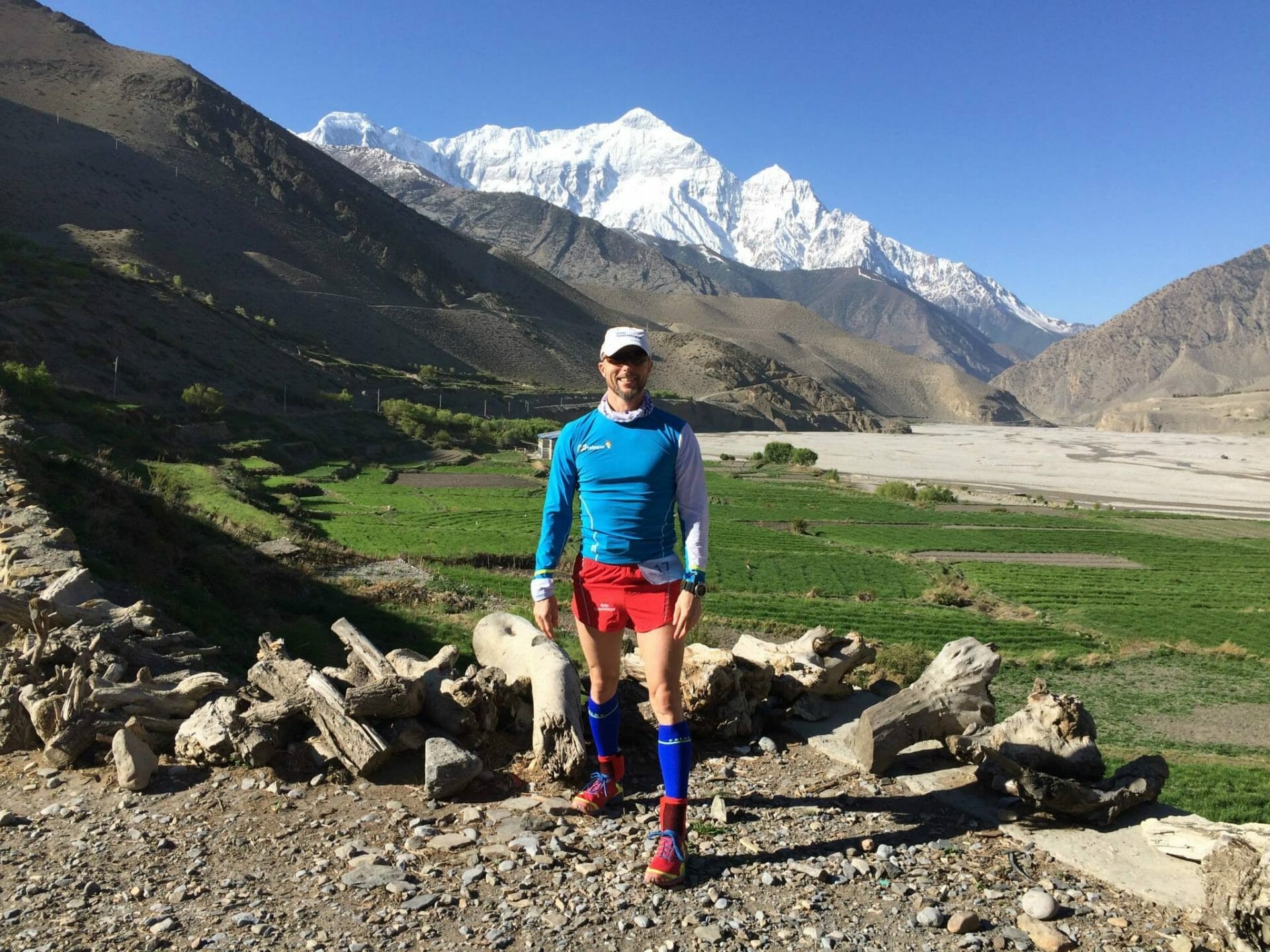 Points of interest allow you to stop the time to look around, have lunch and do other things up to twenty minutes. We had a checkpoint at the halfway and a temple, I did not stop and proceeded to find me a room I could literally empty my stomach because I was still bad. I ate my lunch while the best passed me out and washed out. I scored between 6-9, but was put out and felt a little stupid when they presented the results.
Third Competition Day
This was a hard leg of +4000 
Fourth competition day
Snow, heavy wind and two earthquakes (7.9). Perfect for a Norwegian in shorts with music on the ear. We slipped uphill as "force" me to run all the time. We had Cp in a beautiful area where we went to the top and climbed down to a small cave with nice painted pictures. Further through the valley and a small village with a few loose dogs. The dogs are usually not dangerous if you are alone, but do not like people in a flock. It's been a long time since I ran out of music, but now it worked well for me. The earthquake came as I ran down a valley and I thought this was local, but it's a completely different story. I eventually hung up at Hiroto who is a Japanese runner and in the snow storm we missed several times and he was tired and wanted to go. I pissed him to hang on, but he fell off after a while. I was really in the battle and again reached Alfie from England in a hill before finishing. Before us there were only two who had passed the finish line. I was tired but very pleased. When I showered, the second earthquake came and we began to realize the seriousness.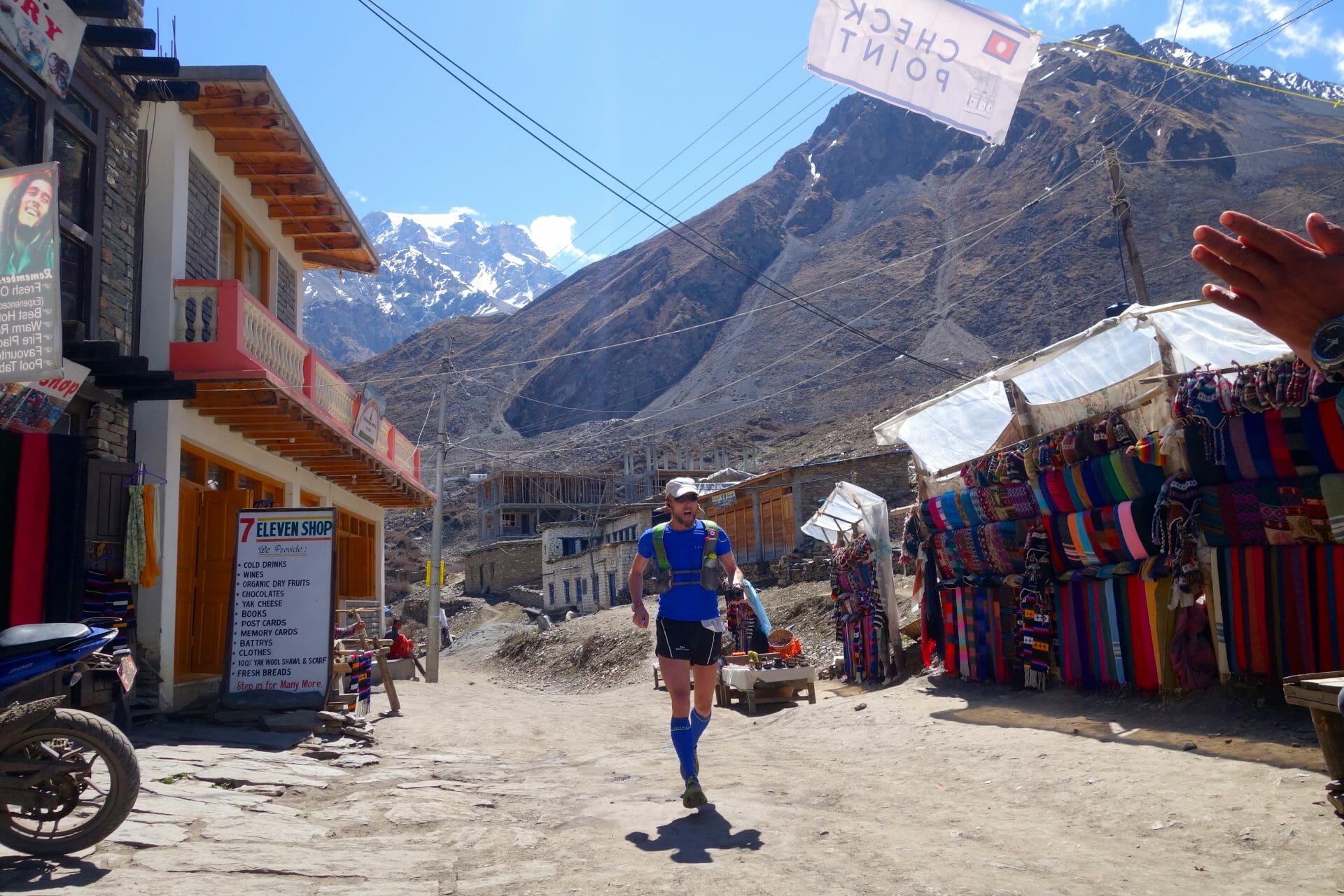 Sixth day of competition

Warm day that started a bit later than planned. We had to go up to some caves through a gorge and river river, but the earthquakes in the last few days had been racing and there was a lot of loose mass which, in the case of minor touches, created new races. After a few reviews, it was decided that there was too much risk to run in this area. The starting point was then moved to a beautiful temple, which resulted in three hours of delay and a long walk. Well on the start, it was again a beautiful sight and a huge view as it turned out. There were some great backpacks today and especially one that was 7-800 climbing meters that sucked all the power out of the legs for an already tough and steep downhill.
At finishing point I was number five.
Then there's a bit about each other with the stages of the day ....

[wpvideo JlLSOHTn]
REFERENCES ON THE RUN
Besides the earthquakes we were exposed to, this is certainly the nicest race I've attended. The race had everything!
We were only 20 miles from the epicenter, and the effect was clearly visible - with a number of buildings that were destroyed and stones that fell down the mountain sides - but it's another story I've been interviewed in several newspapers and You can read about here.
To start the Mustang Trail Race we were 32 participants, 26 were completing all the stages and I became number 7 overall.
We had our own doctor, cook, tourist guide and a team of ten people who ruled security, logistics and transportation of equipment. With so few participants it became quickly intimate and there was a good atmosphere throughout the course. 
The dawns in stunning scenery were organized and reviewed by Lizzy Walker. The studs went to a new village every day and together with a good and varied breakfast we received a good review of the profile in advance of each day trip. On three of the stages that were set up to pass special sights, a checkpoint was placed where the organizer stopped the clock when you arrived for up to twenty minutes. After a couple of hours we had this break where we had the opportunity to experience the special sights that usually took a full day march to reach before we proceeded. On the day-trips where there was a checkpoint along the way, water and hot lemon tea were distributed.
In advance, I thought that the day races would be too short, but the base, height, pace and single climbs of up to 1600 meters were between two and four hours of tough running every day. We ran with daypacks weighing from two to five kilos and the elite spent twenty hours in total and the slowest doubles. It was a good thrill in athletes, but it took an hour or two if you were unlucky and ran wrong.
I ran wrong a couple of times, but the worst thing was that the other day I misunderstood about the twenty-minute break and ran straight on without stopping. Felt very stupid when this was reviewed and presented after the day trial. It was almost an hour's difference with those I compared with the rest of the race. In terms of results, I could have combined a placement better, but it will only be an impression.
After every day stage, when everyone had finished, there was "Te-time" and a summary where we were served tea, coffee and snacks. In addition, we had a very skilled guide who had cultural touches every day in the different villages. It could be sightseeing, visits to special temples, alternative medicine and doctor, lectures by archaeologists and of course visiting the palace of the King of Mustang.
I had vegetarian-dry food with me. Of this I ate oatmeal twice at breakfast when I had stomach problems. Besides this, everyone ate good and savored local and fantastic vegetarian food every day. This included both breakfast, lunch and dinner. Especially their famous dahl bhat, mo-mo and local gurkha beer were popular contenders at the participants.
We lived easily and often in the home-made bed with the locals, besides the participants who insisted to live in a tent. This made us come close to society and learn better how your everyday life was. The houses were simple with power from the solar panel. The power was switched on at 18:00 and by 21:00 and after this, just lay down to sleep.
In addition to the day bags, each participant had a bag of clothes and personal equipment of up to 10 kilograms that was transported with mules and tractors between the day sessions.
EARTHQUAKE AND HOW YOU CAN BIDRA BEST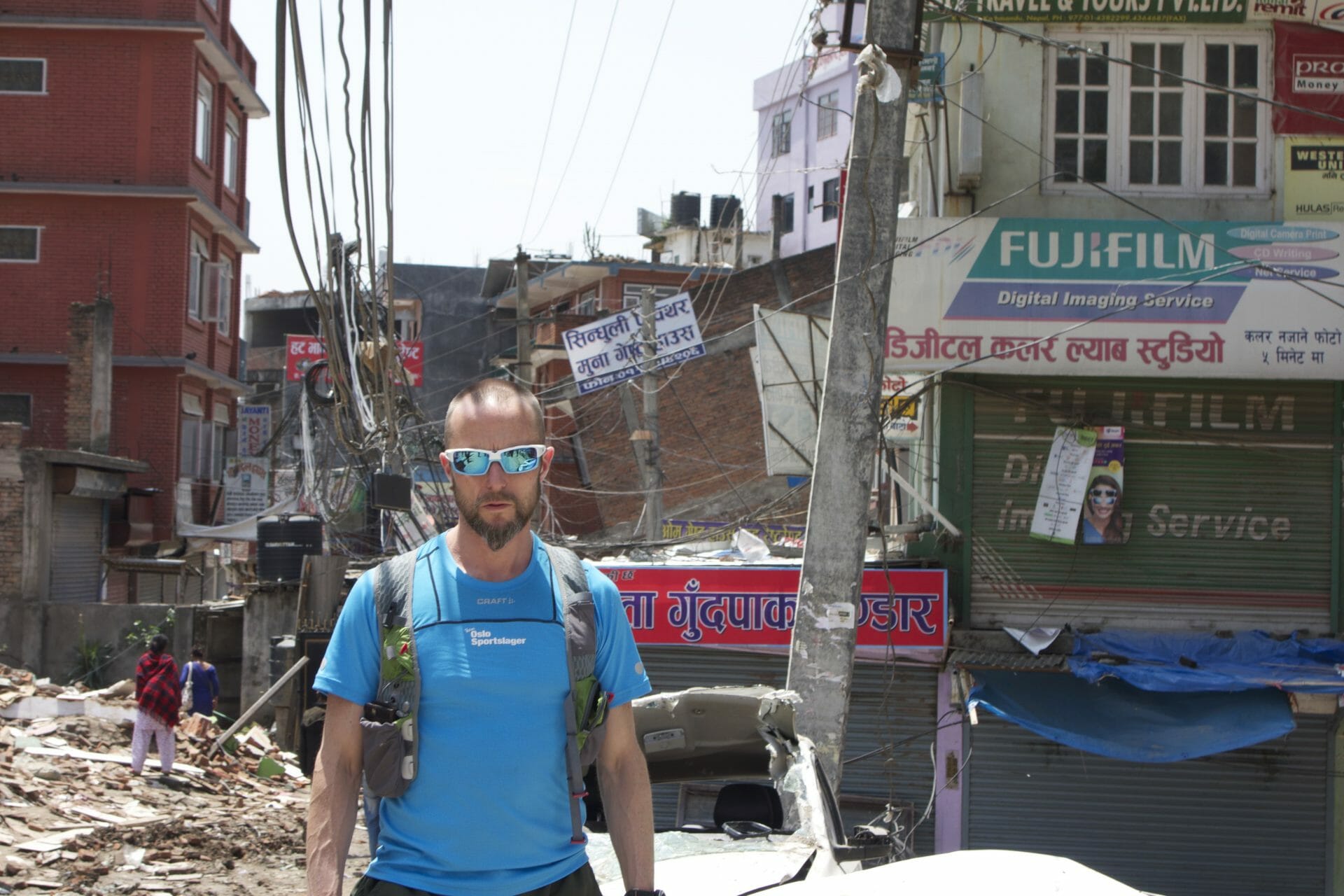 Nepal is one of the poorest countries in the world and geographically Nepal is less than half as large as Norway, while the population is over 29 million. 25% of Nepal's population lives below the limit of extreme poverty by $ 9 per day ($ 1.25). GDP per capita in Nepal for 2013 was NOK 5,399. By comparison, GDP per capita in Norway was NOK 624,000. The huge difference is enhanced by the fact that public health services and education are much less extensive in Nepal.
Once the cleanup work has started, there will be enough people in Nepal to do the work, but little money. Money gifts for established and local organizations such as the Red Cross are terrific, but in the longer term, Nepal needs help for its economic growth. In 2013 there were 800,000 international tourists visiting Nepal. Tourism accounts for over 10% of GDP, and it employs over half a million jobs.
So, if you really want to contribute, plan to use your family's next vacation in Nepal. Your holiday economy will then rebuild the country and you will be able to experience the friendly and hospitable locals in the villages. For me, it was the first visit to Nepal, but I'll be back soon and have no hesitation in bringing my family and children to school age.
You will surely have a wonderful holiday if you are interested in culture and history. If you like to be active, you will realize that this is a paradise. You can choose from hiking, mountain biking, motorcycle, rock climbing, jungle safari, bird watching, paragliding and hot air ballooning over the mountains of the Himalayas or explore the rivers, kayaks and canoes.
No matter how you choose to contribute, this is a wonderful country and in which I have fallen in love.
Status in Nepal today 20.5.2015
Of the 75 districts in Nepal, only 8 are affected.

Of 10 national parks there are only 1 affected.

Of the 8 UNESCO World Heritage Sites there are only 2 that have minor injuries.

Of 35 popular hiking routes there are only 2 that are affected.

All airports are in operation with zero damage.

All highways and roads are in operation.

All hotels in popular destinations such as Pokhara, Chitwan, Lumbini, Bardiya, Ilam, Annapurna Region, Everest Region etc. are safe and in full operation. 90% of all hotels in Kathmandu are safe and in operation.

All hospitals and clinics are safe and operational.

Telephone, internet communications and banking systems work well.
Articles and Media:
race Information