In preparation for two Gurkha soldiers (Bhim Gurung and Samir Tamang) from Nepal to the North Pole Marathon, I was given the task of coaching the runners into a few important elements as they lacked experience in running on snow. In addition, they had received clothing for expedition in polar areas and not appropriate racing equipment.
Running in snow
Although both Bhim and Samir are highly skilled runners, they lack the experience of running in snow. They are raised at three thousand meters in the Himalayas, but even at that height there is no snow.
It also seemed difficult to find out what snow conditions they would meet in the North Pole, but it was before I realized that an old friend from Otta has a finger in all activity in this area. He provided excellent first-hand information from the current area.



They had to run 10 laps in a 4.2 km run with 30 cm of snow. When almost sixty people will run in a ring, the race will be well dragged already after a few rounds. The message was then to set the pace and stay well, but let one or more skilled competitors lie ahead. By lying behind a person in the roof they will easily be able to follow the trail of those who are best at running in the snow and making a move towards the end. If they are lagging behind, they will easily end up in the tracks of participants who are not comfortable with running in snow and doing the same "mistakes".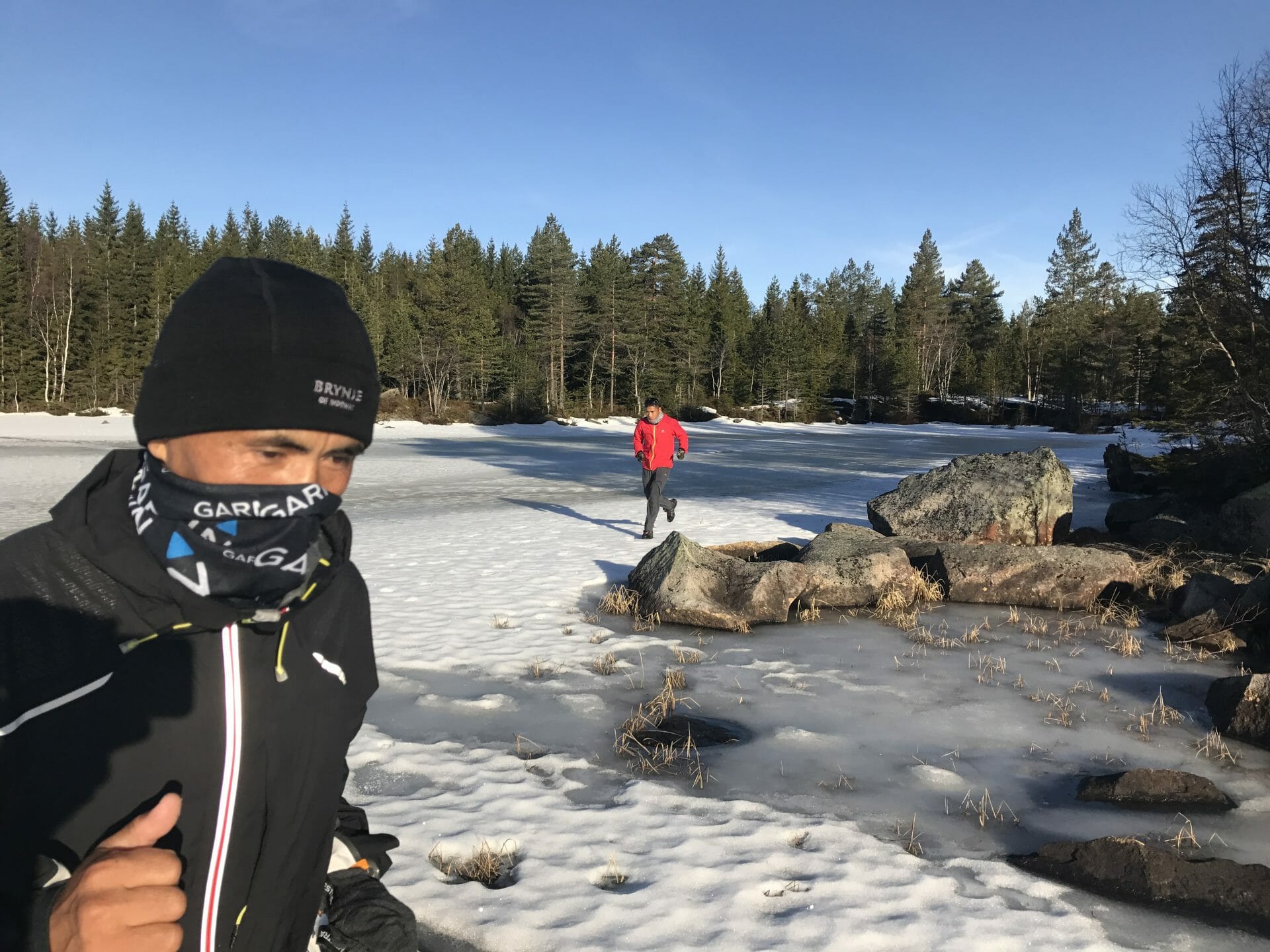 Finding similar evidence that they would meet in the North Pole was challenging. The conditions at Rondane and Jotunheimen were tested, but we ended up running for the most part on the snow in Nordmarka, on irrigated water and on the slopes up Varingskollen Ski Center. They gradually understood the difference between the base types found in snow and the many factors that will have an effect on a 4-5 hour run. Over the coming week we went through everything from deviant response in snow as a basis of power loss change rate, cadence, lifting, kicking etc ... There were many rides in the woods and in the ski racks at different times of the day to create an understanding that snow as a substrate changes . As they became comfortable with the snow, I learned to use the TrackBack feature Garmin Fenix. With TrackBack they could on their own go on trips in Nordmarka towards Hønefoss and Gardermoen without worrying about finding their way back to Nittedal.
Clothing
The biggest deviation to this race was their own with the sponsors' preparations and my expertise in running cold weather. Their equipment and clothing were definitely adapted to the North Pole with temperatures down to 40 minus degrees, but as expedition cover - not for running.
With my expertise in running in cold winters in the Norwegian mountains, on the Greenland ice and the ice towards the South Pole, I am confident of what works for a run.
Wool and lingerie
Bhim and Samir had been given a long wool underwear. It is said that wool is the best to wear on the body - good and hot. Furthermore, the sponsor argued that wool is hot, even when wet and it is correct. But what the sponsor does not think is that these are runners with an extremely high activity level in a very limited period versus a person on a traditional expedition to the north pole.
When wool becomes wet, insulation capacity loses as water is absorbed into the laundry - especially fine-woolen wool. And wet, running and sweating for four to five hours. When wool has a moisture uptake of up to 90%, the weight will also increase afterwards. The wool underwear was therefore replaced with light and flexible mesh underwear in polycolon that only has 6% moisture absorption. In this way, the moisture will not bind into the fabric and be transported away from the skin.
The net that has a good air gap provides the best insulation, as the heat in the air insulates and keeps the body warm. A straightforward comparison is Glava and Sundolitt which is used as the best insulation for the house and holds over 90% air.
interlayer
After testing with races in new underwear, the Gurkhaene smiled happy. We copied this thinking further to have a corresponding intermediate layer but with windproof front. In this way, the weight will be kept down and the insulation will last. This structure with netting in two, three and four layers has been used by Cato Zahl Pedersen when he crossed the South Pole.
Outerwear
By name, the sponsor had in advance sent something that was almost snowboard pants. This was replaced with a tight and light cross-country jacket Swix windproof front and flexible fabric on the back.
Windproof front of the trousers reduces the likelihood of rigid thigh muscles and the heat is preserved better.
The trousers had elongated and "kneel" in the knee joint so that the trousers did not shrink their legs for each step.
The flexible fabric on the backside breathes well and gives a better comfort and reduces the pants crawling up and down for each step.
The waistline was a little long in the length of the foot to reduce the need for long gamas
Zipper on the footrests allows for a faster change of clothes.
Headgear
After a review, it was chosen to be a mellow, breathable hat with synthetic mesh lining on the inside, merino wool on the outside and long enough to cover the ear over the ears.
Neck and face
Neoprene mask was replaced with one flexible and long "buff" in wool that could easily be pulled up in front of the face. Dividends were made as I myself have a bad experience on the Greenland ice with a neoprene face mask that is freezing in the face.
Protection from the sun
It's not in a marathon on the North Pole you want to lose sight, so good protection for the eyes against wind and sun is very important. Should there be flat light it is important with glass that gives contours to the surface and the surroundings. The goggles they had received were good but had an unnecessary high weight which would be irritable to wear on their heads by running for several hours. They were exchanged for light goggles delivered by Shades of Norway which weighed almost 1/3.


footwear
Of footwear they were sent a pair Keen shoes which is meant for ordinary farming and not suitable for running a marathon on the north pole. We got replaced with this boot swap Altra Lone Peak 3.0 which are my favorites within extremely cold winter runs. They are light, covering the ankles without bothering akilles any significant. Both Bhim and Samir fell in love with their Lone Peak. I have used Altra Lone Peak 3.0 to 250 km competition against the South Pole, More about my review of Altra Lone Peak 3.0 can be found here.
Result
The result was very good! With other place for Bhim and third place for Samir, they traveled gratefully and happy back to Nepal.
---
"At the North Pole, the world's coldest marathon was completed. Second and third place was secured by Nepalese friends with Nittedal warm, lightweight clothing from Brynje of Norway, goggles protecting against the sharp light from Shades of Norway and shoes with a good grip from Altra Running. To make sure they did not get sick, they were well fed up and provided with Omega-3 produced on Krill from Rimfrost Krill. "
---