preparations:
Oslofjorden Rond - 175 km was arranged one month after I had completed 4desert his 250 km race in Equador – (movie clips) and was planned for me as a finishing season in 2015. I have not been a fan of long asphalt runs but decided to run Oslofjorden Rundt as it is a combination of styling and asphalt.
I had some personal challenges before starting:
Oslofjorden Rundt is right after one 250 km run and the body is still a bit tired when i have not been able to build up the muscles on the body again.
I have a worn out ligaments which makes me easily get over. I compensate to run with the right foot slightly "beyond". A little excited about how will it work on such a long and monotonous runway - asphalt.
I run to experience something adventurous, enjoy nature, surroundings and enjoyable company. This turned out to be closer to the trail to be almost pure tarmac.
Equipment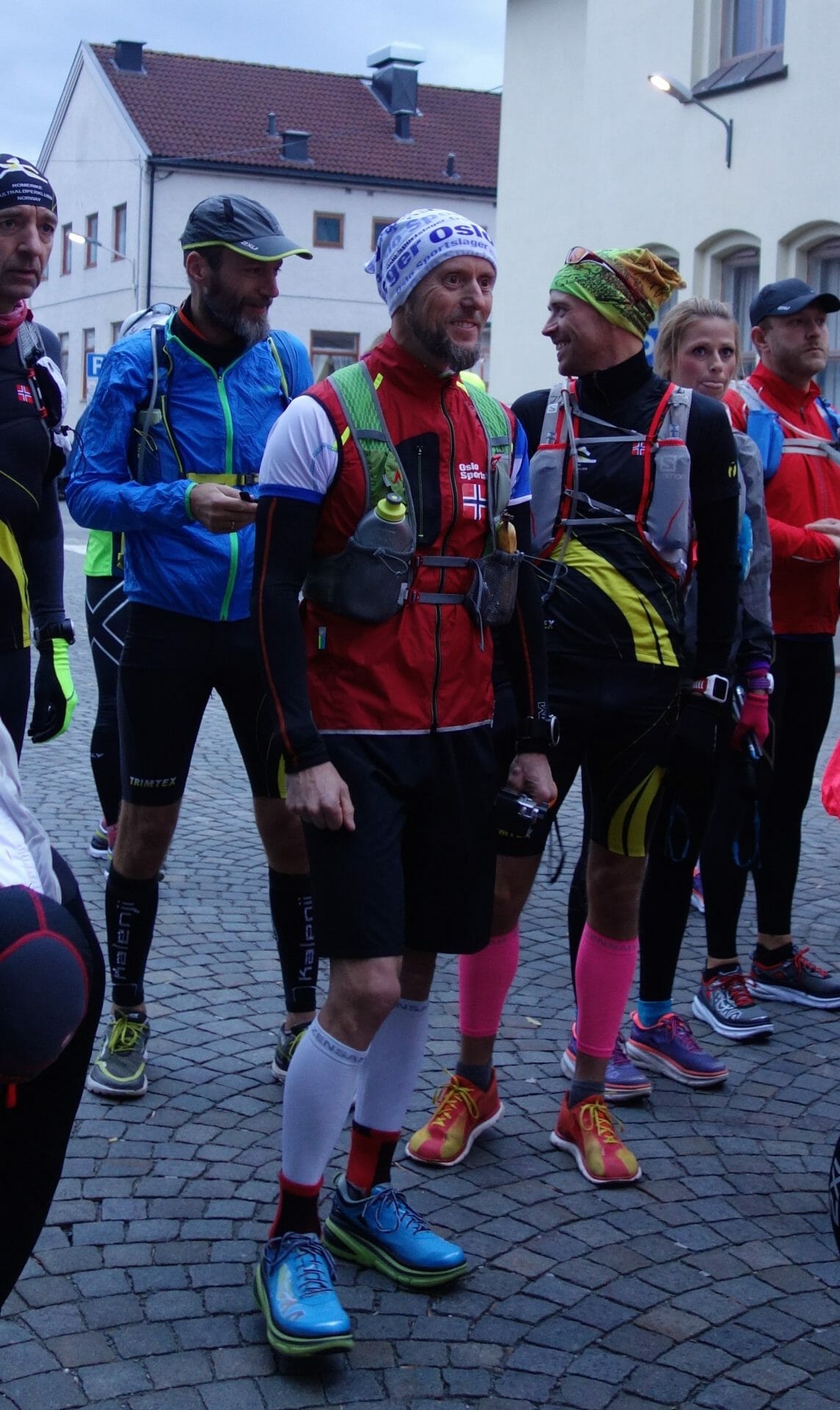 Of the type of bag I chose one single vest with space for drinking bottle and energy in front pockets and back pocket with a pocket raincoat and wind pants. The weather forecast was 5 - 9 degrees and cloudy, so shorts was self-written. As we were going to go far on asphalt, I chose a pair of shoes with a lot of sole and afterwards turned out to work perfectly, but should have been a half-number bigger- Bondi 4 from Hoka One One.
The muscles get knocked extra much when I walk far on the asphalt so "compression load"Is important to me.
On the upper body it became fast-drying t-shirt and west for wind and daytime as well thin wool top and long sleeve for the following night, as well as long one overdraft / wind pants.
attendance
In order to get up at five o'clock in Hakadal, my wife Wivi and I went to Moss the night before. Wivi had been prepared to follow me through the course of good and pain. She had an active cool bag with food, Jetboil, sleeping bag, music, change of clothes and otherwise everything which she thought was important to herself and to survive a day in the car. As a Pesco vegetarian, she had special food for me. From experience, I know that on a run like this they mostly share pizza, sausage, cola and some banana. So it will be a tea party for most.
At hotels I sleep badly and am "unwell in the body" and barely four hours sleep.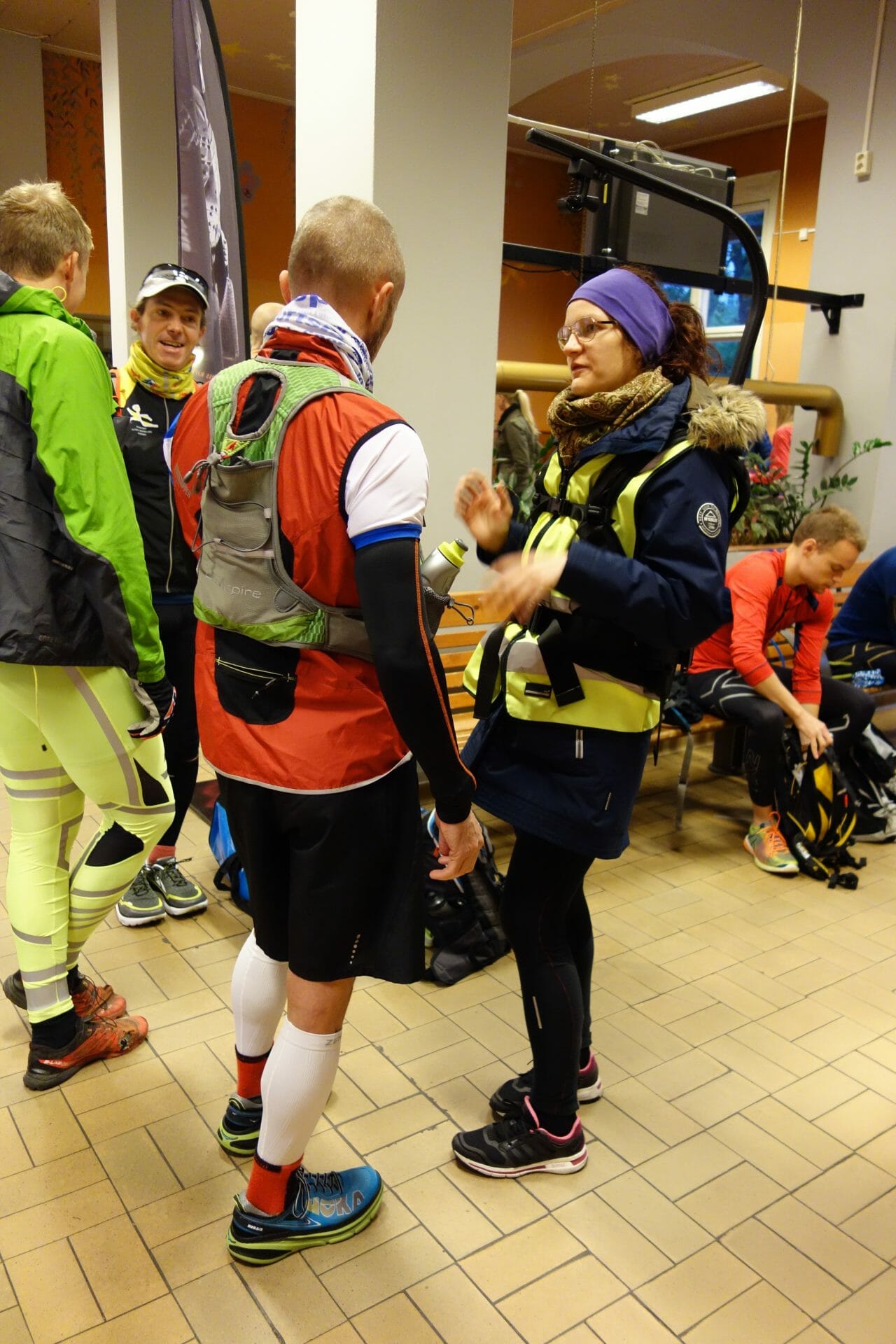 The kitchen in the hotel did not open until 08:00 which was at the same time as a starter, so a provisional dish was made with a strange consistency of oats 'porridge'. This was heated in the microwave by the reception dam before we left for the starting area.
Start was at the train station in Moss and when I arrived, already most of the participants were met. The start was due at 8:00, but it was almost half an hour because GPS tracking units were delayed from Horten.
Start on a good day
From Moss most of the course went along the coastal path, which has a variation between path and gravel, and I ran along with a small group with a good pace. With nice weather and beautiful views, this became a good day for running shoes. Most runners had run this distance earlier, which simplified navigation. I had some tissue breaks that meant I had to navigate alone after a small map and then it became immediately harder. Therefore, I had to stop several times in a junction where I was unsure of waiting for other participants who had run the track before and had better control of the roadmap. By stopping, I escaped major mistakes in the navigation, but with a lot of waiting I had to give gas accordingly.
Checkpoint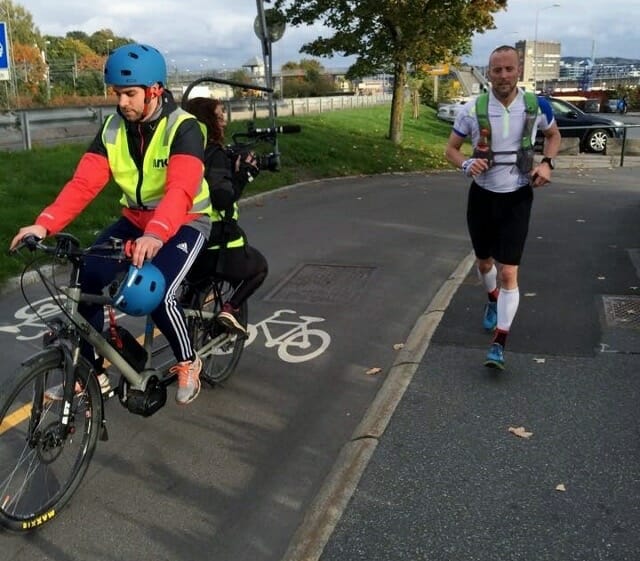 Five checkpoints were set up with good follow-up, serving food and drinks until Sørenga in Oslo.
Energy and nutrition
From the start I had a banana and some bags with Tailwind for my drink bottle. In advance I had decided that when I arrived at the checkpoint at Ingerstrand, I was to stop for a drink and a little fast food. I had previously had a "funky breakfast", picked up a banana bite, rosin bun and drank a cup of cola. It was cola and other drinks but bad with clean water at the checkpoints. Up to Ingerstrand, I felt that the stomach was not completely satisfied with the breakfast and the subsequent mixture. The replenishment at Ingerstrand caused me to spit everything that had gone down earlier in my stomach. That I empty my stomach in this way is very rare, but experience is only one thing that works for the stomach - Coca Cola. But then the cola must be temperate and the carbonic acid must be shaken out to let it go down easily. Experienced, grape sugar tablets have also been used as supplements after the stomach has stopped, so it was time to get the wife not so far away to find a packet of grape sugar, make big purchases of Cola and start shaking out carbonic acid and temper the bottles, because the road to Horten is long.
[facebook url=»https://www.facebook.com/nrklivsstil/videos/10153835415173619/» /]
I ran on from Ingerstrand alone and when I arrived at Mosseveien, I was reminded why I do not like this kind of race - ASFALT. Not only asphalt, but exhaust, noise and dust / sand that breathes and crushes between teeth. When I arrived in Oslo it was a little difficult to relate to map coordinates and lots of people on Saturday shopping. This brought me some extra kilometers before I found the right trail from Aker Brygge and the road to Sjølyst.
Sandvika and goals? ...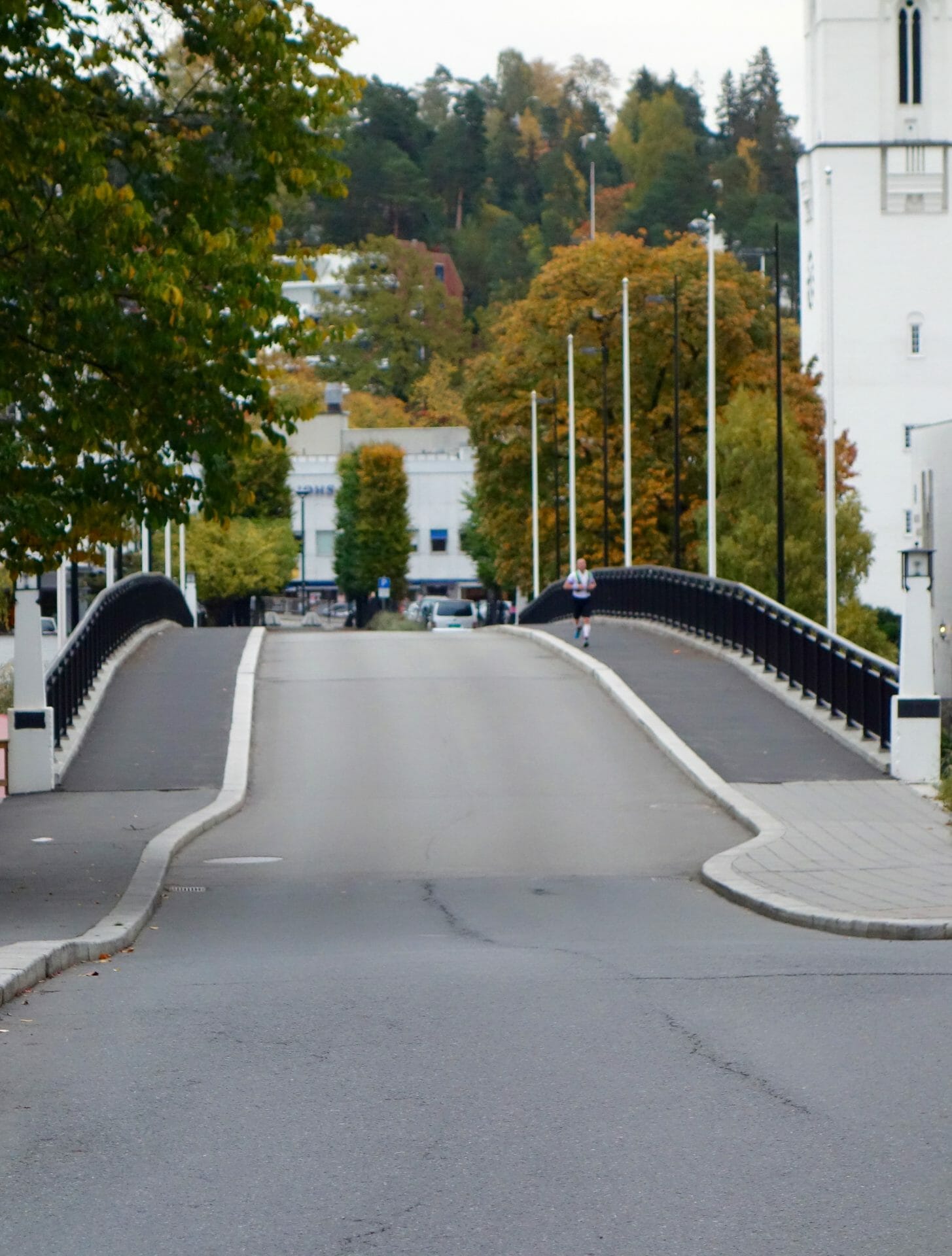 I was running alone for the rest of the trip out to Sandvika, which was also a goal for the 85 kilometer competition. I had decided in advance that I should take a good break to see if I could get some nutrition that is important for body and muscle. I was told to participate further behind who was to run the long distance had told various checkpoints that they would break the race at the finish line in Sandvika. Although the organizer wanted it, I did not want to go on alone with the challenges I had with lack of food and poor navigation.
I arrived at Sandvika at 8:52 am, which for me is ok but nothing to jump in the roof for. However, it was only four minutes after first place and two minutes before the second 85km competition so displeased I was not, but basically it bothered me that this was not my original goal ...
I switched to dry clothes and was torn in the mood where we called other participants into the goal. After a while, the organizer told me that there were participants behind that now wanted to continue on the long stage, and when the organizer offered to go further, the glow was lit in me. I took a phone to make sure of the cleanliness to complete the course with only cola and grape sugar as energy supplements. I got ok but on the border. Then there was a phone to my eldest daughter to hear her point of view that was "driving on!". Wivi was already in the car and was ready, so at 18:22 I set the course against Horten with a little stiff thigh muscles.
Sensitivity and emergency flashes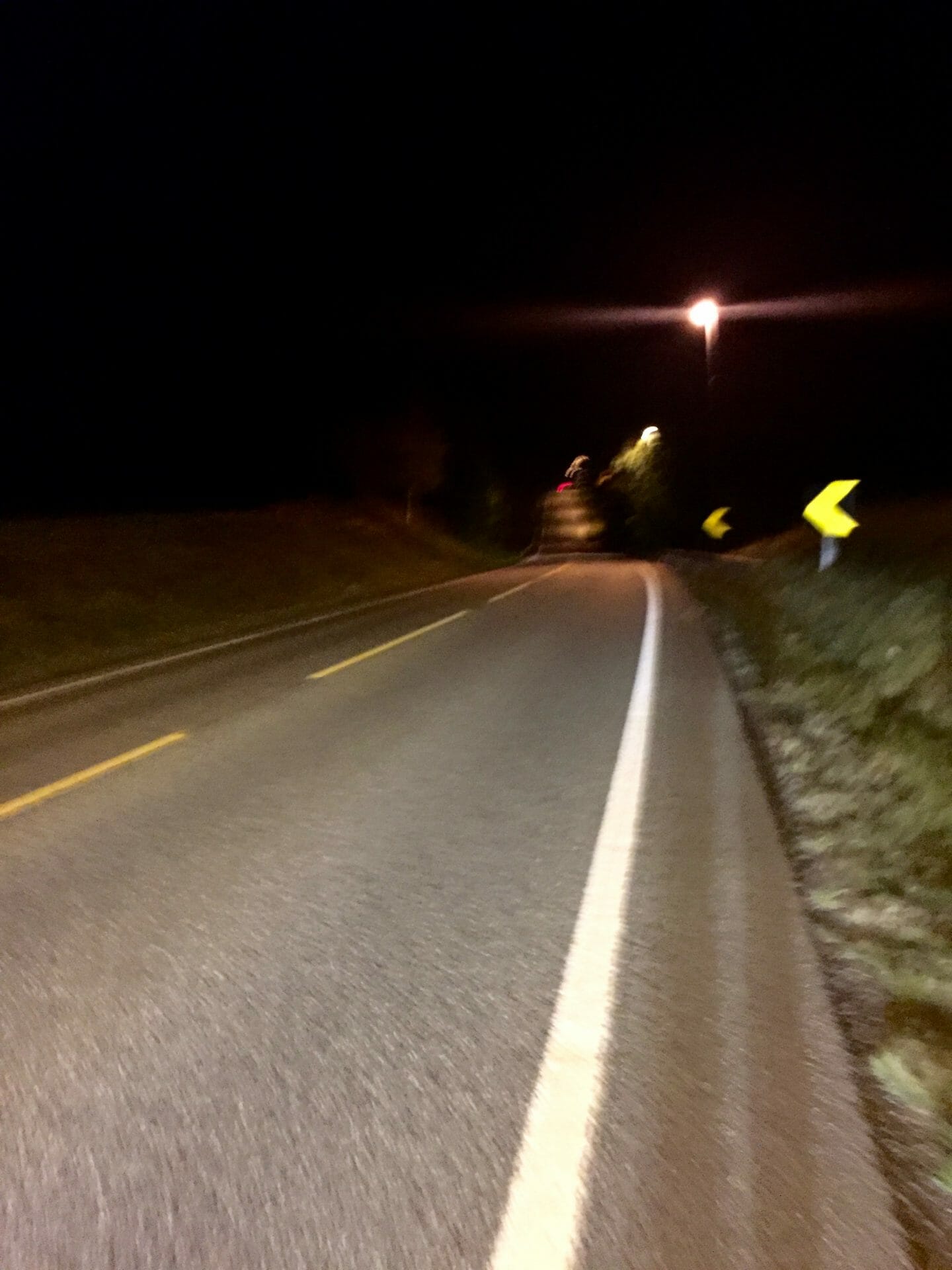 The organizer showed me way up to Asker and disappeared. Then there was Wivi who took over and through SmartTracker and Google Maps she guided me on the right roads. From the Liertoppen it was on the black road and I had not guaranteed to be without a fuss. I had red flashing light on sack and white light in front, as well headlight. But with the occasional lack of walkway where I ran on roadcocks combined with vans and saturday night, this was not sound. On the most dangerous stretches, Wivi drove close to me with an emergency blink, and in the night I think she repeatedly thought to drive me down to finish the race, but she recovered well again every time.
Stiff thighs and quick walk
After Drammen and up the slopes against Svelvik Fv 31 my thighs stiffened and I had difficulty running. I realized that this would happen at a time with lack of electrolytes and nutrition to the body. I then managed to get me four YT-refunded drinks along with cola with Cola on the remaining distance - so some toppings to the muscles were, but far from enough.
Through the map on SmartTracker, Wivi was able to inform that there were only two other competitors who were on the move. Eventually, she told me that the competitors - one by one - deviated from the trail on the map and took another road from Drammen, up the E18 and the Kobbervik valley, which saves both time and height. After this message, Wivi closed the polite window of the car disappeared for a while.
the finish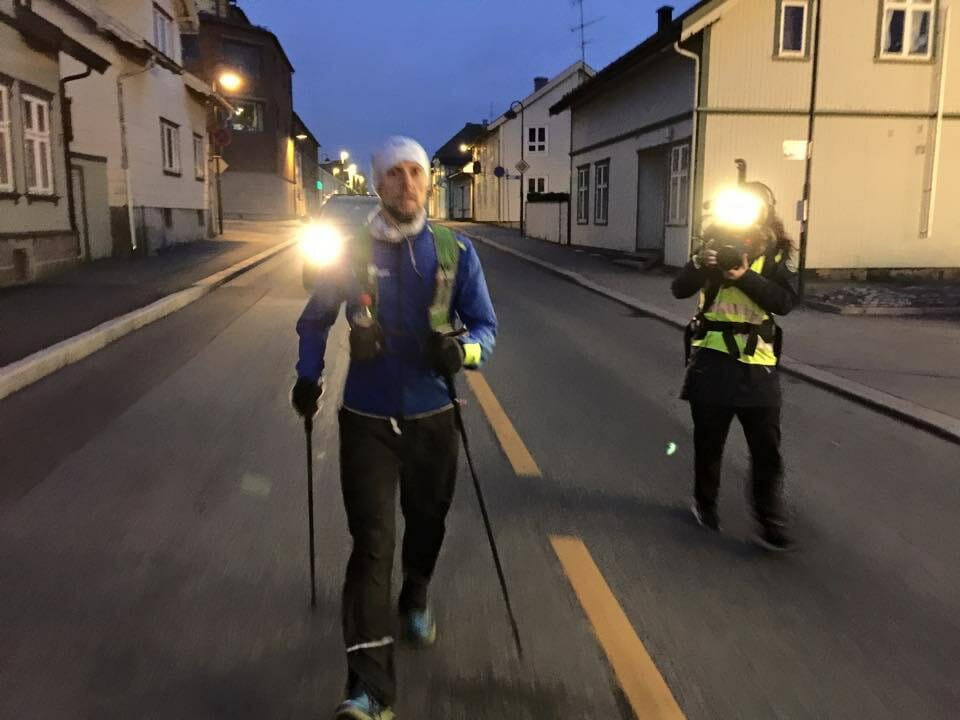 The organizer was driving several times during the night with a good mood and good service, but the distance from Drammen via Holmestrand to Horten was very monotonous and boring.
At the slopes down to Horten, I did not manage to run anymore and found some collapsible staves to occupy me and keep me awake.
At goal alignment, I was the first to spend more than 12 hours from Sandvika and improved the race record with three hours. In total, time was 22:57:09 which was satisfactory with rigid thigh muscles, cola and grape sugar as fuel.
Conclusion
Great ran to Ingerstrand, but then I lost the glow, because asphalt runs are not for me.
In connection with a length of almost 18 miles along busy roads on Saturday night, and that I did not get in my food, the sense of sensibility stretched longer than ever. This type of body piercing with missing electrolytes and food causes dehydration and muscle breakdown that can be dangerous if you do not know your body well.
I felt confident that I had a feeling of distress (my wife) all night long. I had never finished without a sense of distress. Running on roadside roads along county roads Saturday night with lots of "vans" is not safe.

[facebook url=»https://www.facebook.com/nrklivsstil/videos/10153835415173619/» /]

Tracking
Source: Moss - Sandvika
---