Jeg skulle i utgangspunktet ha noen rolige dager i Rondane nasjonalpark, men sånn ble det ikke. En spøkefull kommentar fra arrangøren fire dager før start endte med deltagelse i Trans Atlas Marathon – 280 km, 13.000 høydemeter og betegnet som det tøffeste etappeløpet i Nord-Afrika. More than half of the participants either break or switch to "The Challenge" which is a shorter distance (120 km).
Å bestemme seg for å løpe 280 kilometer med ca. 14.000 høydemeter fire dager før start kan fremstå som vågalt, men for meg handler det om mestringsfølelse og løpsglede og planen var jo at jeg skulle til Rondane å løpe likevel. I tillegg har jeg noen år med løps-erfaring, forberedelser, styrketrening og mange timer i skisporet – kombinert med en god porsjon tilpasningsevne. Og det å reise fra kalde Norge for å «lade batteriene» i 35 varmegrader ble en ekstra bonus.
The Atlas Mountains are an unspoiled mountain range in northern Africa that is 3,000km long, 400km wide and runs through Morocco, Algeria and Tunisia. The highest mountain peak in the Atlas mountains is Jabal Toubkal with 4,165 moh and is located in Morocco.
The journey and meeting with Morocco
In good tradition, I was driven by my dear to Gardermoen, this time with Marrakech as a goal. It was a perfect travel mover (sludge) and at the airport there were several who wanted to get to warmer areas.
When I arrived at Marrakech, I immediately noticed the vibrant city's intensity and its many strange fragrances. In the invitation and timetable for TAM, there was good information about taxi and what hotel we were staying at. The hotel was great with Moroccan decor and in great contrast to the tent life that awaited us.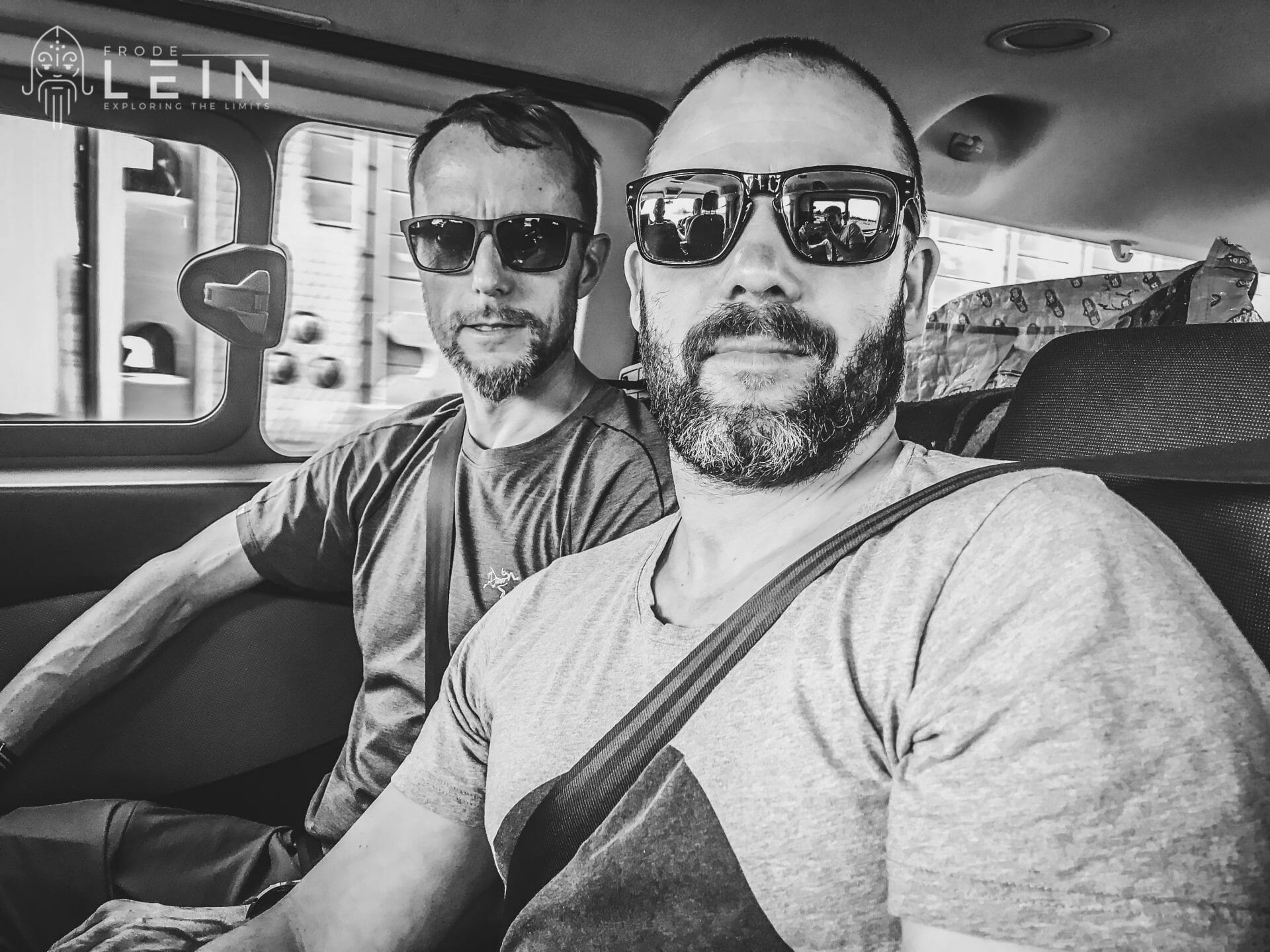 At the hotel I met several famous runners who had arrived earlier to acclimatize, run in terrain and warmth to be best prepared for the competition. I found myself fit on a sun lounger by the swimming pool, as rest and warmth are important factors in the days before starting.
Before each race, I'm careful about the choice of food and extra careful with the hygiene, but at this hotel it was impeccable, so I enjoyed the local food.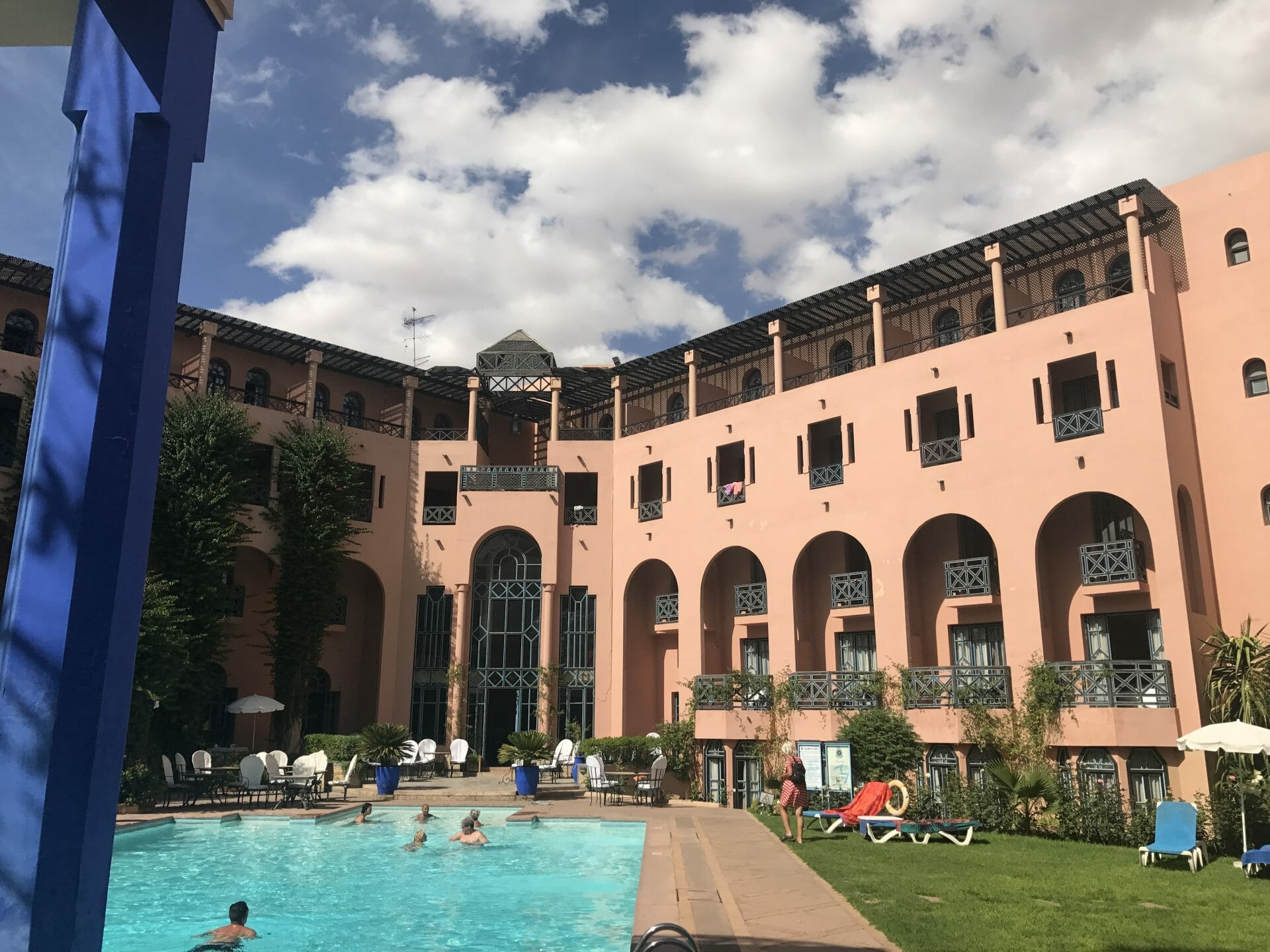 Moroccan culture
Something that I had been recommended was "Hammam" - a form of Moroccan massage. I booked an hour at the hotel's spa and met up a little prepared. The spa consisted of a steam bath where I was showered and washed like a little child, then scrubbed from top to toe by a powerful lady, who finished with relentless massage. As a tenderloin, I crawled to bed and I fell asleep immediately - in a foster position.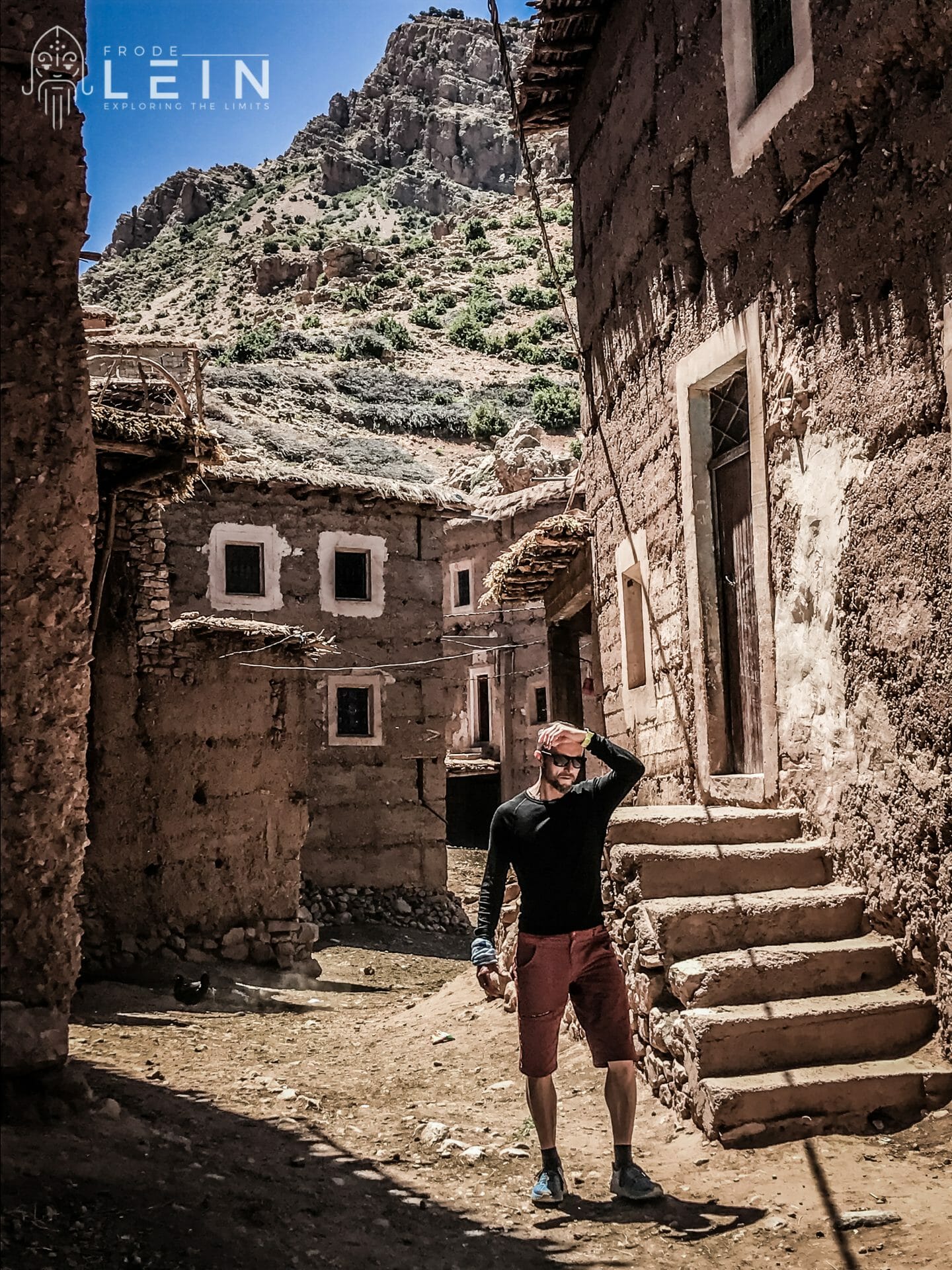 The following day, I also got a trading round on the Djemaa al-Fna marketplace, located in the old town of Marrakech, listed on UNESCO's world heritage site with its incredibly beautiful architecture.
On the second day of the evening, all the runners were gathered at the hotel, where we received a thorough review of the competition under the guidance of auxiliary staff. The review included the control of equipment, raceway, challenges and dangerous animals, as well as how we would be taken care of outside of the course itself. All the runners were also in control of the six doctors who would follow us throughout the competition.
For those who had received remarks or lack of equipment, it became possible to complement and trade before leaving the mountains.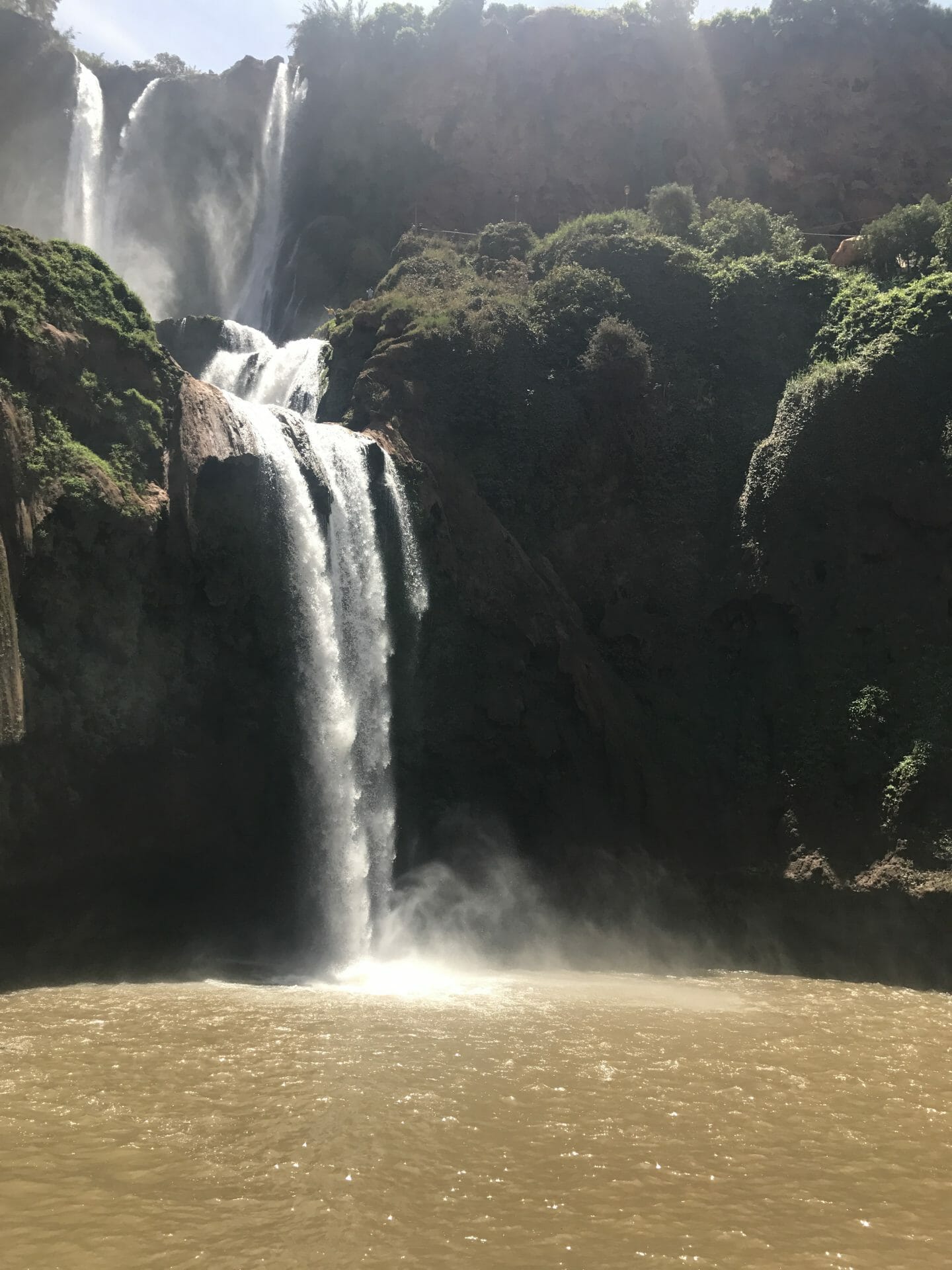 The transport to the first tent camp in the mountains was carried out by minibuses. In order to "reduce" boredom and the long journey, the organizer had a lunch break at the famous waterfall "Cascades d'Ouzoud" with its hundred meters of waterfalls.
The region we should stay in the first two days is Tadla-Azilal, and has a population of 1.6 million - distributed on an area of ​​17,125 km² in central Morocco.
camps
The first tent camp was located on a small plateau where we could see the contrasts between the green grass staircase in the valley bottom, the sloping fields surrounded by brown spotted mountainsides and the foot of Mgoun at 1800 meters altitude.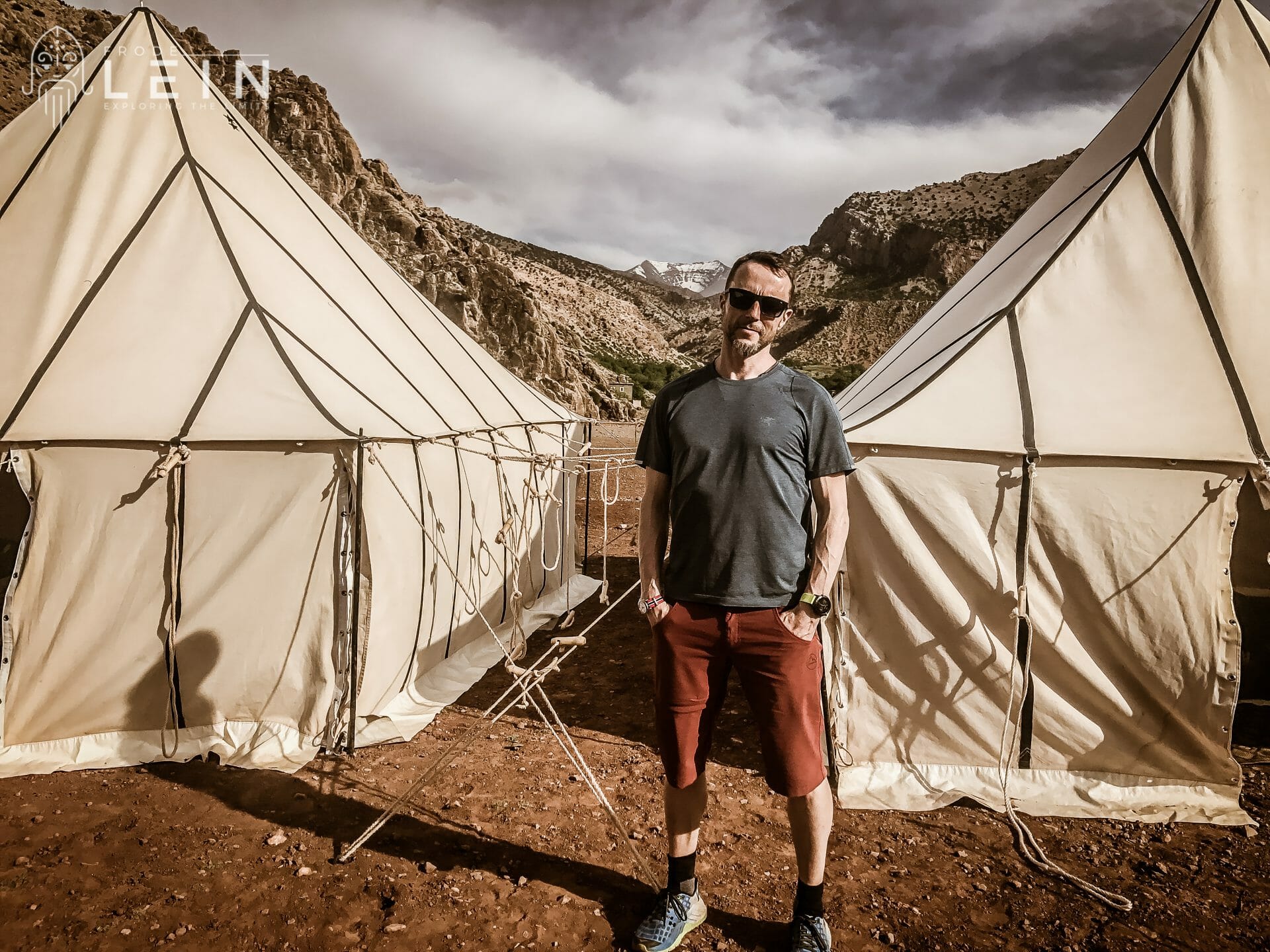 The valley is surrounded by peaceful villages with berbers that were very welcoming and friendly above the runners. The largest village is Tabant and has 1302 inhabitants. In short, amazing scenery and a very special atmosphere.
In the tent camp we were divided into four-man "tents" - and in addition to the canteen, nursery and toilet tents - our own "shower tent" had been set up. Being able to take a shower after each day trip is a luxury in the race context that I have not experienced before.
Preparing
A good routine I always follow on arrival at a tent camp is to prepare ALL for the next day. This includes everything from breakfast, hygiene and equipment to racing steps.

Then I prepare everything from sleeping bag, toothbrush and earplugs before the night falls on. There are many who choose to eat and be social, and forget that the dark is coming soon. It's no fun to wait until the next morning to clear running equipment, hive food and hurry to the starting line.
Diner
When I finished all the equipment, I went to the cafeteria and got a culinary experience.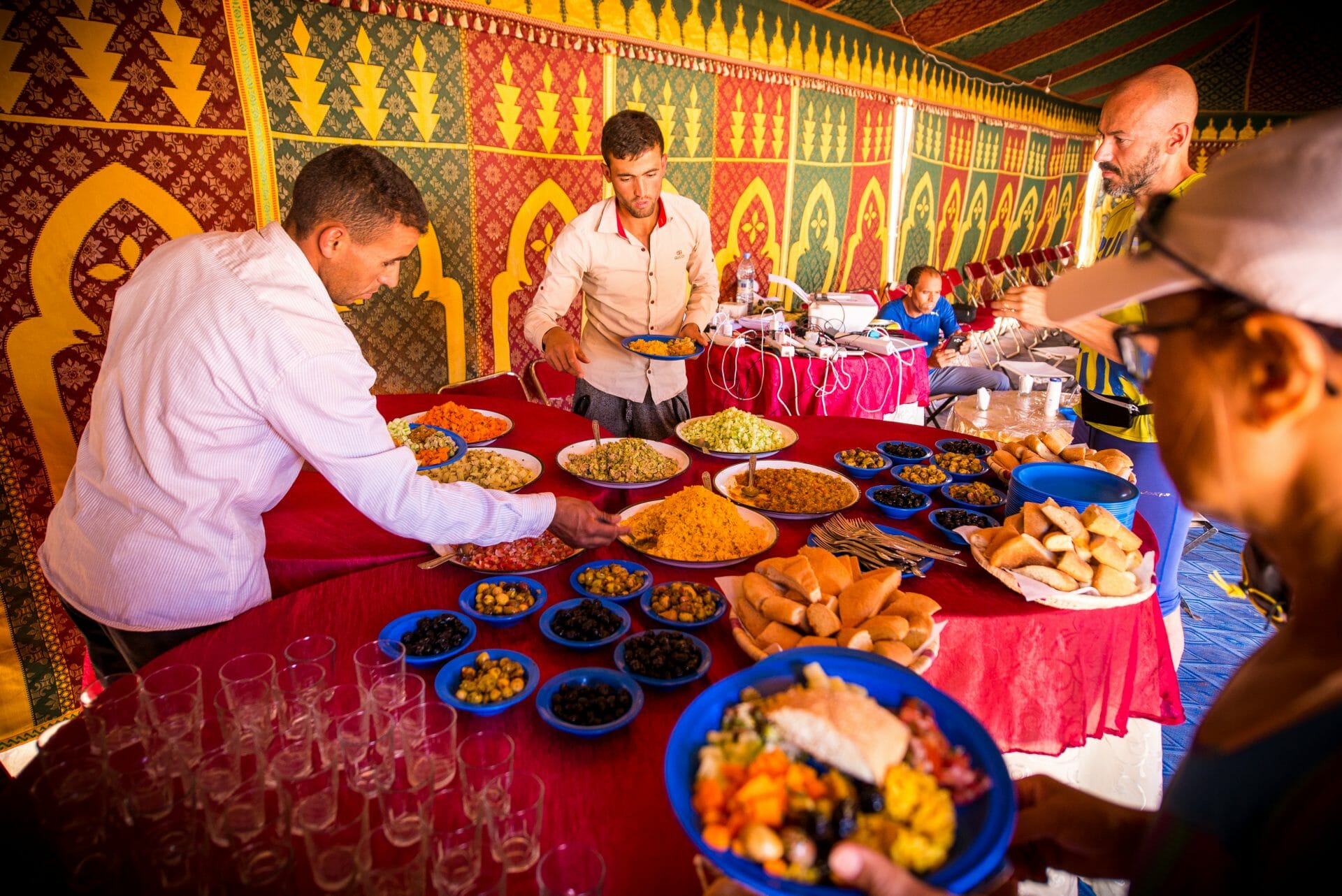 Several cooks were waiting to prepare a three-course gorgeous Moroccan dinner, and we got the same day throughout the course. I as a vegetarian was also well looked after. Similar quality at breakfast, we also received, and they served tea and fruit after finishing. The hygiene was well taken care of and I did not hear anyone who got bad in the stomach the week we spent in the tent.

First run
After a quiet night I was awakened by nervous participants who ran back and forth outside the tent. With good preparation the day before, just getting up, eating, drinking coffee, brushing teeth, washing and toilet visits - I was ready to start.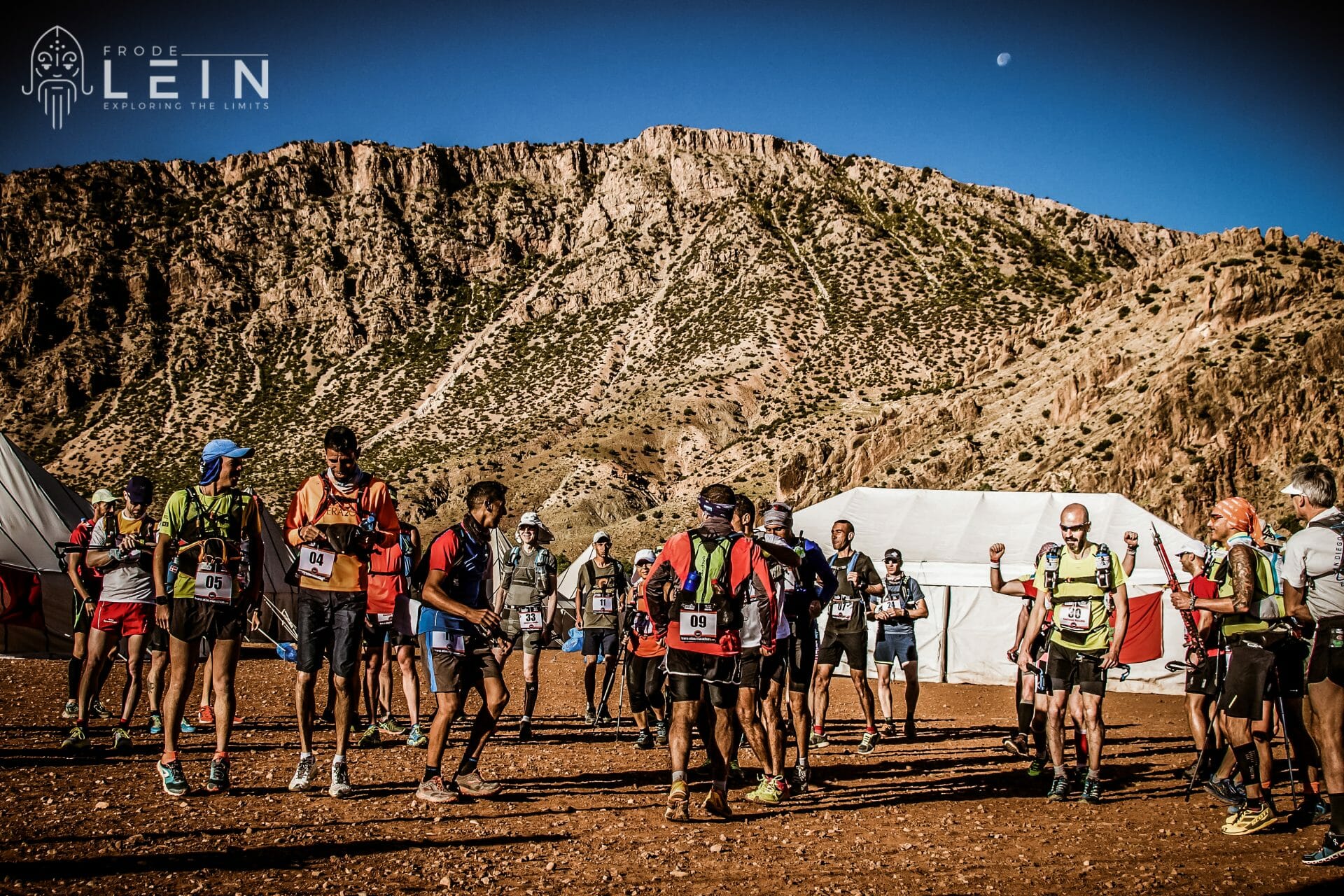 The first day trip was 44.5 km and went on a trail in a loop around some mountains with a maximum height of 2,980 moh. The distances on day trips are measured horizontally and will therefore differ with a 3D GPS (49.64 km) as we climb uphill and downhill one and a half times up the Mount Everest from sea level over the next six days.
checkpoints
The first checkpoint reflected half of the control points and was a "big" checkpoint and contained a terrain car, two controllers, a driver, a doctor, water and hot tea. The rest of the checkpoints were "small" water stations, established in undisturbed areas in the route and therefore had a limited supply of water delivered by donkey. The checkpoints were spaced apart from 10 to 25 km depending on the terrain.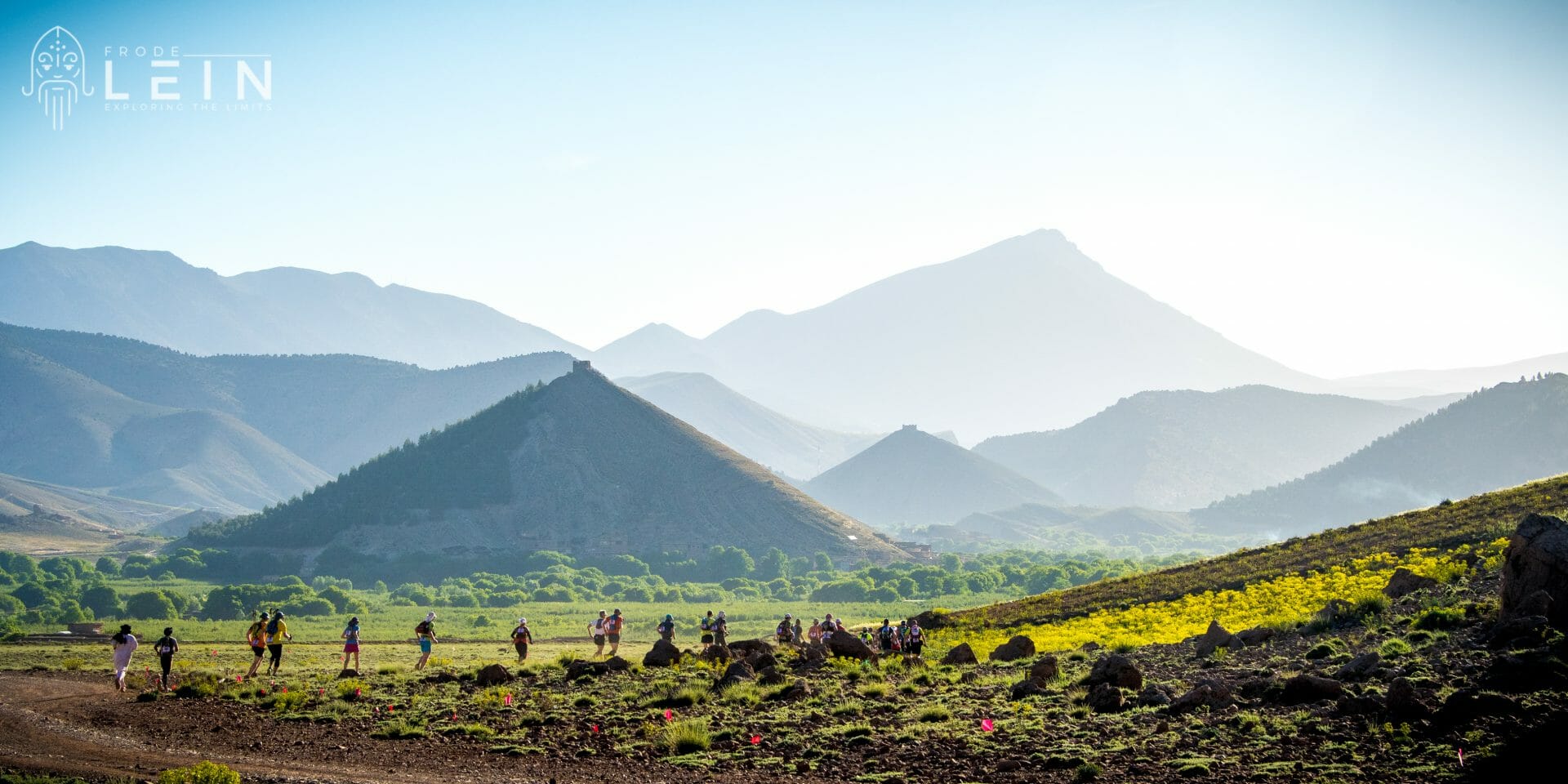 It was good to start the race where we walked up the lush valley towards Tabant. We passed a small farmhouse and ran along waterways that transported the water to the lush fields.
As I ran from checkpoint 1, one of the checkers called me with a smile: "It's now the race starts! ». And what awaited me was 1000m increase over the next five kilometers. Then the race went up and down for five days. I had initially planned to take it easy with my first day trip and then run into the next stages. In view of the concerns of others, I had decided to take it "a little" carefully as we were going up to 3000 meters in height. But when I did not notice anything to the height or responded to the heat - I increased the pace.
When the goal is to complete, nobody can overcome you!
I ran the first day stage with a big smile, snapped a lot of pictures of the amazing nature and I was surprised I then passed the finish line as the second international runner with a time of less than eight hours.

Other race steps
Day two started with a 1,537 meter rise spread over 11.7 km up to 3.285 moh. and then it was up and down until we passed the finish line after 52.9 km (3D - 57.86 km). Along the way, we passed several villages with hundreds of years old houses and at least equal old women who sat outside the houses and woven Berber carpets.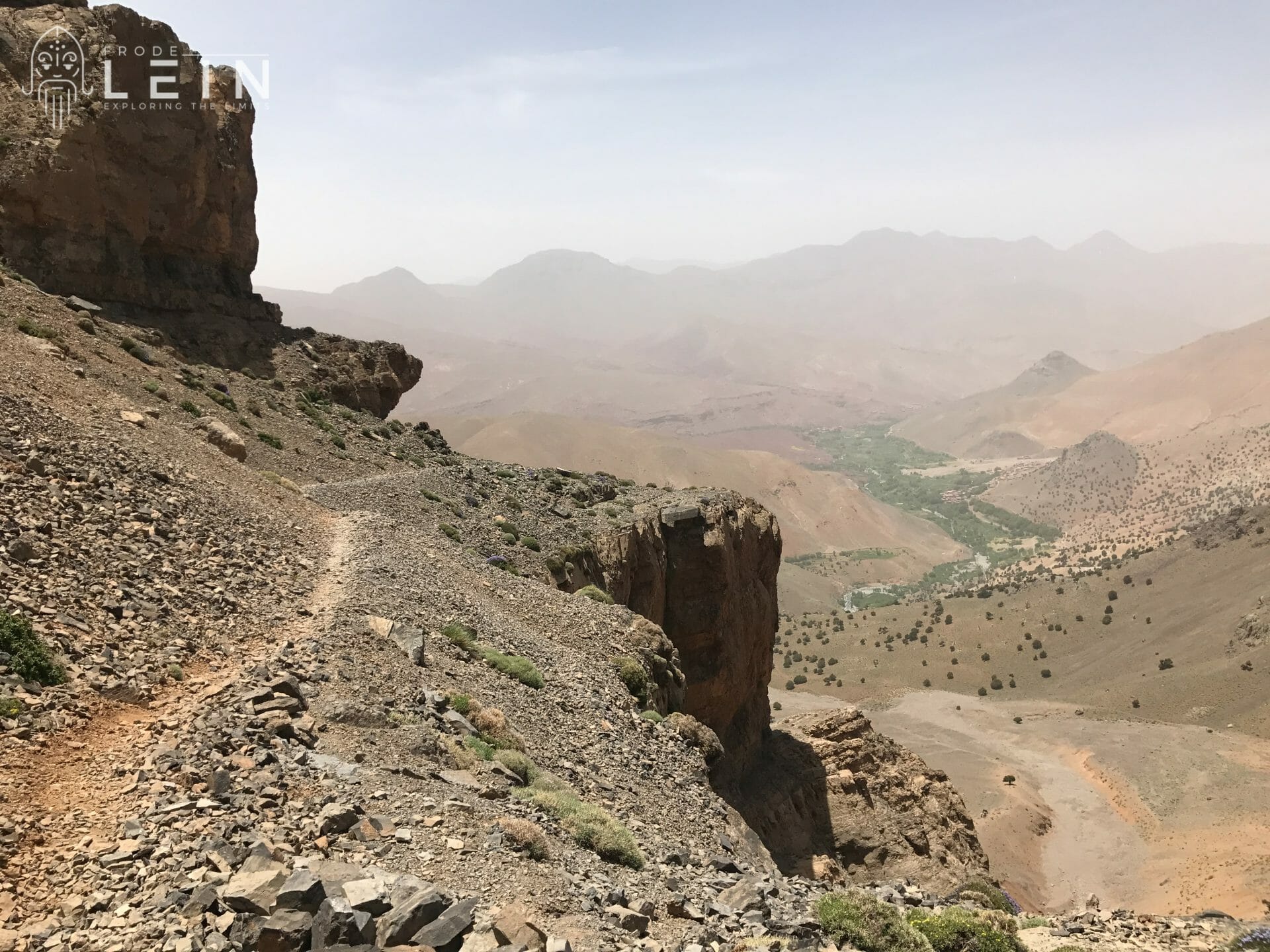 In a village, TAM had established Checkpoint 2. I received ice-cold applesin jus that tasted very good along with a bag of nutmeg (Polly småsulten). Ice-cold drinks are good, but difficult to digest in high activity ... And this time it was already punished in the climb on the next mountain, for I threw up everything - in addition to all the calories I had eaten that day. I checked the West for calories and figured that for the rest of the day I had to handle 400 calories. This went well, but I was quite empty at the end of the day trial lasting twelve hours. We ran mostly in wild terrain, dried up elveleier and finished down a mountain side with stunning views.
This day I spent more than twelve hours at 57.86 km (3D). The first two days had been a hell for some runners and by thirty five starting the first day, only twenty-third runners were in the competition TAM. Most people who failed to complete today's leg had chosen to cross the short competition "Challenge" with a distance of 120 km. Thus they avoided being registered as DNF "did not finish".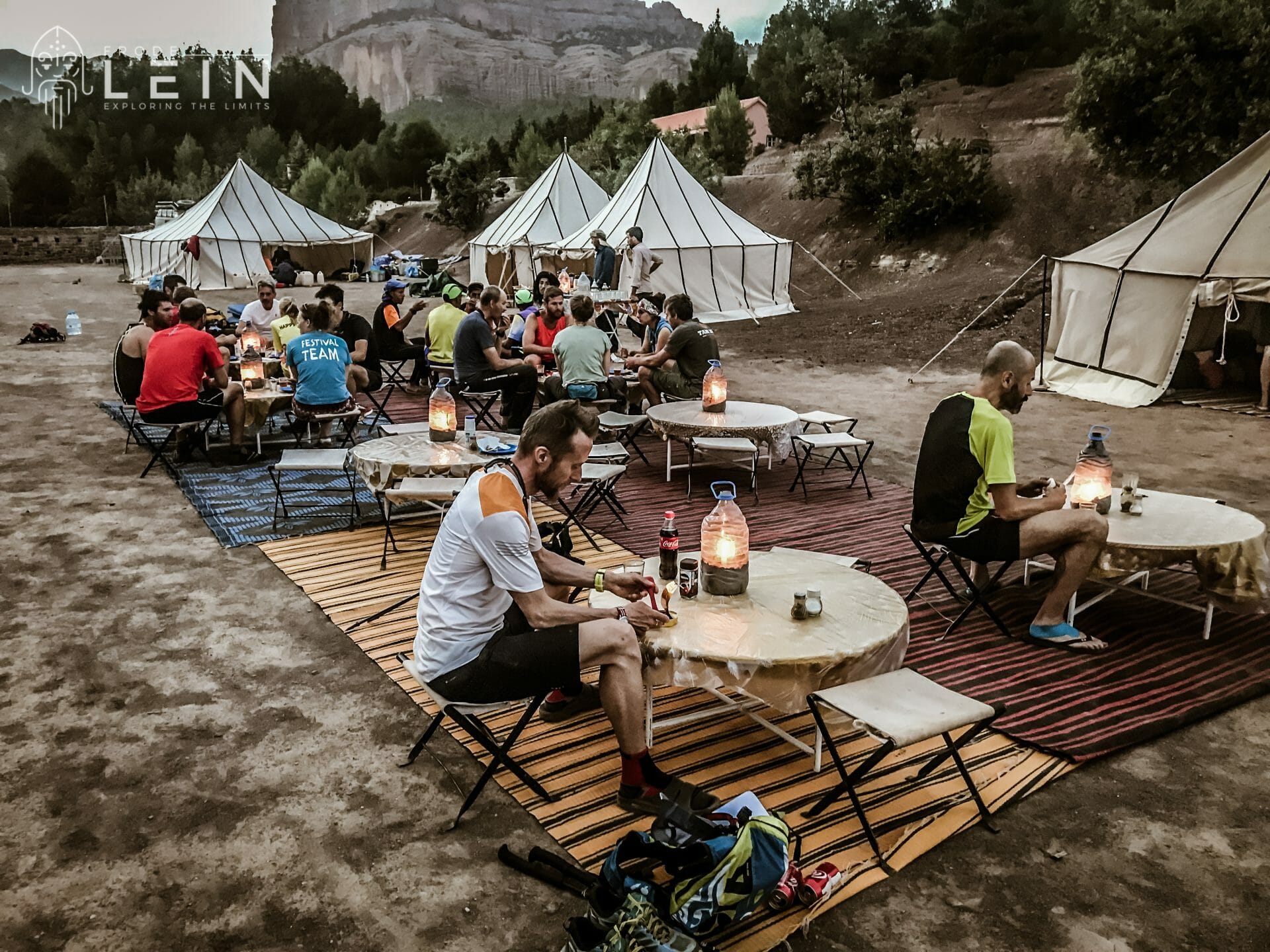 Just after the day trial was over, I showered and found a few of my "emergency nuisances" in the dropbag. The nutrition consisted of a few canned cans Mackerel in tomato.

Third race step
This day the racing track went along a mountain back and to a new destination where a new tent camp was waiting. High temperatures were reported this day so we started extra early. At 5:00 we started with a drive up to the starting line that was outside of Tabant. I had prepared myself the night before filling the bottles with tempered cola without carbon dioxide as energy supplements. I also had nutmeg and gel in reserve and would no longer challenge the stomach, so I hoped that Cola and water would be enough.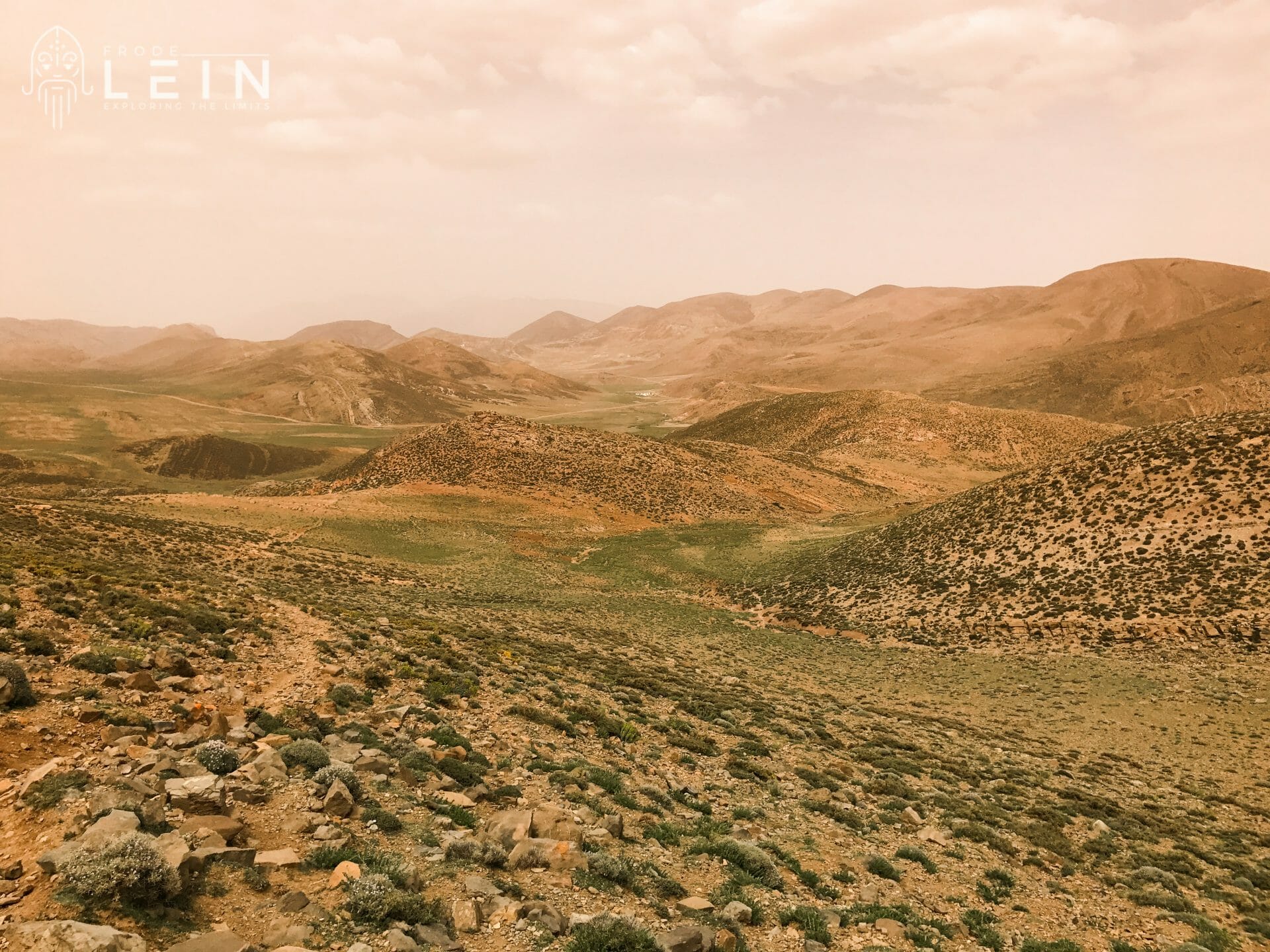 The heat was not so intense as large sections of the races went on a steppe landscape in the mountains and down to Aghbalou, through the valley and up from Iglaouane to reach altitudes of three thousand meters and down the valley. The finish line and tent camp this night was 2,500 meters high, but still well over thirty degrees. I continued to eat fish on canned meals as a snack to compensate for missing consumption during the course. Today's stage I return at 9:40.

Fourth race
I sleep well in the height and with a tent camp of almost 2,500 moh this night would be well secured, but - no. Outside the tents there was a small river where hundreds of frogs that hung and fasted all night and of course I had ripped off my earplugs. The idea that someone (my dear) home-loving frogs was completely incomprehensible, and more sleep was not.
The self-pressed espresso tasted very good before breakfast the next morning, and it was absolutely magical to sit alone in the mountain side outside the camp to look out over the landscape in the sunrise and experience the silence. After awake lazy camels alive and alive in the mountain world, shepherds came out of their stone caves to move the livestock further.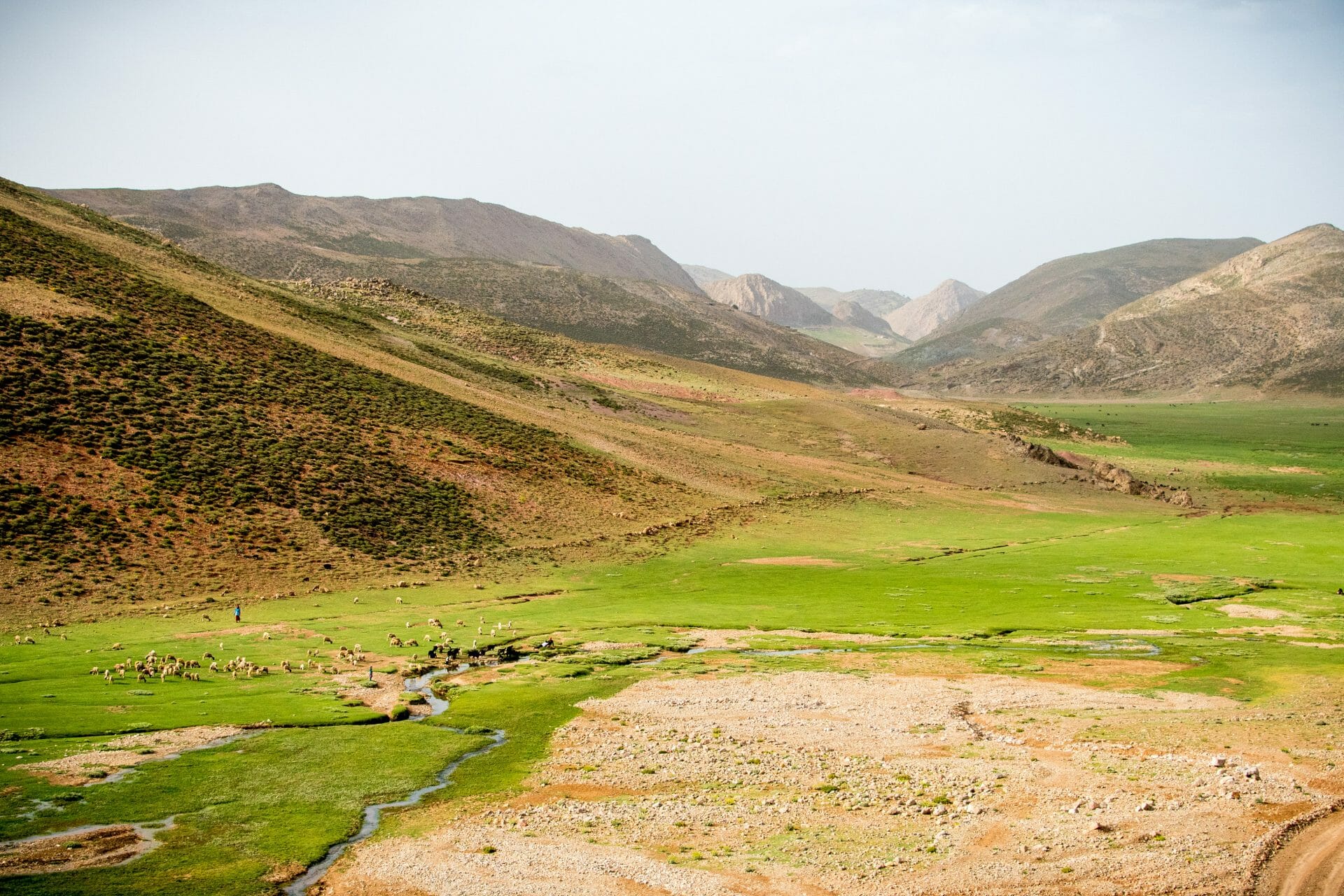 After breakfast, we ran through a lush steppe landscape and for the first time I had to skip a snake on the trail. The snake was probably a meter long, but quite calm in the movements, and it was only afterwards that I thought "this should have been the movie", but then I was in such a good drive that it was impossible to turn around.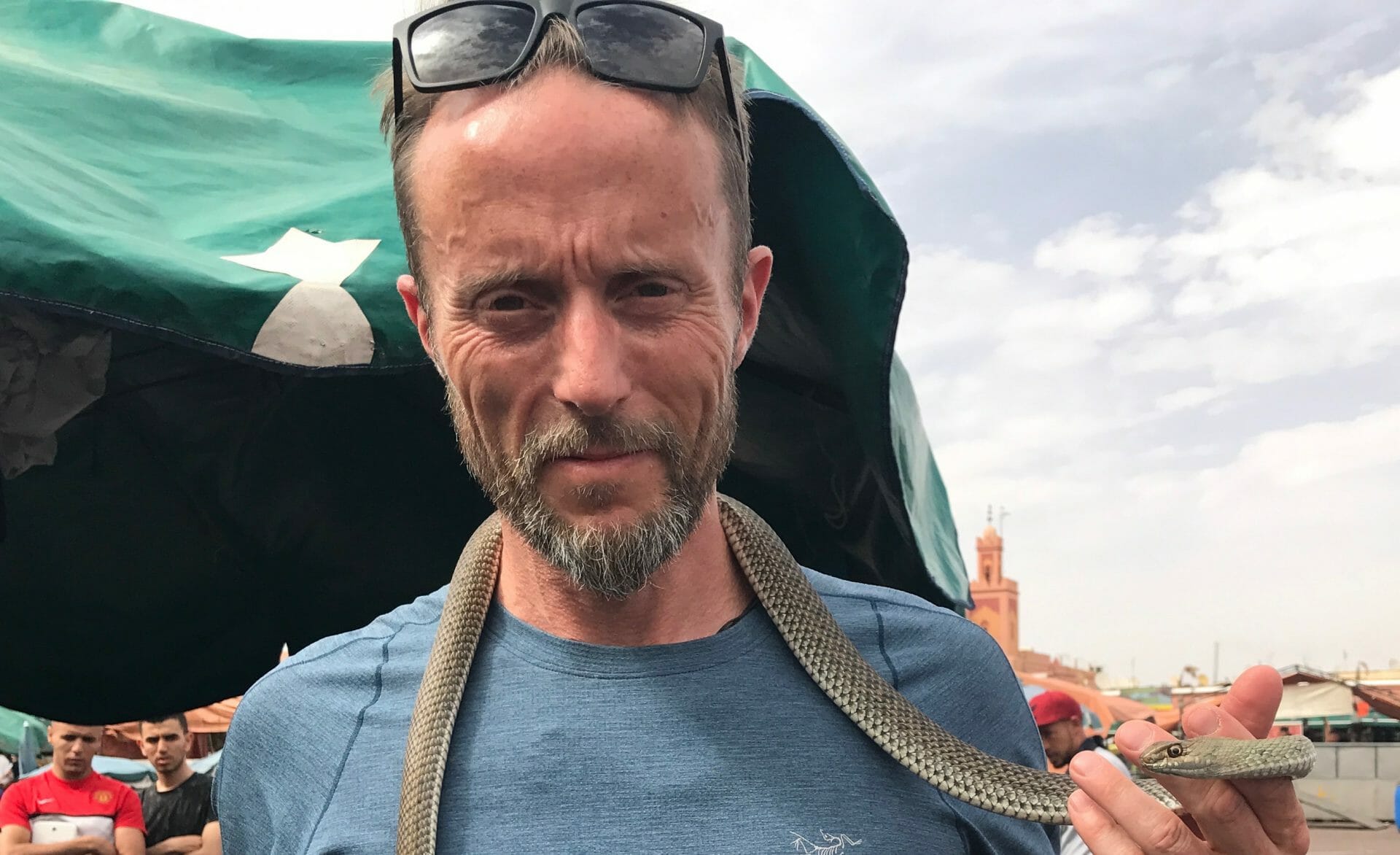 When I had descended into a deep valley, I came to the organizer's own birthplace - Zaouiat Ahansal, and is taken as an adventure. Zaouiat Ahansal was founded in the 13th century by Islamic teacher Sidi Said Ahansal, who established a religious school there. Zaouiat Ahansal is located in a region between central Africa and the plains of Marrakesh, and is blessed with a lot of freshwater and abundant grazing for Aït Abdi and Aït Atta nomads.
Today, the region consists of several libraries, schools, holy houses and decorative «ighirmin», which testify to a prosperous cultural heritage. During the Islamic Shawaal month, there are a considerable number of pilgrims visiting the region, bringing presents to Saint Sidi Said Ahansal and his descendants.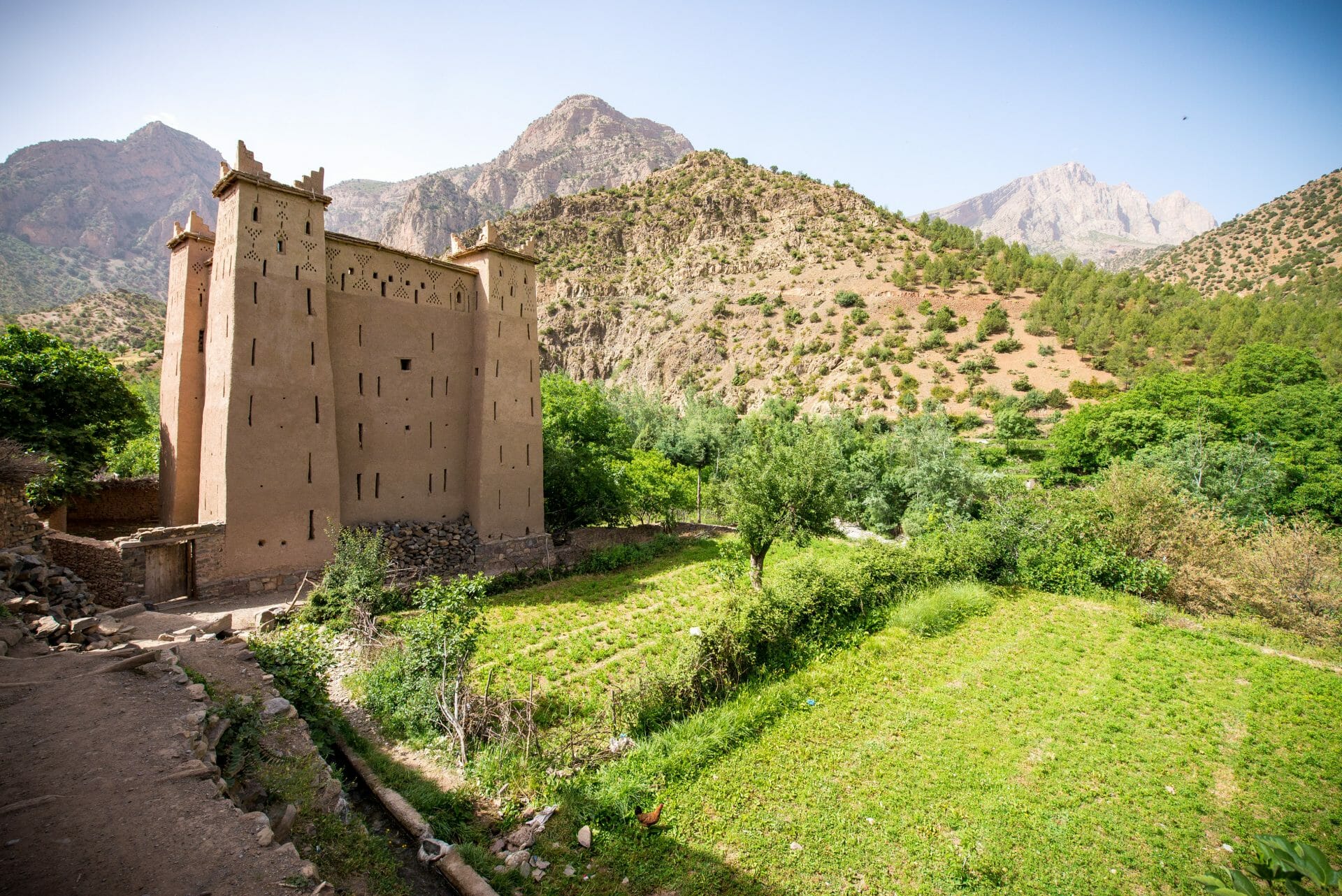 Ved kontrollpunktet som var satt opp i Zaouiat Ahansal kjøpte jeg en stor flaske med eplecider for å variere litt på væskeinntaket. Det var ikke før jeg var kommet godt ned i flaska og på vei opp neste fjell – at jeg oppdaget at eplecideren inneholdt alkohol. Denne delen av etappen ble litt morsommere enn forventet, og sammen med en engelskmann (uten eplecider) løp vi oss bort i nesten en time.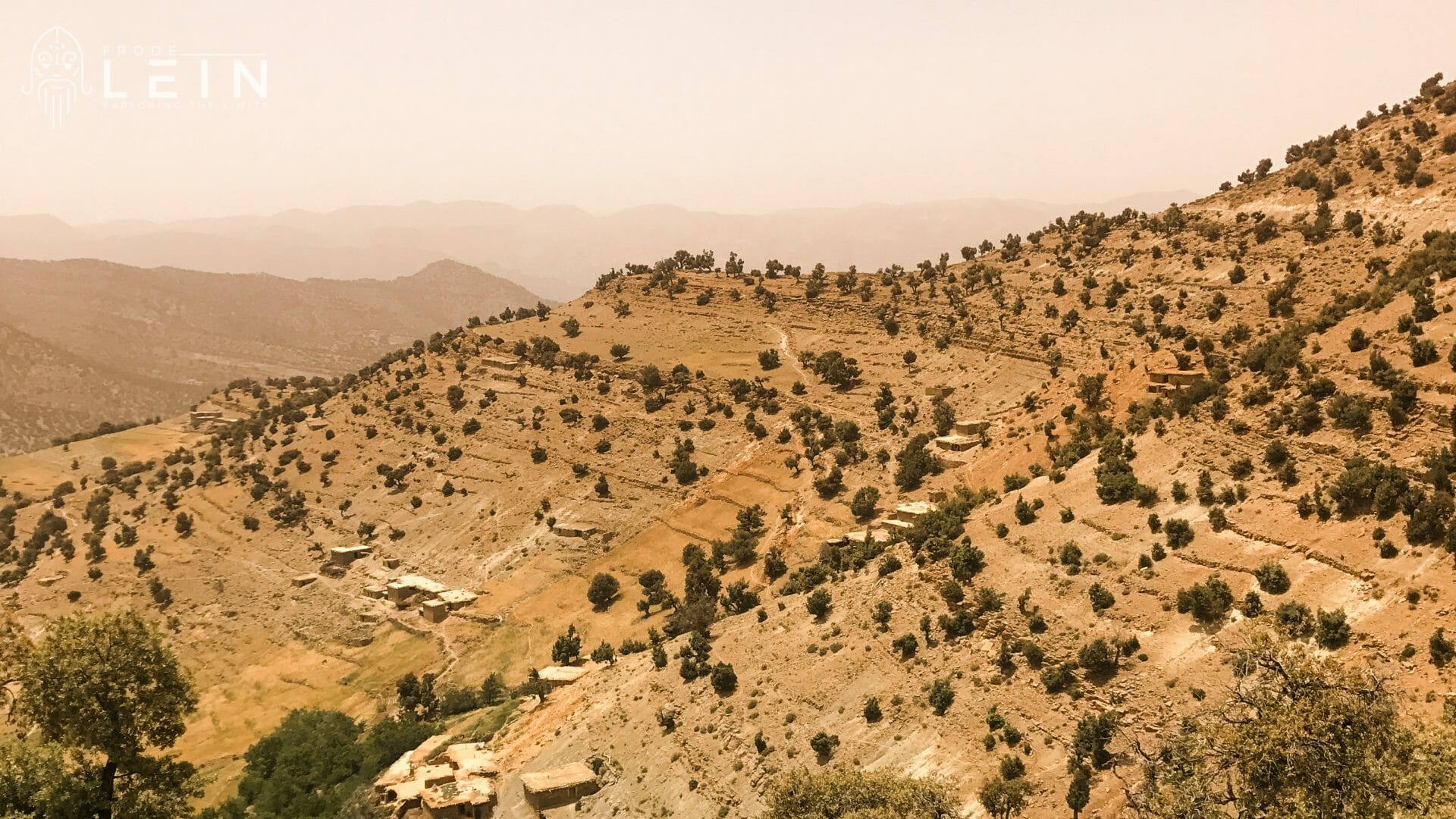 Det var på et kontrollpunkt oppe i 38 varmegrader midt på dagen og vi hadde noen bratte stigninger – deriblant 700 meter stigning fordelt på 3 kilometer som ble temmelig tøft.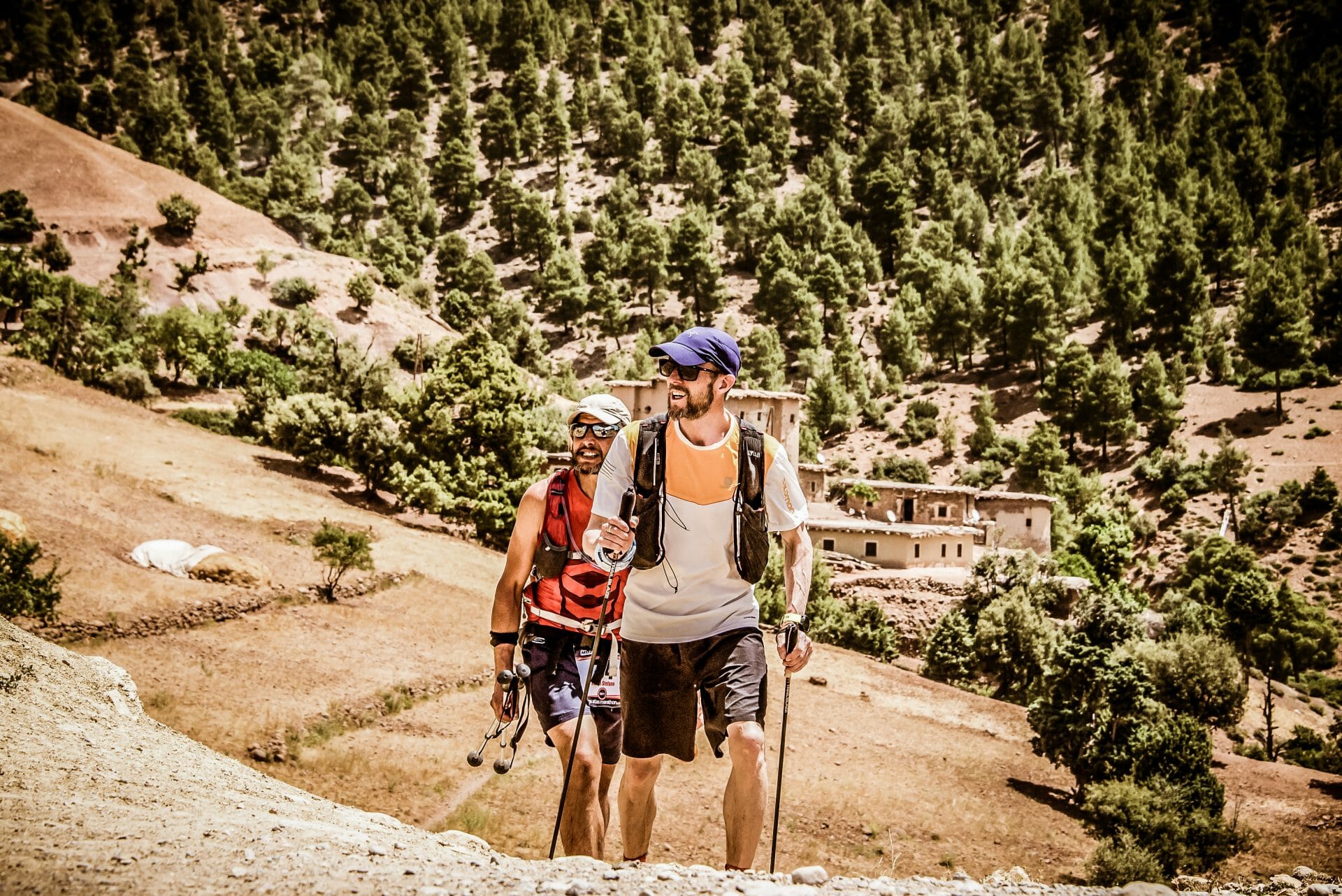 Vi hadde målgang og teltleir på 2.600 meters høyde. Tiden ble 9:34 (3D 62,30 km), og mye på grunn av varme det var bare atten deltagere som fullførte dagens etappe inkludert samtlige av de marokkanske løperne.
Denne teltleiren hadde ingen frosker, men nå var det hjelpemannskapene og de tyve talls marokkanske løperne som hadde fest til langt på natt. En fest uten alkohol – men med mye te, sang, glede, klapping og latter! – fantastisk gjeng som sprer om seg med glede.

Fifth race step
After a good night sleep and quick breakfast, it was out on the steppe landscape again. It was a bit milder this day, around thirty degrees. The race began with long flat plains full of "star cacti" with thorns that went through the sole when they were stepped on them.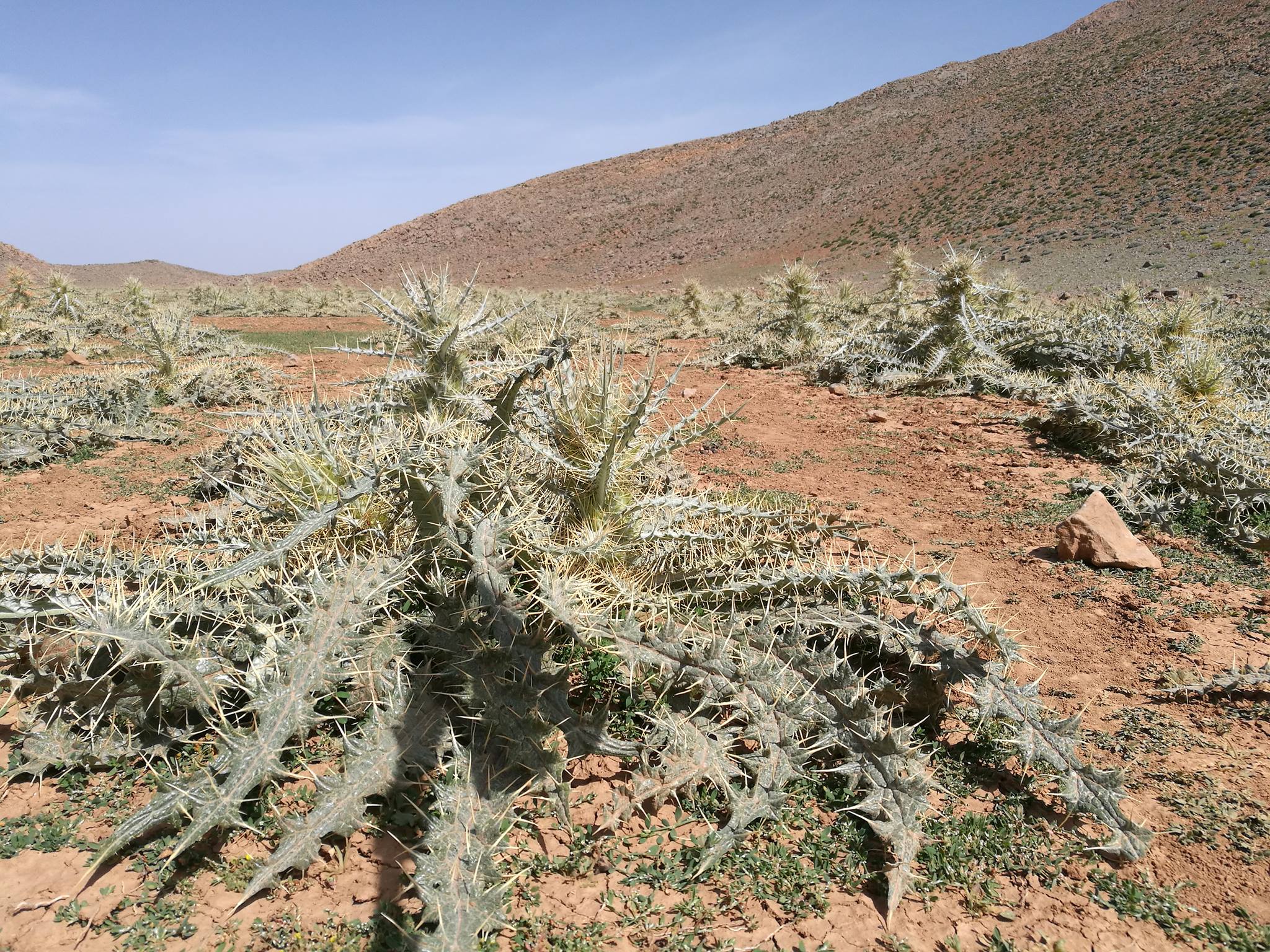 Thorns in the shoe are a problem that should be handled as soon as it is discovered, because when the thorns are already in the sole it is important to pull them out before they break. A torn knuckle in the sole will be troublesome when pressed into the foot every time the shoe is pressed against the base. We ran a lot down in this day trial and the last twenty kilometers went from 2,497 to 1,250 moh. Down in the valley guides it was comfortable and I used the opportunity to cool me in the small rivers. The only thing that will not get wet is my shooting, with regard to friction, sand, blisters and nails. Today's stage was completed at the foot of the Cathedrale Imsfrane which is a wonderfully beautiful mountain at a small village - Tilouguite.


We had a tent camp on a small football pitch outside Tilouguite, and some used the opportunity to buy something extra to eat in the small shops that sold "everything".
In the bag I had a pack of one kilo of Bounty chocolates that I switched to the race crew against four small canned tuna boxes. I costed the tuna as if it was a meal and after that I was lying on my sleeping bag for a couple of hours.
Etter denne dagen var det sytten gjenstående deltagere i TAM og tiden jeg brukte på etappen ble 5:11 .

Sixth race step
The cheerful mood among the competitors was clear before we began the final stage. Most stage races use ending with a short honors stage to film and run promotion for sponsors, but TAM's final step was anything but simple. It became a roller coaster unparalleled.
Noen av områdene var så lite tilgjengelig at det ikke var mulig å etablere kontrollpunkt, og vi fikk vi beskjed om å fylle vann fra elvene. Å drikke fra elvevannet vurderte jeg som risikabelt med tanke på bakterier, så jeg satset på at jeg ville kunne klare meg med flaskene jeg i forkant hadde fylt opp på kontrollpunktene. Omtrent halvveis i løpet ved foten av et fjell, var en av elvene hvor vi var blitt anmodet om å fylle flaskene. Som planlagt lot jeg være og jeg hadde fylt opp en halv liter ekstra på et tidligere kontrollpunkt. Men så begynte stigningen; fjellveggen vi skulle opp hadde en stigning på 670 meter fordelt på knappe to kilometer. Veggen badet allerede i sol og vi passerte 40 varmegrader i skyggen. I forkant av stigningen viste jeg at dette ville bli tøft, men etterhvert begynte jeg å innse at mangel på vann ville bli et problem. Nå var det viktig å ikke få panikk, men beholde kontrollen. For meg betyr det å kunne forstå symptomene og akseptere de ulike fasene før man eventuelt kollapser og besvimer.  Det begynte med kribling i fingrene, bena, utmattelse i muskulatur og svimmelhet. Stien var smal så jeg gikk så tett til fjellveggen som mulig for ikke å ramle ned den bratte skråningen. Hadde jeg satt meg ned for å slappe av i denne varmen med sviktende muskler, ville det vært nesten umulig å bevege seg videre. På en plass som dette tar det flere timer før hjelpen kommer – så det var bare å holde meg i bevegelse til jeg eventuelt gikk på trynet. Omsider kom jeg meg til toppen og fikk øye på et esel foran en liten hytte om lå litt utenfor løypa.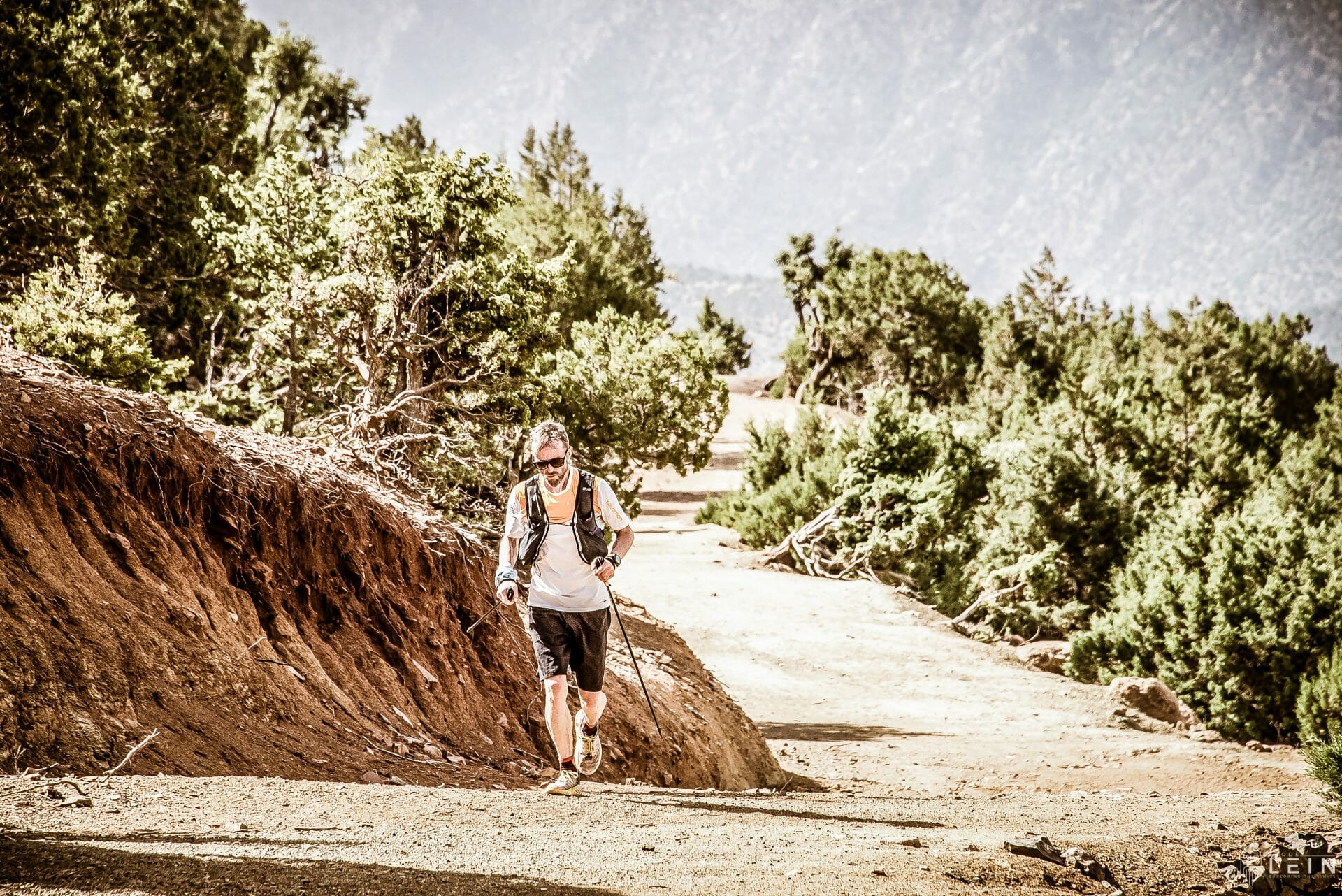 I focused everything on drinking in the house and at the entrance I was greeted by a mother and three daughters who gave me cold water. I sat in the shade and drank me out of the way and got some effort.
Etter 15 – 20 minutt var jeg oppe på bena igjen og kunne fortsette med flaskene full av vann. Jeg tok det rolig frem til neste kontrollpunkt hvor det ble servert mineralvann og Cola! Jeg fortsatte løpet etter en kort pause, men resten av dagsetappen bar preg av at jeg var redusert. Etter syv timer var det ekstra godt å løpe over målstreken denne dagen.  50,49 km (3D).

Result
Totalt brukte jeg 50 timer og 40 minutt på 308,93 km og 12.676 høydemeter målt i 3D med Garmin Fenix 5. Av 35 deltakere på startstreken var det kun 16 deltakere som fullførte løpet. Totalt ble jeg nummer tre av de internasjonale løperne. All honnør til de Marokkanske løperne som var overlegne i denne varmen, med deres kapasitet og lokalkunnskap var de overlegne – men utrolig hyggelige.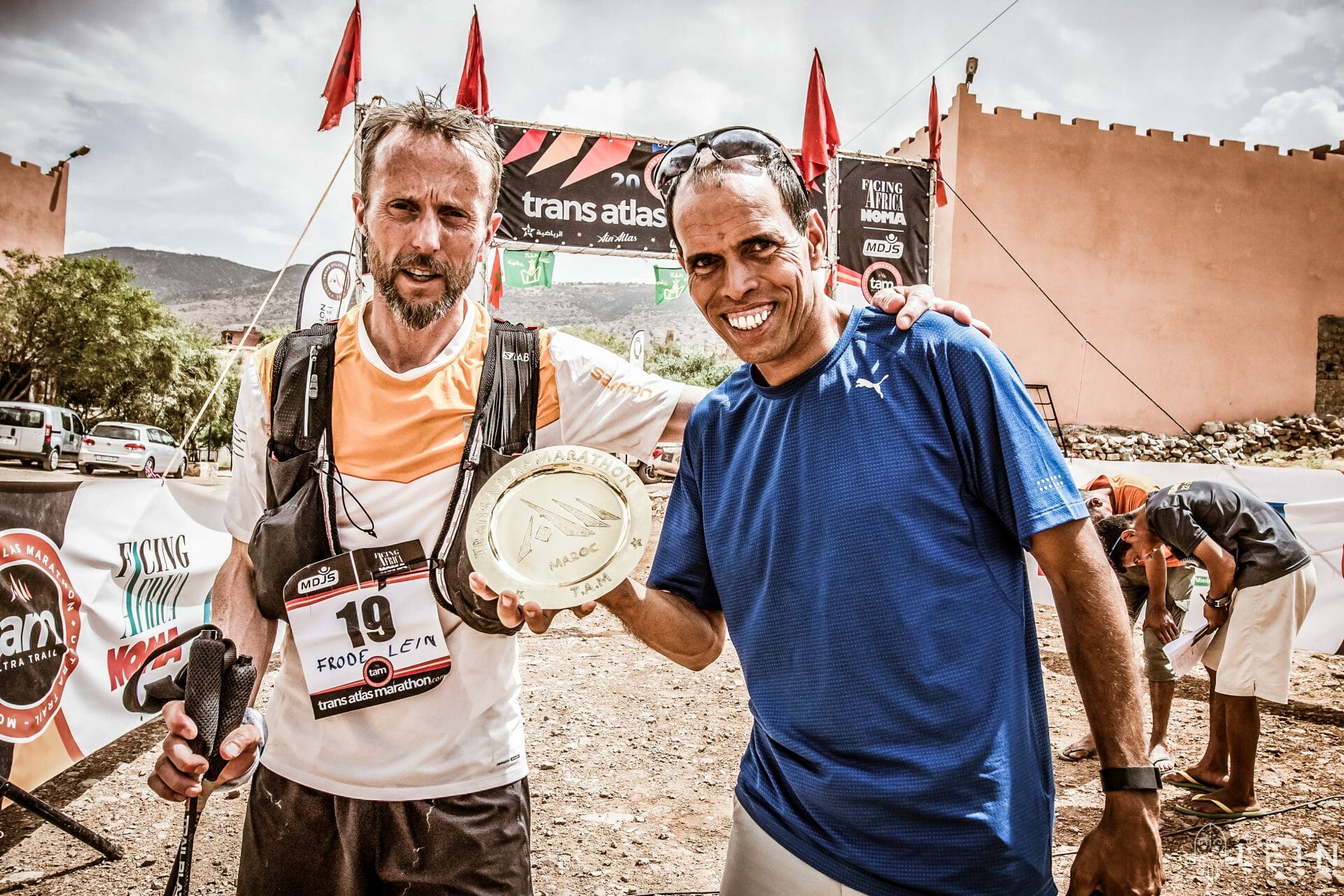 En arrangør med godt hjerte
Dette er det fineste etappeløpet i fjell som jeg har deltatt i hvor rammer, opplevelser og utfordringer ble ivaretatt og vil bli husket. Bak dette fantastiske arrangementet er det en proff arrangør som til enhver tid er tilstede, lytter og har kontroll gjennom sine dedikerte medarbeidere, deriblant fem leger.
Deltageravgiften fra internasjonale løpere er med på å finansiere lokale løpere til å delta. Den internasjonale deltagelsen dette året bidro til at det var totalt 17 løpere fra Marokko som fikk mulighet til å delta. Av de lokale løperne var der flere med toppresultater fra MDS og tilsvarende konkurranser. Men tilsvarende som blant annet Nepalesiske løpere har ikke de økonomi og den finansielle støtten som skal til for å reise rundt å delta i de store løp rundt i verden.
A race is not harder than you do it yourself

---
Facts about the race
Når du bestemmer deg for å delta bør du beregne ekstrakostnader med flyreise til og et par overnattinger i Marrakech, Marokko. Selve «løpspakkene» inneholder følgende:
280 kilometers målt på kartet.  ca. 300 km med 3D måling (litt feilnavigering).

12- 14.000 høydemeter

6 etapper med lett sekk/vest og dagsoppakning

Marked trail as well as GPS tracking

Experienced organizer and race director

to brødre med blant annet 15 første og andre plasser fra Marathon des Sables.
Challenger
For de som ikke ønsker å løpe så langt er det mulig å delta i en parallel konkurranse som heter Challenger og som er på 120 kilometer fordelt på like mange etapper. Man løper den samme løypen, men kortere dagsdistanse. De som underveis i TAM finner ut at 280 km er for tøft e.l. kan fortsette i konkurransen «Challenger» for å unngå stempelet «DNF».
Facilities
Hotel before and after the race

Medical personnel before and during the course

Cook with staff who cook breakfast and three course dinner

Large and good tent for four people

Separate tent for toilet and shower

Transport to and from Marrakesh
---