The challenge was a self-sufficient race with food and food in Antarctica. The goal was to relocate 250 kilometers as quickly as possible to the south pole.
In advance of a competition, I am very careful about the choice of equipment. Wrong equipment or equipment failure is in many cases background for practitioners not completing.
Therefore, I am extremely lucky to be able to choose from top shelf among suppliers and quality products through my sponsor Oslo Sportslager AS.
In addition, competitions that last several days and / or in extreme areas required participants to have a set of compulsory equipment. The mandatory equipment is determined by the organizer in advance and has the basis of safeguarding the individual and increasing the likelihood of the participants completing the competition.
Equipment includes everything from first aid, sleeping bags, hygiene, food, clothing and sacks of drinking systems. Daily water supplies, safety and sleeping facilities are the organizer of. The important weighing of choice is then functionality, quality, weight and volume. After all, it will have a backpack in a sack that will be re-run at a distance of 250 kilometers.
Equipment and clothing for the race must be carried in a backpack at any time.
Clothing:
The appeal to this cold adventure was carefully selected from the compulsory requirements for equipment and adapted to my experience, weight, wear, volume, function and climate where the coating will be used. We in Norway who have grown freezing have also learned to dress up for the weather as opposed to t-shirt runners from southerner regions.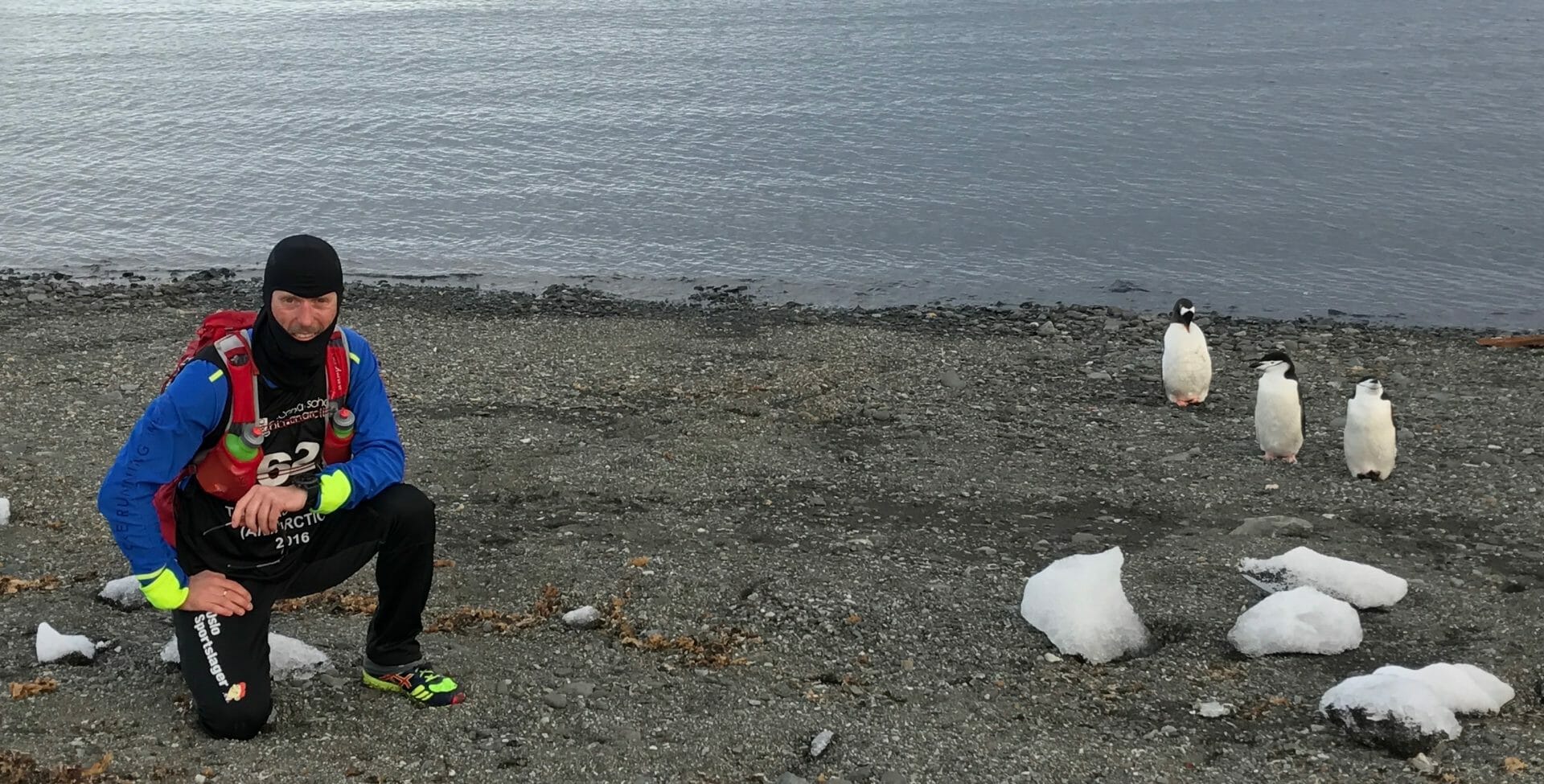 Head
I chose a simple one cap and caps from Arc'teryx and baleclava from Brynje. The lion was put in the bag but the baleclava was used both as hat and "buff" and at times outside the cap when needed. The cap protects not only from the sun, but against the formation of drops on the sunglasses from snow, hail and rain. As a mandatory equipment, we also had to wear a face mask of neoprene in the bag.
Glasses
There are 20 hours of sunshine in Antarctica at this time and with very much reflection from snow, snow blight will quickly occur. The organizers have two pairs of glasses with a darkness grade category 4.
At least one pair should be of the type "Goggles" / ski goggles. The challenge was to find glasses that do not dare to sweat. I had an extra pair of glasses, which were of darkness 3. They quickly visualized the difference between 3 and 4 and why we were required to have Category 4 as snow blindness and running is a bad combination.
Hands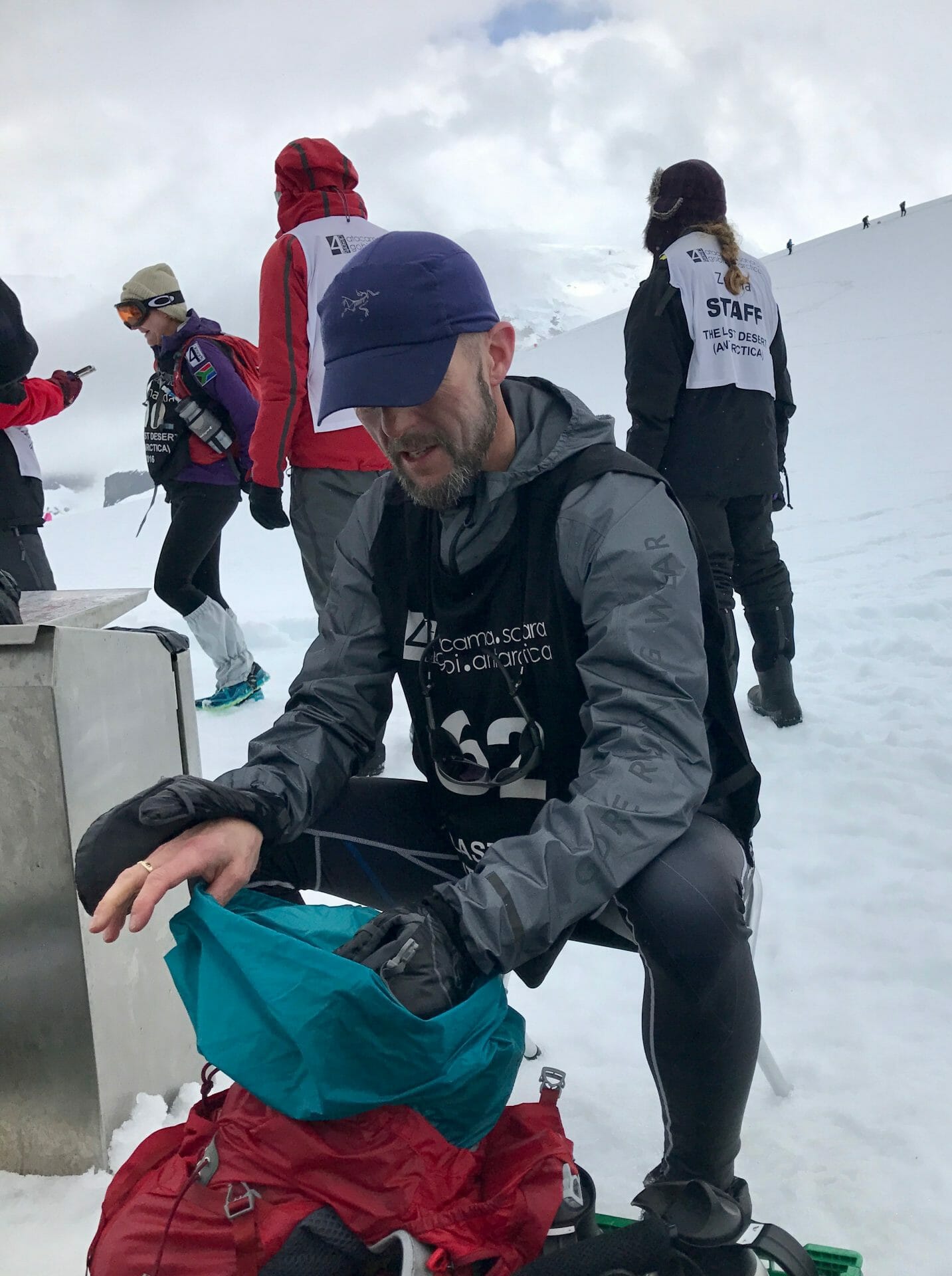 Mittens heat your fingers better than gloves. I therefore chose simple linervotter from breastplate with great breathability, which is also good at keeping the bars (avoiding rodents) and easy to wear in thick mitts.
For those cold days I have chosen Alpine wifes with a brilliant opening in my palm Dynafit. If I just froze on my thumb, I could keep it in my mouth and the rest of my fingers are on the outside.
over Body
Among the obligatory clothing on the upper body we would have a running jacket, a waterproof shell jacket and an extra warm jacket (+ a "parkas" in the bag).
I chose to bring a lightweight running jacket from Gore with windproof front and breathable fabric on the back to reduce moisture formation. Breathable fabric on the back would be sensible as in this competition we always have a sack weighing four to six kilos on the back.
Ordinary skulls weigh a lot, but I managed to get one approved rain jacket from Gore with low weight and good enough quality. This jacket I have tested out this summer for both exercise and regular use. The experience is very positive and I was very confident of my choice of jacket.
Extra hot jacket initially seemed a little over, but Anders at Sportslageret chose a synthetic, "thin" and lightweight jacket from Arc'teryx which would turn out to be amazing.
Until the body and possibly as the second and third teams I chose to use Brynjes Super Thermo In versions short sleeve, long and windy version. Light and well insulating.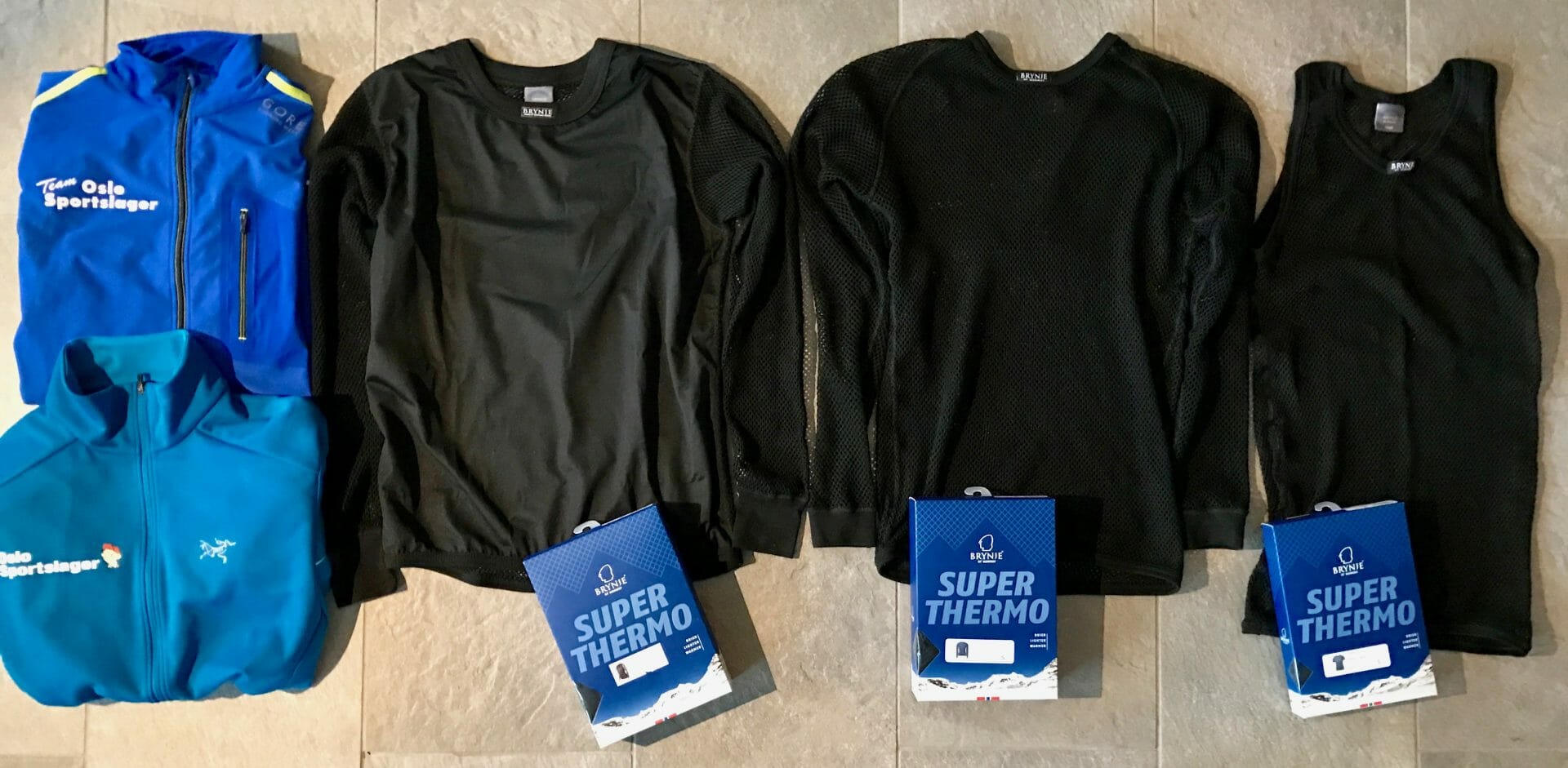 Brynje Super Thermo is manufactured in the polycolon fabric and has low weight with very high insulation capacity. The weight will stay low at high humidity and sweat, as moisture absorption in polycolon is only 6%. The net provides a good air circulation by movement and isolates very well when resting.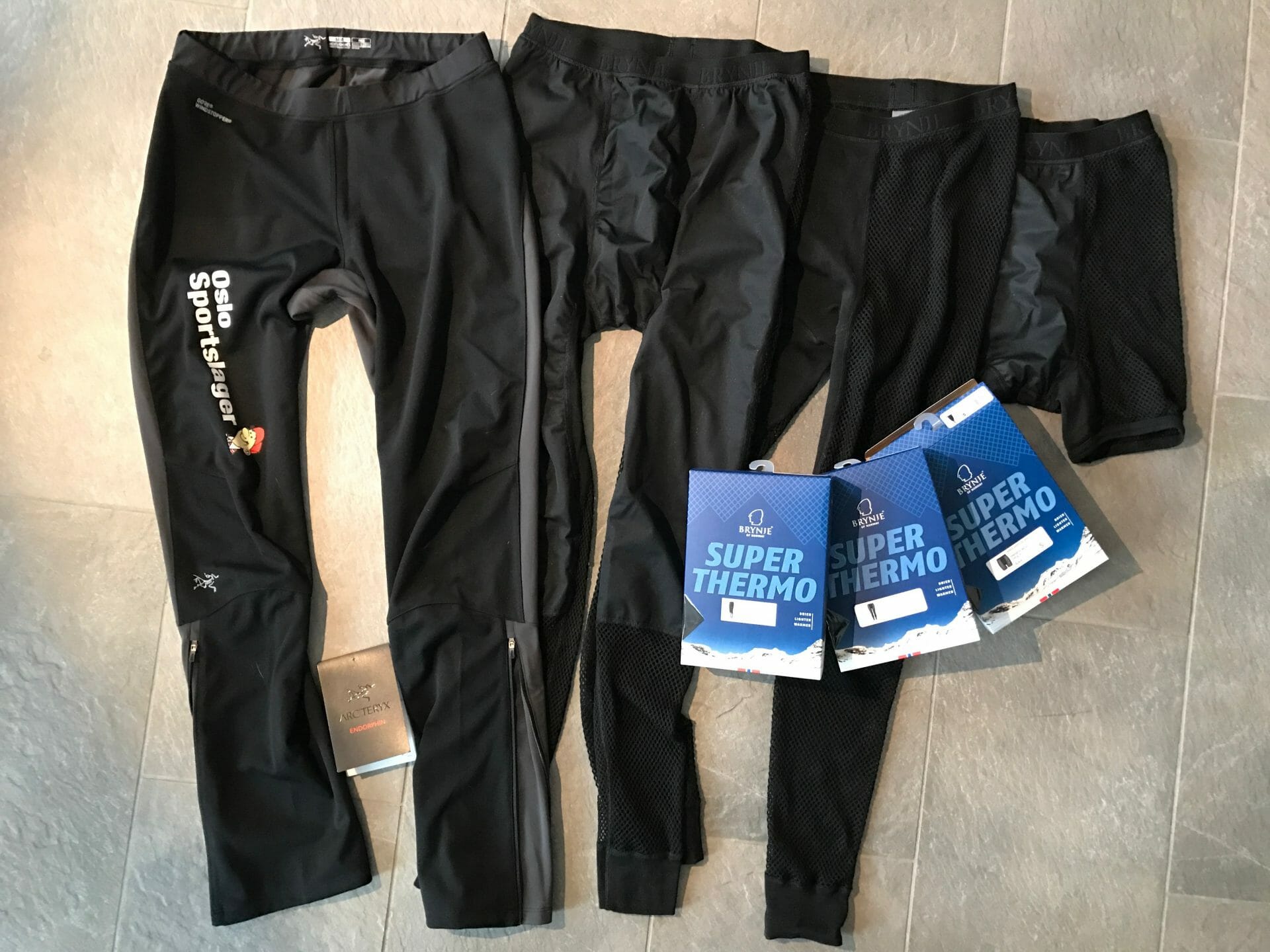 Bottoms
On my legs I have chosen to bring a thin and windproof running shorts from Arc'teryx and a simple one tights from Crafts with sliding over the legs as outerwear on the legs.
As an underwear I will exclusively use Brynje Super Thermo Available in short, long and windy version. The three versions I can switch and mix in multiple layers depending on the temperature. With the assessment of benches, friction over knees is important to me.
Shoes, socks and gamas.
Shoe
I was lucky to bring me a copy of the running shoe from Altra - Lone Peak 3.0 Mid. This is very comfortable, very lightweight and warm running shoes with high ankle that provide good support.
Hoka Tor Ultra Hi WP There is another special and high ultrasound shoe that I brought to use in deep and hard snow. Tor Ultra Hi WP has an extremely good support over the ankle, is extremely lightweight in size and is very good on the legs.
As a "safe" shoe, I took my favorite sneakers from last year's season - Asics Gel Fuji Sets 2. These are a few simple sneakers without gore-tex el from Asics. They have good spikes that give a little friction and not "breakdown" when landing ice-creams.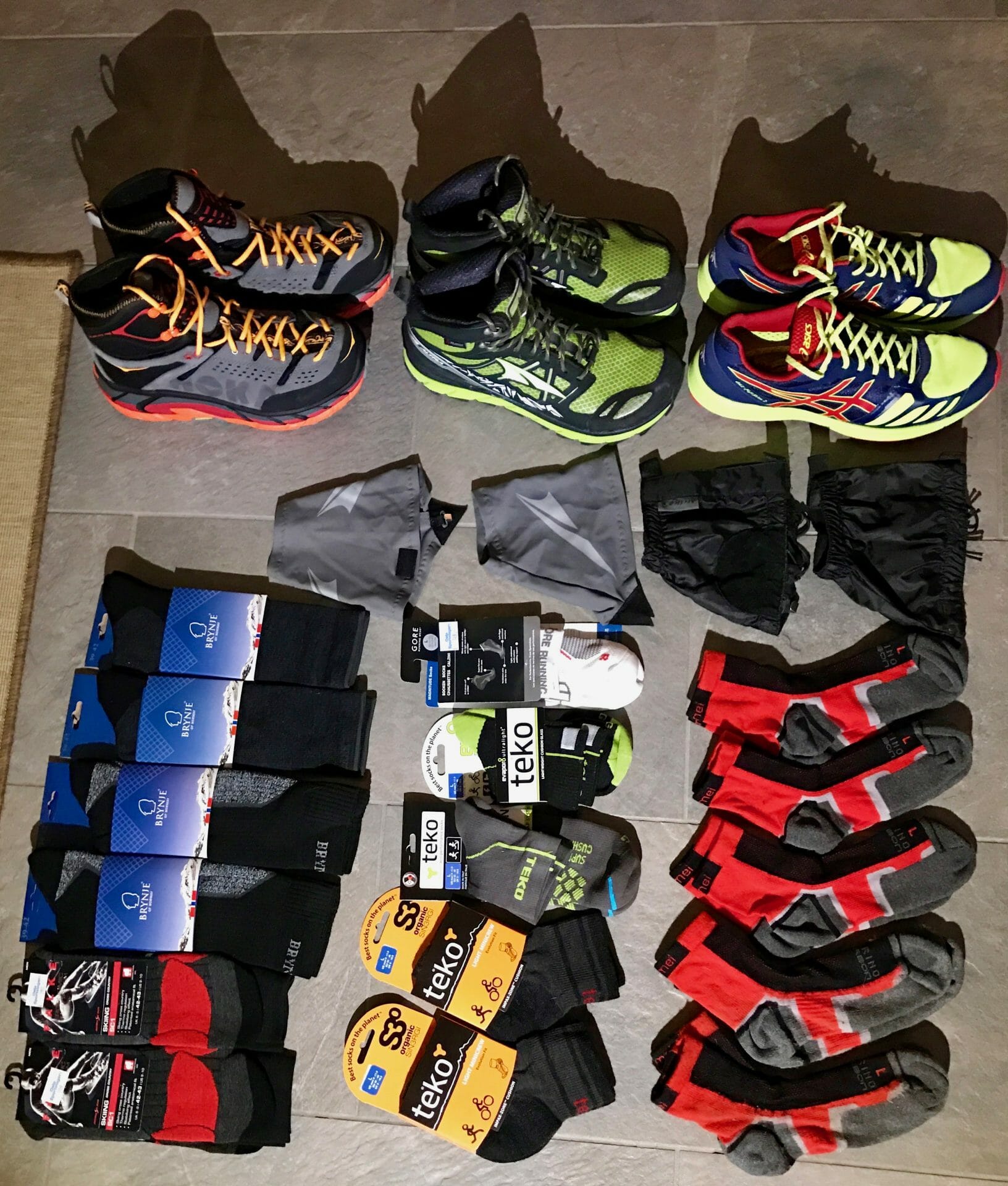 Socks
I brought different socks of thickness and fabric. Of experience and safety, I would probably use thin socks in merino wool in one and two teams. The half socks from Falke is also a candidate who was in the backpack. Should it get extremely cold, I had warm socks from Brynje for use in my spare time and in the bag.
gaiters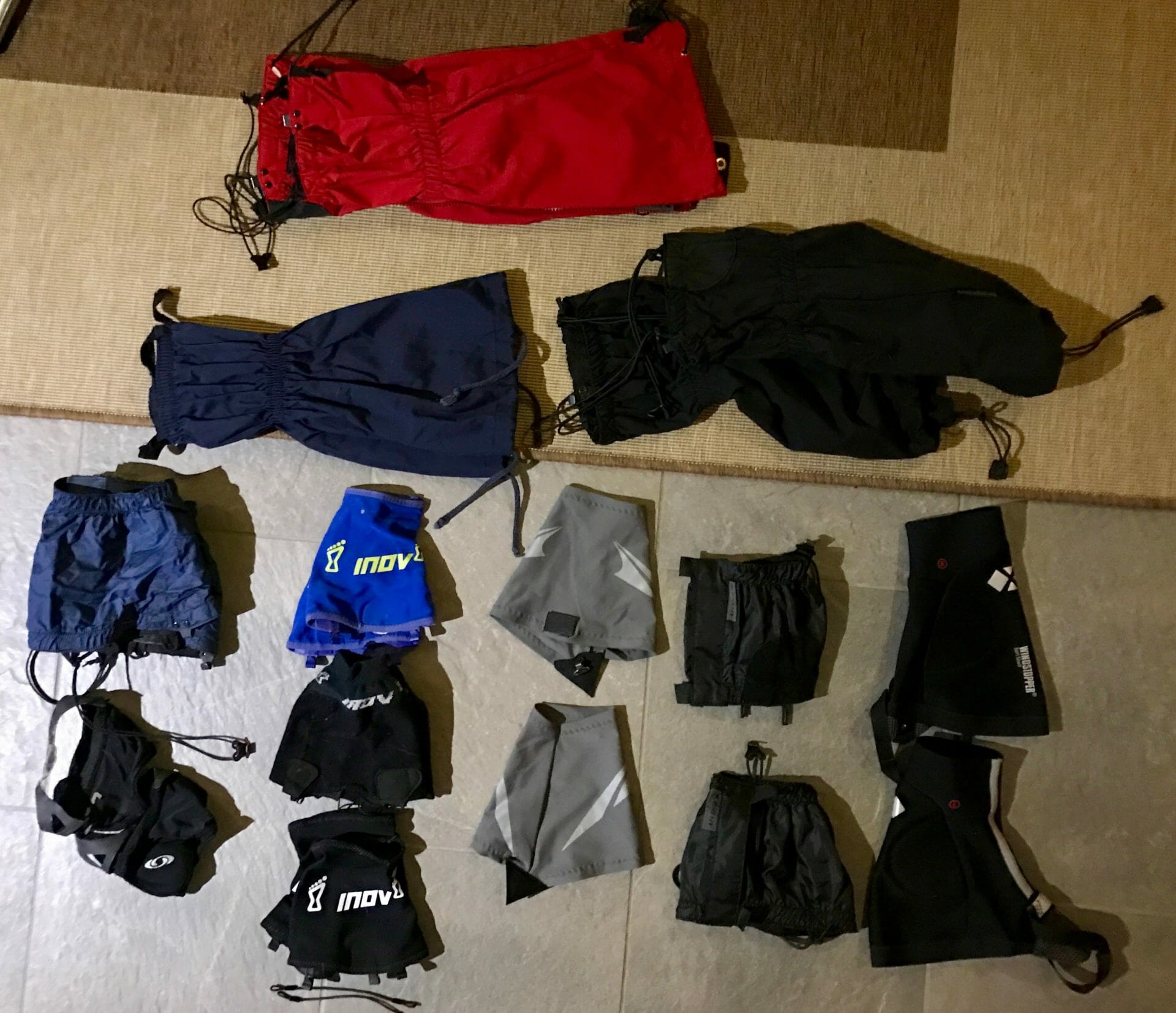 I chose after testing several gamblers of simplicity to include Altra's own gamasjer as well as a couple short regular "ski-gamblers". There is no doubt that Gore's gamasjer The running shoes are amazing, but they are dumbfounded to get on and take off when I need to change clothing quickly. On Asics' shoes, I had to put an extra velcro fast on the whole to satisfy Altra's gamas.
Equipment:
Dropbag
In addition to running equipment in the backpack we were required to carry one waterproof bag at least 65 liters to accommodate emergency equipment and extra warm clothing. This included, among other things emergency provisions for two days, thermos and mikrospikes. Of clothing we packed down parkas, extra warm underwear, warm shoes, sweater, cap and mittens.
What I put a lot of focus on was a good hot sleeping bag with a lower limit of 40 celsius, as well sleeping pad and bivuakkpose when we have not tented but have to sleep under the open sky on the ice. The Garmin Fenix ​​3 HR was my navigation tool that made me know how to orient myself quickly. In addition, I chose to include a few spells for use in counterbags and which I can also use if I should be unlucky to step over.
The drop bag was stored at the checkpoint and target area. It was ONLY available for use in extreme storms and when conditions indicated that we could not reach the expedition ship with the rubber boats.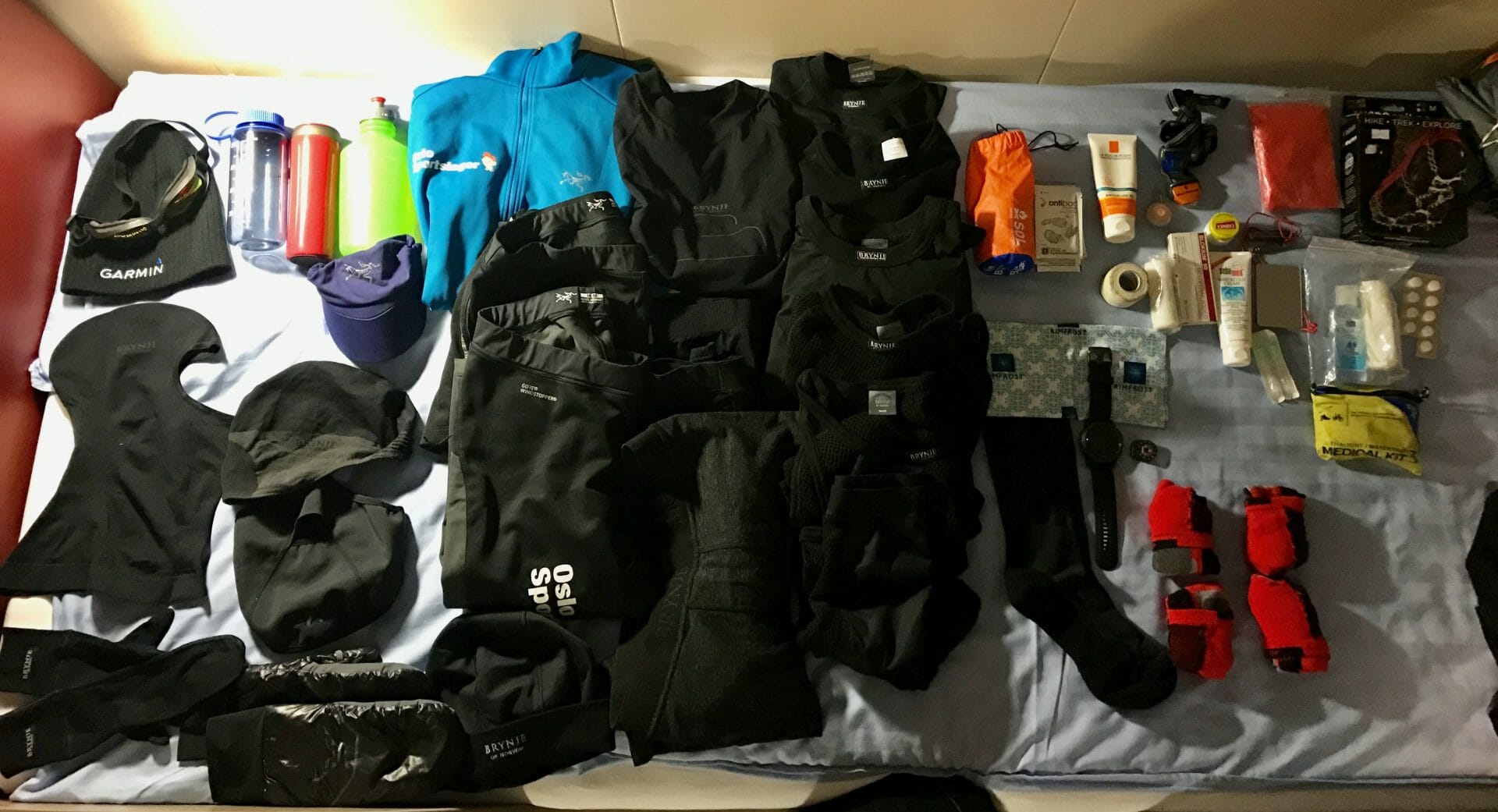 Backpack
My experience with the backpack UltraSpire Epic In Iran it was so good that I did not want to challenge that security. The choice was based on adaptability for clothing to be used and the volume of equipment brought.
The only rucksack I watched as a real challenger was the new sack from Osprey - REV 18. Ospery REV 18 is a sack that is spit on the back and further the sack is possible to strip down to approx. 500 grams.
GPS and timing
The race was going to take place in extreme conditions and the plan was that we should be out for fifteen hours a day. We follow marked trails, but in the snow and «whiteout"It would be important to be able to navigate. It is mandatory with compass, but to be fast and more accurate it is more important to have a good GPS. In addition to navigation, time, distance and pulse will be important measurement parameters for the results in this race.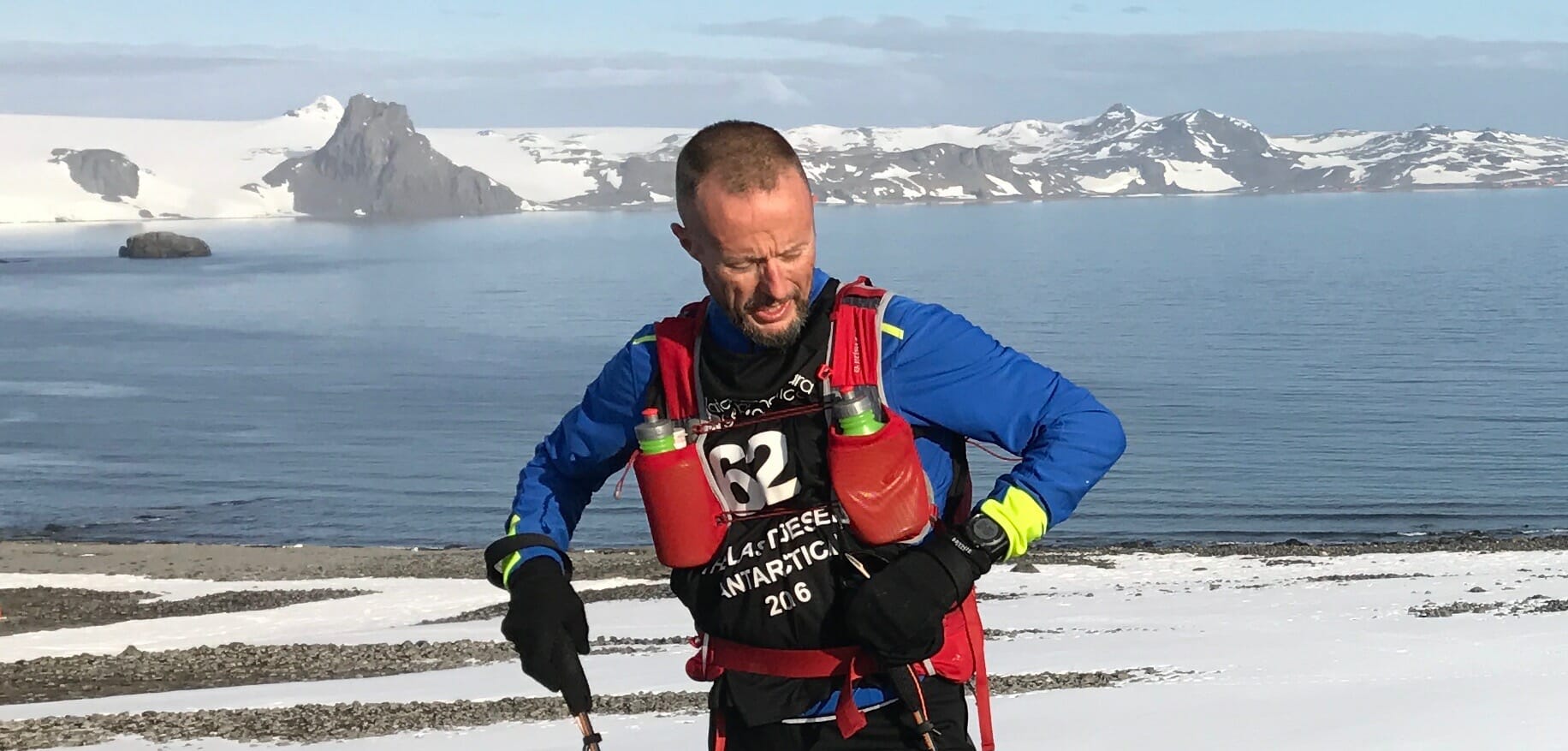 Garmin Fenix ​​3 HR is great as it has heart rate measurement right at hand, battery capacity for long-term tracking with UltraTrac ™ mode and easy setup for tracking if I'm rotating out of the original trail network. In rough weather with a lot of noise from wind, the unique vibration alert will be on hand Garmin Fenix ​​3 HR Be excellent, audio alert will be useless.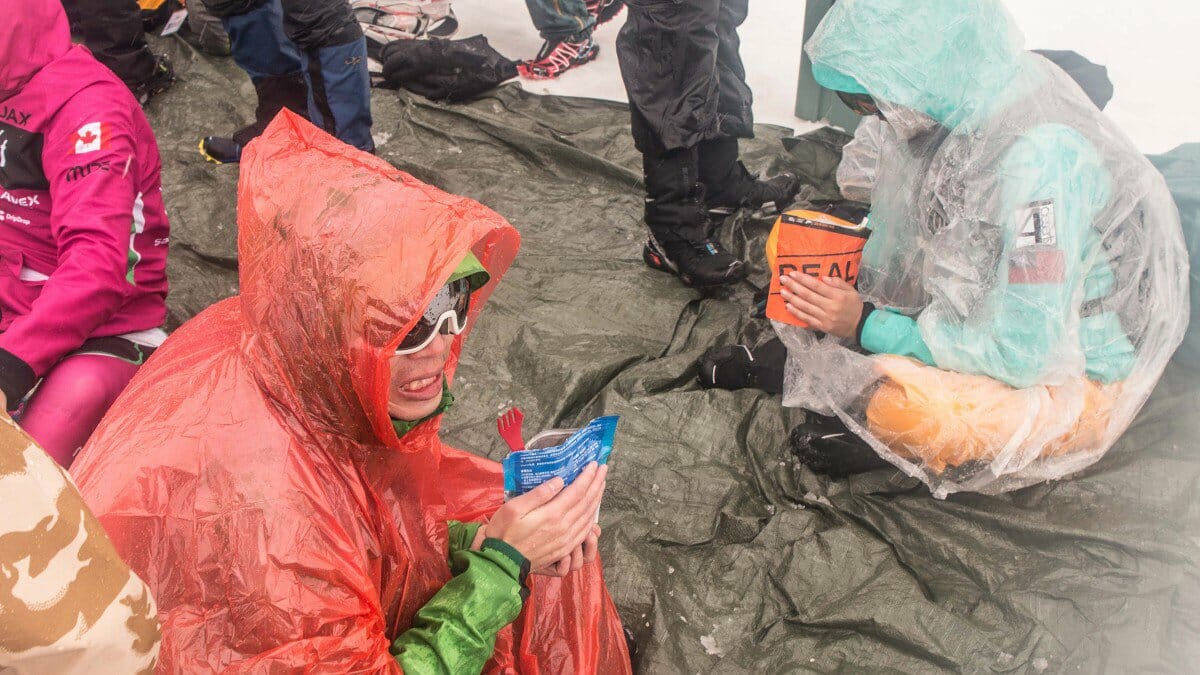 Food:
It is compulsory to bring five-day rations of dinners and snack. To me, it was dry food ala Real Turmat, Omega-3 and protein from krill, nuts, dried fruit and Tailwind which was the plan for entry in the race context. This plan fell apart when I read the IAATO rules. Here it is clear that nuts and dried fruit are prohibited from landing in Antarctica. It was a bit of a crisis when, among other things, the bag of Tailwind, protein and some unmarked vitamins were deprived of me on arrival in Argentina. When I went on to Ushuaia I had something gel, but traded two kilos of Bounty chocolate which became the main ingredient of daily energy intake.
---
Antarctic Equipment Experience:
Everything worked as expected but here's an excerpt of items worth mentioning.
Shoe
Like shoes for cold winter and snow I enjoyed it very much Altra - Lone Peak 3.0 Mid. The shoe provides a great feeling for feet in both fit and upholstery. In addition, it is very easy and gives it extra good stability with the high shaft over the ankles without being uncomfortable or squeezing the acilles.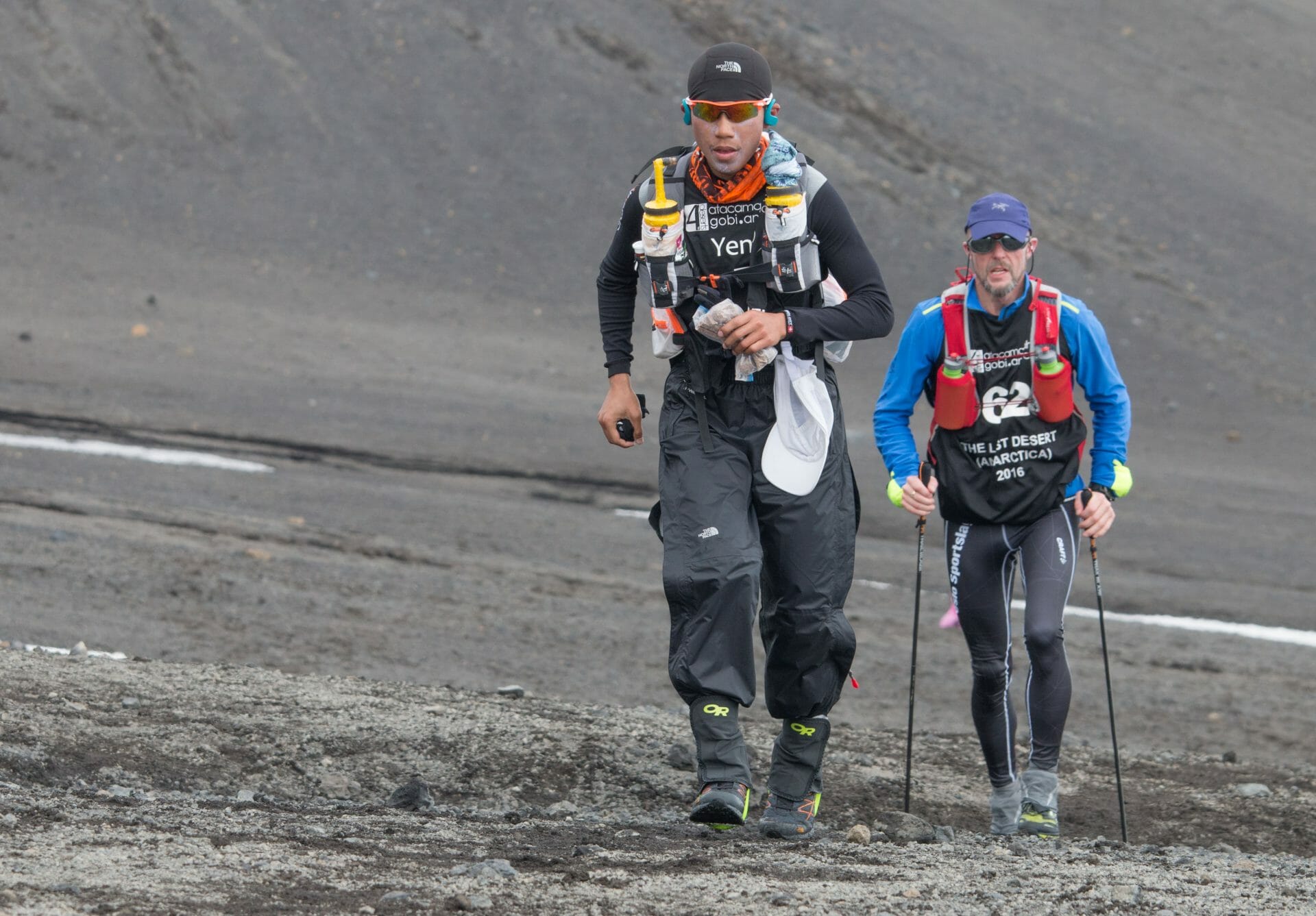 Hoka Tor Ultra Hi WP is the roughest mountain boot you can get in and the ultimate on your legs for long mountain walks where you want to combine running and quick walking. How they have got such a powerful shoe weighing less than 500 grams is hard to understand. The shoe has Vibram sole that is rough and sits very well in terrain and snow. In Patagonia I used Hoka Tor Ultra Hi WP a few days before leaving for Antarctica. The main reason I used Hoka Tor Ultra Hi WP was the anxiety to step over to damage the ankle even before starting.
Myke Hermsmeyer, a professional photographer who was hired for the Antarctic race, also used Hoka Tor Ultra Hi WP. He sometimes stood up with water on the ankles, washed in the sea and still was well satisfied and dry on his legs a week later.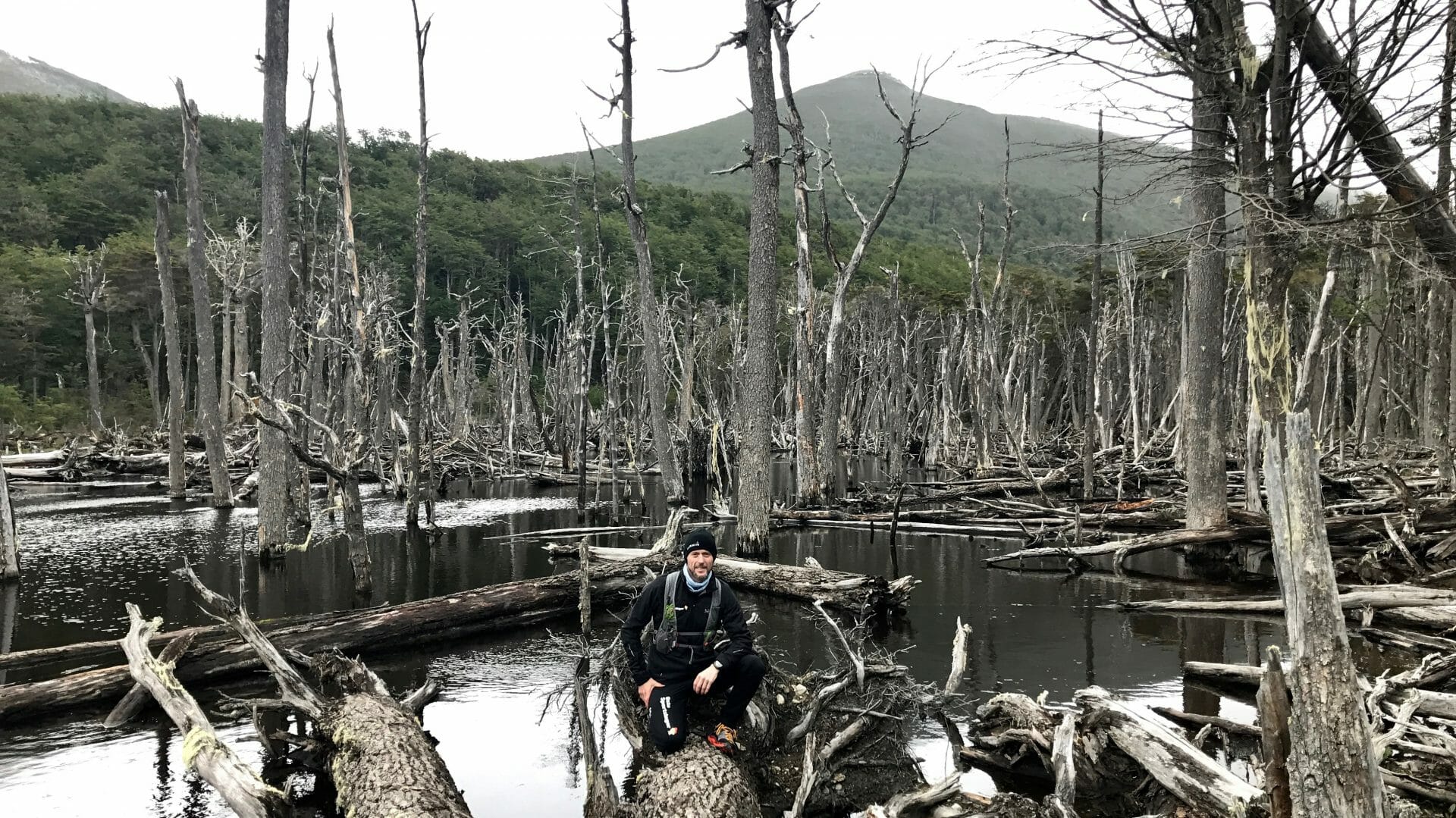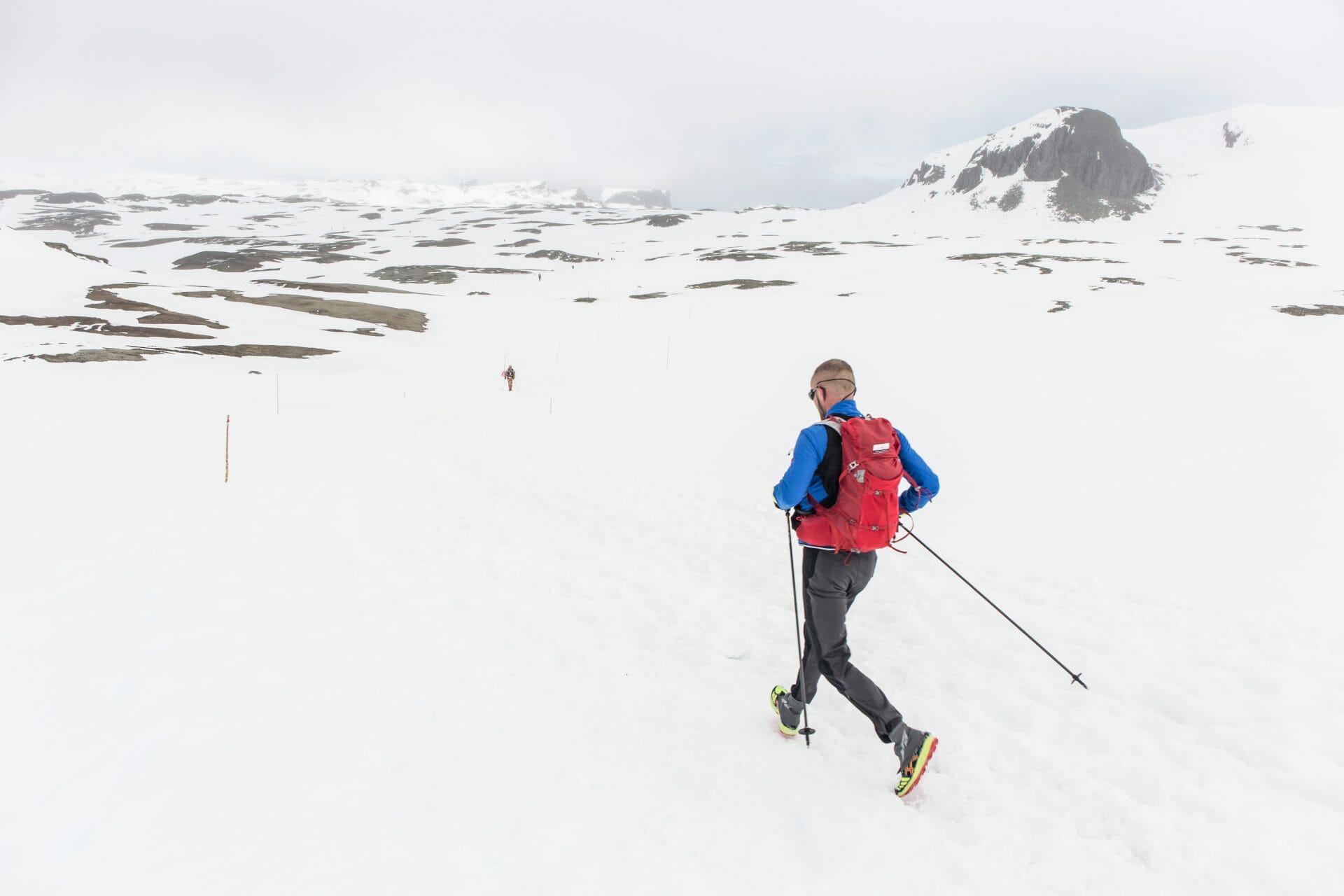 The days after Altra's school was filled with water, I used my favorite running shoes from last year's winter season - Asics Gel Fuji Sets 2. These are a pair of simple, basic running shoes with good spikes. With good spikes I mean shoes that give a little friction and not "bristle top" when landing ice-creams. The skull does not have Goretex and is slightly padded, which means that the shoe does not absorb moisture and water. I modified the Asics shoe with Velcro on the heel to attach the lightweight gamas from Alta.
gaiters
Gamas from Altra was no success in the rough snow. The shirt that was fastened on the front of the shoe was "torn off" the gamas after almost an hour. "Easter snow" up to the knees became too tough for this type of gamasjer.
The short ordinary "ski gamas" was satisfied, but even they were eventually filled with snow. Shoes + snow + water eventually yield very heavy legs. The snow that filled up under the gamas caused me to take off and run without gamas. Think that the more powerful and snug gamaxes from Gore and maybe La Sportiva Their gamas are the only ones who had done the job on this "lead".

Clothing
The jackets worked excellent, besides that rain jacket from Gore could be a bit twisty when the zip locks on the pockets.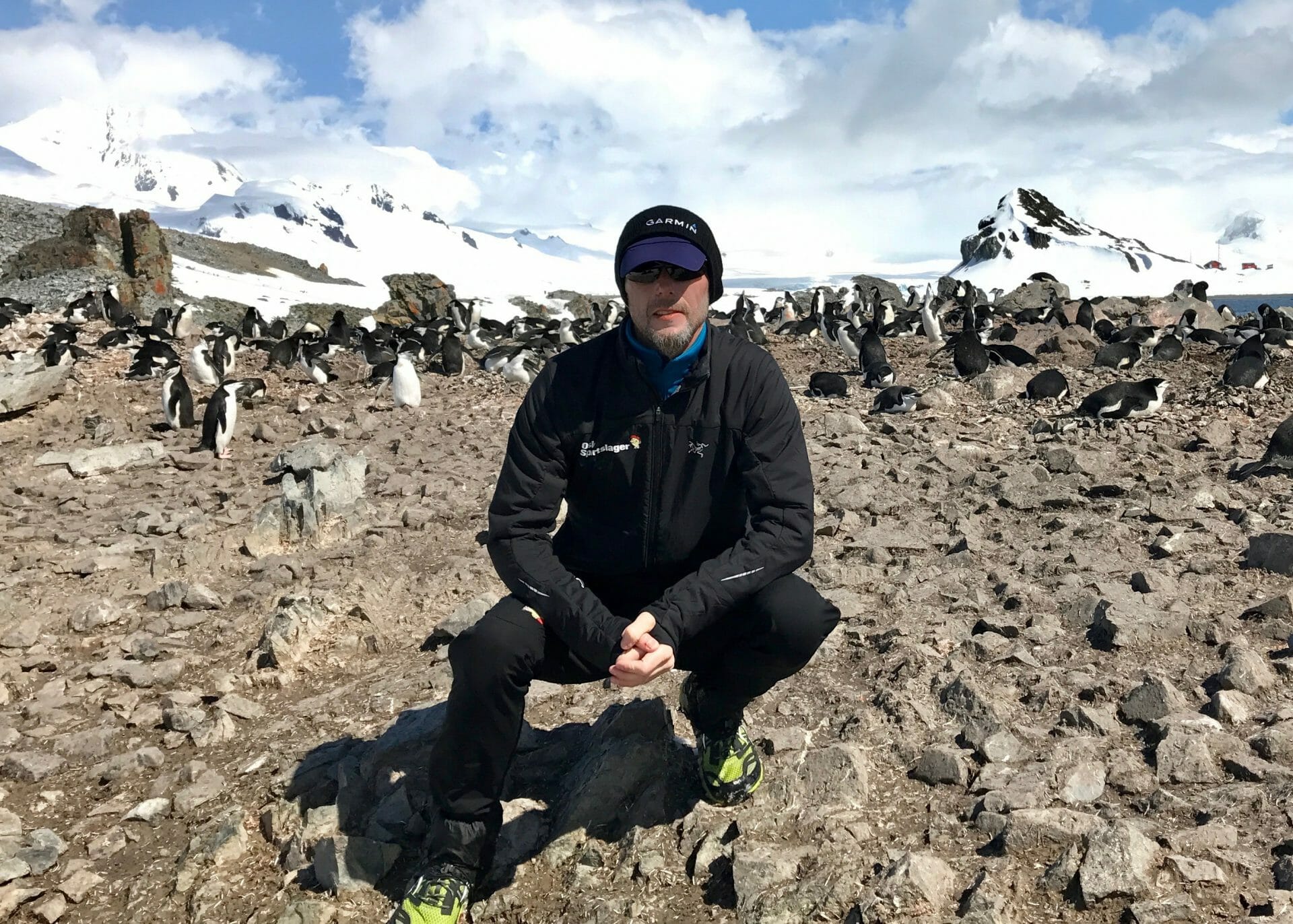 I brought a tights from Craft in the "case" good weather. This was the best thing for me that worked best in relation to running moments and cold. I also smeared in with Linex heat pole on knee and stiff muscles before starting the day sessions.
Brynje Super Thermo on the upper body and legs became a success as competitors became envious. A television team from Taiwan and journalists documented the "simple" approach I Normann had wearing in cold weather. I used "thin" socks merino wool on my legs every day.
Mittens:
The Witnesses from Dynafit was amazing and warm enough. The unique openings in my palm gave me the ability to handle food easily without removing them. In addition, they gave me the opportunity to have only the thumb inside the mitts (I freeze the thumbs).
Backpack:
The backpack Epic from UltraSpire cracked in one strap, but that's when creativity, sewing and safety needles are important. As I used gloves and gloves, the belly belt was a little heavy open to remove the bag. For this, the bag was very good for this race.
sunscreen:
On the sun cream front I have a little work 🙂