Now I should go to Gandom-e Beryan in Dasht-e Lut desert outside Kerman as of Nasa has been measured to the warmest place on earth and we'll be there in the warmest period of the year so there was no doubt: the heat would definitely be mine biggest challenge and would affect everything from equipment, clothing, pace, bag and food to rest and sleep.
Sack
On previous runs I have tested different bags and was very unsure of which one I should choose this time.

But it was three days before departure as was the day I received the new Epic bag from
ultra Spire
. From that day there was no doubt anymore. UltrAspire Epic sat like spit on my back, but others who tried the bag could control their excitement.
Well, I had made a decision and the bag was actually more spacious than I had imagined. It could have been three to five liters less and I would still have brought with me all the equipment.
Clock
I always have my self-pulling Explorer on hand in races that last several days. It's the only time I trust, but often it is covered by a buff.
I also use to have my running watch with all the desirable features. But when we pick from each other all the functionality of a running clock like mine Garmin Fenix ​​3 contains, it is only one thing that is important for survival - time.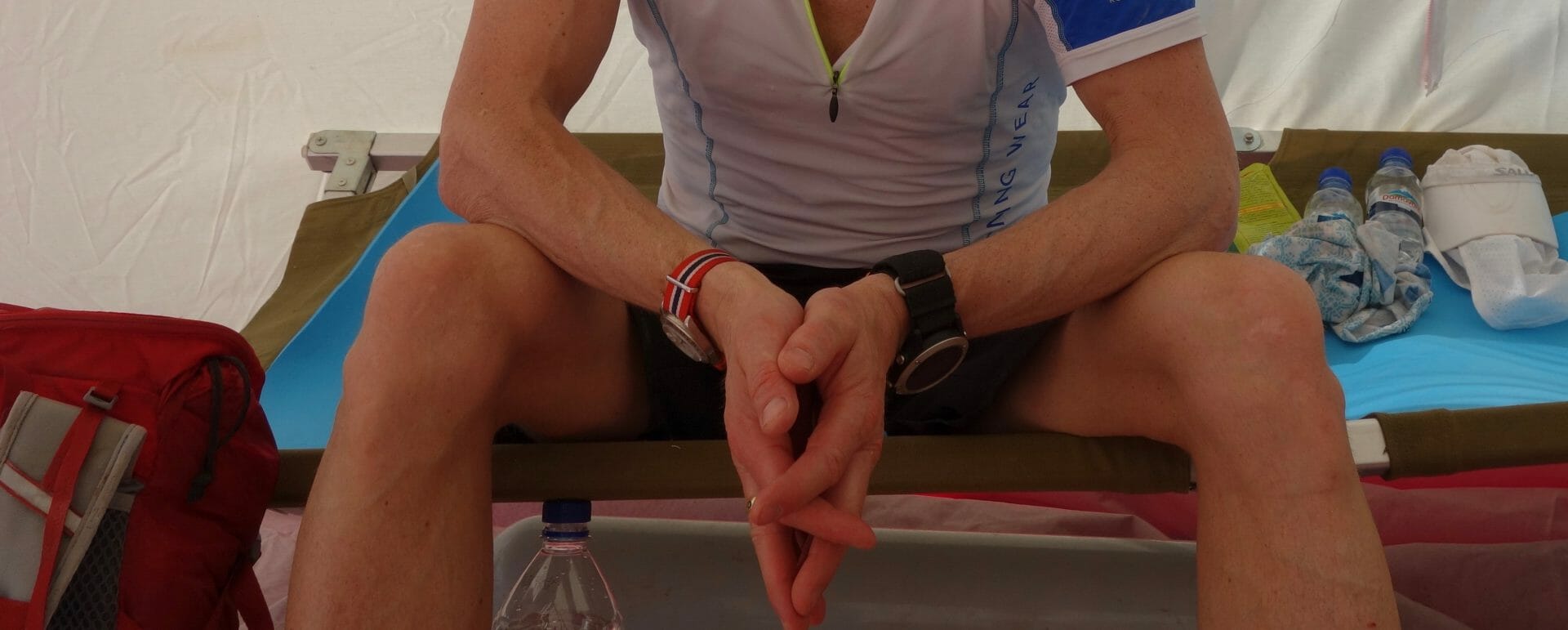 Time is important to check and have fixed intervals for how often I drink bags and how often I bring to my food. A clock that may run out of battery or as in a previous run, lock out due to a software failure on day two - I do not dare to trust.
My Garmin Fenix ​​3 this time was good at the long distance and especially when it started getting dark and when I was extra tired.
Glasses
Glasses or rather sunglasses are important for several reasons.
[wpvideo f7ceQkUc]
Even with caps, the sun's reflection in a salty hill could cause snow blindness. It blows quite heavily in the desert and especially the first day we had a sandstorm. The sand can then destroy the sight for several days.

I chose a pair of light glasses with sunglasses, as I think it's good to wear the sun before the sun comes up and after it goes down, as well as for use when it's blowing.
Sleeping bag
Well, sleeping in sleeping bags when the air temperature is equivalent to body temperature is a challenge. I slept in silk liner the first night in the desert before the race started. I should have continued.

I chose to take mine
OMM Mountain Raid 1.6 
which is a synthetic sleeping bag with a small volume. It lay over me and I lay with my Brynje sweater on the bedside. From sleeping bed I chose to bring someone who gave good support, as I had problems with the lower back before the race. The bedrock was a good choice for me this time.