Nå skulle jeg til Gandom-e Beryan i Dasht-e Lut ørken utenfor Kerman som av Nasa har blitt målt til det varmeste sted på jord og vi skal dit i den varmeste perioden av året, så det var ingen tvil: Varmen ville garantert bli min største utfordring og ville påvirke alt fra utstyr, bekledning, tempo, veske og matinntak til hvile og søvn.
Sack
På tidligere løp har jeg testet forskjellige sekker og var veldig usikker på hvilken jeg skulle velge denne gangen.

Men det var tre dager før avreise som var dagen jeg mottok den nye Epic-sekken fra
ultra Spire
. Fra den dag var det ingen tvil lenger. UltrAspire Epic satt som spyttet på ryggen min, men andre som prøvde sekken kunne styre sin begeistring.
Vel, jeg hadde tatt en avgjørelse og sekken var faktisk mer romslig enn hva jeg hadde antatt. Den kunne for meg vært tre til fem liter mindre og jeg ville fortsatt fått med meg alt utstyret.
Clock
I always have my self-pulling Explorer på hånden i løp som går over flere dager. Det er den eneste klokken jeg har tillit til, men ofte er den dekket av en buff.
Jeg bruker også å ha med min løpsklokke som har alt av ønskelige funksjoner. Men når vi plukker fra hverandre all funksjonalitet en løpsklokke som min Garmin Fenix ​​3 inneholder, er det bare en ting som er viktig for å overleve – tiden.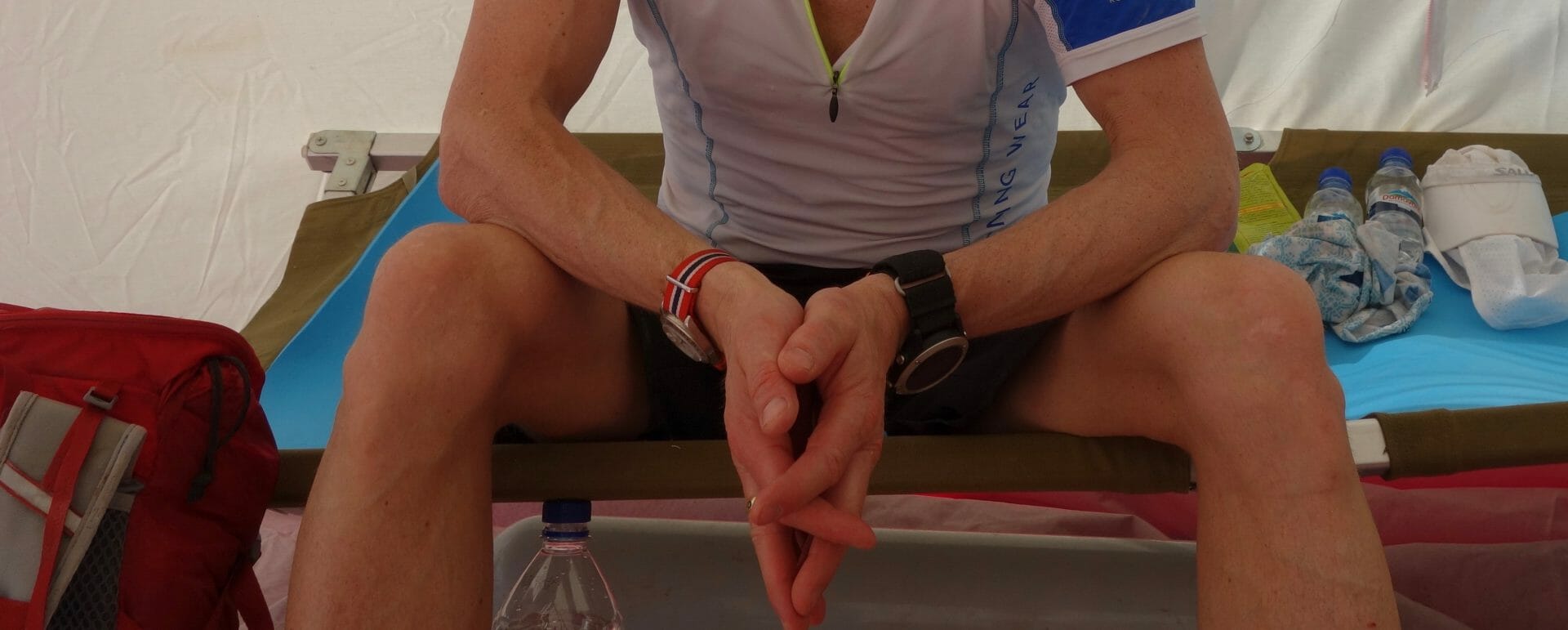 Tiden er viktig for å kontrollere og ha faste intervaller for hvor hyppig jeg drikker veske og hvor ofte jeg tar til meg føde. En klokke som kan gå tom for batteri eller som i et tidligere løp, låse seg på grunn av en programvare feil på dag to – det tør jeg ikke ha tillit til.
My Garmin Fenix ​​3 var denne gangen god å ha på den lange distansen og spesielt når det begynte å bli mørkt samt når jeg var ekstra sliten.
Glasses
Briller eller nærmere sagt solbriller er viktig av flere grunner.

Selv med caps vil solens reflektering i saltholdig bakke kunne forårsake snøblindhet. Det blåser ganske kraftig i ørken og spesielt første dagne hadde vi sandstorm. Sanden kan da ødelegge synet for flere dager.
Jeg valgte et par solbriller med lyst glass da jeg synes det er godt å ha på selv før solen kommer opp og etter den går ned, samt for bruk når det blåser.
Sleeping bag
Vel, å sove i sovepose når lufttemperaturen er tilsvarende kroppstemperatur det er en utfordring. Jeg sov i silke-liner den første natten i ørken før løpet startet. Det skulle jeg ha fortsatt med.

Jeg valgte å ta min
OMM Mountain Raid 1.6
som er en syntetisk sovepose med lite volum. Den la jeg over meg og jeg selv lå med min Brynje-genser på liggeunderlaget. Av liggeunderlag valgte jeg å ta med et som ga god støtte, ettersom jeg før løpet fikk problemer med korsryggen. Liggeunderlaget var for meg et godt valg denne gangen.