In the competition Yukon Arctic Ultra we had to keep ourselves with all the equipment, clothing and food. As there is extreme cold and accommodation in tents, we had to use the pulk to get all that was required of obligatory equipment and self-chosen star.
pulk
When I was in Yukon, I had NEVER pulled a pulk before, for half an hour with customization the night before. But there are many of my friends who have pulled, so before the competition, I had good advice. By Bjørn Moa know Piteraq Tinder and Banditter I received the following clear instructions. Find a slip that slides well, rather than light. The result was a fantastic pulk of four kilos and a length of 120 cm with a pull over: Acapulka Feather Light 120.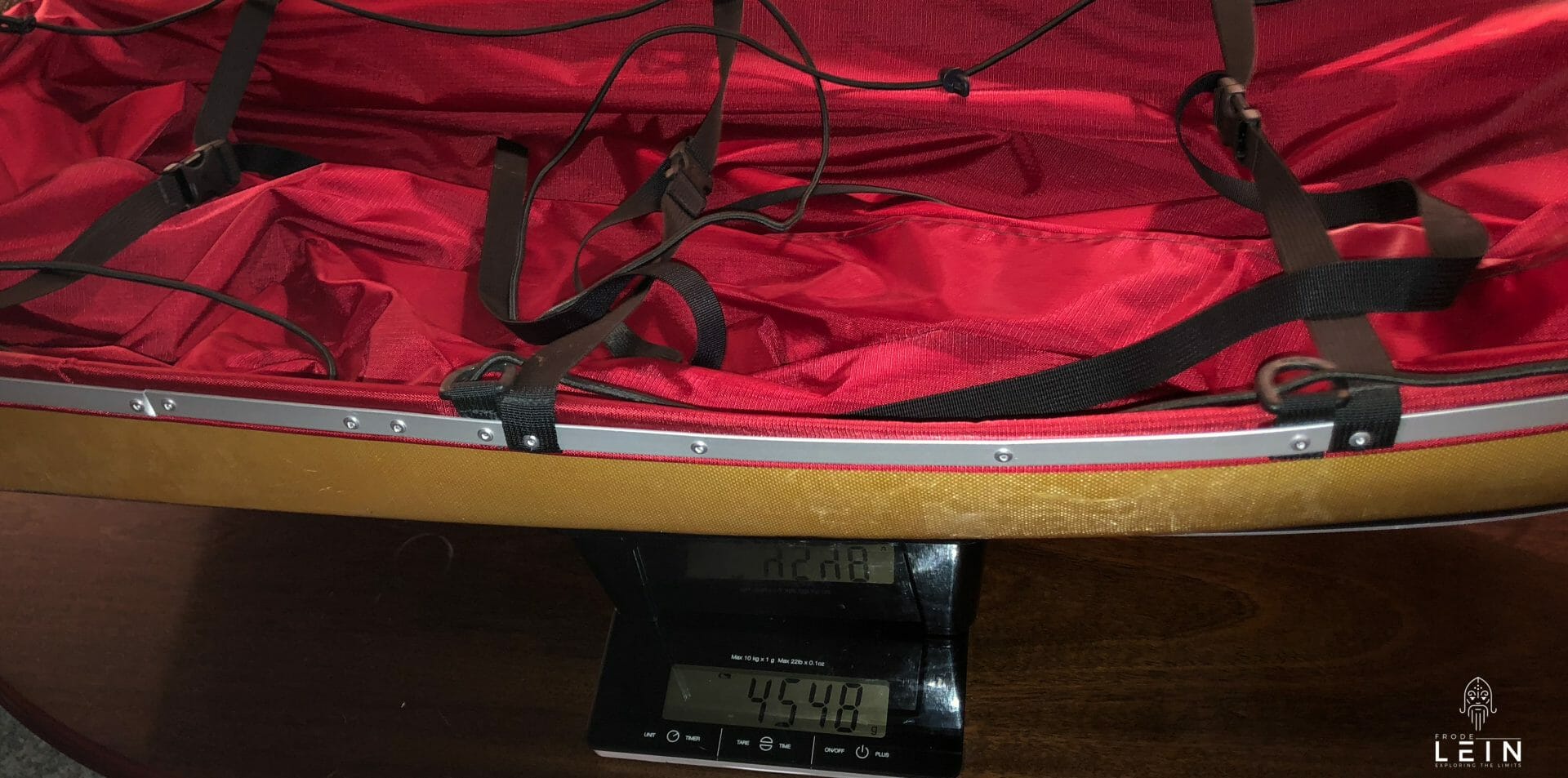 Furthermore, Bjørn equip me with a "climbing rope" to pull the pulse and with a length of three meters to avoid getting the pulse in the heels in the downhill slopes. The rope was also fitted with a relief strap in the middle to release the worst jerk in the body. The rope was attached with a karabin at each end and attached to two freewheel loops; one on pulling belt and one in front of the pulse. This was a very good solution where the pulse "lived" its own life without the body being twisted unnecessarily.
In the competition, I started using a sack to pull the pulse with, but this was not an optimal solution, so I switched to a pulled puller from Fjellpulken.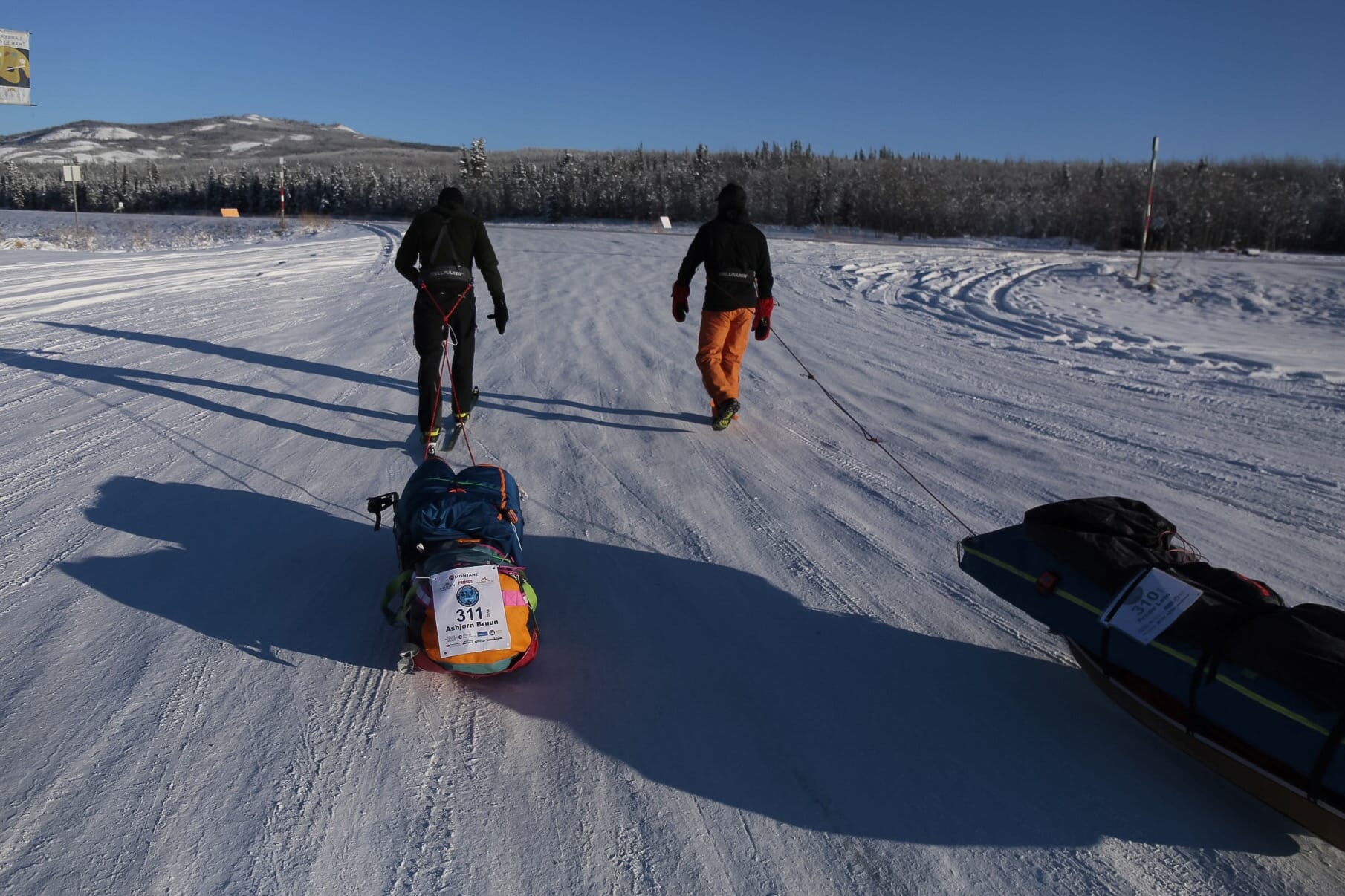 Package in powder
I pack everything in transparent zip bags or waterproof packing bags. I separate food away from fuel, adds the heaviest bottom to the center and backwards to give the pulse a good stability. At the top I added Arctic Bedding to full length.
One thing I forgot in this competition and which is important about packing in pulk - BAG. A bag that you collect "everything" that you will bring from the pool and into the tent in the evening.
Staves
I got the new carbon letters Swix Sonic Ultra Trail for full length. I'm not so excited about joints as joints cause weight, weaknesses and noise.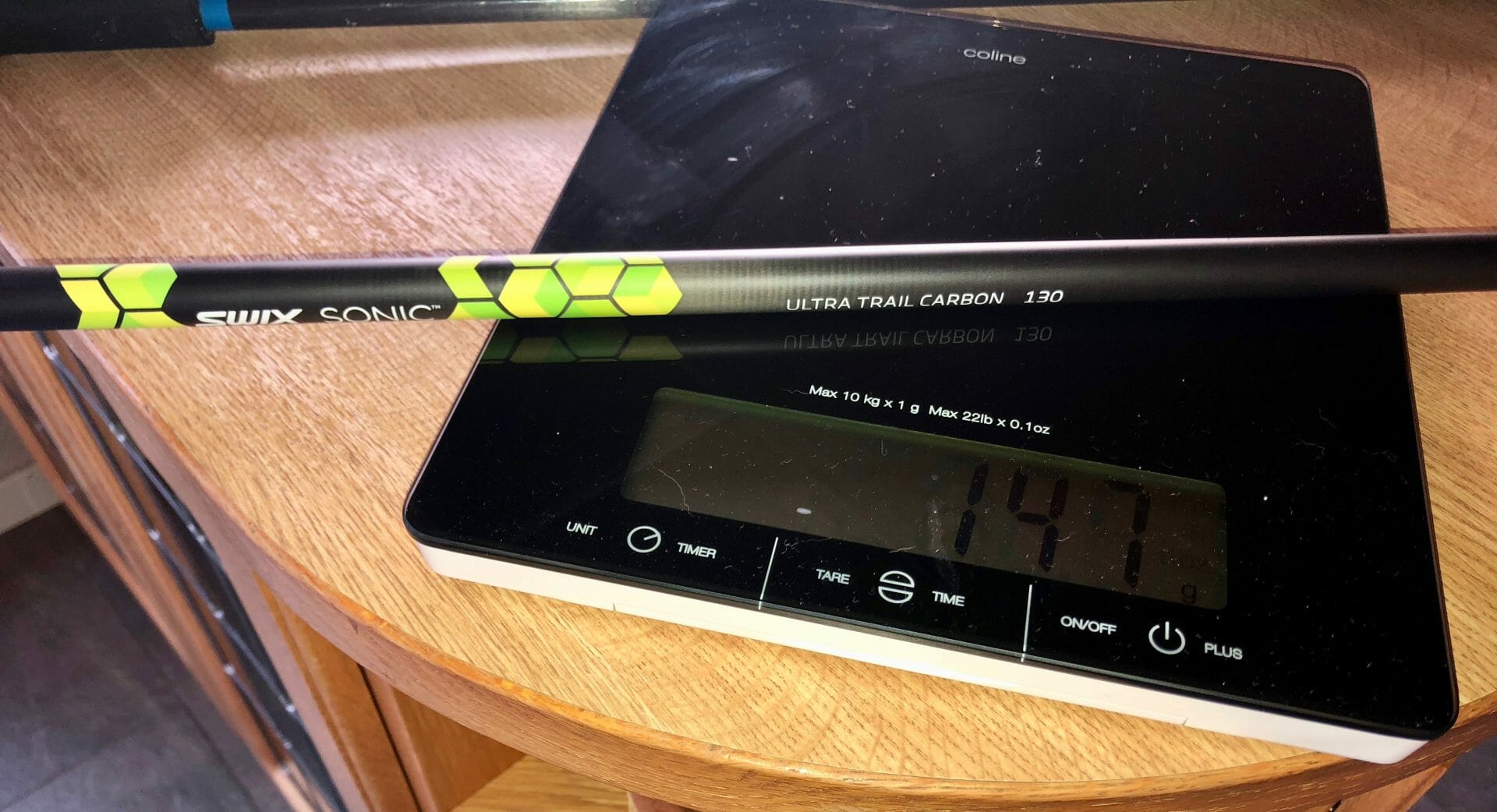 The Swix Sonic Ultra Trail is very good spikes with cork handle (avoid plastic in cold) that I have tested in previous runs.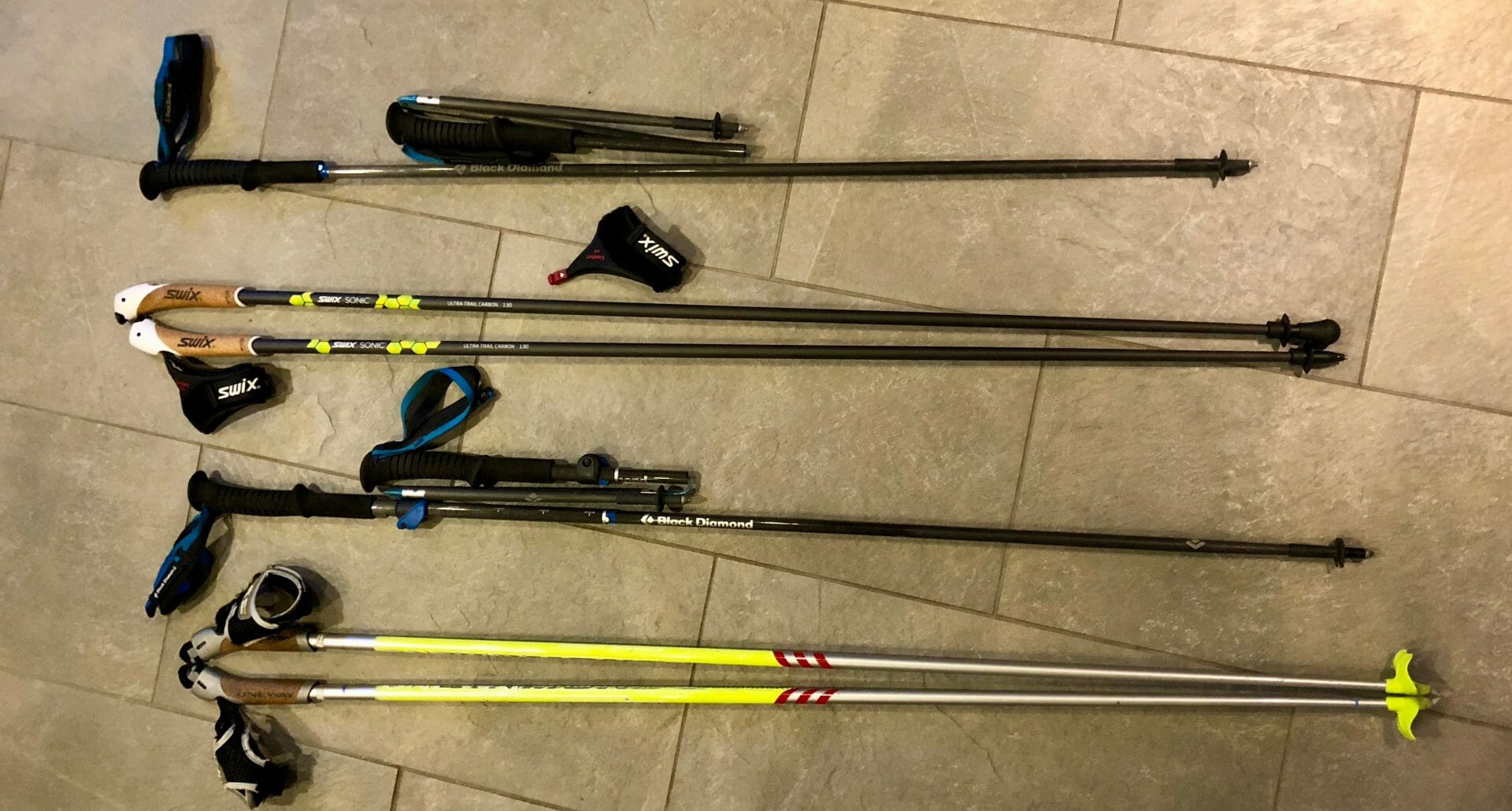 I made the rods with bigger ropes than the original ones. When selecting spells for a race like this, it is important to test that the straps go beyond your thickest mitts without squeezing too hard. A clever solution is that these rods have a click system on to put on and off the straps when mounted around your hands.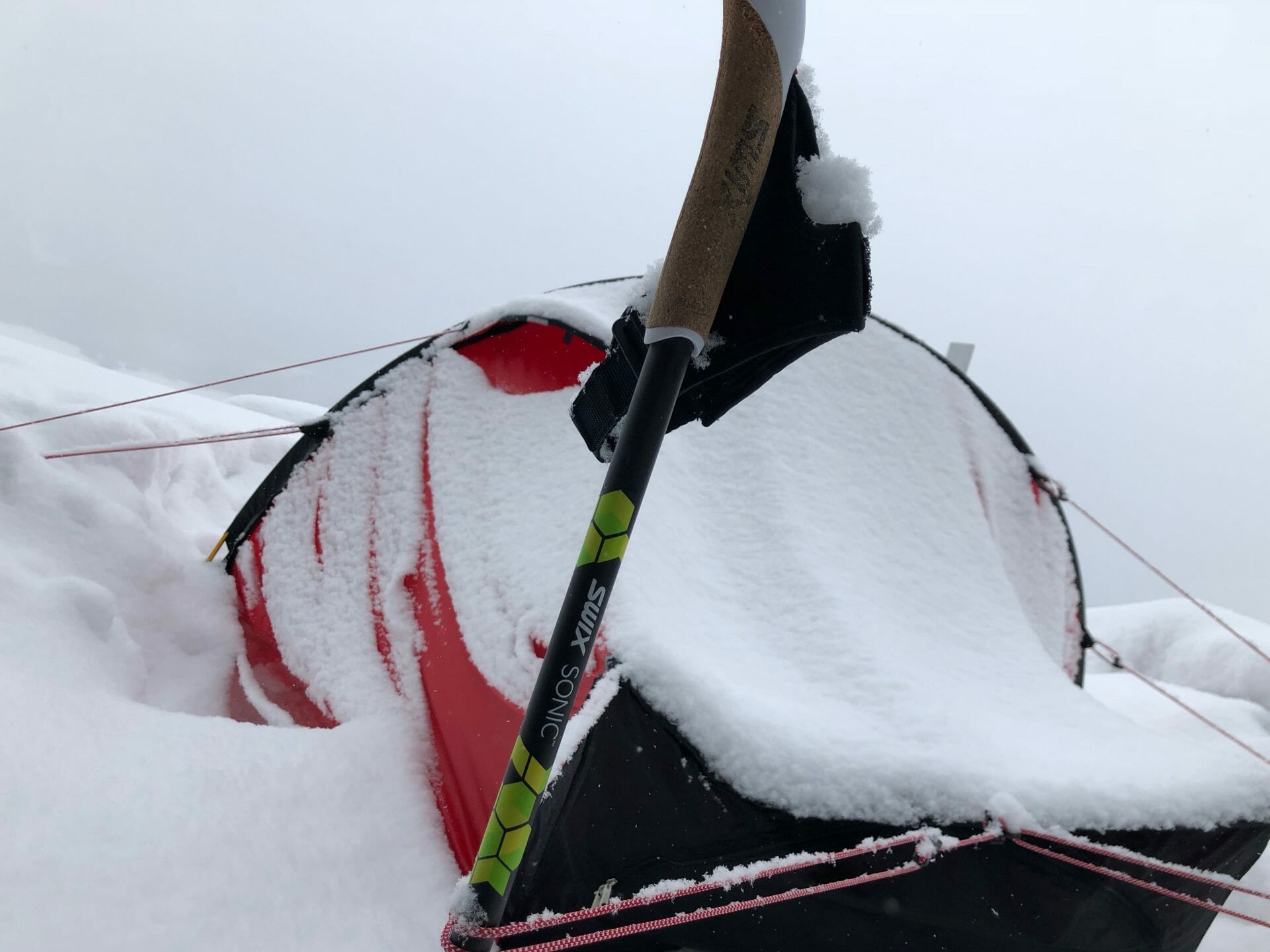 Accommodation and tent
Several of the competitors in Yukon Arctic Ultra used a simple bivouac (bivy) for accommodation. Beef sugar in this cold (-43 to -54) over several days was for me in no way. I chose to have a lightweight single man tent for 1.4 kg winter use; Hilleberg Akto. With tents it gets lunger and you get a better sleep. With tents, it is also nicer to change clothes, heat food and heat yourself using primus.
The downside (excuse) that many think the tent has is; complexity and time it takes to set up and especially in winter cold when doing this with big gloves on your hands.
I significantly reduced the time with the following procedure:
Replace the "traditional" plugs with snow plugs
I teip together all joints outside of the center line of the tent pole
Set up the whole tent with inner tent
Closed all zippers on the inner and outer ends
Attach a small carabiner to one of the long lines on the short side of the tent
Loosen the lines and pick up all the snow plugs
Loosen one foot of the tent pole from the tent
Tapped the tent pole so much that I loosened one end of the center that is not taped
The two rows of the rows of tents split parallel to the channel on the tent
Collect all the linen on the tent cloth
Separate one linen with a carabiner hook
Roll the tent nicely around the tent posts with only one line of karabin outside the tent cloth
Put the tent in a long pulse bag, for example (Hilleberg Pulk bag) with the linen that has a karabin, attached to the pulse bag opening.
With this "tent pack" it is very easy to set up the tent. The linen with karabin is first attached to the pulk, sack or other heavy "anchor". This to ensure that the tent does not blow away when you take it out of the bag and when you set it up.
Sleeping bag
I had used my sleeping bag; PHD Xero 1000 Down Sleeping Bag in Greenland in -45 and was therefore convinced that this should be the right one for me. I took care of safety with a lightweight bag instead of traditional liner, which was a good and warm solution.
Min sovepose har ikke glidelås ned på siden og jeg må da «åle» meg ned i posen, det er en ulempe når du skal ut og inn – men den holder bedre på varmen.
Den er heller ikke spesielt romslig, noe som begrenser hvor mye klær/sko jeg kan holde varm i posen om natten sammen med meg – men den er LETT i forhold til hvor godt den varmer.
Yukon Ultra, 300 miles :: En ny dag, etter noen timers hvile i skogen med Asbjørn Skjøth Bruun. #oslosportslager #brynjeofnorway #rimfrostkrill #shadesofnorway #garminnorge #beatyesterday #altrarunning #åsnesski #egotripp.no

Geplaatst door Frode Lein op Donderdag 8 februari 2018
Two-layer sleeping bag
Asbjørn's two-layer sleeping bag Helsport tempelfjord ytterst og Nordisk gormsson innenfor likte jeg godt. Denne løsningen er mer romslig og han hadde glidelås hele veien ned på siden – men den veir nesten det dobbelte av min pose. Asbjørn sov for så vidt irriterende tungt hver natt 🙂
sleeping pad
It does not matter how good the sleeping bag is, if the bed is bad. The bedrock shall keep away from the cold coming from the ground and the insulation value of the different types is measured in r-value from 1 to 10, the highest value gives the best insulation.
I had two bases that I would use together: Ultra Z-Lite SOL Regular at the bottom (R-value: 2.6) and Thermarest NeoAir Xlite (R value: 3.2).
When the pulse arrived at the airport four days later than me, the pulse was reversed and it was a nasty flange in the bedrock.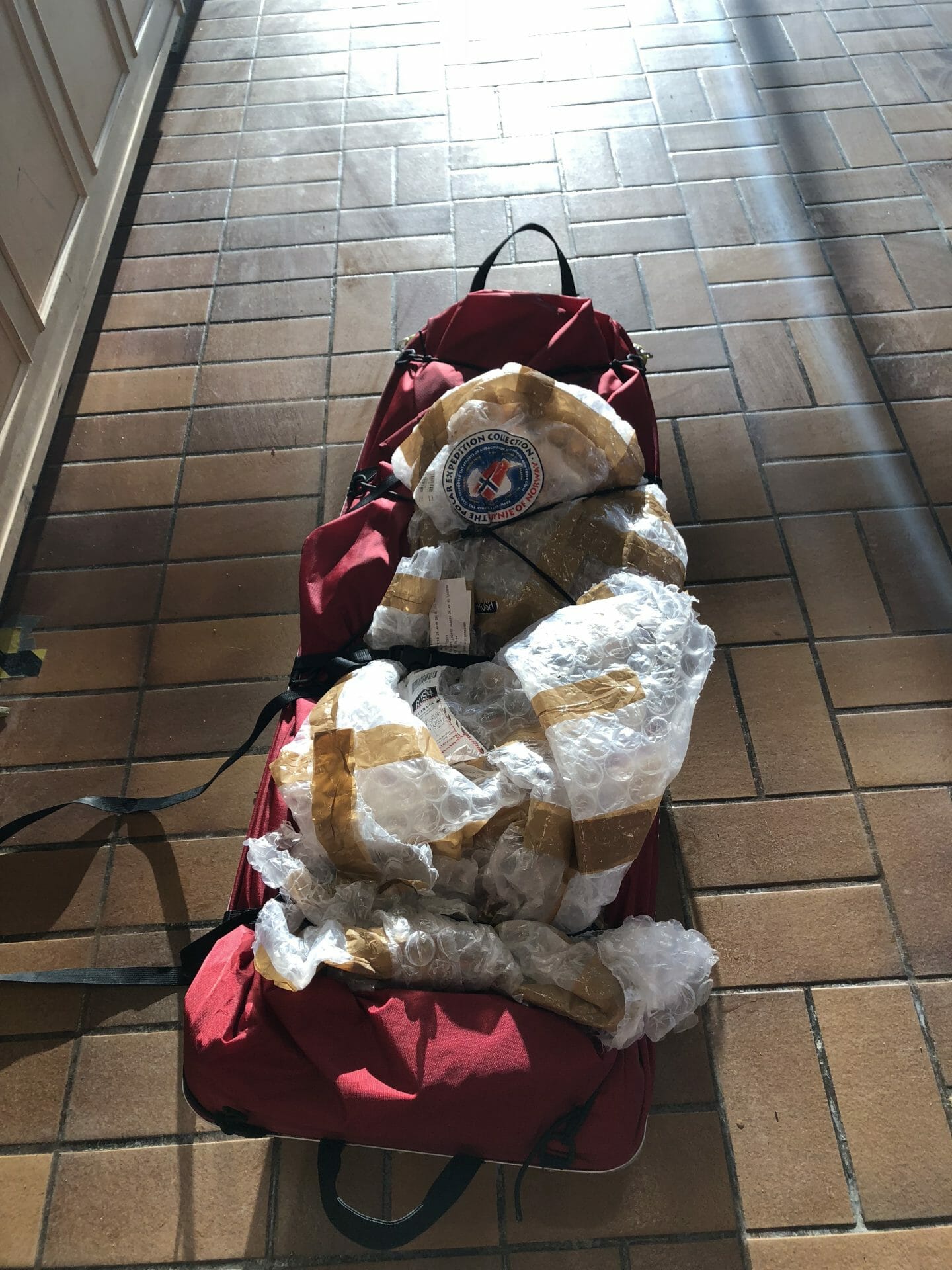 This was not possible to repair, so I bought the "ultimate" bedrock for winter; DownMat 9 LW Pump from Exped. This bedside has an R value of 8.0 and weighs only 1294 grams.
Arctic Bedding
To save time before and after an overnight stay, I use a bag with the name Arctic Bedding. This is shaped like a mattress with 3-sided zipper. In the bag there is room for a finished inflated bedside with rolled sleeping bag over. This also holds the air's airiness in the sleeping bag.
At the top of the bag I use, in addition to the tent bag, to put my thick down jacket and thermos so that they were easily available during the breaks.
Yukon Ultra, 300 miles :: Noen timers hvile i skogen med Asbjørn Skjøth Bruun som forøvrig konkurrerer med lette fjellski (Åsnes Mountain Race) på bena. Jeg løper med Altra Running Lone Peak 3.0 NeoShell Mid#oslosportslager #brynjeofnorway #rimfrostkrill #shadesofnorway #garminnorge #beatyesterday #altrarunning #åsnesski

Geplaatst door Frode Lein op Woensdag 7 februari 2018
Cooking equipment
I chose to bring the multifuel burner Primus OmniLite In titanium (239 grams) and purified gasoline as fuel. With these solutions I get 2600 watts, which is perfect in cold and when I want to boil water. In warmer conditions I would use JETBOIL which some competitors had. But even with winter gas competitors had major problems with getting the gas to work in this cold. I had with my 118 grams boiler to melt snow and hot water.
Thermos and beverage bottles
To the competition I had a thermos that I was sure of;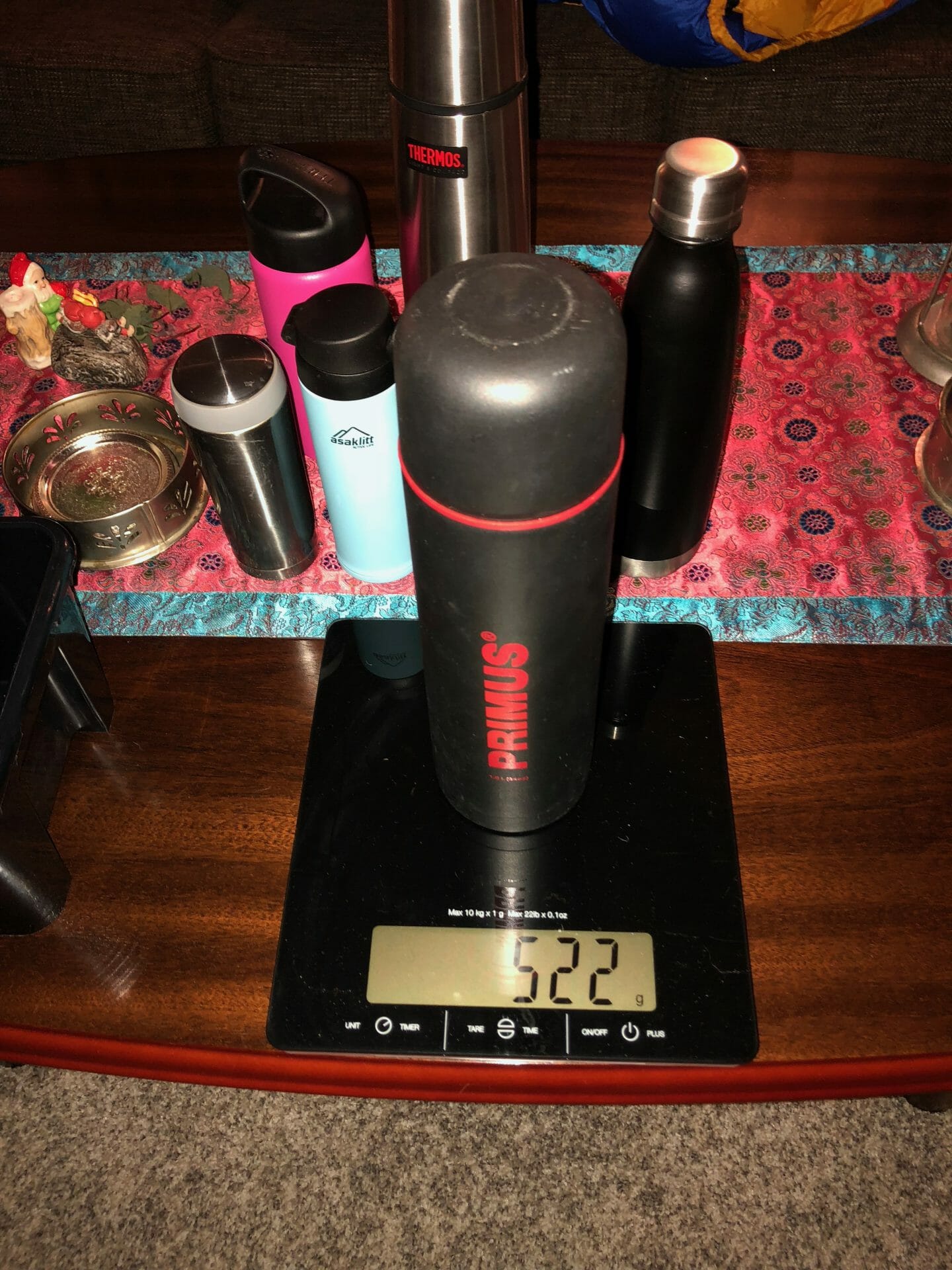 Primus Vacuum Bottle Thermos. But I had to have more and searched the net for which thermos that best kept on the heat and that was also "easy".
The result was a newly purchased Thermos Light & Compact from Clas Ohlson. Not before I was in Yukon I understood the loss. The thermos are made of aluminum and in this litter fingers, lips and other skin will freeze. A simple solution, which came from Asbjørn, was to cover the thermos and the cup with Ducktape.
Something extra delicious is to bring along the tour is one Nalgene bottle. It is filled with boiling water in the evening, laid down in the sleeping bag and there is still temperate water in the morning.
Toilet-bottle
In these extreme cold degrees, it is good to have a "pee bottle" at night. This to avoid leaving the sleeping bag, getting cold and losing important time for sleep. This solution is beneficial for men, but there are also "tissues" for women. It is important that this bottle is large enough to the extent necessary. Put your foster position in the sleeping bag with headlamp and fill up. Unscrew the lid and keep the bottle in the sleeping bag until the next morning or empty the flak immediately into the snow. If you keep the bottle in your sleeping bag when you are going to sleep on, it is important to have a tight lid and a bottle that can withstand your body weight with its contents. This is the bottle I do not want unnecessary spills with nor that the contents should freeze in the bottle.
GPS
Garmin inReach Explorer is a fantastic solution, but this time it went wrong. The electronics stopped working the first night when the temperature fell to -52 celsius.
Luckily I had mine Garmin Fenix ​​5x which worked perfectly in the cold and all six days of distance (POI), compass, timer and temperature sensor without charging the battery. I attached it to my arm outside the jacket where it froze firm, but worked well. I would love to have it attached in one carbine on the pull-sel.
Headlight
I have a lot to choose from, but there were two simple headlights with lithium battery.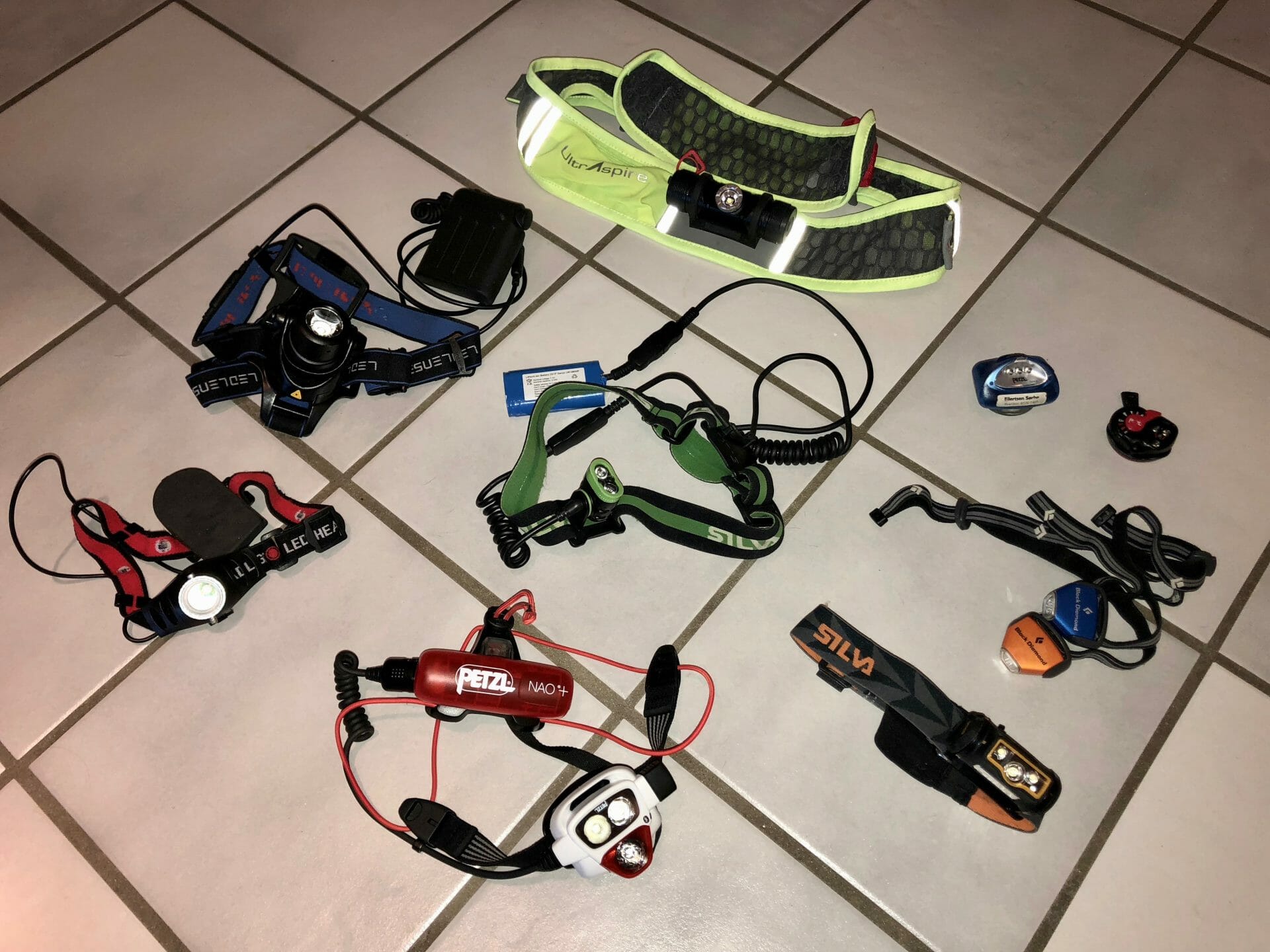 Alkaline battery does not withstand the cold and rechargeable battery has a significantly shorter life.
I use headlamps with red light. With red light, you keep a little of the night vision and the natural experience is getting better.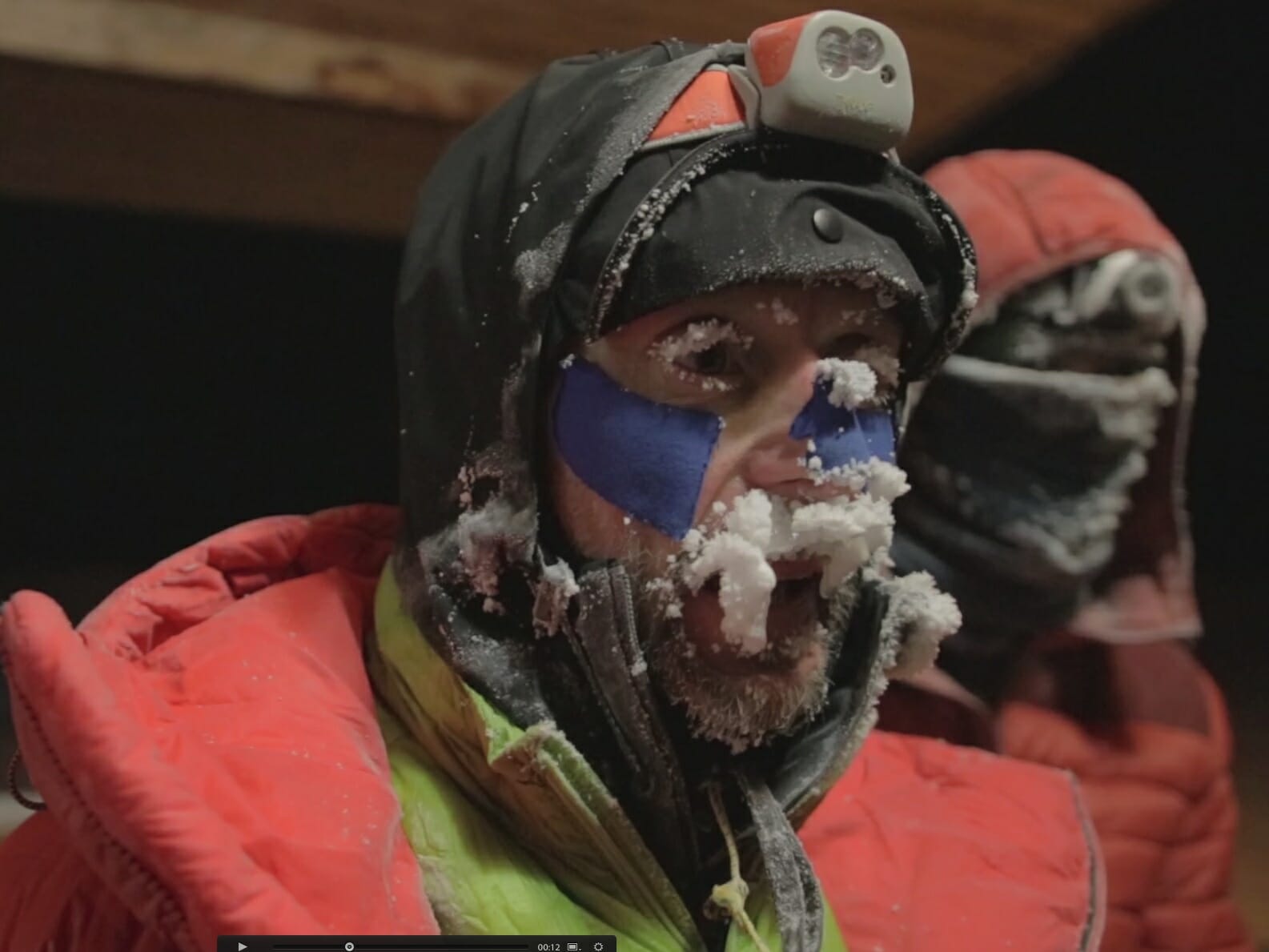 Food and Energy
Food in the competition was everything from ordinary dry food such as Summit and Real Turmat to Snickers, Nuts, Rawbar, Cliffbar to Tailwind. Although I do not normally eat meat, I had experience with Beef jerky for the last few days - This is probably the "best" my body takes after several days of activity and "little" food.
My pulse had been delayed for several days, and it turned out that it had been reversed and the customs authorities had found steak-rich food. It was noodles Mr. Lee with beef-flavor
Electrolytes and salt
Electrolytes like powder from Tailwind and Electrobion, I mixed in the thermos every morning. The mixing ratio is a little more powerful than in desert races. Zero tablets I also had, but they "shower" and it is important to avoid pressure in the thermos. Gaskets and sealing mechanisms on thermos are over time destroyed by pressure. Asbjørn who does not drink coffee (caffeine) I fed with Clif-block when the pace became too low.
Snickers, Raw-bite, Clif-bar
A loss that was quickly discovered on the first day was that I had not broken up portions of energy supplements that I should have available when we were in activity. They were impossible to get soft in this cold and almost impossible to break into pieces. Participants cracked their teeth by chewing frozen food like nuts, etc. I used the first night to break up "raw bite", Clif bar, and Snickers with a bottle that I used as "hammer".
nut Mix
Polly Turmix is ​​best on winter tours and was the best and easiest energy supplement I had in the competition. The turmix has very high calorie content which is good in this type of activity and different flavors. But frozen chocolate pieces in the turmix can be dangerous to the teeth.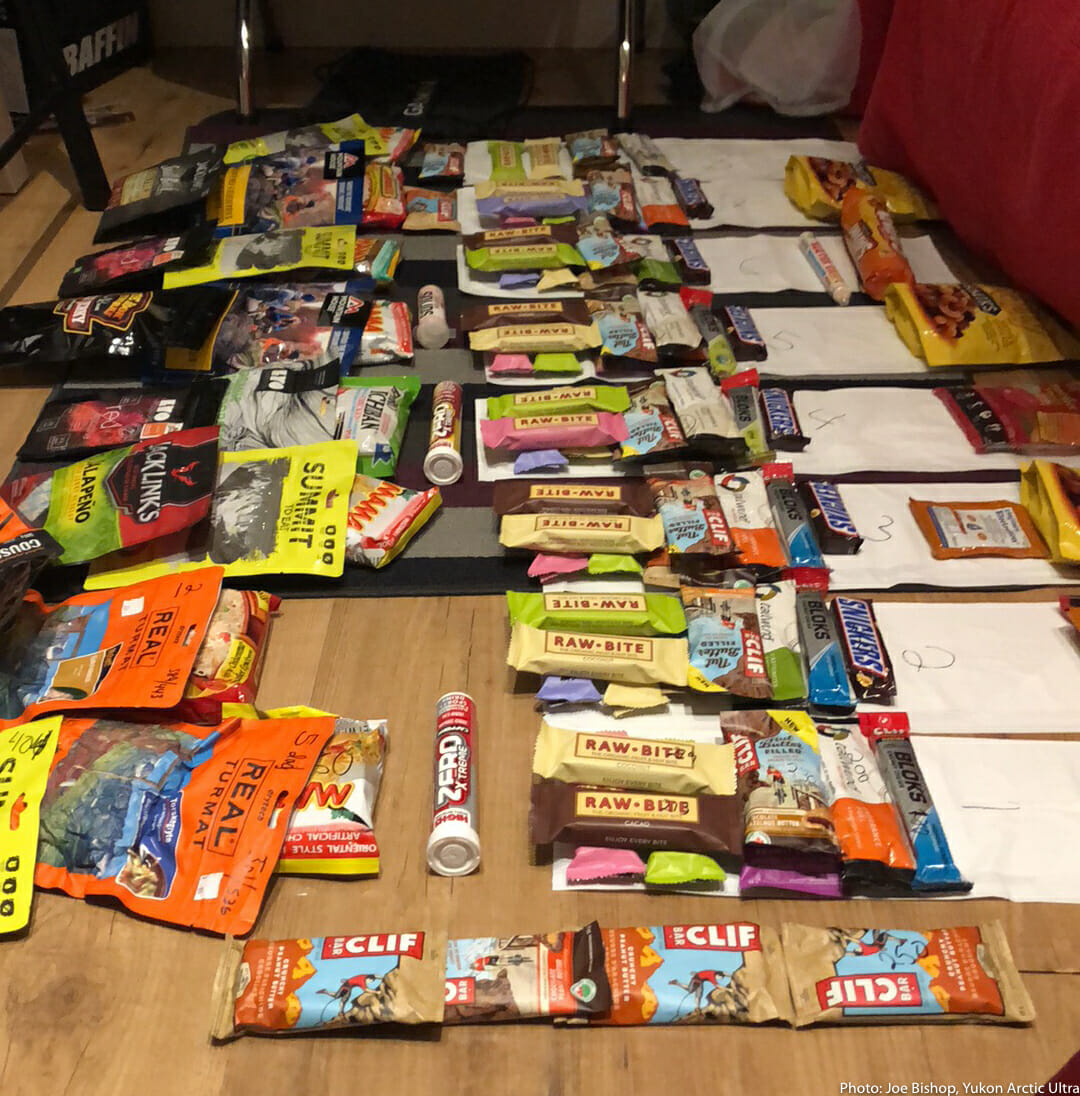 Other compulsory equipment
Spade was one of the mandatory equipment requirements that I had some challenges to find. Bear on Piteraq Tinder and Banditter spell out one shovel that was perfect for the assignment. The spade could also act as ankle support!
Sag was another item that should be included, and I looked at many suggestions - but ended up with a simple "thread case". This case is probably not optimal to sage with mittens but unbeatable on weight.
Like the snow googles I had Black Diamond.
Storm lighter was just a jerk to take, as they were seized in the security check at the airports. Norwegian wooden matches (Norwegian auxiliaries) are considerably better than the matches in paper you buy "over there".
---