In the competition Yukon Arctic Ultra varied the temperature from -43 to down to -54 celsius and equipment for accommodation in the wilderness was not only important, but vital.
Me and my tent mate Asbjørn mastered this cold probably best of all participants. Not only did we survive without frostbite, but we were comfortable in the tent. One exception was when my bedrock began to leak out air.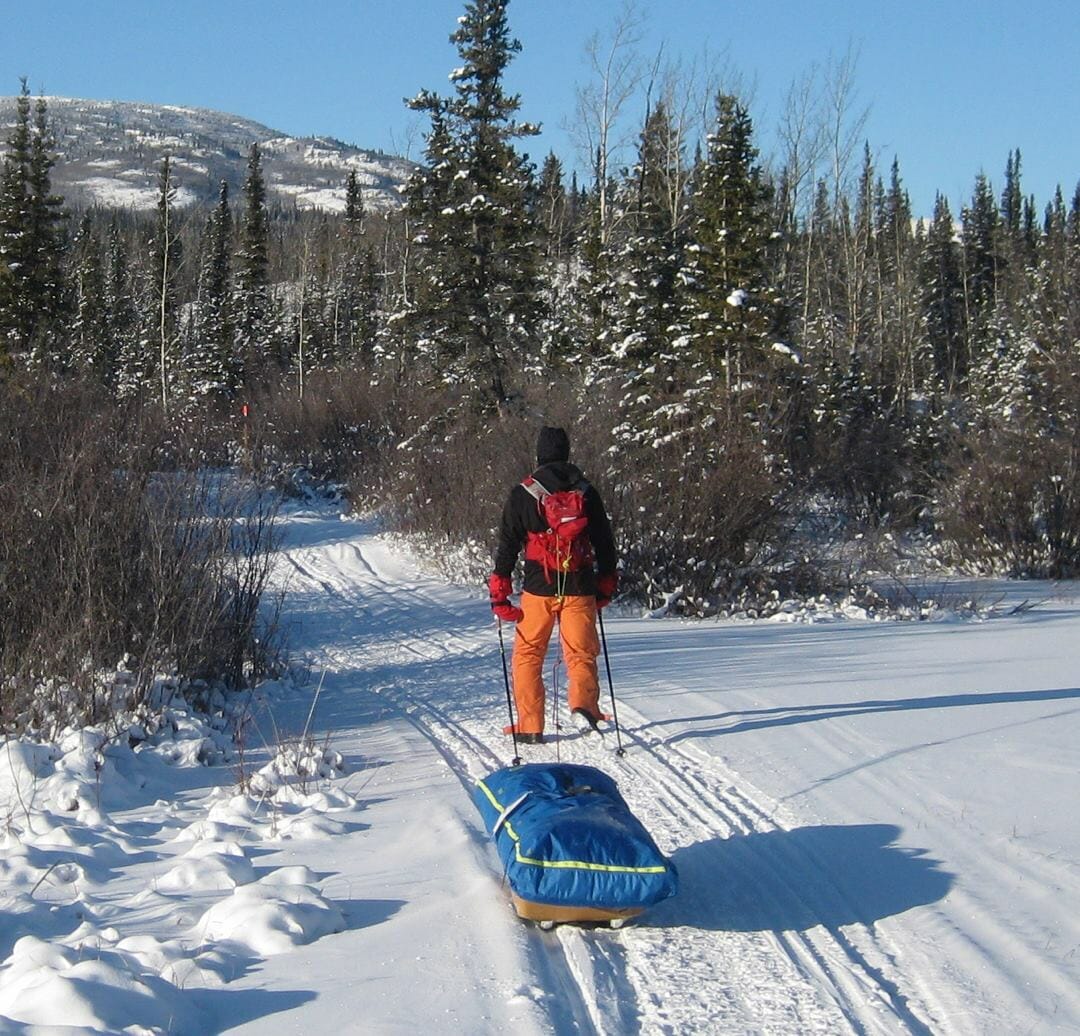 Several of the competitors in the competition used a simple bivouac (bivy) instead of tent for accommodation. The main arguments were that tents are complicated and it takes extra time to put up in winter cold when you are tired and have to do this with big gloves on your hands. There is a lot of right in the arguments, but having first gotten up the tent gives this a completely different comfort. A tent offers first and foremost the opportunity to get a much better temperature with the use of a stove.
But in order to choose a tent in a competition like Yukon Arctic Ultra, the time from choosing to camp should actually be in sleeping bag should be as short as possible. This is done with good preparation, proper equipment and practice on setting up a tent.
Here is my equipment and some tips:
I had chosen Yukon Arctic Ultra to bring a one-man tent, but for better comfort in the cold, I should have had an empty tent or a triple if we had planned to be two in advance. Tents do not weigh much extra for an extra space.
When it comes to saving time on tent setup, this was my preparatory procedure:
Replace the "traditional" plugs with snow plugs
I teip together all joints outside of the center line of the tent pole
Set up the whole tent with inner tent
Closed all zippers on the inner and outer ends
Attach a small carabiner to one of the long lines on the short side of the tent
Loosen the lines and pick up all the snow plugs
Loosen one foot of the tent pole from the tent
Tapped the tent pole so much that I loosened one end of the center that is not taped
The two rows of the rows of tents split parallel to the channel on the tent
Collect all the linen on the tent cloth
Separate one linen with a carabiner hook
Roll the tent nicely around the tent posts with only one line of karabin outside the tent cloth
Put the tent in a long pulse bag, for example (Hilleberg Pulk bag) with the linen that has a karabin, attached to the pulse bag opening.
Med denne «teltpakken» går det svært fort å sette opp teltet. Linen med karabin festes først til pulk, sekk eller andre tunge «anker». Dette for å sikre at teltet ikke blåser avgårde når du tar det ut av posen og når du setter det opp
To save time before and after an overnight stay, I use a bag with the name Arctic Bedding. This bag is shaped like a mattress with 3-sided zipper. In the bag there is room for a fully inflated bedside with a rolled sleeping bag lying for a full length which keeps the air's airiness in the sleeping bag as opposed to a packed sleeping bag.
When the tent is finished, I put the entire Arctic Bedding bag in, open the zipper and put me directly in the sleeping bag. By keeping bed sheets and sleeping bags in Arctic Bedding, I get an extra layer of protection against sharp objects and the cold from the ground. In Yukon it was very cold, so I used the thermal bag as an additional substrate under the bedrock.
During transport, I put Arctic Bedding on top of the pulse to prevent it from submerging the ground in front and back. At the top of the Arctic Bedding bag I use a tent-bag and a thick down jacket and thermos, so it should be readily available during the breaks.
Yukon Ultra, 300 miles :: Noen timers hvile i skogen med Asbjørn Skjøth Bruun som forøvrig konkurrerer med lette fjellski (Åsnes Mountain Race) på bena. Jeg løper med Altra Running Lone Peak 3.0 NeoShell Mid#oslosportslager #brynjeofnorway #rimfrostkrill #shadesofnorway #garminnorge #beatyesterday #altrarunning #åsnesski

Posted by Frode Lein on Wednesday, February 7, 2018
It does not matter how good the sleeping bag is, if the bed is bad. The bedrock shall keep away from the cold coming from the ground and the insulation value of the different types is measured in r-value from 1 to 10, the highest value gives the best insulation.
I had been packed with two substrates that I would use together: Ultra Z-Lite SOL Regular at the bottom (R-value: 2.6) and Thermarest NeoAir Xlite (R value: 3.2).
When the pulse arrived at the airport four days delayed, the pulse was reversed and there was a foul flange in the bedrock. This was not possible to repair, so I bought the "ultimate" bedrock for winter; DownMat 9 LW Pump from Exped. This bedside has an R value of 8.0 and weighs only 1294 grams.
I had used my sleeping bag; PHD Xero 1000 Down Sleeping Bag in Greenland in -45 and was therefore convinced that this should be the right one for me. I took care of safety with a lightweight bag instead of traditional liner, which was a good and warm solution.
Ulempen med min sovepose er at det ikke er glidelås ned på siden og jeg må da «åle» meg ned i posen – men til gjengjeld holder den bedre på varmen. Den er heller ikke spesielt romslig, noe som begrenser hvor mye klær/sko jeg kan holde varm i posen om natten sammen med meg. Men på varme / vekt er den helt rå!
Two-layer sleeping bag
Asbjørn's two-layer sleeping bag Helsport tempelfjord ytterst og Nordisk gormsson innenfor likte jeg godt. Denne løsningen var romslig og han hadde glidelås hele veien ned på siden. Denne sovepose løsningen er mye tyngre. Asbjørn sov irriterende tungt hver natt.
Yukon Ultra, 300 miles :: En ny dag, etter noen timers hvile i skogen med Asbjørn Skjøth Bruun. #oslosportslager #brynjeofnorway #rimfrostkrill #shadesofnorway #garminnorge #beatyesterday #altrarunning #åsnesski #egotripp.no

Posted by Frode Lein on Thursday, February 8, 2018