I am very careful about equipment before a race and packs as easily and minimally as possible. For a few months back, I thanked yes for a very nice request to be a running representative Oslo Sports Store and at the same time be a part of "Team Oslo Sportslager". I was previously a manufacturer, but this agreement gives me the opportunity to choose clothing and equipment from all the best suppliers.
FOOTWEAR:
I had the opportunity to test Inov8 - Race Ultra 270 for this race. In the past, I have run 250 km of seventy-four desert runs Inov8 - Race Ultra 290 and they were great shoes for heavy races.
As I had the opportunity to bring an extra pair of shoes, I packed Hoka One One - Challenger ATR, which are similar shoes that I had tried on a treadmill (Hoka One One - Clifton) earlier this winter. Inov8 and Hoke are two very different shoes, which in turn makes me feel comfortable with the legs. For long periods over several days, the legs often swell slightly and then it is important to have some extra space in the school. Personally I choose shoes that are a number larger than normal. Of stockings, I usually use merino wool and maybe two layers if the shoe is a little big. By having two layers of stockings, I distribute friction between the layers and prevent unnecessary cheeks and reduce the number of blisters.
Comment after race:
Inov8 - Race Ultra 270 are a pair of good and solid shoes that are well suited for use in this race. In my view, the sole is a bit thin for races with 6 - 7 days of picking up. The skull drops a lot of sand through the fabric over the toe box, so long runs in the desert can be a challenge. They are also slightly stiff in the wall behind the heel. Dice 4
Hoka One One - Challenger ATR which was supposed to be "spare shoes and recreational shoes" was great to run with, day by day. The stability was good even on steep slopes with loose loose stones and they drained quickly after crossing rivers. The only disadvantage is that the soles are quickly wiped out on tough surfaces. Dice box 6/5 
Bottoms:
In the long run, I use compression jacks mainly to protect against bushes and scrub. This time I chose compression load from the German brand Falke. They are well placed on the leg and are very reminiscent of regular compression socks.
Compression noise I mainly use for restoration and on this trip I took a bit thicker compression strikes from Falke. By choosing a tights that are slightly thicker than "normal" sausage skin, it certainly keeps a little better on the heat as well. I've had "skins" on other races and I get the feeling that my body heat is "sucked out" and I'm cold to burn a lot of unnecessary calories.
I like to run short shorts with a slit on the side to make the most of the friction between legs and shorts. Sewing and fabric in the "underpants" is important to think about by long runs. The sweat that the body stands out often feels where the clothes are thick and usually in nails and knits. When the sweat dries and it is just a "salt layer" again, this batch becomes stiff and starts to rub, which in turn causes bad open wounds. With open wounds and several days of running, minimal with sanitary environment, it becomes guaranteed infection. I chose this time to bring two pairs Gore Mythos Split Shorts.
Comment after race:
The compression systems are not optimal, but they do the job as protection against bushes and scrub. The design is normal tube and non-conformed leg muscles. - Dice 3
The compression strength was thicker than normal, but I feel that the heat is being led away from my legs, so for me there will be no more compression higts on races with cold evenings and nights. - Dice 4
The shorts from Gore were absolutely excellent, it was good, good to run for several days. - Dice 5
OVER BODY
Falke Short sleeved shirt
For the races I chose one Falke t-shirt as a favorite. It is light, sealed to the body, but without compression and in addition it is very airy (Falke Short sleeved shirt with Air Ventilation technology). I am in doubt whether the fabric will hold the tough treatment that the backpack and vest provides.
Comment after race:
Fantastic! This is by far the best t-shirt I've used on races. The fabric held and no big wear. I thought I would miss the opportunity to open more in my throat, but this was absolutely no problem. - Dice box 6
Gore X-Run Ultra Shirt long
As long-sleeved running suit I used a cool and beautiful shirt from Gore (X-Run Ultra Shirt long). This has glued seams and is cool in even high heat with UV protection.
Comment after race:
In cold mornings and in the snow the cuffs that could be turned into mitts were good to have. Sweat was transported well away from the body, even with a sack on the back and dried quickly. When it was very hot it seemed cool. - Dice box 6
Gore X-Run Ultra AS Light Vest
I used a lot of winds with a vest from GoreX-Run Ultra AS Light Vest).
Comment after race:
This west takes no place and weighs almost nothing. It sits well, releases moisture even with a sack and is good to wear on the body when the wind blows. - Dice 5
Falke Long Sleeve Shirt
I had a long-arm compression stop from Falke (Longsleeved Shirt). These are intended cold days and during the rest periods between races.
Comment after race:
It's probably me as person because I see others using compression coatings and just smiling. On the other hand, I freeze both my legs and upper body if it's a little cool in the air, but it sat well on the body and used it for a day's run. - Dice 4
breastplate
In order that I should not freeze after the dawns and at night I use underwear from Brynje as the first layer to the body.
Comment after race:
Brynje works every time and does not fail. My underwear was noticed and I used it under compression bouncer and raincoat. After the race, I chose to give away what I had from Brynje to Gurkha soldiers, our doctor and others who went to villages in the mountains to make an effort after the earthquake. - Dice box 6
Backpack / vest and drinking belt
I chose to bring the drinking belt Nathan Horizon. The drinking belt had a pocket for gel, drinking powder and energy bars. In addition, there is a knit where I fastened the vest or my long-arm top on the dayguns. The bottle is 0.5 liter and is very well in the pocket at the back of the back. The size of the bottle is excellent for use in races where there are water stations within 20 kilometers.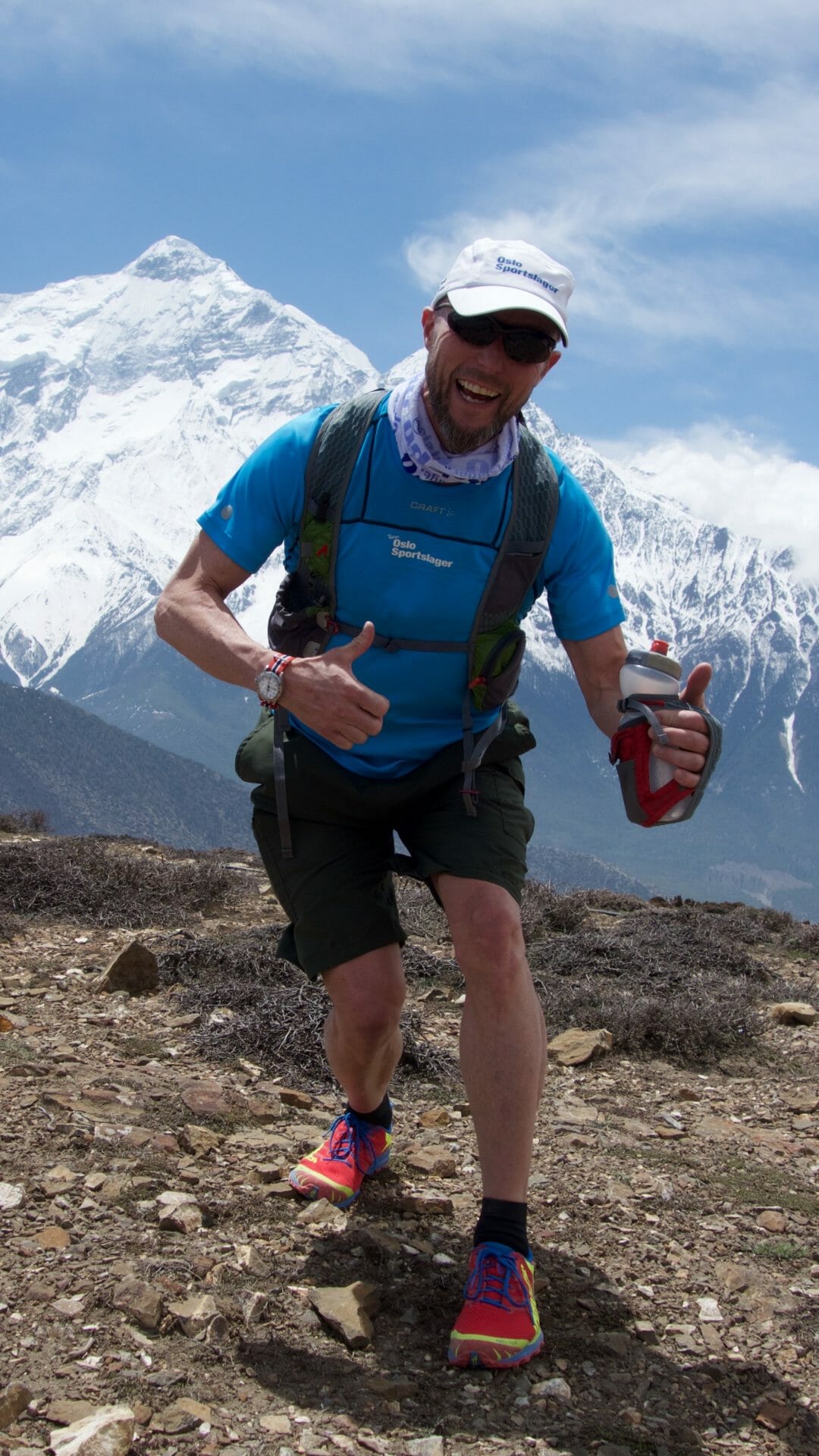 For those day trips that required more space, I used a backpack / vest from ultra Spire. In this type of vest I take out the drinking systems as I like to use drink bottles.
Comment after race:
I chose to give away the drinking belt to one of the Gurkha soldiers who believed that he could use it in a military context. After the competition, he went straight to Syria to work for NATO. Way i miss drink belt already. Dice 5
West from ultra Spire is great to run with. Sits well on the body, ventilates well and has good solutions that cover a runner's needs. Dice box 6
OTHER EQUIPMENT
Caps: Important to keep the sun away from the head, and that the caps are insulating in other contexts. In warm coats, the "curtain" to protect the neck is a big plus. The cap that I used was too hot on my head and I solved this by cutting four to five longitudinal vent holes.
buff: I'm afraid to get sick when I travel before a race, so I always have a buff around my throat. This I pull up in front of my face in the hallways when people around me cough and are cold, dusty air, unwanted air conditioning or when I want to sleep on the plane, etc. I also use buff when I run, either around my throat, on my head or around my arm to dry sweat from the face. Buff is absolutely brilliant in sandstorms along with sunglasses.
sunglasses: (Tifosi tyrant) where the glass is polarized and changes the darkness from light conditions and makes the glasses well suited for nature and forest with changing light. It's important that they are good even when you run.
Clock / GPS: On desert runs, I use a self-pulling watch that does not run out of battery and I trust. But I have now tested Garmin Fenix ​​3 with smart GPS, height, temperature and track-back function if I run incorrectly. It's superior to everything else I've used before.
ENERGY
I always have powder from Tailwind which is used every day in both water bottles. In addition, I had a gel that was scheduled to take halfway in the daylight. I had plenty of Tailwind and chose to share with three other participants who had problems with gel and other energy supplements. In two of the last stages I tried something new; I had a pint of coke in one of the pockets on the west Competitors laughed a bit, but it worked well for me. A carrying bag with Tailwind was given to great pleasure for the Chinese rescue force I followed in Kathmandu.