You are alone, and in seven days you will do yourself with what is in your backpack, through an irreplaceable desert. Equipment, shoes and clothing can not fail in this type of competition.
This type of stage race includes several important elements: Running, nutrition, clothing, hiking and expedition equipment for extreme conditions. With extensive experience from similar races, preparations with other runners and as co-organizer, I have acquired a very good competence in the quality and functionality of equipment that will work in extreme conditions. With Oslo Sportslager as a sponsor on clothing and equipment, I'm lucky to choose from all leading manufacturers and best quality. But the development of equipment and clothing changes with every new collection that comes every year. Then good input and expertise from the staff at Oslo Sportslager is crucial.
Sack or vest
The two previous leg-races I participated in were semi-supported that only require picking up for a simple day and then I used Salomon's vests S-Lab Sense Ultra with packing volume of 5 and 8 liters. These vests have been amazing, but now I should have seven days of baggage requiring a sack or vest with packing volume of 20 to 35 liters. A couple of days before leaving I got a Salomon Out Peak 20 from Oslo Sportslagager. This is a west-facing "hiking" with 20 liter pack volume (435 grams) with center vertical zipper, easily accessible pockets for gel and beverage bottles in the front.
The west is perfect for the new ones Soft Flask Speed from Salomon. There are many who make this type of bottle, but Salomon is a horse head in front of development and quality. The large lid on the bottles has a rugged shape that makes it easy to open and close. The large opening makes it easy to fill with water, tablets and powder. The sharp shape in the bottom makes it easy and quick to put the bottle into the pocket.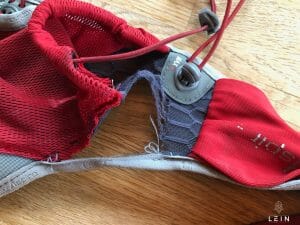 I did not test the Salomon West before departure, and as a backup I took it Epic Hydration Pack from UltrAspire which I have used in a similar race to the South Pole and the desert in Iran. In the days before the race I tested both bags with a full load of 7.5 kilos. I chose to run with the bag from UltrAspire because I did not reduce enough "bouncing" in the West from Salomon when it was packed.
The sack from UltrAspire is good with volume, sitting well on the upper body, but eventually became a nervous problem. In the days that went, it began to burst here and there, and the one shoulder strap was about to smoke. Clothes and threads in the sack absorb liquid and when body fat dries over several days, it leaves high salt content in the laundry. In motion, there is friction that wears on the laundry and eventually begins to shave. Fortunately, the bag became easier for each leg and it held together throughout the race.
Sleeping bag and sleeping bag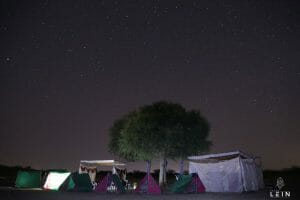 Sleeping bag in this heat for a Norwegian does not require much. I had one sleeping bag which weighs 223 grams, and I also took it with it best luggage bags in silk weighing 140 grams. These could be used individually or together.
Something that is more important than the sleeping bag itself is the bedrock. It's only when you're good that you have the foundation for a good night's sleep. I have chosen to use Exped DownMat Hyperlite Winter MW or NeoAir Xlite. NeoAir weighs less than half of Exped, but shreds like a potato gold bag and you may risk being chased out of the tent if you do not have extra earplugs to the others in the tent.
My adaptation to the best lie comfort is:
Inflatable bedside
Minimum 5 cm thick when filled with air
R value of minimum 7 that insulates well when it is cold on the ground
I lay down on my back and tap out just the amount of air from the bedside so that no butt touches the ground. Then the bedside will shape the way you lie when you sleep without the body touching the ground and you sleep well.
The first days of the competition I slept in the bed bag and used the sleeping bag as a pillow. In the last two days I lay in the bed bag and put the sleeping bag over like a blanket.
Navigation and control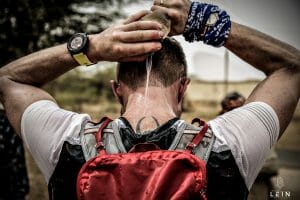 In India there is a ban on satellite phones, so I left my InReach with map, tracking and text function stay at home. But with messages about tough sandstorms, it was safe to have a GPS clock that has both maps and navigation integrated. Before my trip to India became mine Garmin Fenix ​​5x loaded with several types of maps of the area in Rajasthan.
Like other competitions I've participated in, I ran wrong along the way - something that happens most. By the worst case, we ran out of trouble for twenty minutes in a maze of a village. Then it's cool to be able to get the GPS clock with both trackback and map function that got us back in the right direction.
sandstorms
In many cases, we were exposed to tough sandstorms, which neither can be found or found in the middle of a desert. It's good with a buff, a couple of good sunbills, and a clock that shows compass and map function to keep steady course in the right direction.
After the race, we learned that the sandstorms had killed more than 79 people in the area we ran.