Article: Implementation of the Arctic Circle Race
Below I have written a little about my preparations and thoughts about the participation.
Runs like the Arctic Circle Race (ACR) hold a number of risk factors, which means that serious organizers like the ACR work out a minimum list of compulsory equipment. In addition, participants must use their own or others' experience and common sense to complete the race. The good thing about ACR is that we only carry equipment to survive 24 hours. The rest of the equipment is transported between the camps in the transport carrier up to 55 liters.
Clothing
With experience from long distance races I chose to start «The hardest race on earth»In 28 minus degrees with a slim racing dress and netting underwear from Brynje. I was ice cold before starting when checking the backpack contents and weight was completed.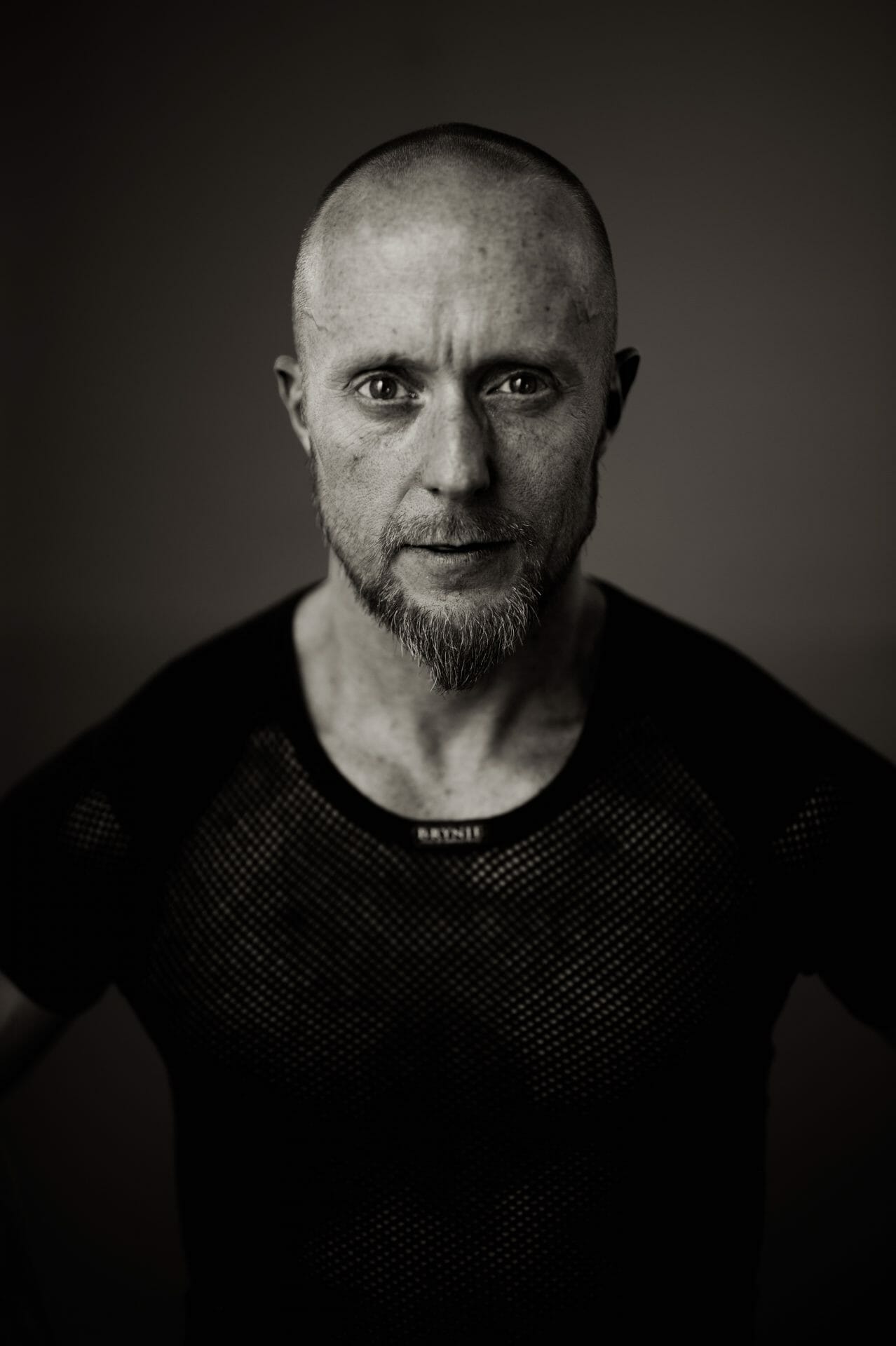 The idea of ​​this choice of clothes was that the body would not get too hot, the sweat was transported away from the skin to avoid getting cold so having to change clothes along the way. When other competitors filled the bag with clothes change, I used Brynje-underwear three business days in a row. This was, after all, no beauty contest that I would participate in, so proper and easy packing of sack was important.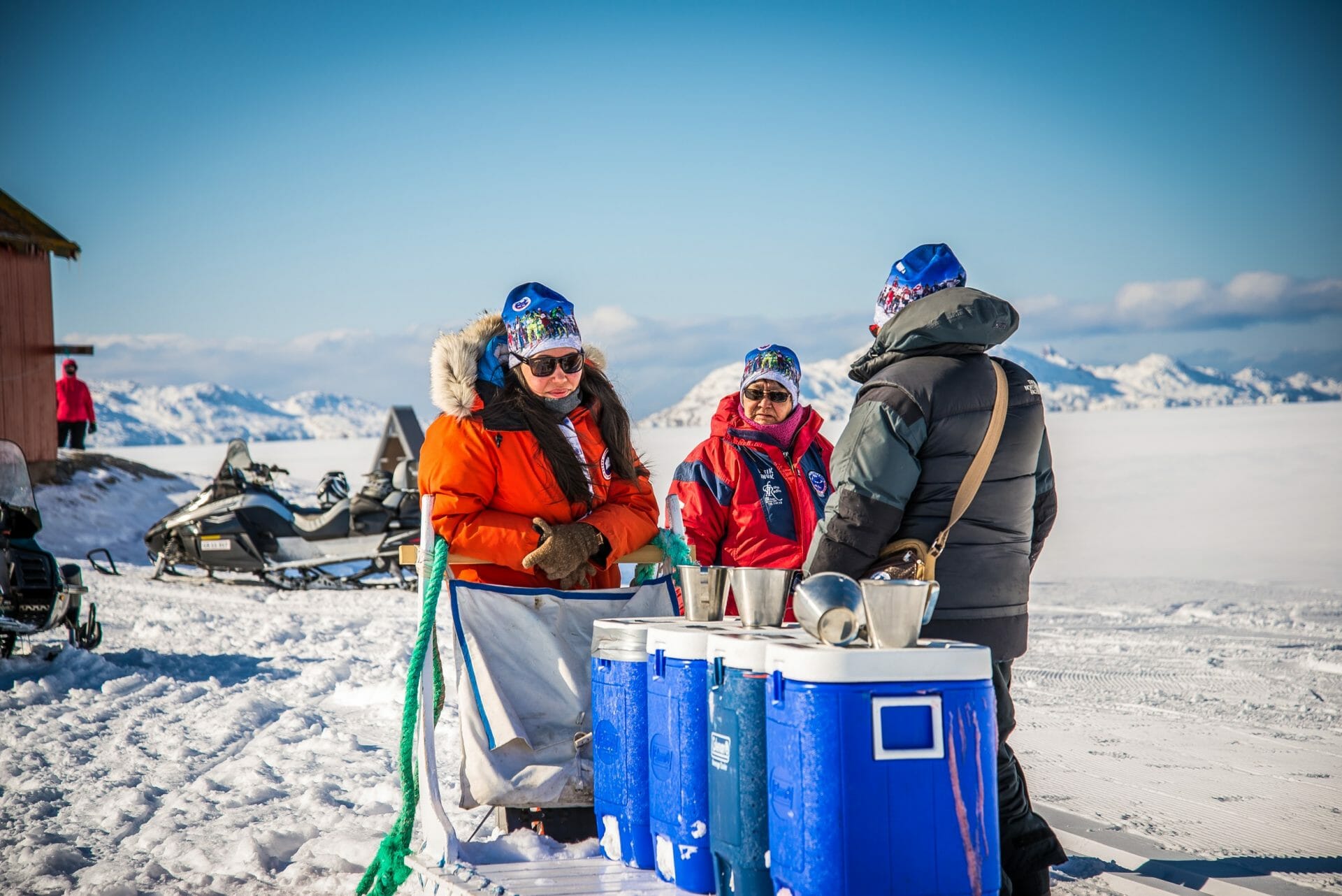 By reducing body heat and with the correct addition of electrolytes, unnecessary loss of bag was limited and the need for baggage intake was reduced to the mandatory drinking stations.
What could be better is the length of racing dress on the back. During the course of the race, I discovered that with sacks and frequent stakes, the top of the racing dress still put on the back. This I fixed day two by wearing a thin and windy running jacket.
On my head I used my hat Ashmei. This is the only "thin" hat of wool that sits well over the ears with good helmet shape. The other woolen caps that I have tested in the same shape tend to "pull" up at the ears.
On my legs I used a pair of thin wool socks from Asmei at the bottom and a thin pair of trekking stockings from Smartwool out. Two pairs of socks were used to release the most possible foot and foot friction. I also had a pair of "down socks" for use in the tent.
I chose a couple thin / normal glover to release "sweat", cling hands that give friction and blisters. It was cold at the start, but after a while the feeling was back in all the fingers. In my spare time I had a couple of thick "crab-mittens".
I had my warmest expedition jacket from PHD - Omega Down Jacket. This jacket I have for use on the poles, the highest peaks and is comfortable down to -55 degrees. As sleeping bag I chose the biggest and warmest I had PHD - Xero 1300 Down Sleeping Bag and inflatable sleeping pad from Thermarest - NeoAir Xlite. The participants from Greenland had reindeer hide as a laying bed.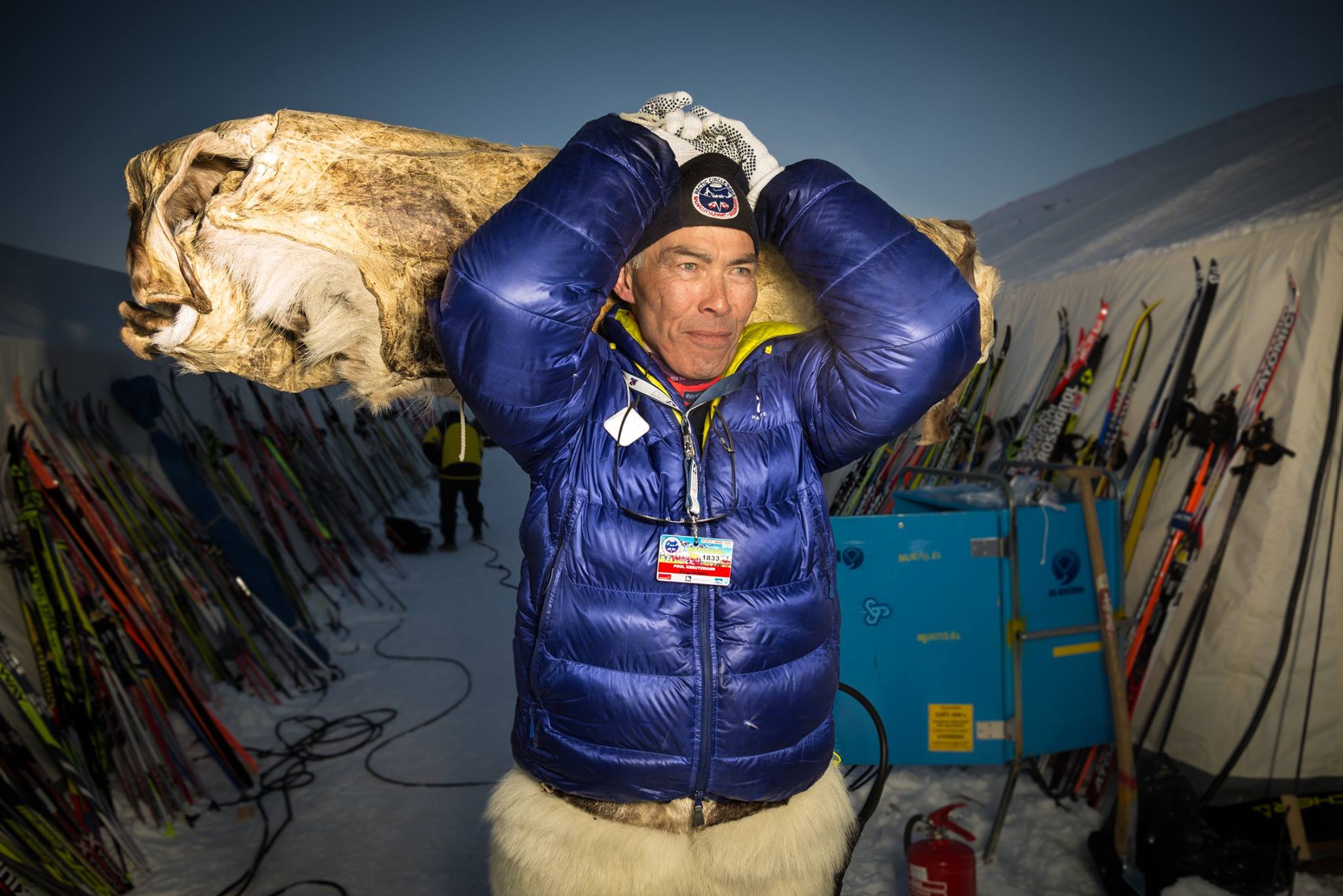 Ski and shoes
It became simple shoes from Alpina (cold as f ... before start) and classic skiing from Madshus.
Ski I delivered to the local sports shop in Nittedal, which preached to the extreme conditions in Greenland with the statement that "the prep should last for three days without a problem".
The "preppen" barely held the first day and in the shoe it should have been better soles. Did not experience it on exercise, but the cold and heat from the legs caused the sole to go far behind the shoe and was an annoying factor.
Food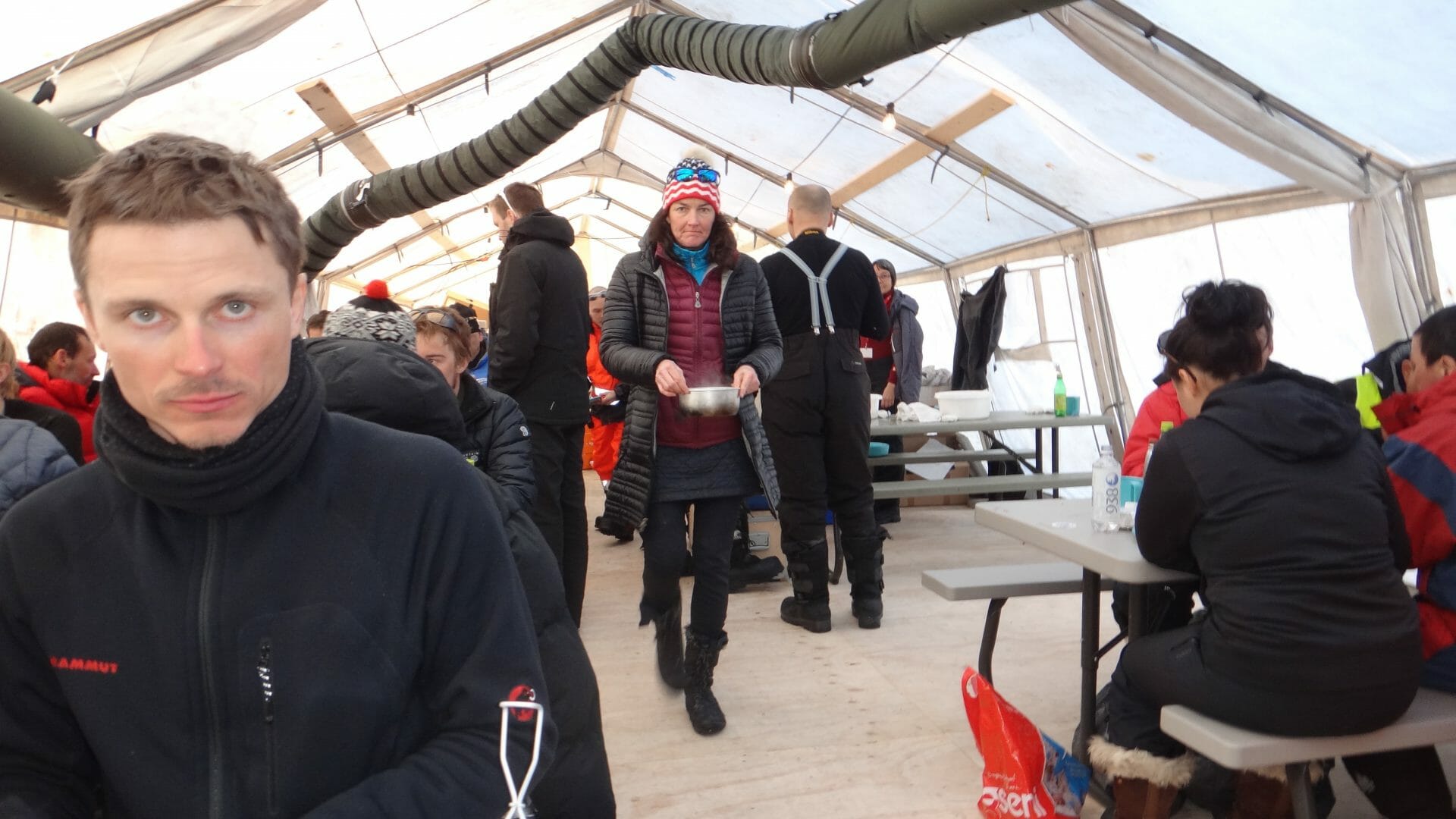 Expedition Food before and after race as well as small gel lumps along the way, plenty of energy, calories and electrolytes, easy and functioning.
I had "liquid" gel from WinForce, but this was only ice and was useless during the course. Next time I'll have protein powder from Hofseth Biocare. Because it will be a next time, guaranteed!
Sack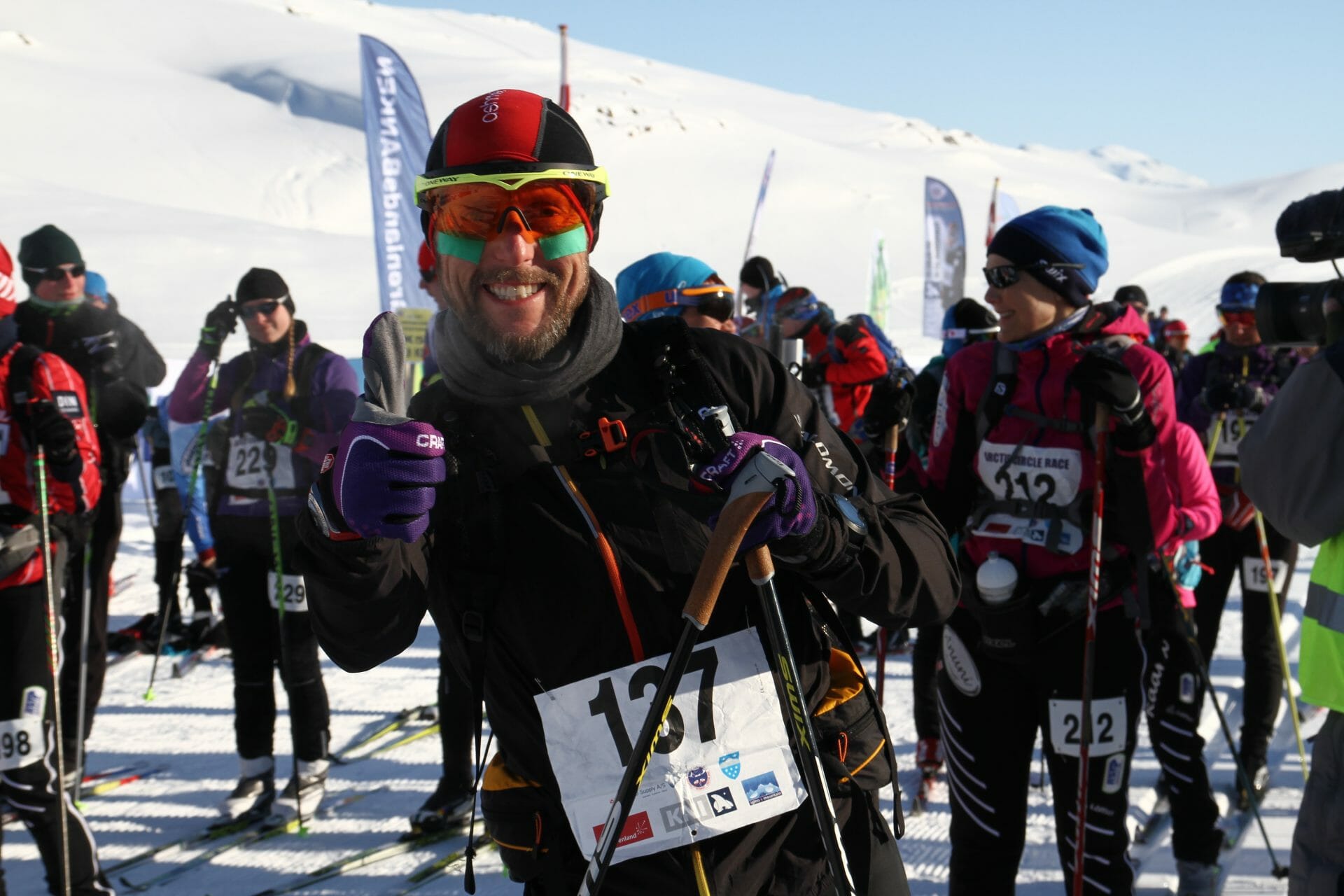 I used one 25 liter sack from OMM which has belt pockets and drinking bottle holder on the shoulder strap. This is a bag that I have experience with and have been very pleased with on previous runs.
Eventually I realized that this was "wrong" choice based on my lack of skiing experience. This is a running bag designed to hang your shoulders in opposition to a ride or ski bag that will rest on your hips. As I go with shovels, my shoulders are lifted up for each spell and as the sack rests on the shoulders, it becomes unnecessarily many kilos to be lifted. But, now it was this bag I had, so that's just going on.
Extra protection against cold
Of the compulsory items, there was a protective mask for face, foot cover, etc. I did not use any of this, but chose to wear and apply tape on the face where there was a risk of frostbite. Brown underwear was invaluable to me and fixed the rest.
Wind and snowmobile / glasses was an item that I also appreciated having.
Press Articles
[youtube https://www.youtube.com/watch?v=ZovZfple2ig&w=560&h=315]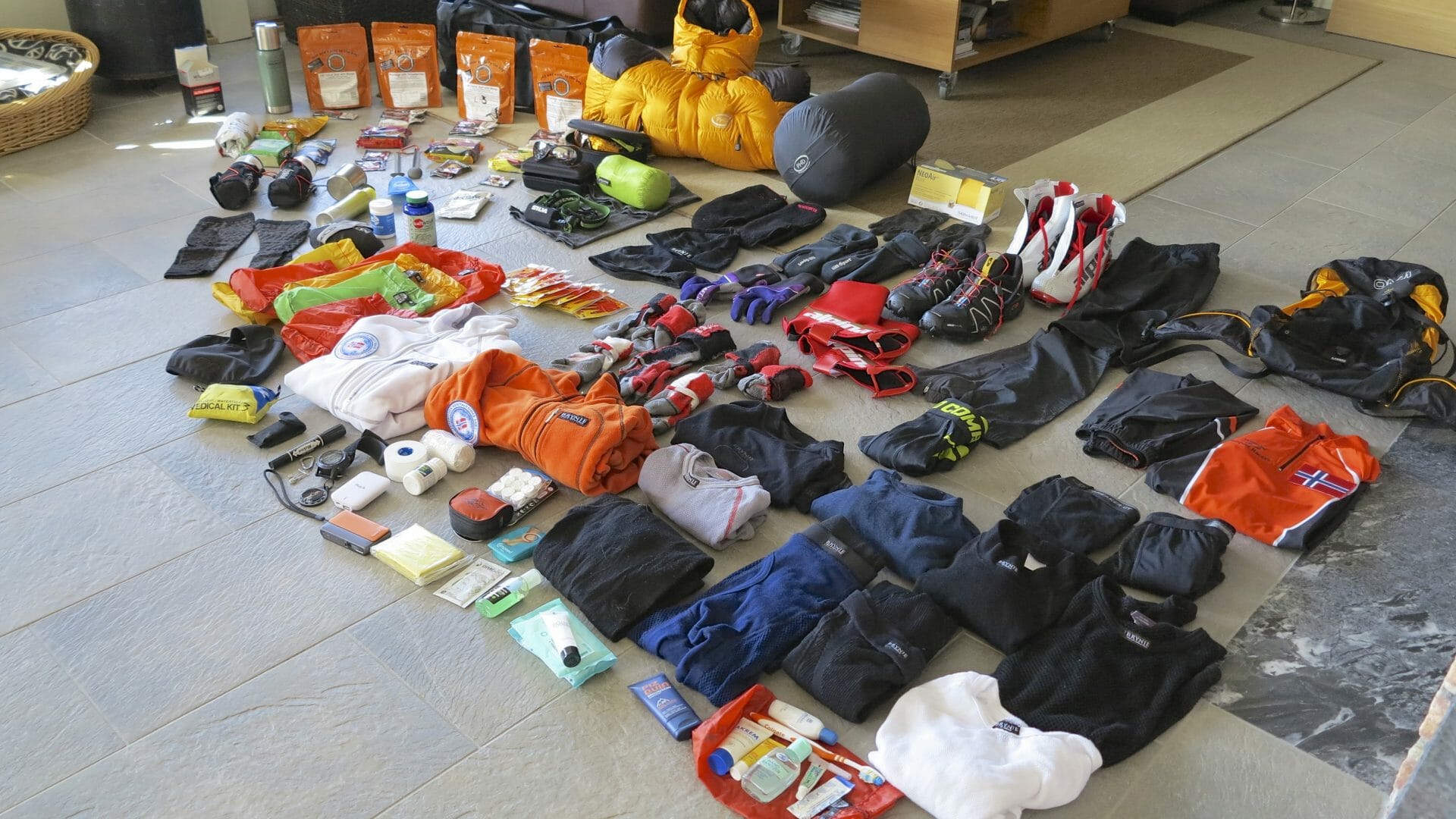 [facebook url=»https://www.facebook.com/arcticcirclerace/videos/681681658620483/» /]