Culture and warmth would be an exciting framework for this "first edition" stage and ultrasound in India.
The World Running Academy who organized the race had invited good runners to set a standard while getting the most publicity around the race.
Visits in India
I looked forward to experiencing India with its 1.2 billion inhabitants spread over an area of ​​3,000,000 km². We should run in the Thar Desert - the hottest area in India and are devoid of deep and lush jungle. In return, the desert city boasts a multitude of unknown and slightly dangerous animals.
All claims that one is guaranteed a bad stomach in India made me a little worried about food and hygiene. Poor stomach combined with a full-range 250-kilometer desert race would undoubtedly put on untold challenges. But why «guaranteed» The bad stomach visiting India? With some search on the internet, I found some basic data and, among other things, on some pages BBC: Of all food produced in India, forty percent of the food is badly poor before it reaches the end customer and they waste as much food as it consumes throughout the UK.
«nearly 40% of all fresh food produced in India perishes before it can get to customers»
organizer
It is Paolo Barghini who is the Race Director and the World Running Academy who was responsible for the race. Barghini has already reconnaissance for a couple of years before the selection of traces and subsequent items had found their place for the race. The World Running Academy is also responsible for the White Marble Marathon in Italy and the amazingly beautiful race in Iran - Iranian Silk Road Marathon, so the expectations of the participants in advance were high.
Planning
I had previously been asked if I wanted to attend the course and said no, but then I was called by Barghini in a "vulnerable" time a couple of weeks before departure. Background to the conference was a course in running technology, but eventually the upcoming competition in India became a topic of discussion and my participation became a fact. I got some butterflies in my stomach - but no reason for panic. With good experience from the corresponding self-sufficient desert course, I was confident in my selection of equipment and food. Feet and body felt fine despite having walked in Yukon a month earlier, and with a hundred degrees warmer I had made up my mind about the competition.
«Two races in two months and one hundred degrees difference»
Equipment
Equipment and clothing you can read more about in this article.
Food and Energy
In a competition like this we will have all the food, energy, electrolyte and salt supplements for the whole course. It is by the organizer set a lower limit of 18,000 calories for five days. It will be hot, clumsy and high humidity in this competition so the choice of grants must reflect this. In addition, the food should be compact and weigh the least as we have to pack everything in the bag.
At lunch I chose freeze dried oatmeal and musli which is mixed with water and has high calorie content. This is the breakfast my Norwegian stomach is used to, digests well and makes it possible to run almost immediately after.
As energy intake during the course I used energigel and nutritional mixes. For balance of electrolytes and salt content, I choose to vary Powerbar tablets and Tailwind mixed in water or pure salt-sticks (vials) swallowed whole. When "all hope is out" and gladly in the last few days of a race I have some dried fish or jerky of tuna and beef that tastes great when the stomach says no to everything else.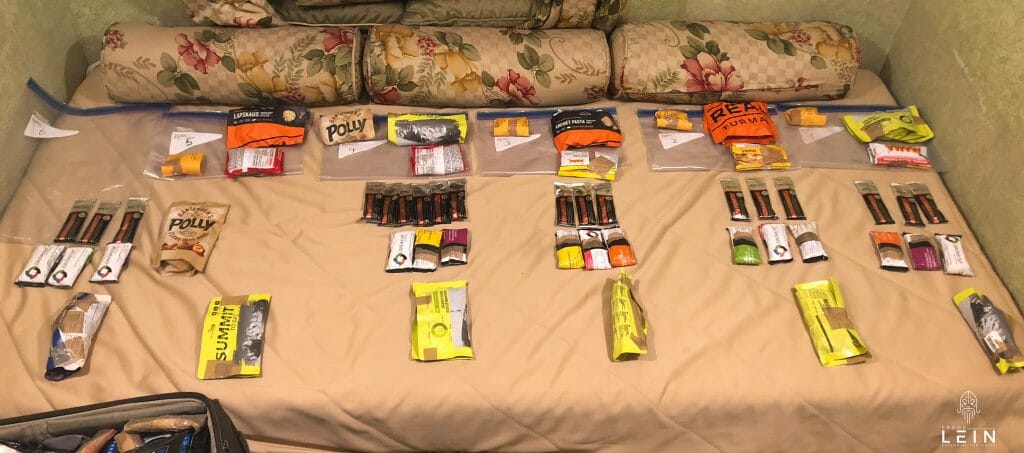 After completing daytime retreats, it is important to recover quickly and most people use powder mixed in water and other recovery products. In desert and heat, prefer to eat something that is spicy and always have noodle soups as I add salted peanuts. For dinner I had with varying freeze dried turf with high calorie content. As a gesture from the Italians, I still got cubes of parmesan cheese put up for dinner and it was EXCELLENT.
Reisen
I bought a return trip to Jodhpur, but got a contrabeskjed along the way from the organizer to fly from Dehli to Bikaner. The reason was that the distance from Jodhpur to Bikaner where the race starts is about fifty miles and with "Indian" car standard this would take many hours. Then it was better and cheaper with an overnight stay in Dehli and fly directly to Bikaner.
In Dehli, I experienced a people's sea with a completely different culture than what we have raised with home in Norway. It was reckless behavior where you and probably everyone else is suspicious as a starting point, absolutely no culture and generally bad hygiene seen in the Western context. The surroundings are very shiny, it was crazy and most often cuddly in a perimeter of two meters "above all" and in addition there was a distinctly high noise level from a crazy traffic image.
In Dehli, I experienced people who had a job picking food waste from trash bags that they sold again to the nearby "fast food" which poured the food waste into the "pots" they sold to passers-by. There were new smells all over, both good and bad.

In Delhi there was a powerful sandstorm that shielded the sun and all daylight disappeared after a few minutes. There were objects everywhere through the air and even I was blown away when I finally got indoors. This was an indication of how the weather in the competition could be, as well as the importance of having compass, GPS and maps. In this context, I had previously downloaded maps of the area to mine Garmin Fenix ​​5x.
competitors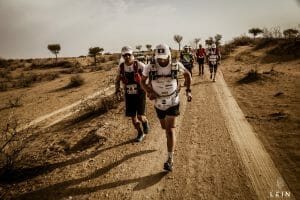 The next day I met some other competitors that I followed to and from the airports when we went on to Bikaner.
With professional participants from Italy, France, Lebanon and a national champion from Rwanda, this would be an exciting race with good challenges and new friendships from different cultures. There were several of the participants who had met each other in the second race, so the tone was relaxed and enjoyable when we met.
After spending a peaceful and peaceful night in Kolayat at a fantastic fast from Victoria, the participants were driven into the desert where the cars were replaced by dromedaries and carriages. This was a nice transition to the beautiful and tranquil desert landscape. Along the way we were informed of snakes, scorpions and other dangerous insects that were a lot of. Well in the oasis where we were going to sleep up to the start we were assigned a tent mate and space in a tent. The evening was finished with local live music and delicious pasta prepared by the Italian competitor who has third place from UMTS CCC and is the chef of profession - Alberto Tagliabue. At bedtime that is at the darkness - around nine in the evening there were still 34 degrees of heat and it was also not particularly cold outside this or subsequent nights. Challenging to get a good night sleep for most.
Animals and cows
The daydogs went well through large landscapes with antelopes, dromedaries, snakes and salamanders. In addition, there were livestock like goats, bulls and dogs. We saw everything, but most of the cities and I explained the "foundation" of the sacred animals. When a cow grows old and stops giving milk, the farmer chases the cow away from his property so the cow must be able to live the rest of his life in freedom. Ask the interpreter about what happens to a driver who is unlucky to drive on and kill a cow? "He gets out of the crowd out of the car, beaten up and at times so bad that he dies!" Yes, something similar in Norway, I said without pulling a mine, the interpreter noding to agree that this was correct. - The conclusion was NOT to drive a car in India. Cows therefore go round, are holy and eventually a "natural death" dies. That is, early in the morning I discovered some wild dogs who ate a cow that was quite "fresh".
Camp number four was at a source of drinking water that the village's head would protect, and he decided to set up guards who watched us all the time. We were kindly referred hundreds of meters away for "toilet visits" while at the same time it was cuddling in the actual drinking water source ...?
The race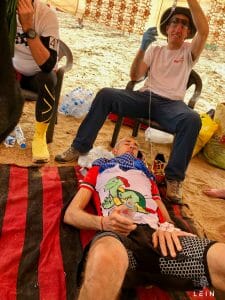 After a portion of oatmeal from Real Turmat, it was the start of the first leg. It was good to finally get started and I became running parts of the race with Laura Ricci. The trash went on the outside of a village where I had the first experience of the problem of plastic and trash - it flowed all over the way into the desert.
As I ran with Laura Ricci, I was far ahead in the field. She participated in the competition's short distance with just day trip pick-up and had to stop 20 km before my finish. When I finally finished the first dayout, I was the fourth man. Eventually, I learned that most had challenges to cope with the high humidity combined with the forty degrees of heat. Alberto Tagliabue who had scored in number one, fainted and eventually had to have intravenously. In the evening came the first of many sandstorms and the whole tent camp kept on flying away.
Scorpio and insects
One night in Nokha I sat in the tent open and talked to other participants when I noticed a small scorpion at my foot. I was sitting with a drink bottle in my hand that was used as a weapon of fire - I had killed my first scorpion ... There were another couple in the race. There were many ugly bugs, including "ants" the size of my fingers.
In this type of competition we drink a lot of water, which we also do throughout the night to maintain the balance of the bag throughout the night. This requires a do-visit at night and in a desert this means headlight and a few steps into the dark. One night when I stood doing it needed a creature over my foot. With headlamp and phone I got a picture of the creature (2) which was ugly as well ... but afterwards I explained that it was "harmless".
The dawns were characterized by a lot of loose sand, sandstorms and heat. We ran through small villages on a regular basis and on a couple of occasions it was possible to buy a cold soda bonus!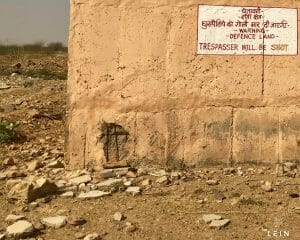 The markings in the course were red flags on the ground or red and white bands that were attached to shrubs and the like. Red is a color that is not easy to see in a desert with a lot of sun and plastic trash. Like some others, I ran wrong along the way. The worst case I had with Alberto where probably children had moved some flag and we ran twenty minutes in the wrong direction in a village. Then it was reassuring to be able to come forward Garmin Fenix with both trackback and map features that quickly got us back on the right track.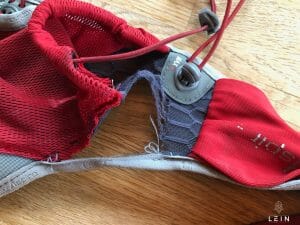 In the days of the competition I had an unexpected challenge, my bag began to rupture and one shoulder strap was struggling. There was little I could do without hoping it would keep all the days and it went well. The reason for the sack cracking in several places is that some of the laundry in the sack draws a purse and when the body sweat dries out several days after each other, leaving these threads with high salt content. The threads become harsh and the seams are worn to begin to shave.
Of the challenges that can be expected in this type of competition, I got a tower knock into the shoe sole on the last last day. The towers were pushed into the heel of the foot as I stepped into the ground, but was invisible when I took off the shoe to remove it. Very annoying and even after the race, the tower is still in the shoe. With the help of sand, the shoe was slightly tight on the sides at the front and caused some blisters.
In addition, I was ill in my stomach on day number three which caused almost a day without nutrition. I was lucky as I got my handbag to finish the day trial with three to four "emergency stop".
Wind and relocation of camps
At times it was so bad that we had trouble seeing and then sunglasses, as well as buff good to have. At the camp in Kolayat it was so bad that we were forced to seek shelter and move the camp down into the valley. Other days we were very comfortable without a breath of breath when we ran, we sat outside for a long night, learned culture and listened to good stories.
After the race, we learned that the sandstorms had killed more than 79 people in the area we ran. The movie clip - IndiaTV is filmed the day we started in the city where the finish was.
Great ending
Towards Jaisalmer, Manak Chowk was the end and as with many other races, the last leg was a charm trip where we ran more together and time was not significant. We arrived at the fort where there was great reception, music, journalists, culture minister and in addition two princes who shared the medals.
I got a third place and spent a total of 28:42 on 250 kilometers. There were good competitors, great event, but little variation in the terrain where we ran three days on or on the way of desert sand. India does not temporarily repeat, but this attitude can quickly turn around.
Maharaja Ultramarathon